What's almost as good as having your own baby? A close friend or relative having one, of course.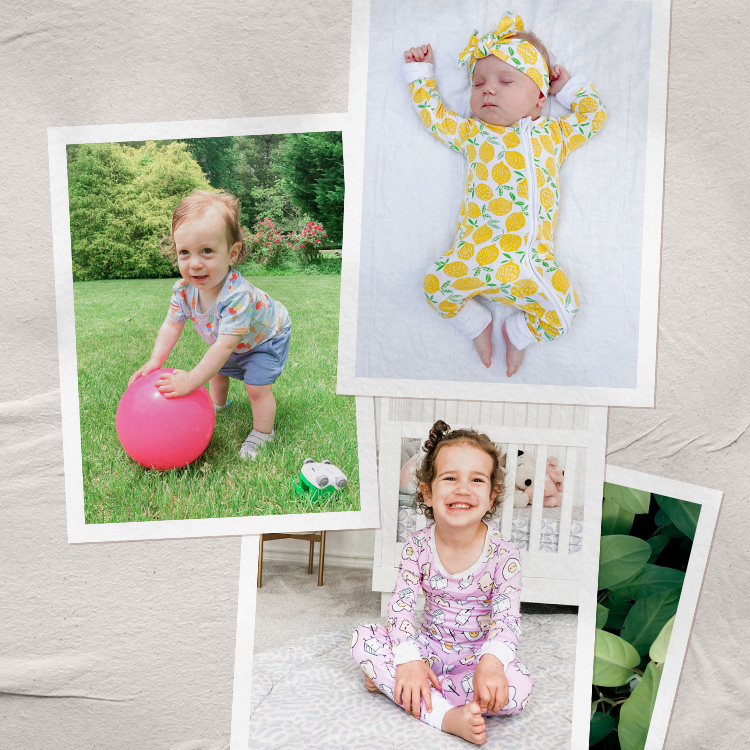 it's more than just their cute PJs... get ready to add to cart! 😍
Not only does your little love get a brand new, adorable playmate, but you get to welcome your dear friend into the sisterhood of motherhood. Now with someone to share tips, tricks, vents, and frustrations, your own motherhood will take a different turn. The camaraderie of women is a beautiful thing, and the closeness between mothers is something that can truly change your parenting experience in wonderful ways.
Of course, having gone through it yourself, you know now how to give new mom and baby some space, how to help from afar (meal deliveries and grocery drop-offs, for the win), how to support her through regular check-ins and reassurance, and how to be there for her when she doesn't even know what she needs (letting her nap and folding her laundry is always acceptable).
But what about the newest little babe in your life? If you're like me, the veteran mother in you wants to be there in all ways for your new mom friend, but the auntie in you wants to spoil that little babe to the max. There's always a time for practicality — diapers, wipes, bottle parts, and breast pump pieces are all things most new moms need regularly — but sometimes you just want to gift something special especially for the newest little person on Earth.
If your mind is drawing a blank on a special, unique baby gift for a sweet new baby in your life, here are our favorites.
Pre-boxed gifts are awesome for a myriad of reasons, the most important being that all of the shopping, curating, and wrapping is done for you. Baby Boxy prides themselves on the unboxing experience of their products, which means your friend gets a special little moment while opening her new gift. The company was created by a mom of twins, and she selects the highest quality products (only ones that she would use for her own kids) for these gorgeous gift boxes. The gift sets are not only unique and fun; they are also hand-picked to offer only the highest quality products with a focus on safe, non-toxic, and eco-friendly materials.
This particular box comes with a super soft bamboo outfit, perfectly accessorized with a matching bow, rattle, and teether – the perfect combination of useful and completely special.
Use the code EVERYMOM10 for 10% off your order through the end of June.
2. Personalized Books
As a self-proclaimed book lover, personalized books have been my go-to new baby gift for my nieces and nephews (I have over 10!) for years. In fact, after I started buying them, I loved them so much that I started getting them for my own kids for birthdays and holidays.
There are so many options when it comes to personalized books, but I've come to find those ones that incorporate the alphabet, the child's name as a focal point, or are filled with imagination and inspiration are sure to stand the test of time. It warms my heart when my little ones pull these books out again and again because they feel such a connection to the personalized aspect of it.
3. Gift Card to a Photo Service
If there's any one particular common truth about parenthood, it's this — once you have a baby in your life, your camera roll will suddenly be out of storage every five minutes. We just can't help ourselves. Those little kids of ours are just so cute and capturing all of those wonderful memories is almost instinctual, especially now, with cameras in our hands at all times.
What doesn't do anyone any good is hoarding all of those photos on our hard drives. Gifting the new mom in your life a gift card to a quality photo company with a variety of print products or a subscription photobook service is a wonderful gift for this very reason. Not only will she be able to choose exactly what she wants, but she'll feel great about getting those photos off her phone and into her home in a way that doesn't add any financial pressure (new moms have enough of that, amiright?).
4. An Ornament
Sure, ornaments are probably not at the top of your mind come spring and summer, but that's exactly what makes these a special gift. For those who celebrate winter holidays with a tree, a commemorative ornament is a way to celebrate their new child in a unique way (and is something that they will most likely hold onto for years to come). This also takes some pressure off of your new mom friend to have to remember one. more. thing come the holiday season.
The options for ornaments are endless. You can gift something fancy, something classic, something simple, something personalized, or something handmade.
5. A Backpack
I know what you're thinking — what baby needs a backpack? And you're right, or so I thought before my own dear friend gifted me a personalized backpack for my new baby boy four years ago.
As it turns out, babies often require a lot of stuff — for day trips, daycare, plane rides, and any other sort of outing imaginable. On top of that, diaper bags are usually packed to the max with hygiene-related necessities, breast pumps and parts, and bottles or feeding essentials. A small backpack is a great way for new moms to organize snacks, toys, extra clothes, and the sunscreen/bug spray/sun hat situation that overtakes all warm weather activities.
The best part is that this is something that grows with your child. Before you know it, the new little babe in your life will be wielding this very backpack on their own through airports, on outings, and down school hallways — just like my own son does now, four years later.

This post was in partnership with Baby Boxy, but all of the opinions within are those of The Everymom editorial board.