I've attended a lot of baby showers, including my own, where fellow party guests and I have played all sorts of baby shower games. I've guessed the baby's weight and arrival date, I've ooh'd and aah'd over the cute baby items from my friend or family member's registry (tiny clothes are really so cute), and I've even smelled diapers full of melted candy bars to guess their contents.
At the most recent baby shower I attended, we had to attempt a baby-themed word scramble and word search. Through the process, some fellow moms sitting at the table with me discussed how we could make a more modern version. We'd remove outdated words like "Baby Powder" and add terms like "Paid Parental Leave" and "Pumping at Work."
So, our team created a word scramble for the modern mom, along with a few other free printable games for your next baby shower. Plus, we've rounded up a few other baby shower games and activities that don't require you to sniff any faux doody-filled diapers. None of us need any more of those—fake or not.
All of these games are low-effort to make and easy to facilitate (all guests need is a pen). Trust us, your baby shower guests will thank you.
Keep scrolling for the best baby shower game ideas, plus plenty of free printables to go with them!
Don't worry, this baby shower word scramble comes with the answer key. Yeah, we even had a hard time cracking some of these and we made them! Download the free baby shower printable below.
Test your friends' musical knowledge with this low key mad-lib style game that lets guests complete the title of a song with the word baby in it. Also serves pretty quality playlist inspo!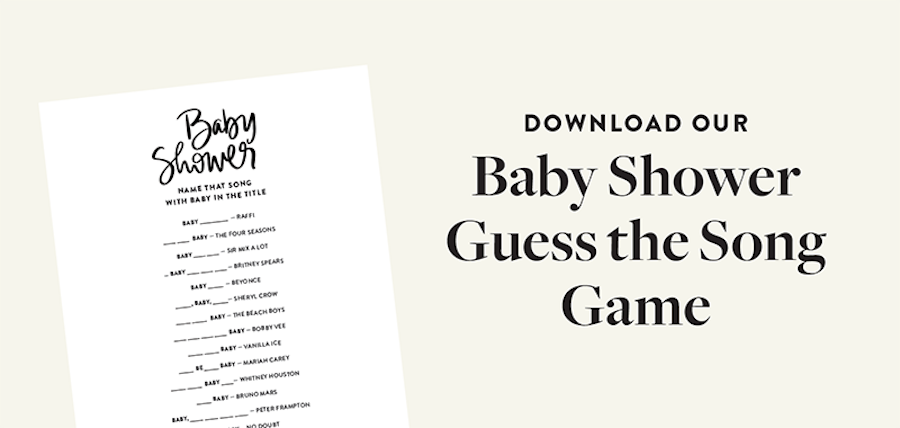 Let's face it, emojis bring a smile to everyone's face. This fun game lets guests have fun on their own time by "reading" the emojis to create a book—it can get really creative, and funny!
The baby wishes game is a classic for a reason—parents leave with a sweet memory they can look back on for years. It's also keeps guests engaged with minimal effort, and they often come up with some great answers. Consider printing on cardstock for a longer-lasting keepsake.
This is easy to execute with a quick Google search and a printer. The photos could be displayed as part of the baby shower decor or simply collaged to create your own printable worksheet. Number each image and let the guests loose to have fun guessing. Not into the DIY? Purchase a digital download 'Guess the Celebrity Baby' game from the Etsy link below!
Etsy | Art Of Heart Shop
This digital download file features cute woodland animals that would match nearly any baby shower theme. Plus, this fun guessing game is sure to be a hit with guests, too!
Also available as a full set of downloadable templates with 50+ games.
This question and answer game is a fun race against a timer—with a twist! When the host says "Go!" baby shower guests will answer prompts including "popular baby name," "baby brand name," "pregnancy complaint," and "children's TV show" but the answers must start with the first and last letters of the mama-to-be's name.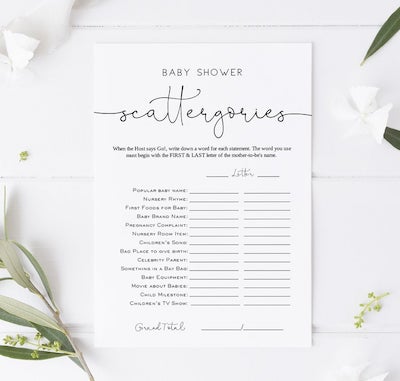 Etsy | Willow Lane Paperie
Inspired by one of my favorite board games Scattergories—baby shower version.
Also available as a full set of downloadable templates with six games.
How well do you know the mom-to-be at the baby shower you're attending? This game will test just that by asking guests to check the choice they think the expectant mama would choose. For example, would she rather sleep in late or get up early? How about watch or horror film or watch a click flick? The guest with the most correct answers wins!
Etsy | Aspen Woods Studio
A "Would You Rather?" game that's clean and appropriate for the girlfriends and the grandmas.
A great option for a co-ed couples baby shower, this "Mommy or Daddy Guess Who" game includes 50 ready-to-play sheets printed on cardstock. Guests can earn one point for every correct answer to questions like "who will change more diapers," "who will spoil the baby most," and "who will read to the baby more?" So cute!
Amazon | Party Hearty
How well do you know the mom and dad-to-be? This game is a great option for a co-ed couples baby shower.
Create a Nursery Keepsake
A quick Pinterest search will turn up ideas for this alternative baby shower activity. My personal favorite finds are creating the baby's first alphabet book and making wall art for the nursery. For the book, each guest can design a page for their assigned letter of the alphabet. The hosts can then collect and bind the finished pages in a special book for baby.
For the wall art, have each guest stamp their thumbprint in a pattern on canvas or cardstock, like a bouquet of balloons. Just make sure to have a pack of baby wipes nearby for guests to clean their thumbs.