Pre-baby, I was a group fitness fanatic. So much so, that I became a group fitness instructor, in part to help offset the amount of money I would then be spending on said group fitness classes.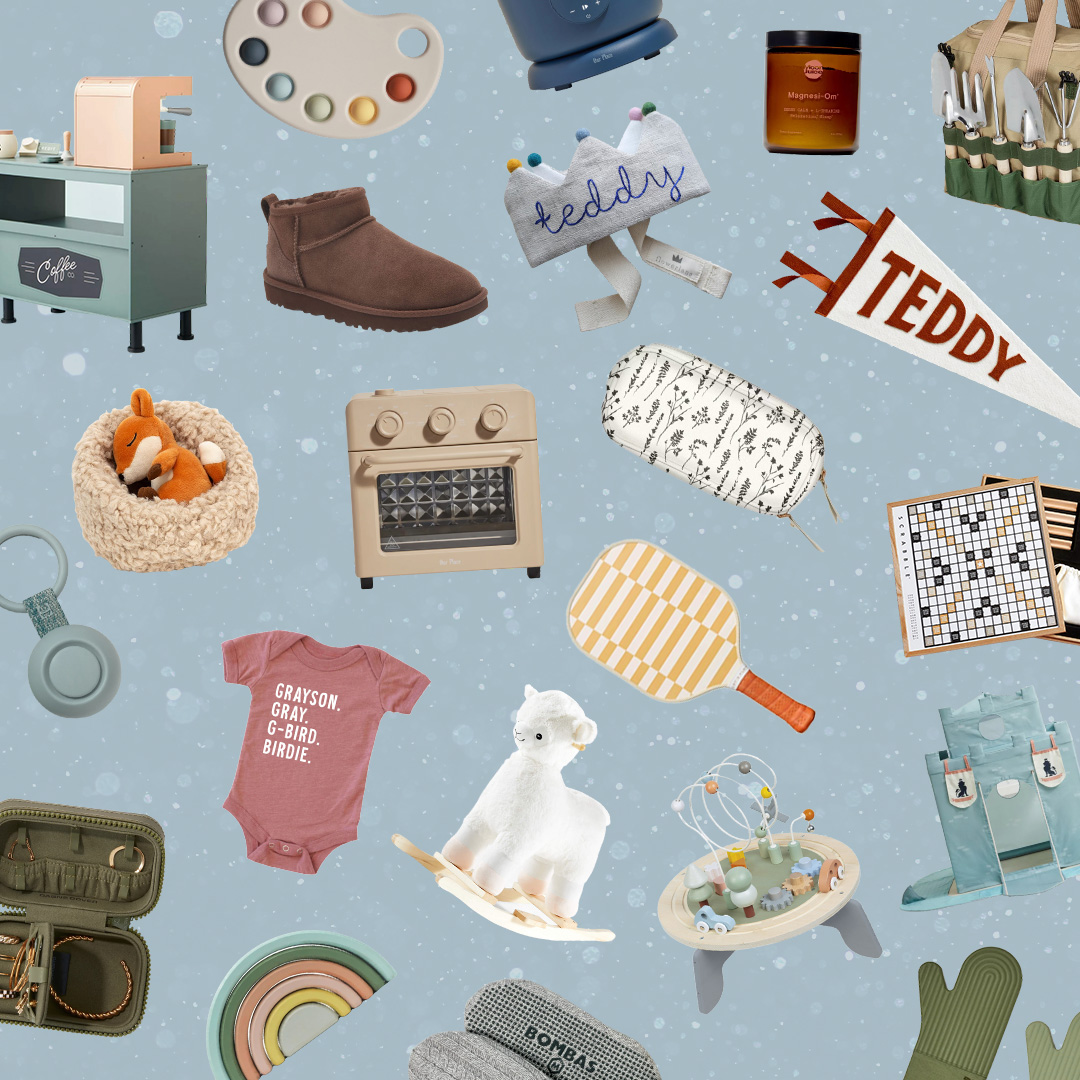 everything you need to ace holiday gifting this year 🎁
Cost aside, I never realized how much of my time went into these classes. Signing up (some scheduling systems are so competitive and stressful!), getting to the studio early, waiting for class to start, cooling down, going home—it is a process. While a class might last 45 minutes, the whole endeavor was at upwards of 90 minutes. Before I had a baby, this was fine. I love working out, and it was time well-spent.
Things changed when I was pregnant and in my third trimester. I still loved the energy in a group class, but I was modifying so much that it felt like a waste of my time and money to be in these expensive classes.
And then once baby arrived, my whole life changed.
Those 90 minutes that went into each class were not happening. It was a mix of literally not having the time, but also when I did, not wanting to spend so much of it away from baby. Logistics are challenging; whether it's arranging childcare or if you're a nursing or pumping mom, timing it exactly right to get to class without an overflowing sports bra. All of this is to say: at-home workouts have become my jam.
At-home workouts are efficient, can be done at a moment's notice when baby goes down for their nap, and while they still cost money, it's a fraction of the cost of their in-studio counterparts.
There are plenty of free workouts available online, but when you put a bit of money behind your cause, you end up getting a lot more out of it. These programs keep you accountable, provide structure, and can be customized to match your needs.
I've tried a range of at-home workouts, and my current personal favorites are Peloton and Expecting and Empowered. I asked around to find the best of the best for women that are pregnant, newly postpartum and working to regain strength, and beyond.
Here are the best at-home workouts requiring minimal equipment that are worth your money and your time:
Obé Fitness offers daily classes that you can take live or you can stream later. Obé signature classes are 28 minutes and fit into three pillars: define, sweat, and flow. There are also 10-minute express classes. Class offerings include dance, HIIT, circuit, sculpt, Pilates, strength, yoga, and more. Those who have tried Obé say you'll be surprised just how challenging and effective even a 10-minute workout can be. A 7-day free trial is available.
Equipment: Equipment-free or buy the Level Up Kit (resistance bands, ankle weights, sliders, and a barre ball)
Program Cost: $24.99 a month or $169.99 a year
Whether you had a baby 2 months ago or 12 years ago, these pre and postnatal training programs are an effective way to rebuild your strength. There are a handful of specialized workout programs to choose from, including post-pregnancy ab-rehab, C-section recovery, and more. You can pay a little extra and have coaching along with the programs, which help with accountability and education. These programs are a great option for post-natal women working through diastasis recti. Programs help to heal, flatten, and strengthen your core.
Equipment: Dumbbells and a bench
Cost: $20 per month
With nearly 12 million YouTube subscribers, Yoga with Adriene offers tons of high-quality, free content. The practice welcomes all levels, bodies, and genders. With such an extensive library, you can search for a class that suits your mood, from beginner to advanced. While there is plenty of free content, you can also sign up for Find What Feels Good, featuring exclusive content, new videos every week, and premium courses.
Equipment: Yoga mat
Cost: Free for standard content, FWFG $12.99 per month or $129.99 a year
You get what you pay for, and with Peloton, you are paying a lot, but you are getting your money's worth. You can buy the Peloton bike, treadmill, or rowing machine and sign up for the monthly membership, or you can forgo the hardware and sign up for a Peloton Digital membership. With the purchase of a bike or treadmill, you're bringing a cardio experience into your home. With the app, you have access to thousands of live and recorded workouts including cycling, running, Pilates, yoga, meditation, strength work, and more.
You can connect with other community members, participate in challenges, and stay accountable thanks to your recorded stats. Anna Wolfson, doctor and mother of 2, is a fan: "I like being able to get an intense workout completed in 30 minutes total. No commute time, locker room, checking in, waiting for class to start—all of that felt like precious time that was wasted. It's the right amount of time that my kids are able to occupy themselves or nap, so I don't need childcare. And my husband uses it too, so the cost feels worth it!" 30-day free trial available.
Equipment: Can be as much as the bike and/or treadmill, cycling shoes, weights, or as simple as a yoga mat
Cost: $12.99 digital only, $2,495 for the bike, $3,495 for the treadmill + $44 a month for the monthly membership
For a short program to get on track, check out 21 Day Fix. The 21-day program includes 28 workouts and a nutrition plan. The plan was created with beginners in mind; all fitness levels can participate. It's described as simple fitness, simple eating, and fast results. Remember that there is no quick fix to wellness, so after the 21 days are up, you'll want to continue on your fitness journey. This program is part of the larger Beachbody membership so there are lots of other programs to try out next. 14-day free trial available.
Equipment: Light weights and an exercise mat
Cost: About $60
Perhaps you've seen the transformations on Instagram and are intrigued by this seemingly simple and quick (28 minutes per workout!) yet amazingly effective program. Formerly known as BBG, Sweat with Kayla has grown into so much more. Kayla Itsines has 15 million followers on Instagram, so to say she has devoted fans would be an understatement. Within Sweat with Kayla, there are many guides to choose from that you can download as ebooks or sign up for the app.
Equipment: Beginner requires a resistance band, yoga mat, dumbbells, chair, and foam roller. More advanced program is not as ideal for home with more required (bosu, medicine ball, barbell, etc)
Cost: $19.99 a month
P.volve is a low-impact and safe at-home workout based on functional movement. While the workout claims to give you more defined thighs, a higher butt, and a stronger core, perhaps the most appealing claim is that the workout will give you a healthy and strong body, allowing you to get more out of everyday life. Filter workout options by length, body focus, and more. The app will curate a plan based on your goals, and you'll receive suggestions for weekly workouts. 14-day free trial available.
Equipment: Possible with no equipment, but three must-have tools are recommended
Cost:

$19.99 a month or $149.99 a year
Push yourself safely and effectively with 45-minute total body workouts that are a mix of strength, metabolic conditioning, cardio, and core work. Workouts require minimal equipment and offer 30 weeks' worth of workouts and access to a video library with over 150 exercises. Erica Friedman, personal trainer and mom to a 13-month old is a fan: "These workouts help build strength from the inside out and slowly progress you. I've learned a ton. She has a loyal following, and my physical therapist even recommended her." 7-day free trial available.
Equipment: There is a decent amount of equipment required, the full list can be found here
Cost: $28.99 a month or $199.99 a year
If barre is more your speed, Barre3 might be for you. Gain access to hundreds of online workouts and choose from different lengths and focuses. Mom of two, Hope Lobkowicz of Kindred Kid & Baby is a Barre3 follower. "The monthly cost for unlimited streaming is a super good value. I like that I can be flexible about when to get my workout in, especially with the kiddos. I also like the Barre3 approach and the workouts themselves—the intensity and pace are right for me, and I can get a good workout done in 30 mins." Lobkowicz said.
Equipment: Equipment-free, or use core sliders, resistance band, 2 lb weights, and mat
Cost: $29.99 a month
With free workout videos for every fitness level, Fitness Blender is an excellent place to begin (or continue) your fitness journey. Workouts include strength, cardio, HIIT, Pilates and more. While it's free, you can take your experience further and sign up for a structured plan. These plans curate the free workouts into an easy-to-follow plan, track progress, and offer tips along the way. Mother of one Dawn Cacase chose this workout after recently having a baby. "Especially when I was coming back after baby, I needed to start a little easier. I love that all of the videos are free and there is great search functionality to quickly find what you need. And probably most of all, I love their focus on health and making progress rather than being all about losing weight."
Equipment: No equipment for some workouts, weights and a mat for others
Cost: Free workouts with workout plans around $10 for 2 weeks
This workout is based on precise, low-impact movements. Membership includes an exclusive workout published every Monday and unlimited access to 500+ workouts, including pre and postnatal programming, treadmill work, meditations, and more. One subscriber said these were the perfect workouts to do after having a baby. While she formerly gravitated towards HIIT , these low-impact, high- repetition workouts were the refreshing break that her body needed postpartum. The workouts are all about building a better and stronger relationship with yourself, and who couldn't use that? 7-day free trial available.
Equipment: None or you can use ankle weights, a Pilates circle, resistance band, and ball
Cost: $9.99 a month or $99 a year
Sisters Amy and Krystle, owners of Expecting & Empowered, created the guides to help women through pregnancy and postpartum, Choose guides by trimester, a postpartum guide, or a guide for postpartum women further out. With six kids between them and professional fitness and physical therapy backgrounds, they know what women need through the various stages of motherhood. Workouts include core rehab, pelvic floor work, and strength training, all done in a safe and effective way.
Equipment: Resistance bands, weights, yoga mat
Cost: $19.99 per month or $149.99 per year
For non-dancers that want to dance, check out The Sculpt Society. The workouts were created to get fit while having fun. Dance cardio and sculpting routines for all levels will help to lengthen and strengthen your entire body. Workouts are under an hour and use bodyweight and light resistance. Thanks to the simplified dance cardio moves, everyone will feel successful. 7-day free trial available.
Equipment: None needed, or add weights, resistance bands, and sliders.
Cost: $19.99 a month or $179.99 a year.
The ladies of Tone It Up have been helping women feel their best since 2009. They are all about engaging and effective workouts, with tons of free content. If you're looking for more in-depth workouts and plans, join the community by signing up for the app. With a subscription, you'll get access to fitness programs, live classes, recipes, nutrition guidelines, and more. 7-day free trial available.
Equipment: A yoga mat or various other equipment, like resistance bands and weights, depending on the workout
Cost: $14.99 a month or

$99.99 a year
This article was originally published at an earlier date and has been updated for timeliness.