When I was creating a registry in preparation for my first baby, every single mom friend of mine told me about a "must-have" baby swing. They all claimed this one swing in particular was budget-friendly and was the only thing that got their babies to fall asleep. I promptly added it to my registry.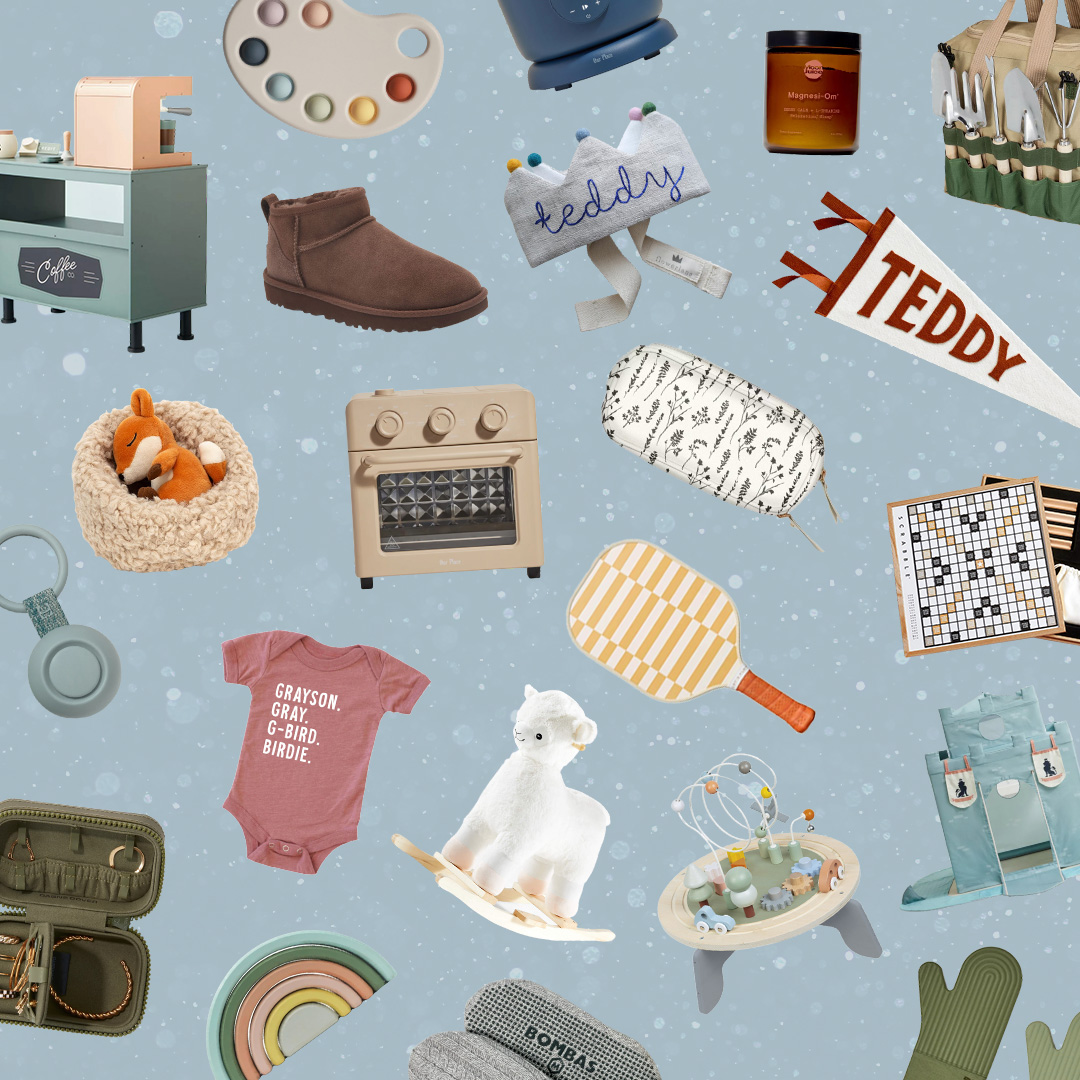 everything you need to ace holiday gifting this year 🎁
A few weeks before my baby was born, the swing was recalled and it was back to the drawing board. I was overwhelmed by the choices and the lack of recommendations. The prices of available swings ranged wildly. In the end, I opted not to even register for a swing, simply because I couldn't decide.
Once my baby was born, I realized pretty quickly why swings and bouncers are great to have on your registry. Thankfully, a neighbor lent me hers, and soon enough, my baby was swinging and relaxing without me having to rock her for hours at a time.
Do you really need a swing or a bouncer?
I suggest at least getting one or the other. While we did use the swing and it was nice to have, I didn't find it to be an essential and I didn't use it nearly as much as I did other big-ticket items on my registry. Personally, we used our bouncer far more often than the swing.
For my second baby, I ended up getting another swing (that was also a hand-me-down from a neighbor) and I found that with a second baby, the swing was slightly more essential as I had a lot more to juggle as a mom of two under 2. Even so, swings can be bulky and pricey, and some are only good up to six months. However, if you have a fussy baby that you can't put down, you're really going to want that swing.
Keep in mind that swings are not considered a safe place to sleep and if your baby does fall asleep in a swing, it is recommended to remove them from the swing and put them into their crib or bassinet. You should never leave a swinging baby unattended.
Feeling ready to add a swing or a bouncer (or both!) to your registry? Here are the best ones to check out.
Best Overall
Best Swing
BuyBuyBaby
This futuristic baby swing has tons of motion options to fit whatever your baby is in the mood for. You can adjust the recline position as well. While your baby may love this bouncer, it's expensive and only good up until six months, so it doesn't have the longest lifespan. But while you have it, you're going to love it.
Best Bouncer
BuyBuyBaby
At nearly $200, this bouncer is pricey, but it's also magical. The design might seem basic, but babies tend to love this seat and many stay content while bouncing themselves by kicking their feet. You can also purchase a toy accessory bar.
Best to Grow with Baby
Swing to Grow with Baby
Pottery Barn Kids
For a nice-looking seat that you won't mind having in the middle of your living room, the LEAF works for big kids (up to 130 pounds!). There are three recline positions and it offers a smooth and quiet side-to-side motion.
Bouncer to Grow with Baby
Pottery Barn Kids
Believe it or not, this chic-looking bouncer works from babies newborn up until 5 years old. The bouncer can be adjusted to go from newborn to toddler. It's also compact for travel and easy storage.
Best Budget Picks
Budget Bouncer
Target | Fisher-Price
At under $30, the price of this bouncer can't be beat. If you're not ready to splurge on a high-end bouncer, this one has what you need at an affordable price with a removable toy bar, calming vibrations, and a machine-washable seat pad.
Budget Swing
Amazon | Fisher-Price
This budget-friendly seat works for toddlers up to 40 pounds and comes with a removable toy bar.
Best Minimalist
Minimalist Bouncer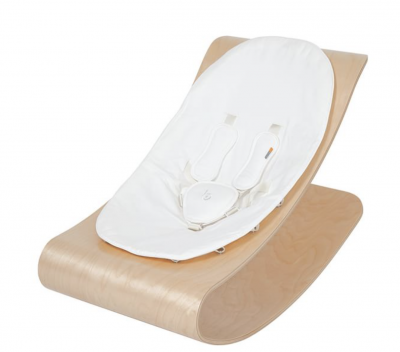 Pottery Barn Kids
You don't have to forgo style when it comes to this sleek bouncer. Choose from three frame colors, and this bouncer will seamlessly align with your style.
Minimalist Swings
BuyBuyBaby
This swing works for birth up to 9 months and offers good head and body support, five different sway speeds, and music from classical artists.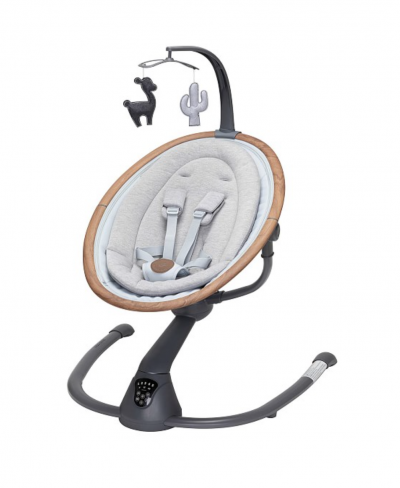 Pottery Barn Kids
The Maxi-Cosi swing has an automatic motion detector, allowing it to know when and how to rock your baby. The 360-degree rotation allows you to keep an eye on your baby at all times and is designed in a lightweight and space-saving way.
Best Portable
Portable Swing
BuyBuyBaby
This compact swing has two recline positions, six speeds, music, and a toy bar. Its easy fold for storage makes this a good choice, as does its light weight at 9.11 pounds.
Portable Bouncer
BuyBuyBaby
This easy-to-collapse bouncer makes it a good on-the-go option. It also comes complete with a carrying bag so you can bring it on your next trip.