To my fellow moms: Have you ever experienced a diaper blowout with your baby only to realize mid-diaper change that you don't have the wipes/extra diapers/backup onesie you swore you packed in your diaper bag? It has happened to the best of us, and I'm sure I'm not the only mom who had to race home early with a naked baby in search of the elusive backup onesie.
While blowouts are bound to happen to even the most seasoned mother, a well-stocked diaper bag can be a real savior during your daily adventures. Though I've definitely forgotten important items before (one time, I only packed one extra diaper for a 5-hour flight with my newborn, oops), I've gotten better at making sure my diaper bag has my must-haves ready to go.
Curious what's in my diaper bag? Here's a look at five of my favorite items and why I can't live without them.
Diaper bags get really full really fast, which is why products that can pull double (or triple) duty are the stars of your diaper bag. I love this healing ointment because it truly does it all. It's gentle enough for baby, and you can use it for diaper rashes, dry skin, chapped lips, and as a moisturizer. I sometimes even use it for me, too.
This multipurpose ointment has been great for my newborn's dry and flaky skin, but it's also a lifesaver for my own hands, which have been extra dry thanks to ample hand washing and hand sanitizer use. I tend to gravitate toward products that I know will work for both me and my baby and won't be irritating, and this one definitely fits that description.
Target
The perfect product for both baby and mama.
2. Long Sleeve Body Suits
As mentioned before, you will absolutely need an extra onesie at one time or another. While we can all pray for a non-blowout outing, there might be a day that requires an outfit change mid-playdate. I love having basic bodysuits and always make sure that there are one or two in my diaper bag. They roll up small and are the perfect item to grab for a quick change.
For cooler weather or during the newborn weeks, I typically prefer to have long-sleeve, footed pajamas in my bag to ensure baby is warm enough.
Burt's Bees Baby
It can never hurt to pack one, two, or maybe three backup outfits when heading out the door.
Burt's Bees Baby
For cooler weather, sometimes pajamas are just an easier backup outfit to have in your bag.
3. Waterproof Wet Bag
After that outfit change, you'll want to have a place to put your baby's dirty clothes. I like to use a reusable wet bag, as it's eco-friendly and won't rip or leak in your diaper bag. The Bumkins bag is ideal for dirty clothes, diapers, and swimsuits. Beyond the baby years, these bags are great for dirty gym clothes and toiletries while traveling.
Amazon
These reusable bags will save the inside of your diaper bag from everyday messes.
Life with a baby gets messy. Face and hand cleansing wipes are essential to have at the park or when you're finishing up a meal or snack. Burt's Bee's wipes are infused with Aloe and Vitamin E, are hypo-allergenic, and work well for sensitive skin. These wipes can be used on baby's hands, feet (does anyone else have a toddler who loves to run around barefoot?), and face, and they don't require rinsing.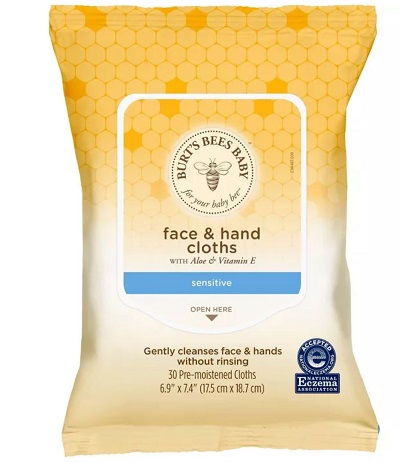 Target
These wipes are a good go-to for messy hands, faces, and feet.
5. Baby Bib
Let me introduce you to Bapron, these adorable and easy-to-pack bibs. Baprons roll up small, so they barely take up any space in your diaper bag. They're great for messy meals and snacks while you're out and perfect if your child is doing crafts. I've used these Baprons for the baby years and well into toddlerhood. I always have one in my diaper bag for everyday outings and make sure to pack them when traveling.
Bapron
If your baby or toddler is joining you for a meal, a packable bib is great to have in your bag.
This post was in partnership with Burt's Bees Baby but all of the opinions within are those of The Everymom editorial board. We only recommend products we genuinely love.