Biking, scootering, skateboarding, and rollerblading are some of summer's most fun activities for kids. And as with many of childhood's most beloved activities, these all come with the risk of injury.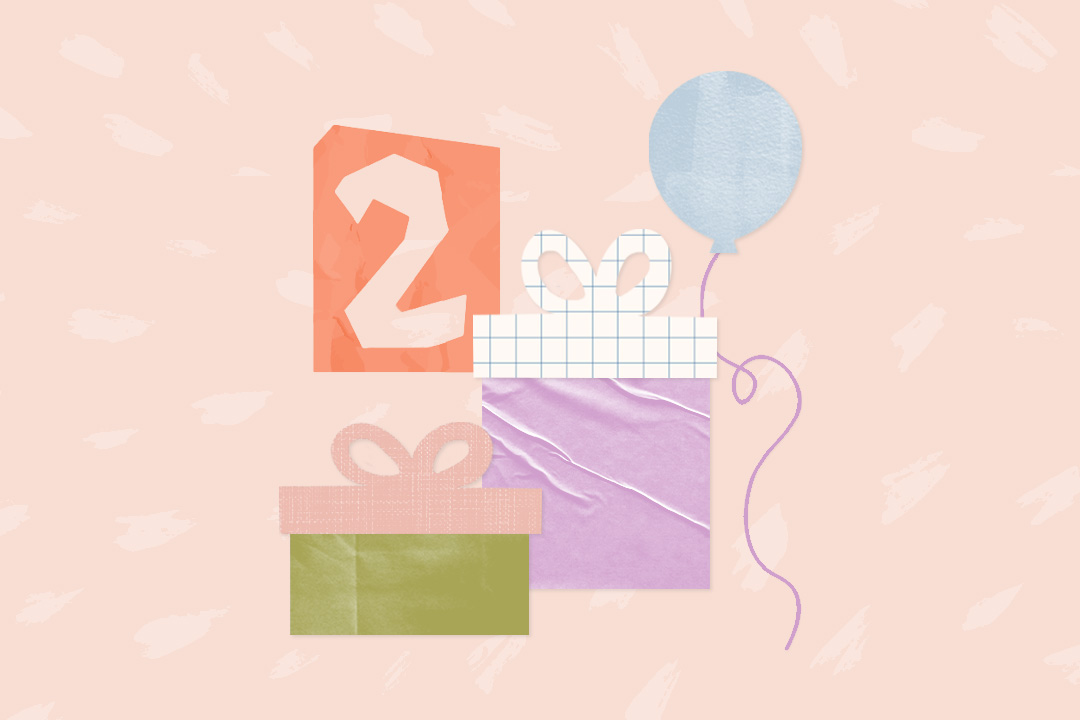 a LO in your life will love these! 🎁
Since kids are new to these activities and also tend to fall, helmets are essential to help reduce the risk of severe head injury and even save their life. That's why wearing a helmet should be non-negotiable: kids wear their helmets, or they don't ride, scoot, or skate.
When it comes to helmets, of course, you want one that is safe and one that is a good fit for your child—and one that fits correctly. You also want one that they'll actually wear.
We all know that toddlers and kids can be particular about what they wear—and helmets can be bulky and uncomfortable. That's why we're breaking down what to know before buying a bicycle helmet for your little one, plus our picks for the best bike helmets for toddlers and kids.
What to Know Before You Buy a Kids Helmet
Make Sure the Helmet Is Certified
The U.S. requires bike helmets to meet certain standards set by the Consumer Product Safety Commission that ensure the safety of the helmet. Any helmets sold in the U.S. after March of 1999 must comply with these standards, and the inside of the helmet will be labeled as such.
Be careful when buying online, as products sold online are not always what they claim to be. When the helmet arrives, check that the CPSC certification label isn't missing or damaged and that it contains all the required information like the month and year of the product's manufacture date as well as a statement outlining the CPSC safety standards that the helmet meets.
Pick a Helmet for the Right Activity
Helmets are designed for specific activities, and each type of helmet is designed for protection in specific conditions, according to the AAP. If you plan to use a helmet for multiple activities, make sure it is a multi-use helmet that meets the necessary certifications for each activity.
For example, you can wear a CPSC-compliant bike helmet for riding a bike, a kick scooter, and while in-line skating and roller-skating. But a skateboard helmet requires additional certification from the CPSC and the American Society for Testing and Materials, so you'll want to get a multi-use helmet if your kid(s) plan to bike and skateboard.
Get the Right Toddler and Kid Helmet Size
Helmets come in different sizes, so measure your child's head before purchasing. Wrap a piece of string around their forehead and then lay that string against a tape measure or yardstick.
A helmet should cover the top of the forehead with the chin strap adjusted for a snug fit to keep it from moving around on the head or sliding down over the eyes when it's pushed or pulled, according to the American Academy of Pediatrics.
The side straps should make a V just below the ears, and only 1-2 fingers should be able to fit between the chin strap and your child's chin.
Buy Brand New
The AAP recommends that you do not resell, donate, or buy a used bike helmet because it may be too old to provide protection or may have been in a crash.
Replace After a Crash
If a helmet has been through a serious fall or crash, it's best to replace it because it may not provide enough protection after another crash. When in doubt, throw it out.
Kids Helmet Options
MIPS Technology
Some helmets have MIPS technology. It stands for Multi-Directional Impact Protection System, and it's essentially an extra layer of safety between the helmet's EPS foam and liner.
MIPS technology may reduce rotational forces of impact, potentially lessening the chance of concussion and other brain injuries. MIPS technology can add to the cost of a helmet, but if you're looking for some extra protection, it may be worth it.
That said, the CPSC encourages consumers to "beware of claims that a particular helmet can reduce or prevent concussions," so the jury is still out on that one.
Since all helmets sold in the U.S. must meet CPSC safety requirements, you can rest assured that a MIPS-less helmet is safe.
In-Mold Helmets
Most helmets are either in-mold or hard shell, which describes how they're constructed. One is not safer than the other, but your child may find one more comfortable.
An in-mold helmet has a thin, hard plastic outer shell that is molded onto the helmet's EPS foam, making it one piece. These helmets can be less bulky and lighter than hard shell helmets.
Hard Shell Helmets
In a hard shell helmet, a strong shell—often plastic or fiberglass—is laminated to the helmet's EPS foam, so it is not all one piece. These helmets can sometimes cost less than in-mold helmets.
Shop the Best Helmets for Toddlers and Kids
Moving onto six of the top-rated toddler and kids helmets, we've compiled this list based on safety features, user ratings, comfort, durability, cost, and style (lots of fun, bright colors!).
Best In-Mold Helmet: Giro Scamp
The Giro Scamp is one of our favorite helmets for its durability with in-mold construction and optional MIPS protection. The XS size is one of the smallest options out there, fitting heads as small as 45 centimeters.
Amazon
Pros:
-Lightweight, in-mold construction
-XS can fit heads as small as 45-49 centimeters
-Built-in visor for sun protection
-Optional MIPS technology
-Adjustable fit dial inside the helmet
-Flat back is ideal for bike trailers and child bike seats
-Pinch-proof buckle
-Fewer air vents than some
Cons:
-Can be expensive (MIPS option is up to $70)
Best Dual Certified: Nutcase Little Nutty MIPS
For kids who are going to be biking and skateboarding, the Nutcase Little Nutty MIPS helmet is one of the best options out there. With durable, in-mold construction and more than 20 styles to choose from, you and your kiddo will love this helmet.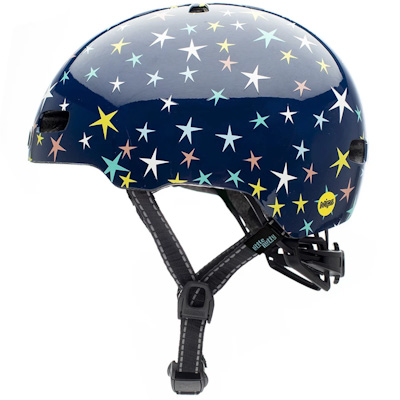 Amazon
Pros:
-Certified for biking and skateboarding
-MIPS protection
-20+ styles
-Optional visor add-on
-No-pinch magnetic closure
-Adjustable fit dial inside the helmet
Cons:
-Fewer air vents
-Heavier than some other options
-Expensive ($69.99)
Best for Small Heads: Schwinn Infant Helmet
The Schwinn Infant Helmet comes in the smallest size of all the helmets we could find, with the infant size fitting heads from 44-50 centimeters.
Amazon
Pros:
-Fits small heads
-Hard shell/in-mold combo for extra protection at the back of the head
-Integrated visor for sun protection
-Multiple vents for airflow
-Adjustable fit dial inside the helmet
-Budget-friendly ($24.99)
Cons:
-No MIPS technology
Best Budget-Friendly: Joovy Noodle
The Joovy Noodle helmet is a budget-friendly helmet that doesn't sacrifice safety. Coming in around $30 and in two sizes to fit kids ages 1-9, this is one of our favorite bike helmets.
Target
Pros:
-Breathable with 14 air vents
-Adjustable fit dial inside the helmet
-Integrated visor for sun protection
-Lightweight
-Budget-friendly ($29.99)
Cons:
-No MIPS protection
Best Fit: Lazer Gekko MIPS
The Lazer Gekko MIPS helmet is the only one on our list with an AutoFit system to adjust to your child's head when they put it on. Parents pull the AutoFit rear basket open, put the helmet on the child's head, and the system will automatically adjust itself for an optimal fit.
Amazon
Pros:
-Automatic fit adjustment
-Anti-pinch chin buckle
-Optional integrated rear light
-MIPS protection
-Built-in visor
-Multiple air vents
Cons:
-Expensive ($60+)
Best Family Matching: Thousand Jr. Kids Helmet
Obviously, safety comes first, and the Thousand Jr. helmet checks all of those boxes, including being multi-sport certified. It's also the child-size version of Thousand's adult Heritage helmet, so if you're into the mommy-and-me or daddy-and-me matching, this is the helmet for you.
Thousand
Pros:
-Certified for biking, roller skating, and skateboarding
-Magnetic chin buckle
-Vegan leather straps
-6 colors
-Adjustable fit dial inside the helmet
-Comes with removable, reflective stickers for customization
-Optional monogramming
Cons:
-Fewer air vents
-One-size (49-53 centimeters)
-Not recommended for kids under 5