Nearly every book lover has either joined or fantasized about joining a book club with other people who are equally as geeked out about their favorite novel. Anytime I'm in the process of reading a good book, I want nothing more than to blab about it for hours to anyone that will listen. Even if your friends and family are good sports about listening to your bookish rants, nothing compares to talking to others who are equally invested in your all-consuming ideas and commentary. And what's even better than simply being part of a book club? Hosting a book club night centered around the group's chosen novel—and if you're looking for some impeccable book club theme ideas to do just that, you've come to the right place.
Perhaps my favorite thing about readers is how devoted we become to our favorite fictional characters and worlds. If you've scrolled through BookTok for even 10 minutes, you understand how a community's obsession for pretend people is very real. So why not bring that joy to life by organizing a book club event inspired by the beloved book? We're talking beverages, food, clothing—the whole works. And to help you bring this budding vision to life, we've put together 10 book club theme ideas, and the moodboards to go with them, based on a popular book from different genres. Whether you're a hopeless romantic or a true crime enthusiast, check out our suggestions for hosting the perfect theme night below.
Roaring '20s
When you think of the roaring '20s, we're willing to bet that The Great Gatsby also comes to mind. F. Scott Fitzgerald captures the opulence of the prohibition era in a way that transcends generations. What better way to commemorate a time period that revolved around glamorous, hidden pleasures than with an elegant Blanc de Blancs Sparkling from La Crema? La Crema wines are the "best of the vine," uniquely expressive, and elegant. Their 2017 vintage Blanc de Blancs is described as indulgent, refined, and vibrant—the perfect match for a book set against the allure of the Jazz Age. Use code LCEVERYMOM to receive 15% off + free shipping when you order four or more bottles!
Channel luxury even further by pairing your wine with smoked salmon canapés that will make your mouth water. Tap into 1920s flapper fashion with feathered details, beaded tassel earrings, and metallic ballet flats—and, voilà, you have yourself a roaring '20s-themed book club fit for the modern age!
Shop this theme
wine | book | top | jeans | shoes | earrings
Classical Romance
Whether you've read Pride and Prejudice a dozen times or have only seen it on the big screen with the fab Keira Knightley and gentlemanly Matthew Macfadyen, this book is an obvious choice for a Classical Romance book club. Tap into those cozy English countryside vibes with English breakfast tea, scones with cream and jam, and a silk pajama set.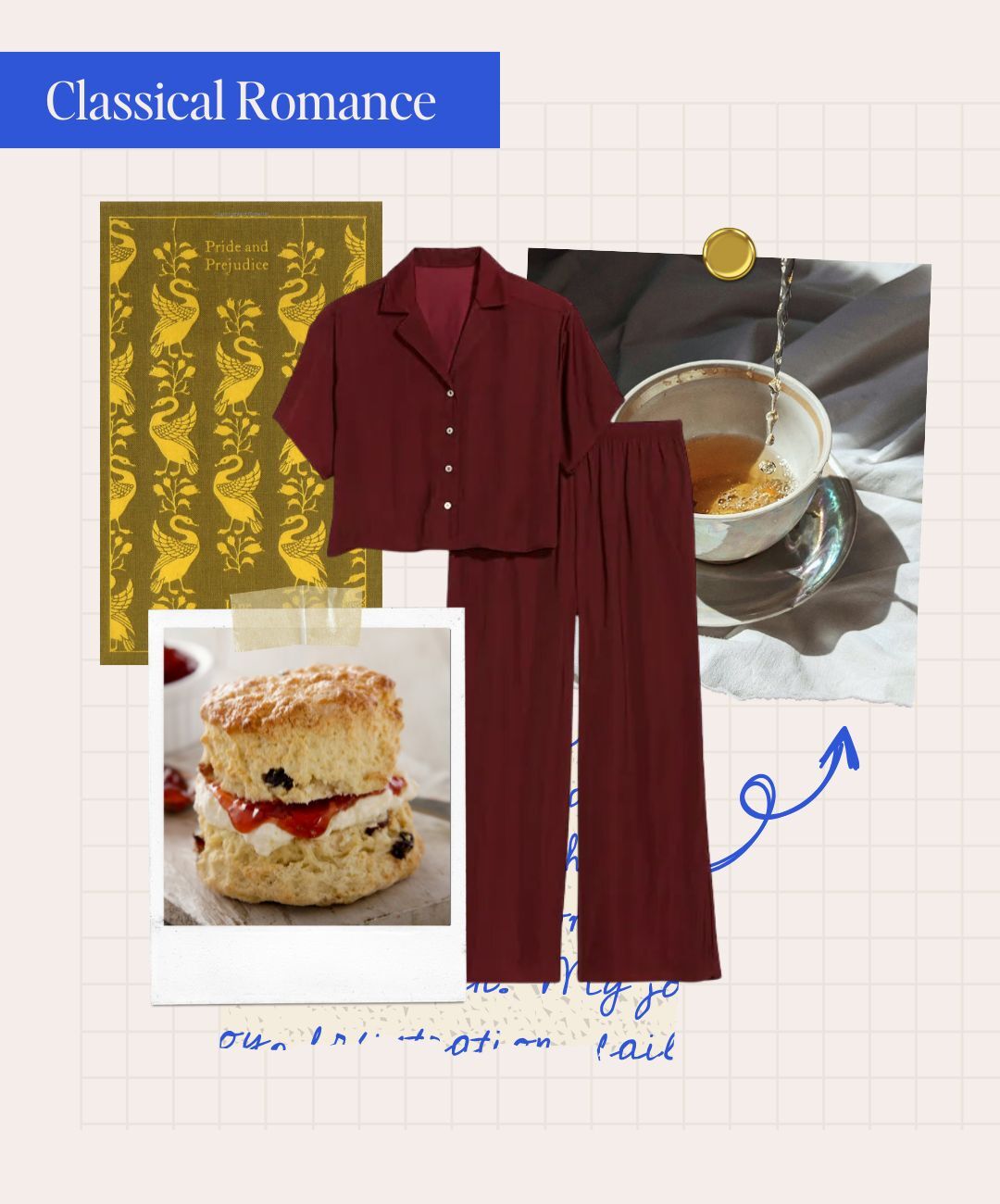 Shop this theme
book | english tea set | pajama set | slippers | headband
Thriller
Mexican Gothic is our thriller book club pick. The story follows the glamorous debutante, Noemi Tabaoda, in 1950s Mexico as she visits the Mexican countryside to save her cousin from a mysterious doom. However, she finds herself plagued with visions of blood and madness in this terrifyingly seductive manor. To go with this theme, we chose the Monterey Pinot Noir wine from La Crema, not only because it's sourced from the heart of Monterey, but because it also perfectly encapsulates the depth and mystery of Mexican Gothic. Monterey Pinot Noir is moody, dark, with a spicy finish—everything you want to experience when reading this thriller. Order your bottles directly from InstaCart to get them to your door ASAP!
Pair your Pinot Noir with a charcuterie board to invoke complex tastes similar to the complexity of this novel. You can use cheeses with a peppery finish, crisp salami, and visually darker elements like olives and figs to create dimension. Lean into the elevated moody theme with this ruffle-trim button up and a pair of comfy runaround pants and sneakers (in case you get a little scared and have to speed home after the meeting 😉).
Shop this theme
wine | book | wooden serving board | top | pants | shoes
Cozy Holiday
If you're a lover of holiday Hallmark movies, then Royal Holiday will be your bread and butter for this book club theme. The story follows Vivian Forest as she takes a spontaneous holiday vacation in England and meets the charming Malcolm Hudson, the private secretary to the Queen. This achingly sweet love story is filled with flirtatious banter, a kiss under the mistletoe, and the perfect amount of steam. Bring out all the festive joy for this theme with hot cocoa, holiday dessert boards, cozy lounge sets, and furry slippers.
Shop this theme
book | mugs | lounge set | headband | slippers
Autobiography
Not only is Priyanka Chopra Jonas a talented actress and philanthropist, she's also a New York Times Bestselling author. Her thoughtful memoir offers insight into her life from childhood and beyond. We discover how her early career in beauty pageants launched her global acting career. She also touches on her marriage to Nick Jonas and other aspects of her family life in a way that is both touching and courageous. Priyanka is graceful, layered, and bold, so we chose a beverage that embodies just that: La Crema's Sonoma Coast Pinot Noir. Order your bottles directly from InstaCart to get them to your door ASAP!
Sonoma Coast Pinot Noir has aromas of raspberry, cranberry, black licorice, and exotic tea notes, which results in a wine bursting with expressive flavor. We suggest offering a simple dish like baked camembert that compliments the bright acidity of this wine. Our outfit inspo for this theme is all about Priyanka's classic style and elegance.
Shop this theme
wine | book | button up | leggings | shoes
Fantasy
Explore the magical world of covert witches in The Very Secret Society of Irregular Witches, and meet Mika Moon. Mika is one of the few witches in Britain and is trying her best to hide her magic until she gets invited to teach three young witches how to control their powers. This story shows the vibrant possibilities that can occur when you're pushed out of your comfort zone and take a chance. It's a cozy read centered around the warmth of found family and new love.
La Crema's Monterey Pinot Gris is the ideal pairing for this book club theme with its magically balanced aromas of citrus, pear, and Gala apples (use code LCEVERYMOM to receive 15% off + free shipping when you order four or more bottles!). Because a Pinot Gris pairs well with nearly any dish, no matter how spicy, sweet, salty, or sour, this varietal will be a great choice that'll please wine newbies and connoisseurs alike. Use this versatility as an opportunity to serve a editor-favorite butter board that'll wow your guests. Cozy up with a 'bookish' sweatshirt, some comfy Birkenstocks, and your enchanting read for the ultimate night in.
Shop this theme
wine | book | sweater | jeans | shoes
Feel-Good Romance
Nora Goes Off Script is one of those romance novels that will have you audibly cheering on the main character and squealing every other page. Nora Hamilton is finding herself after her marriage ends and rediscovering what it means to love on her own terms. She also finds herself falling for former Sexiest Man Alive Leo Vance when he plays the lead in her script-turned-movie.
There's no better way to enjoy this juicy love story than with a glass of La Crema's Sonoma Country Sauvignon Blanc. This wine contains fresh aromas of citrus bloom, lemon grass, and passion fruit—equally matched by the passion in this novel (Order your bottles directly from InstaCart to get them to your door ASAP!). Serve deliciously elegant crab cake bites as you watch Nora finally experience the finer things in life after years of struggle.
Shop this theme
wine | book | top | bottoms | claw clip | shoes
The Wild West
Fans of Yellowstone will go wild for Téa Obreht's Inland. Go on an epic Western adventure with Nora, an unflinching frontierswoman holding down the fort while the men in her life search for water and, Lurie, a former outlaw who's being haunted by ghosts. This novel is grounded in true but little-known history and will keep everyone on their toes. Beer, cowboy caviar, and denim-on-denim outfits really pull this Western book club theme together.
Shop this theme
book | beer glass | button up | jeans | boots
Beach Read
Three women, who are virtually strangers at first, embark on a summer vacation in the Hamptons to find solace in their unlikely friendship in Summer on Dune Road. Their summer may not be going as planned, but it ends up being exactly what they need. Enjoy this classic beach read with Seabreeze cocktails in hand and a bowl of refreshing avocado, grapefruit, and fennel salad. Channel your inner Hamptonite with a timeless blue striped lounge set and teddy Birkenstocks.
Shop this theme
book | cocktail glass | lounge set | shoes
True Crime
I'll Be Gone in the Dark (the basis for the HBO docuseries), covers the hauntingly true story of a serial rapist turned murderer during the '70s and '80s in California. Three decades after the killings, Michelle McNamara, a true crime journalist, became determined to find the psychopath whom she dubbed "the Golden State Killer." This novel details her efforts to unveil the truth before her sudden death, and how her research helped unmask the killer years later.
Bloody Marys and bacon-wrapped jalapeño poppers—both heavy and jarring to the senses—are an obvious choice for this book club theme. Curl up with a comforting sweater and sneakers for a read you'll wish you could run from.
Shop this theme
book | cocktail glass | sweater | jeans | shoes
This post is sponsored by La Crema, but all of the opinions within are those of The Everymom editorial board.