Many people may dream of turning a personal passion for ice cream into a full-fledged career (sounds amazing, right?!) but Natasha Case actually made that her reality. With a background in architecture and design, Natasha and her wife, Freya Estreller, decided to combine their career skills and launched Coolhaus — a women-founded and led ice cream brand serving premium cookie sandwiches, pints, and bars — in Southern California in 2008.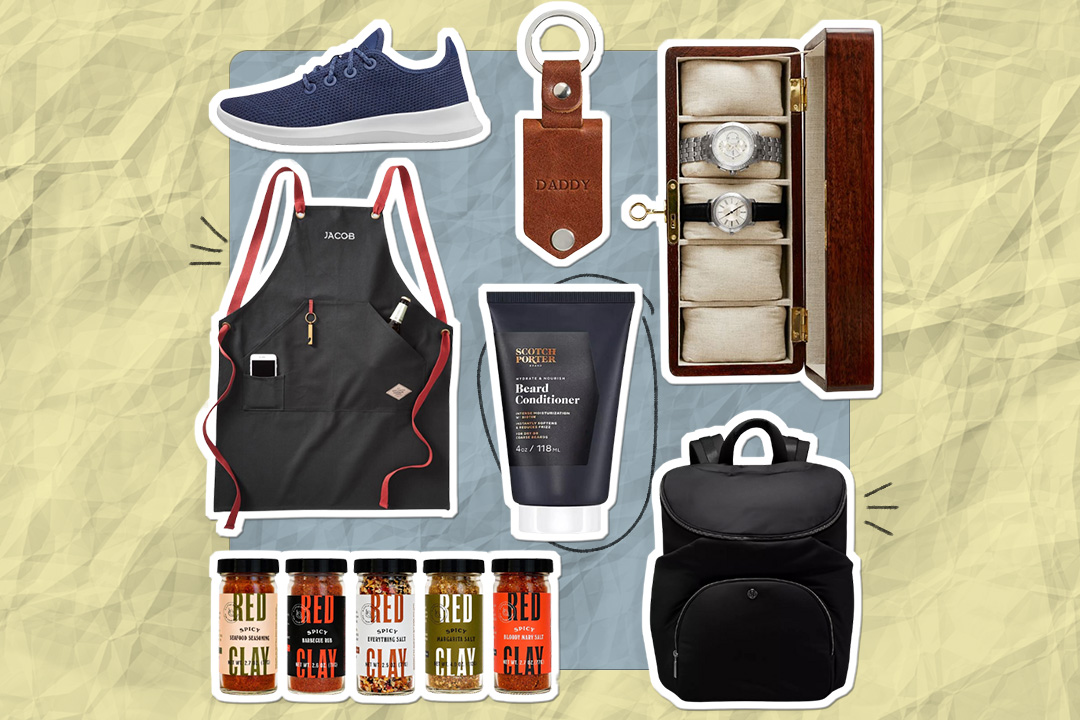 june 18 is coming up fast — have you started shopping yet? 😎
Today, Natasha serves as CEO of Coolhaus and has expanded the company's original storefront to 10 food trucks and carts across the country (you can find them in New York City, Dallas, and LA!) and to nationwide grocery stores like Whole Foods, Safeway, and Publix. With deliciously unique flavors ranging from campfire s'mores and milkshake & fries to buttered french toast and balsamic fig & mascarpone, Coolhaus has evolved into quite the awesome brand.
In addition to being business partners, Natasha and Freya are also moms to an adorable toddler named Remy and are expecting their second baby — a girl! — next spring. Keep reading to learn more about Natasha's typical workday as the founder and CEO of an ice cream brand, the greatest challenges she's faced as a working mom (and how she overcame them!), and why picking out her outfits the night before work is her best mom hack.
Name: Natasha Case, Founder and CEO of Coolhaus
Age: 36
Location: Los Angeles, CA
Education: B.A. in Architecture from UC Berkeley and Master's in Architecture from UCLA
Children: Remy, 2
What was your first job and how did you land it?
My very first job was a ball girl for the UCLA Women's Basketball team through a friend that I played club basketball with. They paid me $15 a game. My dad had to open a bank account for me for it! 
You founded your business, Coolhaus, with your wife, Freya. How did you start the company together?
I was in architecture and design and Freya was in real estate development. We started Coolhaus to find a way to make architecture more fun and accessible for people. It started with food, kind of on accident, because I had a professor in college who critiqued an architectural model of mine saying it looked like a layered cake — I thought, "Well, why is that bad?" From there, we found that food and architecture could be a permanent intersection of two areas that I'm passionate about.
Why did you want to get into the ice cream business specifically?
We thought there was so much new innovation that could be done with ice cream. We wanted to see the unique flavors out in the world that we personally loved, so we thought what better than to make it available ourselves? Furthermore, Coolhaus was born out of the recession and wanting to bring awareness to architecture using something as nostalgic and comforting as ice cream.
We imagine the ice cream industry is a tough one to break into! What sets your business and products apart from the rest?
Coolhaus is the leading women-founded and led ice cream brand creating premium sandwiches [and] pints for both dairy and dairy-free dessert lovers. Each treat is thoughtfully crafted with the highest quality ingredients and creamiest texture. Coolhaus is best known for our uniquely innovative flavors and their modern twists on the classics!
Can you walk us through a typical day at your job?
What I love about my work is that there is no typical day. It's a combination of business development, innovation, press and interviews, public speaking, team meetings, and lately, a lot of travel (especially to be present at buyer meetings). One thing I will say is that I try to spend no more than half of my day at my desk. I always think about how I can add value being out and about, collaborating with my team, and creating while also staying on top of digital design, numbers, and communication.
Have you faced any specific challenges with your business being woman-owned? How did you overcome those obstacles, if any?
In the beginning, we experienced more age-based bias, where people just didn't take us seriously. Oftentimes, though, this attitude made those individuals less liable to risk-taking that's necessary to make anything big happen. As a young entrepreneur, you're not burdened down by experience. And being millennials, we recognized what other millennials actually wanted, which gave us a level of authenticity.
As a woman, I have experienced moments where I've been outnumbered in a room. I do enjoy the process of working with both women and men, and I enjoy being part of the change that I'm hoping to see. As a gay woman, I've also had a slightly different journey. It's actually been a positive factor — I know a number of other lesbian CEOs and founders.
What would you say is your favorite part of your job and why?
Such a big part of what I do is about bringing people joy: our customers, fans, clients, and the team. The whole mission of what we're doing is to bring this happiness to people by being the product and the brand that creates that moment. It's an incredibly fun and rewarding mission to be on. Additionally, with Coolhaus, I got to combine very personal passions. Creating a brand that is visual and fun but also in the food space gets me going creatively. I have endless curiosity about that intersection. 
What's next for Coolhaus?
We want to be the household brand of our generation. Specifically, there's an incredible opportunity to do that as a culture of women leaders, so to lead and change by example, that alone is a revolution. That's going to be very meaningful for our generation, to be a powerhouse of women who are behind that brand, who created and are running the vision and brand.
In addition to being a business owner, you're also a mom! Can you tell us a bit more about your family and home life?
Freya and I have one son together, Remy [who is] 2.5 years old, and two dogs named Hamilton and Scoob. We are also expecting a girl, due in April! 
As a business owner, were you able to take maternity leave at all? What was that experience like for you and your family?
I took two weeks off for maternity leave, which is not long. For the following few weeks afterward, I was coming in part-time. Now that I look back on that, for our second kid, I expect to take longer. Those early weeks with your newborn is so precious. I'm very fortunate to have the team around me to hold it together while I go through that with my second baby. 
Tell us about transitioning to being a working mom and what surprised you the most about it.
It didn't shake my professional life; it's instead inspired me. I'm now even more motivated to build something great.
How has motherhood impacted you as a person and a professional? How do you find work-life balance?
I believe that if you are passionate about what you do, it only makes you more passionate when you become a mom. Now I am growing Coolhaus not only for myself and my wife Freya, but also for my son, Remy, who I hope to inspire with my badass ice cream legacy. This makes me think about my work in a bolder and bigger way than ever before. It fuels my drive and passion to take things to the next level.
What are the greatest challenges and rewards of being a working mom?
It's been an incredibly awesome and rewarding trip for Freya and me to be moms together. Running a business together helped us understand how we work under stressful conditions. It was good training to adapt and understand how we complement each other. What it takes to run a business and team is not unlike the skills you need to build a family. Also, it's magical to see what kids can do and bring. When you are passionate about what you do, having a kid makes you even more passionate. It makes you efficient about your time and not sweat the small stuff. You're more productive about your day.
When it comes to being a mom, what are you most insecure about and what are you most confident about?
I worry about the future for this generation in terms of the environment and the potential problems we deal with on a global scale. We have a responsibility to them to do what we can to secure them a safe future. I am confident about all the fun and love Remy has in his life. Freya and I are both very devoted moms, and we have so many joyful times with him. A lot of our family is in LA, so he has a strong support network.
Can you share with us a few mom hacks you rely on to make things work in your day-to-day life?
1. Plan ahead what you're going to wear the next day. My theme is efficiency! It's all about making the best use of your morning. 
2. Pack your lunch whenever possible — have as much food ready as possible! 
3. Let your child choose. For example, if you want them to eat something, give them two options. If you only them only one option, you are more likely to be met with a "no." Help them feel some agency! 
Natasha Case is The Everymom…
Favorite family tradition? We started going to Hawaii in recent years with our extended family members. We always choose a beach destination. Freya and I also have a house in Palm Springs, so we like to spend New Year's out there. 
Your dream vacation spot? I would love to go back to Japan. I just went recently but am dying to go back. 
Last home item you splurged on? We're hopefully about to buy a house, so that would be a big splurge! 
Favorite Coolhaus ice cream flavor? Depends on the day. Right now, I'm in a sammie mood, so I'm going with our dairy-free chocolate chip vanilla sammie — you can find them at any Whole Foods! 
Guilty pleasure? Having a really good dinner with natural wine (and Future Gin cocktails!) with friends. 
Most embarrassing mom moment? I think Remy profiles me as a tall blonde, so he regularly goes up to other tall blonde women and asks to be picked up.
Proudest career achievement? I just joined YPO — Young Presidents' Organization. Given the threshold to be accepted, it's been awesome to be connected to such intriguing people and the experiences within.
Favorite date night activity? On Sundays, Freya and I get Zeel massages. First, we put Remy to bed, and then we get back-to-back massages. We have the TV on with sports – no spa music – and we really savor it. 
Best mom advice you've ever been given? This is sort of new age, but my business coach does a lot of her guidance through animal spirit cards. When she did my reading, the one that came up for me is a lamb. The lamb resembles Remy for me: patient, waiting, and looking for more from you. Your kids are always right there, so engage with them. And another advice: talk to them on their level! Squat down and look them in the eye. They really appreciate and respond to it.