When we look back on the early days of the pandemic, I think many of us will remember where we were when sports were canceled. If we hadn't grasped the gravity of the situation yet, the sports shutdown was a clear signal something big was happening; and Sarah Schwab was living it, as Senior Director of Communications for the Philadelphia Flyers hockey team. But Sarah said motherhood helped prepare her for the massive pivot her job had to take last spring: from operating in the unknown to managing chaos (something we can relate to).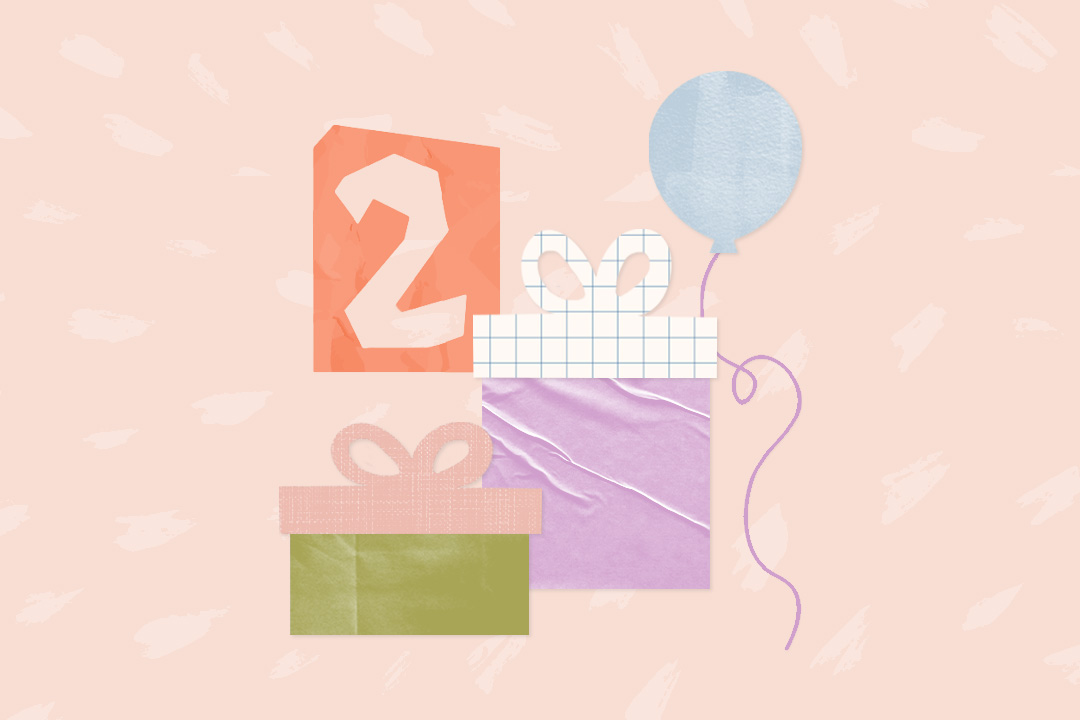 a LO in your life will love these! 🎁
As a mom of two and a female sports executive in a male-dominated industry, Sarah's sharing some of her tips for working moms—from planning for maternity leave to finding support when you're the only one on your team with a baby. She's also sharing what it was like to have her second baby during the pandemic, plus some super helpful hacks for working moms. Read on for more.
Name: Sarah Schwab
Title:  Senior Director, Communications for the Philadelphia Flyers & Wells Fargo Center
Age: 33
Current Location: Philadelphia, PA
Education: Bachelor of Arts in Strategic Communications from Temple University
Children: Daughters Logan, 2, and Mia, 2 months
What do you do for the Philadelphia Flyers?
I am tasked with telling the stories of the Flyers organization: spanning from the team, to the business and front office, our community impact, as well as touring concerts, family shows, and even the Flyers mascot, Gritty.
I can spend any given day in strategy meetings, on the phone with members of the media, or in writing mode prepping releases and talking points. Some days (pre-COVID), our team was out in the community at a school assembly, a hospital visit, a pep rally—you name it. And then there are the actual hockey games! Working in sports is extremely fast-paced and often changing by the minute/hour/day, which makes the work equal parts challenging and exhilarating in the best possible way.
What has been your greatest challenge working as a female executive in a male-dominated field?
I am very fortunate to have been supported and respected by many male bosses, peers, and mentors throughout my career. These are some of the people who have been key to my growth and success.  I got my job with the Flyers through three male bosses/mentors, and I remain close to all three seven years later. Every so often though, I do look around a meeting and notice that I am the only woman, or that all of the women in a meeting are under a certain level.
Every so often though, I do look around a meeting and notice that I am the only woman, or that all of the women in a meeting are under a certain level.
I think in general, the challenge is working to change that in a way that is intentional. This is a principle that I am incredibly passionate about. I try to go out of my way to cheer other women on, to champion and advocate for talented female colleagues both on and off my team and at all stages of their careers. Their success is my success, and I take great pride in helping however I can to clear pathways for women to grow and advance.
What is your favorite part of working in your current role?
I am so proud of the work the Flyers organization does in our community. Our team works tirelessly to give back, and they are so passionate about using the Flyers brand and platforms for good. A favorite memory of mine is when we threw a surprise birthday party for a sweet 4-year-old boy battling cancer who was staying at the Ronald McDonald House in Philadelphia. He had written Gritty a note inviting him to his birthday, telling Gritty he was his biggest fan. To see his face when Gritty surprised him was nothing short of amazing. It's a moment I will remember forever, and it's ultimately why I do what I do for a living.
One of your biggest work projects, creating the team's new mascot, Gritty, occurred during your first pregnancy. Tell us about that experience!
I actually got "the mascot project" put on my plate the same week I found out I was pregnant–which, didn't matter at the time, but now looking back, I find both highly amusing and slightly symbolic. It was wild, thrilling, and gratifying. The creation of Gritty was and continues to be a true team effort, cliche as that may seem. We had a really talented group of creative minds helping with different aspects of the project; there was a real trust there.
I remember the week of Gritty's unveil; we went up to New York for Gritty to be on the Tonight Show, which in and of itself, was pretty unreal. There were clear logistical challenges with filming in New York and getting Gritty back to Philadelphia for a game that same night, and the only way we could feasibly make it happen was by chartering a helicopter. I'll never forget one of my team members on the phone with the charter company asking if it was safe for a pregnant woman to fly!
One of my team members (was) on the phone with the charter company asking if it was safe for a pregnant woman to fly!
Gritty's debut PR tour continued so much longer than we ever anticipated, and from a personal standpoint, this all made my pregnancy go by much quicker, and it helped distract me from the aches and pains that started to set in toward the end of the pregnancy. We would joke that Gritty beat Logan (my oldest daughter) to be my first child, and to be honest, he sort of did there for a beat.
Can you share a little bit about the transition when everything shut down due to COVID?
For many, the beginning of the pandemic became very real when sports stopped. It was surreal to be a part of that. There was a weight, a heaviness to it. Those first days and weeks in March were clouded in such uncertainty and required a massive pivot—one that the team and industry continue to navigate.
What sticks with me as the most important pivot was the heightened sense of responsibility to our community, especially during those harrowing early days. It was bigger than hockey, and it became a real priority organization-wide to be stewards of positivity; be it through 'thank you' food deliveries for healthcare workers, a grant program awarding free advertising to small businesses impacted by COVID, or a Gritty firetruck parade to spread some much-needed cheer.
For many, the beginning of the pandemic became very real when sports stopped. It was surreal to be a part of that.
In an interesting and surprising twist, I found that my first year of motherhood actually prepared me for this time. For skills such as the ability to operate in the unknown, flexibility, creative problem solving, managing chaos, organizational transformation—there is no greater teacher than life with a newborn. 
Motherhood also makes you take stock of your priorities, both personally and professionally. Time has become more important to me than ever before. Time with my family, for myself, for my team, and time to achieve my professional goals. It is something I think about often—how to manage it, hack it, preserve it, respect it, enjoy it! My time is the most valuable resource I have, and I have had to learn to be very discerning with how I spend it.
In your role, were you able to take a traditional maternity leave? What did that look like for you?
For both of my kids, I was able to take 12 weeks of leave. With my first, I wasn't sure what to expect. Until that point, I had been working for a decade and had not taken longer than one to two weeks off at a time, so 12 seemed so indulgent to me. But I recognized that I was dealing with an entirely new animal in becoming a mom. And wow, was I correct.
I will be honest; it was hard. It felt intense and all-consuming, and I struggled with postpartum depression. I wasn't a fan of the lack of control that comes with that phase of time. I wasn't a fan of being new at something. And—no matter how prepared I thought I was—when your life changes that significantly, it will take some time to recalibrate and adjust. 
I wasn't a fan of being new at something … no matter how prepared I thought I was, when your life changes that significantly, it will take some time to recalibrate and adjust.
How did you decide what childcare situation was best for your family after having your first baby?
Neither my husband nor I work standard 9-5 hours, so childcare was and continues to be a bit of a moving target. Before COVID and the new baby, my mother-in-law helped us three days-a-week, and my husband (who is on shift work) handled the other two business days. My parents and sisters would often come down and help me on the weekends. Since the pandemic, we have had to shift a lot around, relying on my mother-in-law to help us even more. I am not sure that we would have made it through the past year without her. 
You just had your second child (congrats)! Can you share a little bit about what was different than your first time around?
Thank you! This time around was rather different. Most significantly, my second pregnancy and delivery happened entirely during the pandemic. At first, it was small changes; in-office OB appointments were less frequent, my husband couldn't be there for the ultrasound, and my vigilance for social distancing protocols was heightened. When Mia was born, we felt the differences more.
I had to quarantine beginning at 36 weeks, we couldn't have any visitors at the hospital, and we haven't had visitors at home. We also moved, which made for an interesting adventure complete with a three-week hotel stay with a toddler! Despite the twists and turns of 2020, I went into the baby #2 experience much more prepared mentally and much more confident. I am really proud to report that my experience the second time around has been lighter and brighter.    
You're one of the very few women on the Flyers staff who has young children. What is it like being a working mom in this type of work environment?
When I made the decision to start a family, there weren't any other women on the Flyers staff who had young children. It was nerve-racking, and I wrestled with that a lot. How would I do this if there wasn't a precedent or a "role model" on staff to follow? I talked to peers and mentors both in and out of the sports industry during this time, and I came out with clarity: I was just going to start and figure it out.
I am thrilled to now have the solidarity from additional working moms on staff with me, and I think that is indicative of the direction the industry is going. I have received nothing but support from the Flyers family since day one. From leadership through, to my team and peers, everyone really rallied around me through this life transition. 
Any tips for those who are also about to be the first mothers/parents on their teams?
For Maternity Leave: Plan for as much as possible. Who will handle your workload, who will be your out-of-office contact, what do people need to know about your projects before you leave? Does a temporary reporting structure need to be worked through? If you have direct reports, what do they need from you to be successful while you are out?
Then, broadcast your plan ad nauseum, and don't feel bad about it. It can be difficult to sound like a broken record of, "as most of you know, I am going to be out on leave in two weeks, and Tina will be handling this project moving forward," but I found that the transition is about as seamless as it can get when everyone is aware of the game plan and has time to process it.
For Returning to Work: Start mid-week and ease in! Do not, I repeat, do not subject yourself to the hardest case of the Sunday Sads you will ever endure if you can avoid it. Remember that just because you were on leave doesn't mean you are benched for forever (this one was especially hard for me).
Set new precedents and new boundaries early on and don't be afraid to communicate them: like if you need to readjust your calendar, take time for your child's doctor appointment, or can't be available during bedtimes, etc. And finally, go easy on yourself!
Can you walk us through your daily routine?
Mid-pandemic and mid-maternity leave with a newborn/toddler combo, anything routine has pretty much gone out the window, and I have fully embraced that. To keep the train on the tracks (and my brain from exploding) right now, I pick one through three items to tackle each night before bed. Some days they are big to-do's, some days they are tiny but important. Today's, for example: 
Make sure I remember how to turn on the snowblower (blizzard is coming, my husband is working)

Give Mia a bath

Finish the Everymom questions
Prior to this maternity leave, I had been working from home since last March. My schedule looked a bit like this:
6:00 a.m. – I like to get up before the rest of the house and enjoy some quiet. I do my best writing in the morning, so I often use this time for work projects. Then, I'll review my calendar and move around meetings to maximize the day based on priorities and projects (I started doing this when Logan was born and it was a game-changer for me). 
6:45 a.m. – Logan is up, and we are off to the races. She helps me make my coffee, we have cereal, and hang on the couch watching Puppy Dog Pals, a Schwab household staple. Sometimes I get her dressed, sometimes she wins and stays in her jammies. I pick my battles.
7:30 a.m. – If my husband is working, he is either leaving or just getting home at this time. Meanwhile, my mother-in-law arrives to help, and normally we'll sit, chat, and swap kiddo updates over our coffees while Logan plays.
8:00 a.m. – I try to reserve this time to pull myself together, eat breakfast, listen to my podcasts, and finish prep for the day.  
9:00 a.m. – Work Zoom meetings start! I tend to schedule as many of my meetings that I'm able to in the mornings before I burn out. I like to save the afternoons to move projects along and do any necessary follow-ups.
11:45 a.m. – I break and scoot over to the gym. A group of Flyers co-workers started working out with Carl Flotka of Limitless Health about three years ago in the mornings, and it's the first time in my life that I have enjoyed and maintained a healthy exercise habit. Since the pandemic started, we all still work out with him, but go for socially-distant one-on-ones.    
1:00 p.m. – I am back online working and feel sorry for whoever has a meeting with me post-gym and pre-shower.
2:00 p.m. – Logan is up from a nap, I take a quick break to play "puppy ball" outside. She throws a mini soccer ball with a puppy on it, I chase it. Joke's on me, she has a good arm. 
2-5 p.m. – I am writing, on and off the phone, answering emails, and am in the final stretches of meetings. 
5:00 p.m. – I wrap at five o'clock to come downstairs, throw food of some sort on the stove or in the toaster, and have dinner with whoever is home that day. 5 p.m. is super early to eat, but we're trying to make "family dinner" a big deal in our house right now. 
5:30-7 p.m. – My favorite time of the day. We do bath time then let Logan burn off steam with a full-blown dance party. If it's still light out, we'll go for a walk. We FaceTime Nana & Coach (my parents), brush teeth, then do bedtime, which involves an exhaustive routine of books and singing of which I will not bore you with.  
 7-9 p.m. – Jeopardy, nighttime news shows, any lingering work projects that I need to tackle, listen to podcasts while cleaning and doing laundry, mindlessly watch Tik Tok, quick yoga session (Yoga with Adrienne is a favorite), TV time.
10:00 p.m. – Lights out!
Any mom hacks you rely on to make things work more smoothly in your day-to-day life?
For on-the-go parenting advice (I am too lazy to crack a parenting book) I follow @biglittlefeelings on Instagram so while I am scrolling, I also get some helpful tricks for dealing with 2-year-old meltdowns.
About once a month, I schedule a "business meeting with myself." I arrange child care, I go to a coffee shop (pre-COVID), I set an agenda, and I crush all of the planning that goes into figuring out the calendar, work schedules, babysitting, bills, household tasks, etc.
For Mia, we installed this

glass rinser

next to our sink. Is it absolutely necessary? No. Does it make cleaning bottles one million times easier and make me feel like I am out at a bar and not feeding my child at 2 a.m.? Yes, it does.
Sarah Schwab Is The Everymom…
Best mom advice you've ever received? With little kiddos, the only constant is change. If you're in a really hard stage (ahem, sleep regressions), chances are in a few weeks, you'll be on to the next. This is just a season.
Your camera roll is full of… Photos of the girls and home decor screenshots 
You can't leave the house without… Laneige Lip Sleeping Mask—that stuff is actually what dreams are made of.
Best way to end the day? I watch Barefoot Contessa in bed every night before I fall asleep. Weird, I know. Something about Ina's voice and demeanor chills me out. 
Kids movie you secretly love? Not so secret: Moana and Coco. Both endings make me cry every time.
If you could have lunch with any woman, who would it be and why? Tina Fey.  I have always admired her wit and her drive. I've read and re-read Bossypants several times over, and every time I do, I always find a new sliver of wisdom with a side of humor. Plus, she's a Philly girl.