As a self-proclaimed party girl, it's no surprise that Seri Kertzner grew up to have her own party planning business. After years of working at Club Monaco and J.Crew corporate (#goals!), Seri decided to leave the business world behind to start her own company, Little Miss Party. Fast forward a few years and she's now a mom-of-two and the Chief Party Officer of her business (if that isn't the best job title ever we don't know what is!) which brings the big and small party dreams of her clients to life with creativity, style, and color.
Keep reading to check out Seri's best mom hacks (including her favorite life-saving app!), take a peek at her daily routine as a working mom, and find out why planning a bash for the cast of West Side Story was her favorite Little Miss Party project to date.
Name: Seri Kertzner, Chief Party Officer at Little Miss Party  
Age: 41
Current Location: Manhattan
Education: Economics and business degree from University of Western Ontario
Children: Gavin, 10, and Luke, 7
What was your first job and how did you land it?
My very first job was when I was 14 years old. I took on a role as a salesperson at a small store in Toronto called Camp Connection. The owner was a family friend, so he gave me a shot at the job. After only a year, he pulled me aside for my first review and told me that I was the best sales gal the store had ever seen.
After working in fashion for more than 10 years and planning your own wedding, you set your sights on starting your own event planning business. Tell us about how your career evolved into where it is today.
I worked in production at Club Monaco and J.Crew, and those jobs taught me everything I know in the world of business. As I was working in corporate, I remained the same old party girl that I was through my school years, but as I grew up and became an adult, I took the role of hosting much more seriously and quickly realized I was quite good at it. After my wedding and realizing just how much I enjoyed the planning process, I came up with the name Little Miss Party Planner (I used to throw big events in small spaces, and I'm just a small gal by nature) and the domain to build a website. Once I had my first son, Gavin, I decided to leave the world of corporate and bring Little Miss Party to life. At the time, My coworker, Michelle, and I would always discuss our parties with each other. We would brainstorm menus, decor, and our outfits! Michelle was also ready to leave the corporate world so we teamed up and enlisted all of our closest friends to let us throw their parties for them. Michelle was the greatest partner and still one of my closest friends.
Tell us about getting your company off the ground.
It was all about the experience. I had so much to learn and did so by just diving in. Our first clients were friends who were kind of like our guinea pigs, and thanks to them, we got our name out there very quickly as the word spread fast amongst our other friends, the new moms groups that I had joined when Gavin was born, and through press that we gained organically and soon after launching.
How has your company grown since you first started?
Oh, it's insane. First off, Instagram didn't even exist when I first started! Once Instagram came into play, Little Miss Party shifted from being only event planning and styling-focused to having a content creation component which was a fascinating new creative outlet and stream of revenue for us. Brands started to hire us to create content for their products in the hosting, entertaining, DIY, and lifestyle space. Also, we started creating a buzz all over the country, and as a way of reaching our consumer on a national level, we started Little Miss Party in a Box: an online party shop with curated and custom party box options. The brand continued to grow and expand in new and exciting ways through social media and amazing new clients. We've now grown to a dream team of four incredible women who party for a living!
What do you love most about your career and the industry you work in?
The creative dreams that I get to live out and how special and rewarding it feels to bring my clients party dreams to life.
What are your favorite parties or events to plan and why?
Branded events are my favorite. They typically have larger budgets, allowing us to work without boundaries and push the limits with our creativity.
What was the most memorable event that you've worked on in your career as an event planner?
Last September, we were hired by Amblin Partners to throw a party for the cast and crew of West Side Story. I have no words to explain how special this party was and what a highlight of our career it was. We had the ability to partner with our most valued vendors  and every detail of this party was pure perfection. I will never forget it.
You are a mom to two beautiful boys! Tell us a bit about them and your family.
We are a very happy, good-vibes-type family. We love sports, to cook, to eat, and to travel!  I feel incredibly lucky in life and that stems from the beautiful family that I have built with the man I met almost 20 years ago, my angel of a husband who supports me in every single thing that I do.
How has motherhood impacted you personally and professionally?
It's made me one heck of a hustler. It is pretty wild to think about how much I accomplish each and every day. The day Gavin was born was the day I realized life was no longer about me. It's about him (and Luke) and how I'm now responsible for creating good, well-rounded citizens. It's scary, but also enlightening to know that I have created these humans who I know will make the world a better place. This all blends into Little Miss Party as we do what we do to make the world a happier place by bringing our client's most special celebrations to life.
What do you consider to be the greatest rewards of being a working mom? What are the greatest challenges?
Seeing empathy, kindness, and respect in my children is my greatest reward. Education, the Internet, and protecting my children from bad people in the world are my greatest challenges. I don't have the right answers; I just model being the best person I can be and hope that my children will follow suit and always rise above the darkness in our world.
When you had your boys, were you able to take a traditional maternity leave? Tell us about that experience.
When I had Gavin, I was working at J.Crew. I was able to take three months maternity leave, and it was blissful. I had no idea what it felt like to have a child. I thought going back to work would be a breeze. Well, I was dead wrong. I hired a nanny, went back to work after three months, and cried at my desk every day. I did not want someone else raising my child. So, that was the moment I decided to leave and raise my son while starting Little Miss Party.
As for Luke, I was a business owner by the time he came along. So, I was working in the hospital right after his crazy birth. 
How did you and your husband decide on what childcare situation was best for your family?
We weighed the options of my salary at J.Crew versus the cost of a nanny, and it almost equaled out. We didn't feel it was right to work just to pay for a nanny. He always supported my idea of starting my own business, so with that all said, it was the perfect time. Once I started the business, I needed help, so I hired a part-time babysitter who I found through the NYU Career center. She was one of a kind. My kids will be marching in her wedding this October.
Can you walk us through your daily routine?
My day starts at 7am when I wake up, eat breakfast, brush my teeth and get dressed. By 8:15am we're out the door and I walk the kids to school. From 8:30am to 6:30pm I'm busy working at Little Miss Party. My workday is a mix of everything from conference calls with vendors, a client meeting at a venue, shooting a branded content campaign, drafting a blog post, or styling a party for a client. Every day is different! 
Sometimes during the week I leave the office for school commitments like field trips, volunteering in the lunchroom, family mornings, etc. I'm lucky that I can see my children during the day at times. If I'm working, our babysitter picks the boys up from school at 3pm and takes them to their activities. Depending on the day, this could be anything from hockey, Hebrew school, tutoring, DJ lessons, soccer, or cooking class. Our sitter leaves at 6:30pm after making us dinner, usually with the kids' help. At 7pm we sit down as a family and eat dinner and by 7:30pm the boys have homework and reading time before bed. Gavin and Luke go to sleep at 8:30pm and I'm usually up until 2am working, snacking, and watching Schitt's Creek! 
As a mother, what are you most confident in? What do you still struggle with?
I'm most confident in my love for my husband and children. Love is key. I struggle with the Internet and how to navigate teaching my children about how to use it. I did not grow up with the internet. It's a whole new, very scary world.
What advice would you give to your 22-year-old self today?
Slow down.
What's next for Little Miss Party?
A lot! We've grown so much in the past 10 years of being in business, and I'm so excited for everything we have in the works for 2020. Right now, we're working a fun fashion launch party happening in spring, and dreaming and scheming our content and collaboration plans for the year to come. You'll have to follow along on Instagram and our blog to see what's next! 
Can you share with us three mom hacks you rely on to make things work in your day-to-day life?
1. Planetbox: I LOVE their lunch boxes—makes making lunch SO easy in the morning because of the compartments and is always the perfect amount of food for my kids!
2. Rooster: Just discovered this app from a friend, and it's AMAZING for behavior management and allowance tracking and teaching money management skills. 
3. One-on-One Time: I find one-on-one time with my kids (dinners, a trip, a day out) is so important and healthy for us all.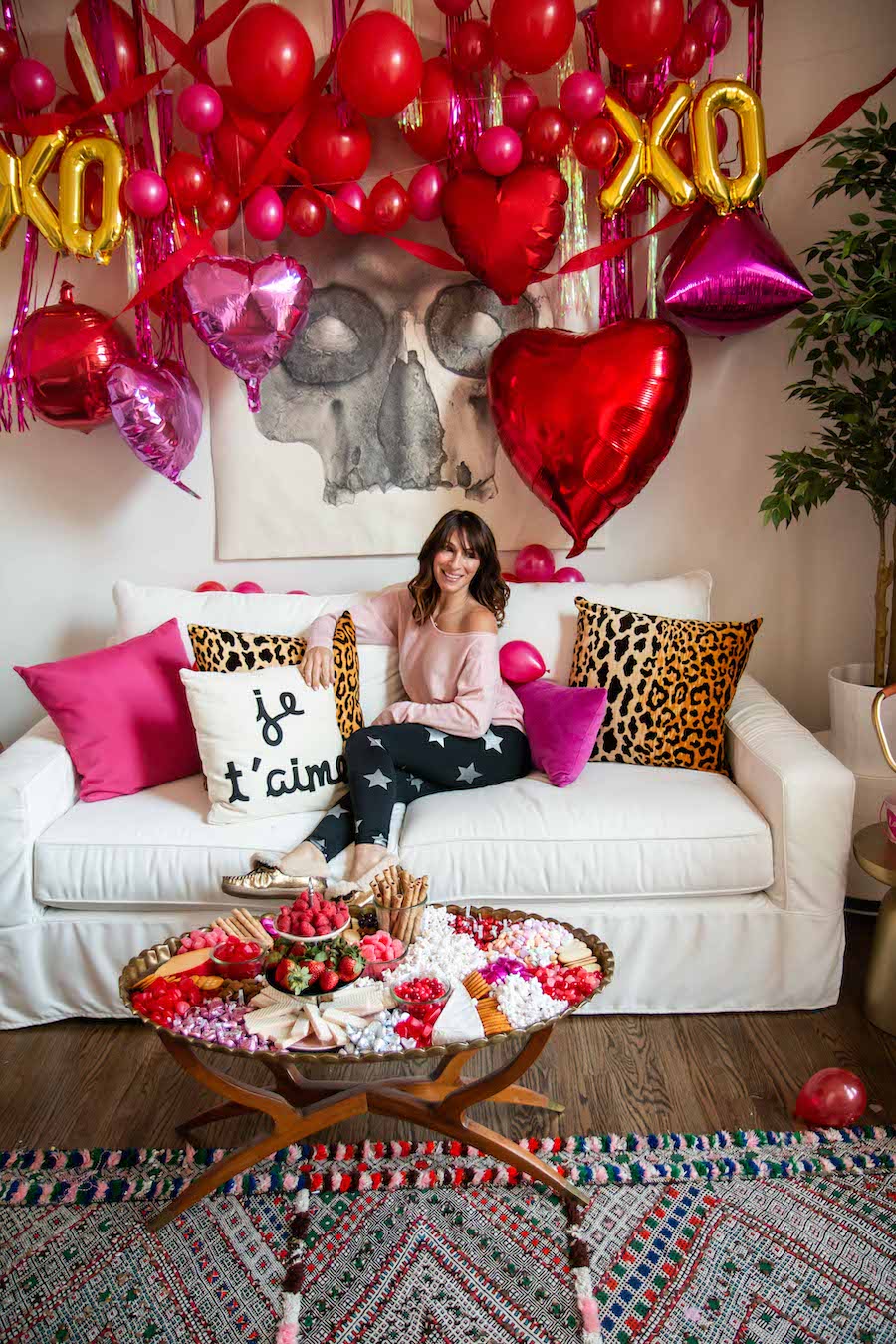 Seri Kertzner is The Everymom… 
Favorite go-to weeknight dinner? Aunt Jakes
Dream vacation? A hut on the water in Bora Bora
Last home item you splurged on? A massive renovation of the backyard at our house out east
Guilty pleasure? Chips and cheese (midnight snack almost every night)
Most embarrassing mom moment? Peeing in my pants on the way to a class in Sag Harbor … the drive was too far, and I had too much coffee. I think I covered it all up, but not really sure.
Favorite date night activity? Dinner without the kids
Best mom advice you've ever been given? F*ck what anyone tells you. Do what is best for you and your family.
If you could have lunch with any woman, who would it be and why? Michelle Obama, because she's my inspiration in love and in life.