When Caitlin Crosby Benward started selling jewelry featuring keys adorned with positive messages years ago, she never thought the unique pieces would turn into a full-fledged business. But now, Caitlin is the CEO of The Giving Keys, a "pay it forward" company selling bespoke necklaces, bracelets, earrings, and more that's also helping to end homelessness through their social impact employment model.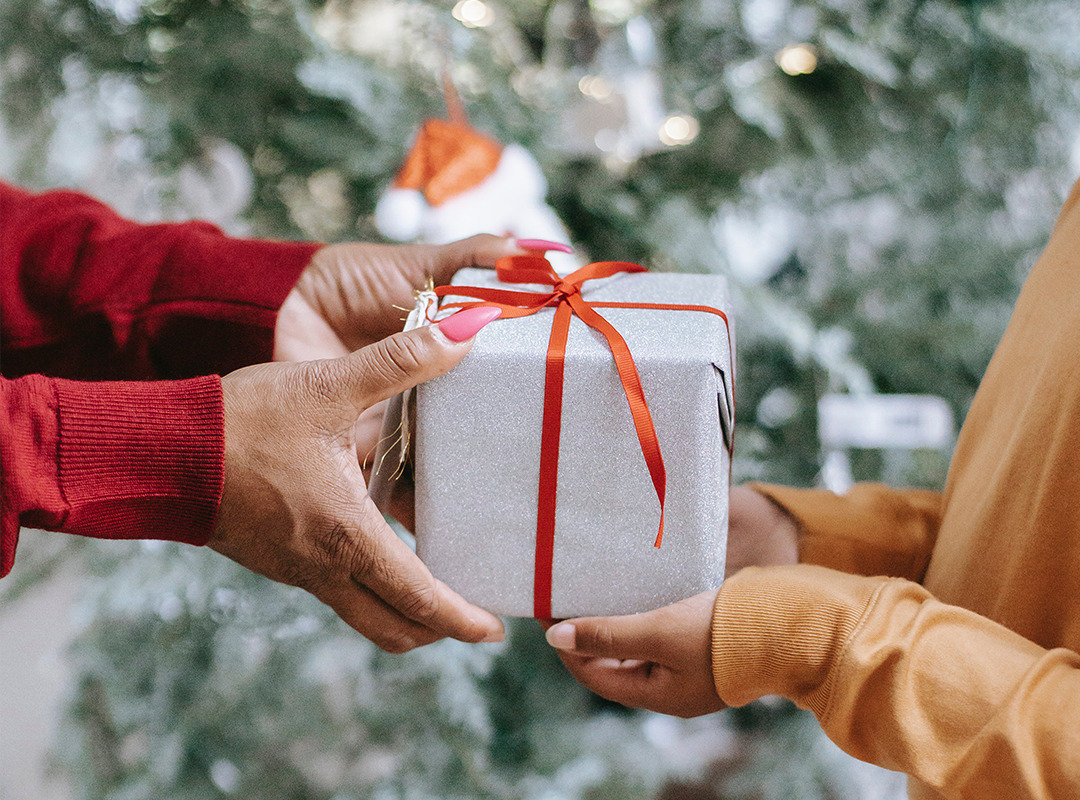 this makes gift buying so easy—trust us! 🎁
For every The Giving Keys purchase made, Caitlin's business supports job creation for people transitioning out of poverty and homelessness. How amazing is that?! Today, Caitlin is also a mom to two young children and is teaching her little ones about the importance of giving back through her work. Keep reading to find out how Caitlin is juggling life and work as a new mom of two — she just had her second baby a few weeks ago! — and how her company is helping those in need in her community.
Name: Caitlin Crosby Benward, Founder and CEO of The Giving Keys
Age: 37
Location: Los Angeles
Education: Some college until I deferred for a TV show
Children: Brave, 2, and Love, 2 weeks
Welcome back to The Everygirl Media Group! We had the opportunity to interview you awhile back. Anything new and exciting since then? Perhaps a new addition to the family?!
Yes! I now have two babies and am only two weeks into navigating this new beautiful load. And The Giving Keys has now been able to create over 120 jobs for people transitioning out of homelessness because of people buying our jewelry.
Before we chat about baby number two, let's talk about your career. Prior to starting your own company, you were a songwriter and signed to Kenny "Babyface" Edmonds's label. Can you tell us a little bit about your career path in the entertainment industry?
I grew up acting and did that on and off in between school and doing music and touring. Working and writing with Babyface on and off for seven years was an incredible learning experience. Writing songs for other girls and women to relate to has always been a huge passion of mine. 
You then transitioned to the role of Founder and CEO of The Giving Keys. What inspired this career change?
I wasn't planning on it. I started selling the keys on tour at my shows' merchandise tables, and they started selling out more than my CDs!
The Giving Keys is all about embracing your word and paying it forward. Why is this mission so important to you?
I think it's such an important part of being a human. Training ourselves to not only set a word intention for your life but to keep our eyes open to see what other people are struggling with. It's almost like jewelry that has a fun little homework assignment.
As a social enterprise, your company sells products to provide jobs for individuals transitioning out of poverty and homelessness. Why did you choose this path instead of raising donations for charities as many other businesses do?
At first, I was paying a locksmith to engrave the keys, and I knew there was a missing link in that process. One night, I randomly went up to a young homeless couple that were living in a dumpster in a cardboard box and invited them to dinner. I wasn't thinking about The Giving Keys at all. I then had my "aha moment" and thought I should start paying them to engrave the keys instead of the locksmith. So, it was a very authentic and organic path.
When you first started your company, did you ever anticipate it growing it be this large and to have this much of an impact on others' lives? How do you plan on the business continuing to grow?
Oh, I had no idea. The goal is to keep creating more new designs and products so people continue to buy, and therefore we can keep creating more jobs for people trying to transition out of homelessness. I also am finishing up two books with a publishing company, so I hope The Giving Keys continues to grow as the books spread.
What has been the proudest moment so far with The Giving Keys?
Oprah choosing us for her O List!
Do you have any advice for other women wanting to start their own businesses?
It has to be something you're exploding with passion about because it becomes your life. If you don't absolutely love the topic or mission, you won't have the energy to weather all the ups and downs that inevitably happen when you own a company. 
Congrats on the new baby! This year at The Giving Keys, you guys are observing the word "courage" as it has the power to spark personal transformation. How are you personally using courage to fulfill a sense of purpose in your life and as a new mom?
I definitely just tapped into courage while delivering my second child two weeks ago. I fought for a VBAC, and I'm so proud and happy I did. I also need to work on having the courage and discipline to be present with both of my children.
As the CEO of your own company, are you taking maternity leave or do you plan on continuing to work?
I'm taking three-month maternity leave (other than answering these questions! Haha)
What are you plans for childcare in the future?
I'm going to play it by ear and see how I feel when it's time to go back to work. I had a nanny with my first child when I went back to work and felt so conflicted about that. He's now in preschool. 
How do you anticipate your career changing with a new baby?
Because I didn't like the feeling of leaving my first with a nanny so much to go to work, I'm going to try and find a way to bring her with me to work more and incorporate her into my work schedule and try to plan it around her. Work may have to suffer some, but I want to make sure she's my first priority and properly loved and taken care of.
How do you think your mission of empowering others to unlock their best potential will come into play as you develop your parenting style with your own child?
I'm currently in the thick of trying to figure out the best ways to disciple our almost 3-year-old. The struggle is REAL. The mission of The Giving Keys of empowering others seems like a cake-walk compared to that. But as the kids get older, I'll be able to explain it all to them where they can better understand.
What are you most excited for now having two kids? What are you still insecure about when it comes to motherhood?
Excited about having a break from the work grind hustle and focus on something else to ground me and remind me of my foundation and priorities. Insecure about patience in trying to crack the toddler years temper tantrum and "no" code.
What has been the most surprising aspect of motherhood for you? Anything you wished someone had warned you about?
My mom did try to warn me that she thought we'd need more help the first couple weeks after having baby number two, and I thought we could handle it on our own, so I didn't take her advice. But then when I had some complications and was in so much pain after the delivery, I realized we did need some extra help, so I flew out my husband's mom from Nashville to help us. The three of us were constantly either cleaning or attending to the kids, and the house was still a mess and insane. 
What is one wish you have for your new daughter as she goes through life?
That she won't follow her peers and unhealthily experiment with substances that numb her. That she would be a leader and stand up for what is right, good, truth, and love. 
Caitlin Crosby 
Benward is The Everymom…
Your dream vacation? Bali or Morocco in a shack surrounded by shallow warm waters.
Best mom advice you've been given? If you get in the ring with your toddler, you will always lose.
Favorite self-care activity? Massages!
Greatest challenge in your career thus far? Caring too much what employees think. People-pleasing my staff.
Your camera roll is full of… My kids. And lots of breastfeeding pics. 
Go-to coffee order? Vanilla latte, light on the vanilla 🙂
Best way to end the day? My guilty pleasure is watching Real Housewives or The Bachelor. 
Last book you read? Happiest Toddler on the Block by Harvey Karp.