This past year, one of my major goals was to read more. As a child, nothing could get me more excited than a new story to read. Books transported me. I was able to escape into a reality that felt like mine for the moment, and nothing else mattered. I dabbled in romance and mystery, but fiction always had my heart. I'd read everything from Crazy Rich Asians to All Our Hidden Gifts, and One Last Stop.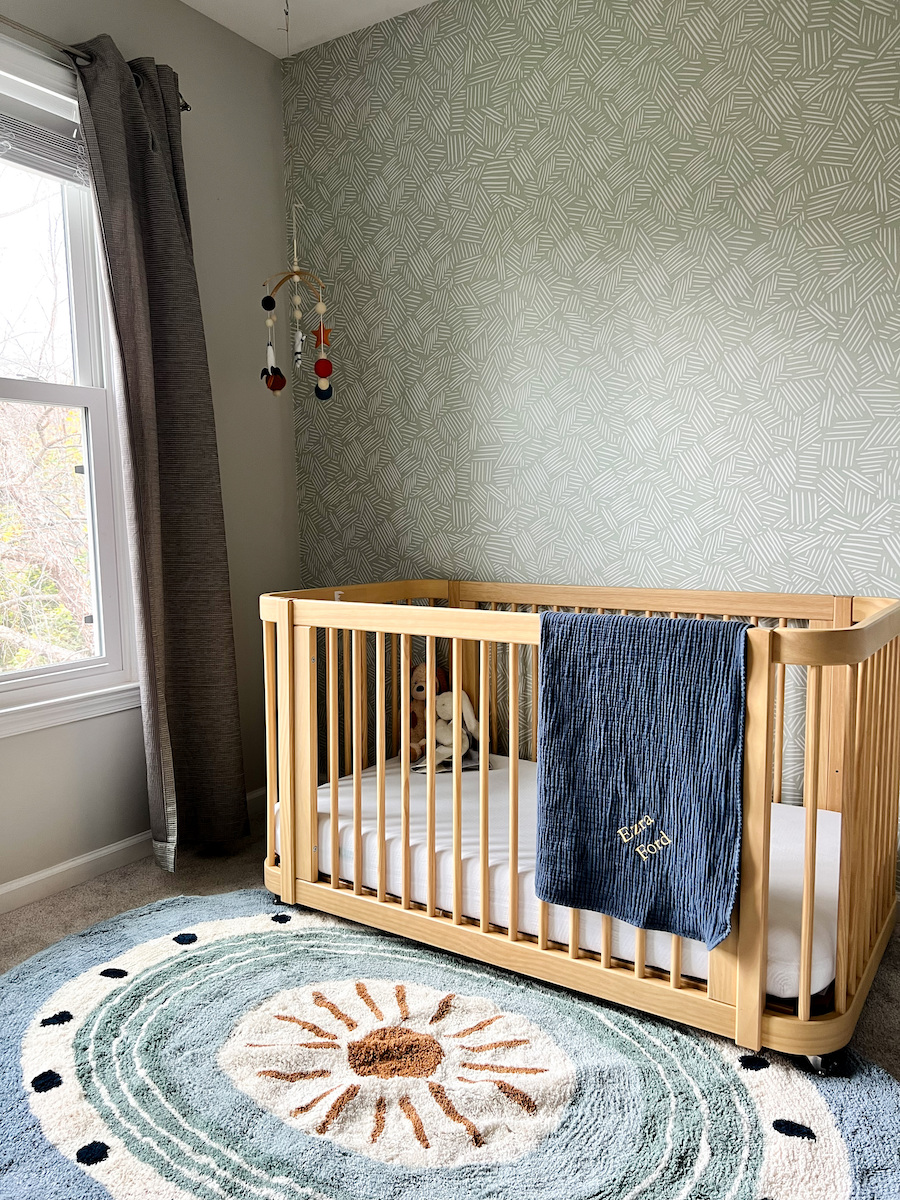 editor-favorite crib brand Nestig just released gorgeous new wallpapers that will easily transform any space 😍
Recently, though, I rummaged through a closet at my parents' home and found all of my favorite children's books. I couldn't help but dig in! Now why would a 20-something woman choose to spend the fragment of free time she has reading picture books? Well, each brightly colored illustration and crunchy page-turn felt like a hug to my younger self. It was an emotional and raw experience that encouraged me to look at the world differently. I felt hope and an overflow of ideas. My imagination was being restored. And most importantly, doing so taught me some life lessons I was blind to as a child and likely remain the reason these books have endured.
Here are my favorite children's books and the major lessons I learned after rereading them all. 
1. Winnie-the-Pooh
I'm not sure about you, but Winnie-the-Pooh was a huge staple of my childhood. I'd read the picture books and rewatched the TV show so excessively the theme song is still ingrained in my head today. If you aren't as familiar, the story follows bear Winnie-the-Pooh and his friends as they navigate life in the fictional Hundred Acre Wood.
Lesson: Feel Your Emotions
I revisited the collection that started it all and was shocked by how many lessons flew over my head as a child. Besides learning the importance of cherishing your friends, the series emphasizes feeling all of your emotions. With characters like Eeyore and Piglet being functional with their feelings of depression and anxiety, it's important to note that these characters were huge representations of the issues many of us face head-on today.
Lesson: Be Patient With Yourself
Being patient with yourself is another lesson. Although Winnie had a huge obsession with honey, he had the resilience to stay away from it. Although he failed over and over he and his friends, always did their best to have grace. Having hope and believing in yourself was the central message. With the fictional world being created by Christopher Robin, he is a complete image of the importance of imagination. His toys symbolize overcoming obstacles daily, whether it be undiagnosed mental health issues or understanding that too much of anything is a bad thing.
2. If You Give a Mouse a Cookie
As a child, this book truly had a special place in my heart. Although the infamous mouse has an array of picture books to celebrate his long list of expectations—like If You Give a Mouse an iPhone—the original book still remains in classrooms everywhere. The picture book showcases the story of Oliver, a young boy who interacts with Bruce, the needy mouse. Oliver gives him a cookie, and a string of other requests follow. 
Lessons: Set Boundaries and Take Personal Responsibility
After rereading, the mouse's funny notions began to feel different. Although his requests were logical, they were excessive. It shows that if you allow it, people will take advantage of you in any capacity, big or small. In the end, the mouse's extreme activities from drawing to cleaning result in him being thirsty. He requests a glass of milk, and the cycle starts all over again. Similar to the constant cycle of being taken advantage of, the mouse's requests may seem small but add up endlessly.
Another lesson is on the flip side: personal responsibility. Lived experiences have taught me that saying no and holding yourself accountable is the only real way to get respect from others. Boundaries are essential in both this story and in reality. At times, when the mouse was asking for silly requests, saying no would have given Oliver the break he deserved. Knowing this now, I hope that Oliver has a book in the near future that focuses on making these changes in order to have a healthier relationship with his pal Bruce.
3. I'm Still Here in the Bathtub
I still have vivid memories of flipping through the Scholastic Book Fair catalog, circling everything I wanted and hoping my parents would fund my million-book escapade. At 8 years old, it might've sounded childish to grab a nursery rhyme book, especially one that was mainly pictures, but there was something about this book that felt—and was—different. I'm Still Here in the Bathtub was the perfect combination of graphic weirdness and fun lyricism that made me feel like it was fit for a child my age. I would recite the altered nursery rhymes to my friends and showcase the unique art design to everyone I knew. It was truly a rite of passage for me.
Lesson: Keep Your Imagination Kindled
Although it may seem filled with parodied songs that have a special place in our hearts, rereading this book was wholesome in a way I didn't expect. I was able to revisit lessons on creativity and imagination. Besides the spectacular art, the altered nursery rhymes were a great way to make an old idea feel fresh. Old MacDonald no longer has a farm. It's now a story focused on "my friend Donald and his catfish parm".
Lesson: Celebrate Differences
Another lesson that feeds into the creativity of the book is the importance of being different. I can't imagine how many people looked at this book and turned away with a look of disgust on their face. It's weird and quirky and strange. But the number of people who do like it is all that matters. In moments where I might feel like I'm not fitting in enough or simply doing what everyone else is doing, I think of this book. No matter how weird, complicated, and strange it seemed, it was so much more interesting than a typical nursery rhyme set or safe art style. It taught me that through it all, being unique and being true to yourself is all that ever really matters.
4. The Lorax
When the film version of The Lorax was first released back in 2012, I was astonished at how much I adored the film (Zac Efron as the main character's voice actor only made the film better). I'd find myself reading the Dr. Seuss favorite to my siblings whenever I could and adoring the fun illustration on my own time. The story follows Ted, an impetuous young boy who lives in a polluted world without nature. In his attempts to understand more about the lack of flora and fauna, he visits the Once-ler and pays him to hear his story.
Lesson: Protect the Planet
The Lorax was written 50+ years ago and the lesson on conservation and sustainability is more important than ever. My reread led me to a lot of thoughts, including how so many children could end up like Ted in the story, having no recollection of nature or a healthy planet. It's essential that we protect the world so that the next generation can experience it, too.
Lesson: Balance Ambition and Impact
Another iconic message of The Lorax—or any Dr. Seuss novel for that matter—is about the complexities of success and ambition. The Once-ler's business of chopping down the beautiful Truffula trees increases his wealth but diminishes his sense of empathy. Nature is gone, the animals are helpless, and the Lorax's world is crushed. On a personal level, this is a reminder to maintain your integrity in every situation, no matter how lucrative an opportunity may be. Although it may feel like money solves everything, the hole in your heart from lacking empathy will never allow you to be happy.
5. The Witches
Roald Dahl's work played a major role in my love for fiction growing up. Matilda and Charlie and the Chocolate Factory are still some of my favorite books and movies of all time. The Witches was different, though. My fourth grade teacher would beckon us all down to the thick, red carpet in our classroom just after gym on Wednesdays. She'd grab a book, something one lucky student would select every few months, and read to us. I remember being completely terrified yet always intrigued for the next chapter once we finished up. For those who didn't have the luxury of "Reading Wednesdays" with Mrs. Ferraro, The Witches is a children's dark fantasy novel set in 1980s Britain. A young English boy lives with his grandmother, who teaches him about the child-hating witches that lurk throughout the world.
Lesson: People Are More Than Who They Seem
Reading this novel as an adult strengthened my appreciation for it immensely. It was nostalgic in the best way possible. Immediately after reading, I found myself stuck on the idea of how the witches appeared when they wanted to hide their identities from the world. I remember little me being completely shocked when my teacher read the line "She might even—and this will make you jump—she might even be your lovely school-teacher who is reading these words to you at this very moment." Although it may be a funny line in hindsight, it definitely deserves a second glance. Things are not always as they seem, and it's important to allow people to show you who they really are.
Lesson: Sometimes, You Have to Confront Evil Head-On
Another major lesson revolved around how we can't always run from evil. Although I'm pretty certain there aren't child-hating witches lurking the world, that doesn't mean evil doesn't walk past us on the daily. You won't always have the luxury of running, and it's important to confront evils head-on when you can.
6. A Series of Unfortunate Events
Before I could even read as a child, my mom had me watching Jim Carrey's iconic scenes in A Series of Unfortunate Events, so I've always been a fan. When I got my hands on the series, the sheer happiness I experienced was unmatched. I read day-in and day-out, expanding my vocabulary as I went through the many lows alongside the Baudelaire orphans, Violet, Klaus, and Sunny. After the tragic death of their parents, the iconic series showcases their run-ins with the greedy and cutthroat Count Olaf while they manage their lives, their caretakers, and their fortune.
Lesson: Be Yourself
The 13-book-long series taught me more than how to be cautious. It taught me grit, creativity, and the power of imagination even in your lowest moments. Although the Baudelaire orphans' lives were filled with bad luck, they constantly found a way to make something from nothing. From homemade slingshots to reading half a library to configuring an idea, these children were ruthless in their attempts to survive.
The series also taught me the importance of embracing who you are. Ample times throughout the book, Violet, Klaus, and Sunny are ridiculed for their physical appearance and intellectual abilities. As an avid reader with glasses and gapped teeth in the early 2000s, I could relate to the constant bullying and dreams of being someone else. But this novel emphasizes their differences and celebrates them, too. Without them being exactly who they are, they wouldn't have been able to protect each other. And, fortunately, that's all that matters.