As a mom, you want your kids to grow up into the best versions of themselves – to know that they're loved and that their thoughts, passions, and hobbies are valuable. Now, that's easy to say on paper, but how to make it happen can sometimes be trickier.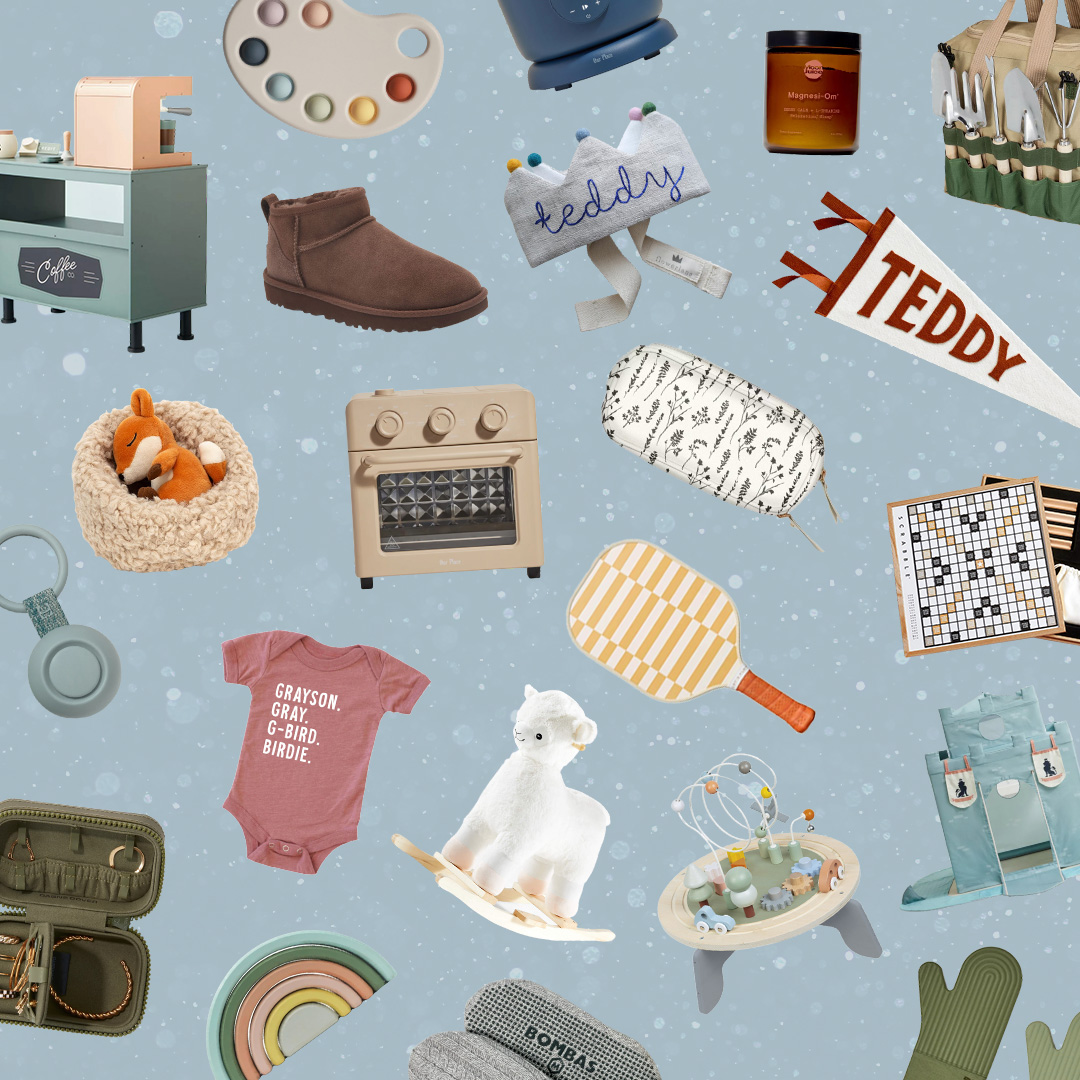 everything you need to ace holiday gifting this year 🎁
Enter: Mae Richter's adorable craft room. To encourage her daughter Grace's creativity and independence, she designated a whole room for creative experiments – and it's so chic to boot. Read on for how Mae is working side-by-side with her six-year-old in their craft room, the benefits of giving her school-age kiddo some heavy independence, and that one major face-palm moment that keeps her humble:
Name: Mae Richter
Age: 30
Current Title/Company: Retail Management
Square Footage: 2,000
Rent or Own: Own
City/State: Green Bay, WI
Children: Grace, 6
What's your favorite part of raising your 6-year-old daughter, Grace, in Green Bay, WI? What local spots do you, Grace and your partner, Steve, frequent?
My favorite part of living in Green Bay is that it has that classic small-town feel, yet is large enough to keep us busy all year round. We are so fortunate to be in close proximity to so much of Wisconsin's natural beauty. In the warmer months, we love to ride bikes on the Fox River Trail, go to Bay Beach Amusement Park, visit the beaches along the coast of Lake Michigan, and spend as much time as possible "up north" at our family's lake home. Green Bay's Titletown District, next to Lambeau Field, is a new park in Green Bay that we also enjoy taking Grace to.  It is a kid-friendly setting that promotes wellness while providing the children of Green Bay with activities to enjoy in all seasons – not just football season!
What design challenges did you face while renovating your 1950's two-story home?
I would say that the quirks of our home could be considered its biggest strengths now that we have made the space our own. The layout of the house is not the modern, open concept that families tend to gravitate to in more recent years. The previous owners added a fireplace to the corner of the living room which closed off access from the living room to the dining room. The old dining room is the space that we now use as the craft room. Luckily for us, they left the archway between the two rooms and created an adorable alcove area that is perfect for added storage that is attractive and out of the way. Another little quirk is that while our home has five bedrooms, I knew that we didn't really need all five bedrooms and chose to turn the master bedroom into an upstairs family room where we hang out as a family before bedtime.  We are able to enjoy a more formal living room on the main level with the bonus of another comfortable and cozy space on our home's second level – not the typical floor plan of newer homes today.

You're an admitted home decor-enthusiast. How has Grace influenced your design style throughout the years?
Having a daughter has absolutely contributed to the overall feminine feel of our home. My design style has gravitated towards a more fun and whimsical feel due to Grace's influence and personality. I love to get Grace involved in the decorating process and her decor choices always add fun little pops of personality to every room. I enjoy taking photographs of Grace and these pictures of Grace are used as décor and accents in just about every room of the house.
My design style did change once I became a mother. With a young child, you end up spending most of your time in your home, so I believe it is really important to create a space that you want to be. I adapted to more of a brighter, calm and serene setting, while still staying true to my own unique and personal style.
Walk us through creating a design plan for the craft room. Did you involve Grace in the process?
When we moved into our home five years ago, the walls and ceilings had been painted the same shade of yellow…throughout the entire house. Slowly we have managed to update the paint colors to white ceilings and grey walls, which made a huge difference in the overall feel of each room. The craft room was actually one of the last rooms to be updated and happened to coincide with Grace starting kindergarten. After having already been using the room for craft projects, I knew this room right off the kitchen would be the perfect craft room and also serve as a homework zone now that Grace was in school. Most of the furniture was already in place so some pieces were reconfigured to accommodate the multiple functions of the room.
The inspiration for the room grew from a pink chair that serves as a fun statement piece. The light grey walls are calm and inviting with pink gingham window valances that are stylish and perfect for a little girl. Grace and I wanted to make sure that the design plan that we created took into account all of her needs, giving Grace her very own personal workspace. Our design plan also ensured Grace had easy access to her items while keeping the clutter at a minimum. The IKEA cubes are ideal for storage and display and the IKEA daybed, with all of its pink pillows, is a perfect place for Grace to take a break and snuggle. Two IKEA cabinets placed side by side next to the daybed serve a dual purpose of additional storage for smaller items and a table for the lamp – pink, of course! Every furniture piece in the room has a purpose.
How did you create a functional space that reflects your family's personality? Any advice for other parents struggling with their home design?
We wanted to keep the craft room fun and functional, while still keeping things a little bit "grown up" at the same time. One of my favorite parts of the room is the gallery wall that incorporates Grace's artwork with framed pieces that I have chosen. The framed Rifle Paper Co. prints that hang above the daybed are youthful and add a fun vibe to the room. I also love to encourage Grace to pick things that are important to her to be displayed in her workspace. There is a pinboard where she can hang her pictures and little items that she loves above her desk. She has chosen her favorite markers and paint brushes that sit on top of her desk. Grace's Hello Kitty blue tooth speaker fits right in with the playful and colorful décor of the craft room and is perfect for impromptu dance parties. The room is happy and fun – just like Grace!
How does your family use this creative space day in and out?
As a parent in this day and age, it can sometimes be difficult to avoid the distractions of technology that are all around us every day. I truly believe that the number one benefit of having a craft room is having a space where Grace is free to be imaginative and creative without boundaries – a place that is her own. Some of my favorite memories as a child involved painting and making things, and I always envisioned having a space like that for Grace. As a result, the creative process doesn't have to be interrupted and items put away as it would if you were working on a project at the kitchen table. The luxury of having a designated space to be creative is something that Grace can enjoy on her own or with others.
There are lots of different storage pieces in the space. Tell us about your go-to storage techniques and how you keep it organized.
Everything in the craft room has a "home" and is labeled. There are multiple bins for coloring books, craft paper, paints, tape, glue, and anything we need to be creative. Items that Grace needs are always available and accessible. We use clear glass jars to store colorful things like washi tape, ribbon, bakers twine, etc. as a fun and decorative element that is also functional. Supplies that aren't used on a daily basis are tucked away in bins and placed on shelves in the craft room closet until they are needed. Organization is key to finding what you want without having to waste time looking for what you need.
It is easy to keep our space tidy since Grace knows where everything goes. Scooping up all the markers on her desk and returning them to the box labeled "markers" makes cleaning up a no-brainer. I have to admit that I am very fortunate that Grace definitely takes after me with her appreciation for putting things back where they belong and staying organized. Even when Grace was a toddler, we always made it a practice to put things back before getting something else out. With no clutter to hinder the creative process, it always makes the craft room an inviting place to return to.

Where are your favorite places to buy home decor?
My favorite places to shop for home decor are Target, TJ Maxx, Ikea, and Tuesday Morning.
How has having a creative space in the home changed your family dynamic?
We consider the craft room to be an important room in our home as it serves many purposes for fun and functionality while giving us yet another opportunity to be together as a family. We can use this room to work on homework together or just dance around the room on a weekend. Because we truly value the time we spend together, the benefits of having this extra space far exceed just having an area to craft in or work on a project.
How do you stay creative with Grace? What do you like to do together?
Every season brings fun and new opportunities to be creative.  We especially enjoy decorating for each holiday and making seasonal decor items to display in the house. We love going on Pinterest to search for kid-friendly ideas or going to Michael's Craft Store to look for new craft supplies that inspire us. Most recently we painted birdhouses that are on display in the living room to celebrate the return of spring, our favorite! Grace's creativity is not confined to the craft room — she also loves to spend time in the kitchen and has been baking with me since she was very little. She enjoys trying out new recipes.
Tell us about what values are important to your family. How are you instilling those in Grace?
It is so important to give kids a solid foundation of core values to be used throughout their lives. Steven and I have made it a point to teach Grace from a young age to be grateful for the things we have.  We instill in Grace the importance of giving to families in need, being a good friend to others, practicing kindness, and being considerate to others. It has been very rewarding to watch Grace participate in school-organized opportunities that give back to our community.
Beyond values alone, at the end of the day, it is so important to have fun and laugh often. Life with Grace is full of belly laughs, knock knock jokes and practical jokes and I wouldn't have it any other way.
How are you raising Grace to encourage her to be independent and help around the house?
I feel it is important to remain consistent and to encourage independence whenever possible. Grace has an age-appropriate chore chart and she takes pride in completing her assigned tasks. Starting kindergarten has made Grace even more confident in herself and her own unique set of skills.
How are you helping Grace discover her self-identity, and what tips do you have for parents with school-aged children who wish to do the same?
Being an adult and constantly juggling the day to day activities makes it easy for us to forget that our little ones have their own wants and needs. Staying in tune with Grace's individuality means giving her a voice when she has something to say, listening when she has fears, taking her wants and concerns into account, and yes, letting her pick out what she wants to wear to school…even if it is the mermaid scale leggings. It is so important to allow your children to guide you with their thoughts and opinions – even at six years old. You, as the parent, still make the overall final decision, but your child needs to be heard in order for them to develop their own identity.

What do you worry about as a parent? How are you dealing with those concerns?
I'm sure I have the same concerns as most parents when it comes to the safety and well-being of your child. Our job as parents is to set your child up for success, send this person you made into the world and hope that you did everything that you could to prepare them for their future. Your tribe is everything and the people by your side along the way are invaluable. The importance of surrounding yourself with other parents whose perspectives you respect makes all the difference in parenting – even if those values and opinions are different than your own. I am so grateful to have good friends who are also mothers, going through the same things in their own way, who can relate to my experiences and provide reassurance.
What is your parenting style? How does it work for your family?
My parenting style is a very hands-on approach, giving me the opportunity to nurture Grace and assure her that I will always be there for her. It is important to realize that the way you parent now will shape your child's future and the person they become. This is always in the back of my mind as I am guiding Grace and living day-to-day. I was fortunate enough to have a stay-at-home mom growing up who played an active role in my life, and I want the same for Grace. I feel that my involved approach in parenting has allowed Grace to already have certain admirable qualities that are vital as she continues to grow. She is already a sweet and kind little girl with an amazing sense of humor. It's going to be a fun journey watching her learn and grow – until those dreaded teen years arrive!
How do you and your partner, Steven, divide parenting roles?
Being a parent means providing love and everything a child needs. It is not always genetics or DNA but a love that goes well above that when it comes to parenting. Steven has been in Grace's life since she was 2 years old, and his love for Grace goes well above and beyond. His ability to make Grace a priority in his life is a quality every parent should have. There really isn't a division or line drawn in the sand when it comes to our parenting roles. We are a team and are on the same page when it comes to our parenting style. We support each other, and Grace knows she can always count on both of us to always be there.
When it comes to being a mom: what are you most insecure about and what are you most confident about?
Overall, I am confident that I am giving Grace the best life that I can. It goes back to the importance of providing that solid foundation of morals and values I mentioned earlier that we need in order to be a happy and well-adjusted adult. I have made it a point to capture memories with pictures, begin traditions and continue existing family traditions so that Grace will have many special memories to reflect on when she is older. I am certain that she will look back on her childhood and be grateful for the sacrifices that I made and remember all of the important moments and fun our family had along the way.
In my experience, you have more fears and insecurities as your child grows. They start to get older and make choices of their own and you have to hope that the choices they make will always be the right ones.
If you could only pick one, what has been your favorite memory from motherhood so far?
My favorite memories come with each milestone Grace encounters. All of the "firsts" – first dance recital, first time jumping off a diving board, catching her first fish at the lake, her first day of school. Every day it amazes me how fearless Grace really is. Any time she does something to make herself feel proud, it becomes a special memory for me as well.
Mae Richter is The Everymom…
Favorite family-friendly movie?
The Little Mermaid.
Best mother-daughter date?
Mother/daughter yoga class and lunch at Noodles.
Easiest meal to make?
Homemade Mac n' Cheese in the Instant Pot.
Song currently playing in your car?
Cold War Kids.
Most embarrassing mom moment?
This is a tough one as it takes a lot to embarrass me so here's what comes to mind at the moment…   I LOVE holidays so last December I told Grace offhandedly that I wished Steven were Jewish so we could celebrate both Christmas AND Hanukkah. That backfired this past December when Grace's Kindergarten class hosted a Jewish guest speaker to teach them about Hanukkah. Grace came home from school that day and told me she raised her hand and declared, "My mom wishes she married a Jewish man."