There are plenty of myths about crystals. Some say they're "magical rocks," some believe change is possible through them, and others attribute any changes to the placebo effect. Whether you believe in the power of crystals or not, they do harness energy from the Earth and humans have used them for a long, long time, from being used by ancient civilizations to today's self-care practices.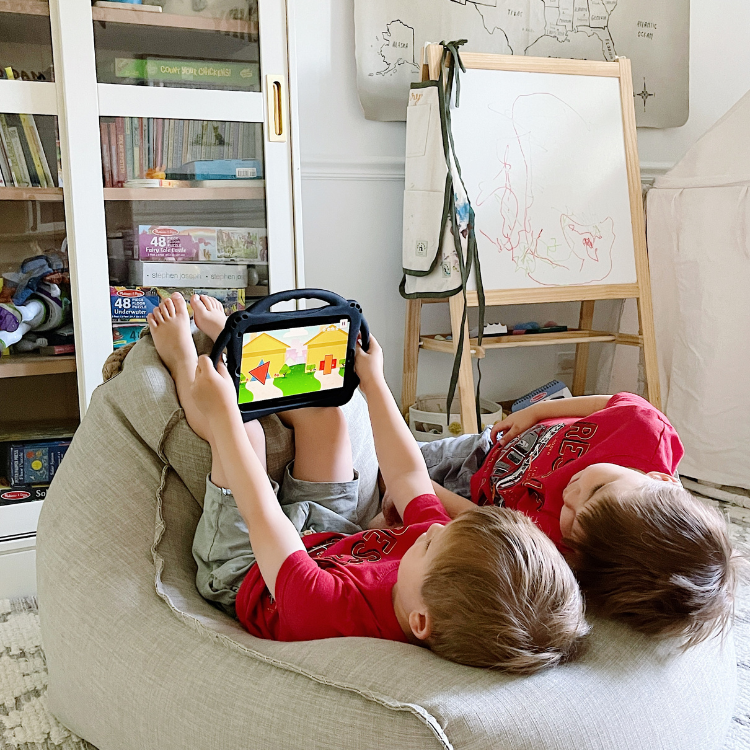 a pediatrician shares what she *really* thinks about LOs and screen time
My curiosity led me to my local crystal shop. Immediately greeted by spiritualist and artist Maya Doss, I was showered with knowledge about which crystals were ideal for protection, healing, inspiration, and growth into a new chapter. After picking up a few gems, learning about tarot, and diving into the history of spirituality, my gears wouldn't stop turning. It was transformative. With the new year, it was only right to compile a list to help you transform your 2022, too.
If you're curious about crystals, adding one or two (or three, no shame) to your daily routine may be just the pick-me-up you need. Whether it be sporting a specific crystal necklace, having a meditative session, or adorning your home in your favorite stones, remember that the work comes from within. A little help never hurts, though.
Here are some of the best crystals for promoting a life of healing, inspiration, and growth to enhance your 2022!
Crystals for Healing
Etsy | newagegirl88
Besides being known as an intensely protective crystal by shielding emotional and physical negativity, this stone is perfect for ridding emotional blocks. By promoting clarity, strength, and newfound passion, the truth-enhancing crystal helps when you seriously just need to let go. While meditating, Doss recommended that you place it on your third eye (your forehead) or in your hand.
Etsy | Moon Drop Stones
If you're constantly stressed or worrying, this crystal is perfect for centering your mind and providing focus. This nurturing stone transmits patience, understanding, comfort, and reassurance when you need them most. Doss said this stone has the "magic of infinite possibilities" and is great for connecting with nature. While meditating, it's best to place on your sacral chakra (below your belly button) to promote your emotional equilibrium.
Etsy | Prov31Gals
Known as the ultimate cleanser and regenerating crystal, citrine is a true spirit healer, too. After showcasing a basket full of citrine, Doss alerted me about how often they're imitated; heating up amethyst could give you a similar look and feel. While meditating, she recommended placing it on your crown chakra (the top of your head) or in your hand.
Crystals for Inspiration
Etsy | Stones Inspired by Ro
Deemed Doss' favorite stone, this gorgeous green "heart-centered" crystal is the go-to for any creative wanting a new direction. With the ability to transform and provide inspiration, this mineral will help you take the leap and say yes to new opportunities. While meditating, she said it's best to place on your heart or throat chakra.
Etsy | ilovelotus
Tiger's Eye is the perfect crystal for balance and harmony. By soothing the anxieties and fear of new experiences, it's great for providing strength to pursue what's next. For anyone needing advice on Tiger's Eye, Doss said to always go with the one that looks and feels completely show-stopping to you; it may look ordinary to others, but your selection is extremely impactful. While meditating, place on your root chakra (your lower body), your solar plexus chakra (above your belly button), or even just within your immediate space.
Crystals for Growth
Etsy | Rocking Pebbles
By connecting your spirit and intellect, this layered crystal strengthens communication and releases blocks on your throat chakra. It's ideal for enhancing luck and wealth, too. For anyone with stage fright or a lack of confidence, Doss recommended holding on to this "best friend crystal." While meditating, place it on your third eye (forehead) or throat.
Etsy | Vinas Healing Crystals
The deep-purple crystal is known as the "all-healer" and ideal for connecting to your divine energy. Great for headaches, fatigue, or any symptoms of stress, this crystal is said to aid in cell regeneration and improve skin, too. By soothing irritability and balancing mood swings, it's great for clearing your mind. While meditating, Doss recommended sitting it on your crown chakra (top of your head), which is also associated with the color purple.
Etsy | palcamsoldistrio
Associated with "new beginnings," this crystal is great for enhancing intuition, success, and fortune. The dreamy, ethereal stone is linked with the moon and will be a constant reminder of the light at the end of the tunnel during your new journey. Doss recommended this crystal for anyone wanting to tap into their feminine energy, improve fertility, or feel their inner luminance. While meditating, place on your solar plexus chakra (above your belly button).