When it comes to the awesome task of naming a newborn, parents can never have too many baby name lists to scour for inspiration. After all, settling on a name that is true to your roots, aesthetically pleasing, and something both you and your partner can agree upon can feel downright impossible. But that's where The Everymom comes in.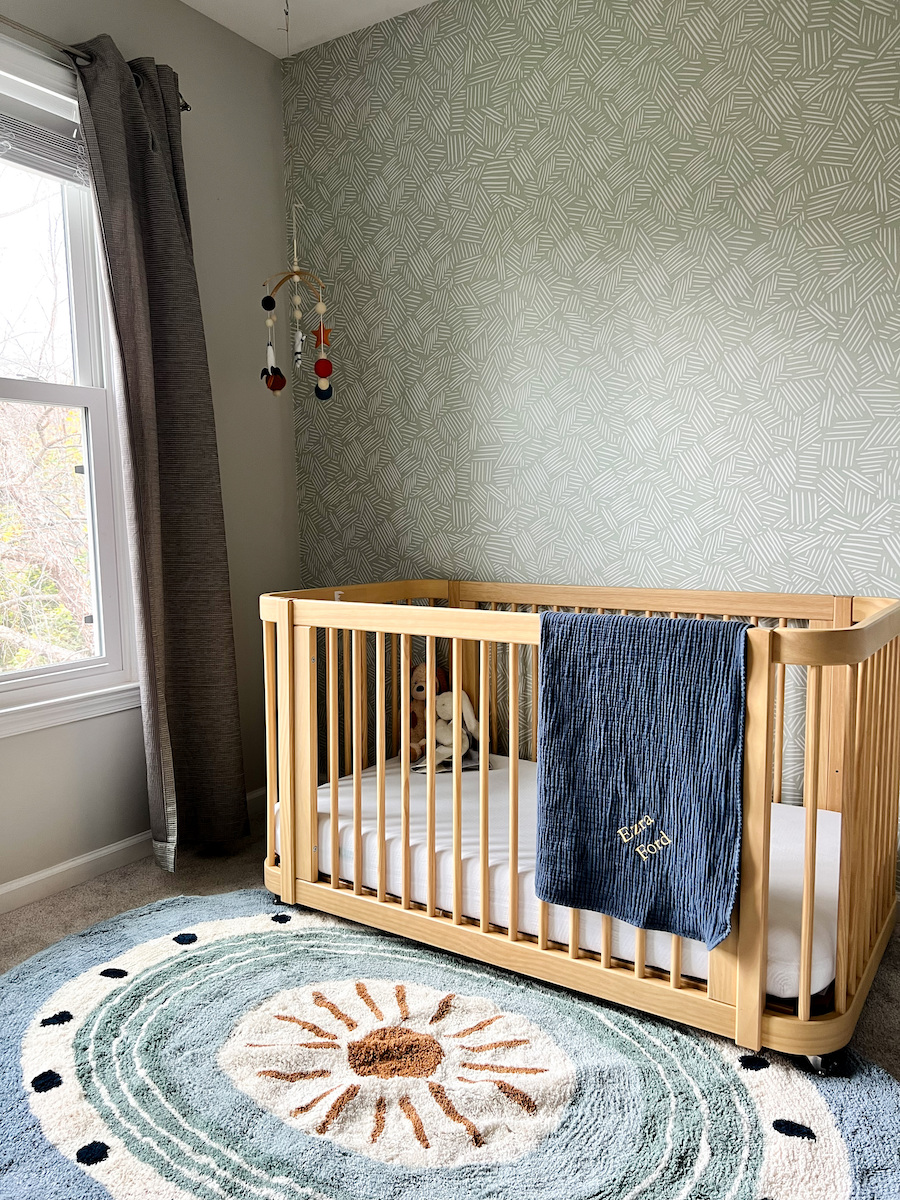 editor-favorite crib brand Nestig just released gorgeous new wallpapers that will easily transform any space 😍
We pulled together 20 of the loveliest and most lovable baby names—all perfectly suited to newborns, toddlers, and big kids alike. So no matter which you choose, your pick will grow beautifully with your baby.
Read on for 20 of the cutest baby names for both girls and boys.
Cute Baby Names for Girls
1. Cora
Origin: Greek
Notes: Cora may have hit its height of popularity in 1900, but this darling vintage name has its sights set on staging a comeback. Meaning "maiden," Cora brings with it a dainty charm reminiscent of old-fashioned floral names.
2. Daphne
Origin: Greek
Notes: Nudged into the public eye after Bridgerton soared to fame, Daphne proved to be more than just another leading lady. The name, meaning "laurel tree, bay tree," is a striking choice for any newborn girl born today.
3. Ivy
Origin: English
Notes: Nameberry lists Ivy as a "botanical name," calling to mind cozy vine-covered cottages tucked away in the English countryside. This charming little name brims with character, adding a nice balance for anyone saddled with an especially long or complicated last name.
4. Izara
Origin: African
Notes: Sophisticated and full of charm, Izara is a feminine name that rolls easily off the tongue. If three syllables feel like too much for a newborn baby, try shortening this one to Izzie or Zara until they are ready to embrace the full moniker.
5. Matilda
Origin: German
Notes: With undeniably adorable options for nicknames—Maddie, Tilda, and Tilly—Matilda is a versatile pick with tons of charm. And with a meaning like "battle-mighty," this name promises to lend its bearer strength and confidence aplenty.
6. Mika
Origin: Japanese, Hungarian, Russian
Notes: Pronounced "mee-ka," this lovely name means "beautiful fragrance," making it a pitch-perfect fit for any new arrival and that newborn scent we just can't get enough of.
7. Raya
Origin: Israeli
Notes: Bound to soar to popularity after the release of Disney's latest animated film Raya and the Last Dragon, Raya is a beautiful name with a sweet and simple meaning: friend.
8. Simone
Origin: French
Notes: A play on the Hebrew name Simon, Simone has a cosmopolitan and feminine flair that makes for a charming name just off the beaten path. This name means "hearkening."
9. Stella
Origin: Latin
Notes: Hugely popular in the early 1900s, Stella was a mainstay for girls' names until the mid-1980s. After a brief dip, this beloved classic started a steady climb back up the charts and remains a popular choice for baby girls today.
10. Willa
Origin: English
Meaning: Willa is a lovely name with a soft, lyrical quality to it. The female version of William, this darling moniker means "resolute protection."
Cute Baby Names for Boys
1. August
Origin: English
Notes: This old-fashioned name may have been at its most popular in 1901 but it has been steadily climbing the charts in recent years. Not quite sold on August? Consider similar names such as Augustus and Augustine, both of which can still make use of the adorable Gus or Auggie for a nickname.
2. Caleb
Origin: Hebrew
Notes: With nicknames as cute as Cale and Cal, this strong name belongs at the top of every parent's potential names list. The fact that it has a tender, lovable meaning—whole-hearted—should inch it up even further.
3. Charlie
Origin: English
Notes: Now officially a unisex name, Charlie is most often a nickname for the masculine Charles or feminine Charlotte. It has good-natured, affable vibes and has held its place in the U.S. top baby names for more than a century.
4. Milo
Origin: Latin
Notes: A sweet alternative to the ultra-simple Miles, Milo means "soldier" or "merciful." The baby-naming experts at Nameberry shared that Miles emerged as a variation of Milo way back in the Middle Ages.
5. Ravi
Origin: Indian
Notes: Pronounced RAH-vee, this lovely boy's name has a bright and cheerful meaning: "sun."
6. Rowan
Origin: Scottish, Irish
Notes: Sure, Rowan means "little redhead," but there's no reason to limit this name's use to those with a certain hair color.
7. Seb
Origin: English, Egyptian
Notes: A fetching way to shorten the regal Sebastian, Seb is an adorable choice for anyone looking for a unique name with deep roots. If all the name brings up for you is the high-strung crab of The Little Mermaid, consider Marvel's Sebastian Stan, AKA the Winter Soldier/Bucky Barnes, or actor Ryan Gosling's character in the award-winning movie La La Land.
8. Teddy
Origin: Greek
Notes: What could be sweeter and more winsome than a name that conjures images of a cuddly and well-loved stuffed bear? With great versatility (Theodore, Ted, etc.) Teddy promises to grow with your child throughout his lifetime.
9. Toby
Origin: English
Notes: A cute nickname for the more serious and proper Tobias, Toby lends a playful and lovable air, which is crucial when naming a new addition.
10. Wilder
Origin: English
Notes: Wilder may have its roots as a surname, but this effortlessly cool pick works well as a first name too, where it follows in the footsteps of names like Hunter and Sawyer.