Choosing a baby name is no easy task. Before each of my daughters was born, there was a stretch of time in which my husband and I half-jokingly considered settling on the name "Baby," and then "Baby #2." If only our parenting decisions were so simple.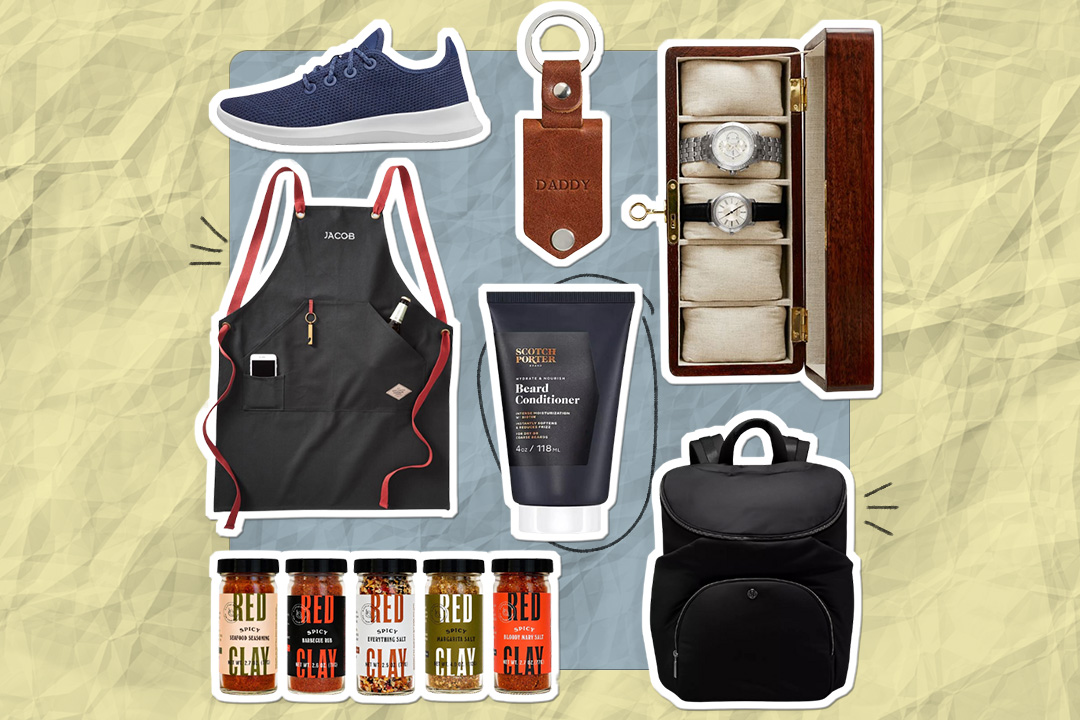 june 18 is coming up fast — have you started shopping yet? 😎
With so much to consider, from heritage and family tradition to cultural significance and aesthetics, choosing a name your child will carry for a lifetime can be a monumental job. All of this to say that for any parent in the throes of name decision angst, I am here for you—with compassion, yes, but also a bunch of adorable gender-neutral baby names that are pitch-perfect picks whether you're expecting a girl or boy. Scroll down to check out our list of the cutest unisex baby names. 
Amani
Origin: Swahili, Arabic
Meaning: Originating in both Swahili and Arabic, Amani offers a double meaning—one more perfect than the next. In Swahili, the name means "peace," and in Arabic, it's "wish." While historically the name was given to both girls and boys, it has only held its rank in the United States Social Security Administration's (SSA) top 1,000 baby names for girls, since 2000.
Variations: None
Amari
Origin: Yoruba, Thai, Hebrew
Meaning: According to the baby-naming experts at Nameberry, this charming name can be traced back to three languages, Yoruba, Thai, and Hebrew, where it has a shared meaning: "eternal." Once used mainly for boys, Amari is now a beautiful choice for girls as well.
Variations: None
Aubrey
Origin: French, English
Meaning: If this name conjures only the brilliant deadpanning of actress Aubrey Plaza (Parks and Rec), we encourage you to dig a bit deeper. There's also singer and songwriter Aubrey Graham, otherwise known as Drake; artist Aubrey Beardsley; and actress Aubrey Anderson-Emmons (Modern Family) to name a few. At its heart, this classic moniker has whimsical and memorable roots, meaning "elf ruler."
Variations: Aubree
Azariah
Origin: Hebrew
Meaning: Azariah found its start as a masculine name with biblical ties, meaning "helper of god." However, likely due to its pleasant, feminine lilt, the name has gained popularity with parents of girls as well. Nameberry reported that Azariah is now shared almost equally between the sexes. This beautiful moniker has held its place in the top 1,000 baby names in the US since 2009.
Variations: Azaria
Bailey
Origin: English, French
Meaning: Bailey may be an occupational surname with a serious meaning—"bailiff" or "law enforcer"—but its disposition is anything but. Playful and casual, Bailey is a charming pick for any parent with hopes for a friendly and gregarious little one.
Variations: None
Devon
Origin: English, French
Meaning: Devon is an undeniably likable name with ties to both England and France. For Brits, the name represents an area called Devon County. In France, Devon sprang from the word "devin," used to mark "divine people."
Variations: Deven, Devin
Drew
Origin: English
Meaning: This name may mean "manly," but Drew is widely used for all children regardless of gender. Actress Drew Barrymore popularized the name for girls with her catapult to fame in the '80s.
Variations: None
Emerson
Origin: English, German
Meaning: If your baby-naming decision hinges on a sentimental meaning, then Emerson may not be the name for you. Derived from an English surname, this one is all about practicality, simply meaning "son of Emery." While far from reigning supreme, Emerson has made it into the SSA's top 1,000 baby names—for both males and females—since the early 2000s.
Variations: Emersyn
Evan
Origin: Welsh
Meaning: Used often as a name for boys, actress Evan Rachel Wood nudged this one firmly into the unisex category. This short and sweet name means "the lord is gracious."
Variations: None
Georgie
Origin: Greek
Meaning: Putting a sweet spin on the ever-classic George, Georgie is a darling name for both baby girls and boys alike. According to Nameberry, George, and all its diminutives, share a simple meaning: farmer. The SSA has no record of Georgie hitting the top 1,000 baby names—though George and Georgia both reached the height of their popularity in 2019, with each earning below 1 percent of names given that year.
Variations: Georgi
Jules
Origin: French
Meaning: Often used as a lovable nickname for Julia, Jules makes a stylish choice on its own. Finding its start in France, the name means "youthful and downy," which sounds just about perfect for a beautiful newborn!
Variations: None
Lian
Origin: Chinese
Meaning: Lian has long been a traditional name for baby boys in China, but a modern trend has swept this delight of a name firmly into unisex territory. Nameberry shares that "Lian" makes cute shorthand of names like Julian, too.
Variations: None
Nico
Origin: Greek
Meaning: A quick and very unscientific survey of my brain reveals that the coolest people on the planet all share this name, meaning "people of victory." Choose this and your little one will share a name with the Velvet Underground's front-woman, actor Nico Tortorella (Younger), and indie rock legend Neko Case.
Variations: Neko, Niko
Parker
Origin: English
Meaning: Sure, the meaning behind this adorable name is rather obvious and uninspiring, (it originated as an occupational surname for a literal park-keeper), but it has earned its rightful place in the ranks of US-given unisex baby names. At the height of its popularity in 2015, Parker was given just over .2 percent of babies born that year.
Variations: None
Rei
Origin: Japanese, Hebrew
Meaning: In Japan, Rei may owe its popularity to being chosen as kanj—or character—of the year in 2019. There, the name translates to "order" and "law," and is used interchangeably for either sex. However, Nameberry classifies Rei as a masculine Hebrew name with obscure Biblical roots.
Variations: None
Samar
Origin: Arabic
Meaning: This lovely name with Arabic roots means "evening conversation." Similar to the popular Samir, used mainly for boys, and Samara, used for girls, Samar is a tried and true option that works well for babies of any sex.
Variations: None
Sawyer
Origin: English
Meaning: Sawyer is another name that was once used to mark someone's calling in life—in this case, someone who "saws timber for a living." Sure, the meaning is hardly exciting, but with a name like this, in all its sweetness and charm, does it matter?
Variations: None
Shay
Origin: Hebrew, Irish
Meaning: When it comes to meaningful baby names, nothing could be sweeter than Shay—a darling unisex name that means "gift."
Variations: Shea, Shae, Shaye, Shai
Shiloh
Origin: Hebrew
Meaning: If you're a parent who puts any stock in baby name meanings, toiling over just the right name to help shape your little's one journey, then Shiloh may be an easy pick for you. The name means "tranquil," a quality that any newborn baby could stand to embody.
Variations: Shilo
Tavi
Origin: Aramaic
Meaning: Sure, Rookie Magazine founder-turned-actor Tavi Gevinson may have pushed this name into the limelight, but Tavi has long been a name used for both girls and boys. Use it as an adorable nickname for Octavia, or as a cute moniker all its own.
Variations: Tavia