As a summer baby myself (shoutout to my fellow cancers!), I was always envious of my sister's December birthday growing up. I remember thinking: not only does she get Christmas presents, but birthday presents, too?! The jealousy was real. And it wasn't until I was older that I started to appreciate my June birthday for all of its glory.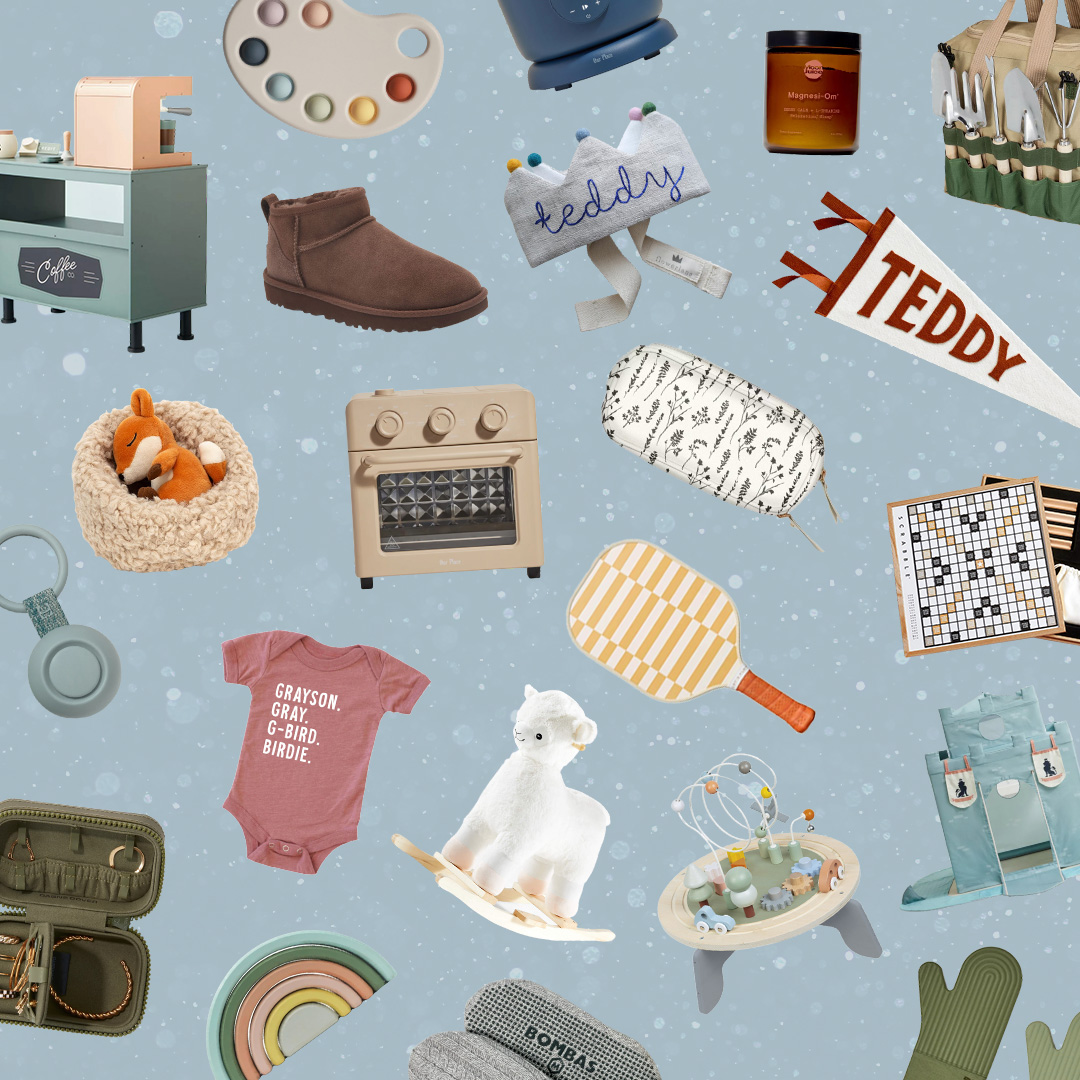 everything you need to ace holiday gifting this year 🎁
Still, I always wanted to revel in the magic that was her winter birthday. Her day was always spent sledding with her friends, watching holiday movies with our family, and drinking hot chocolate until our stomachs hurt. It was as if the magic of the holidays stretched to her birthday in the most exciting of ways.
For anyone anticipating a little one in the coming winter months, I hope you and your family feel just as much of the winter magic as we always did. And, if you want to commemorate the special season, might we suggest drawing baby name inspiration from it? Here we've gathered all of our favorite winter baby names—from the ones that mean 'snow,' to the ones that remind us of the chilly season, and more. Read on for 45+ of the best winter baby names.
Best Winter Baby Names
For Girls
Alba
Our minds may quickly go to the actress with this surname, none other than Jessica Alba. But we also love that it is of Spanish origin meaning 'bright' and 'white.'
Aurora
I recently had a friend choose this moniker for her little girl, who they call Rory for short, and I couldn't love it more. We're certainly reminded of the winter phenomenon of the Aurora Borealis, or the Northern Lights, upon hearing it.
Bianca
This highly feminine Italian name means 'pure' and 'white,' reminding us of the first winter snowfall each year.
Blanche
Vintage baby names have been making a comeback for quite some time, and for good reason. Names like Blanche, which means 'white' in French, truly never go out of style.
Carol
For a name that makes you want to sing out in joy, consider Carol, which brings to mind Christmas carols that are sung around the holidays.
Demetria
For a unique title with lots of power behind it, consider Demetria, who is known as the Greek goddess of winter.
Eira
This lovely Welsh title is perfect for a winter baby as it holds the meaning of 'snow.'
Elsa
Let it go, let it go—as in, let go of all of the other winter baby names because this might just be the perfect one! We're inspired by the quintessential winter Disney movie, Frozen, and its main character.
Frostine
Unique baby name, anyone? This delicate French name holds the meaning of 'freezing' and simply couldn't be more perfect for this list.
Guinevere
This beautifully feminine title is of English origin and means 'white.'
Gwenyth
Whether you're a big fan of Gwenyth Paltrow or simply love the beautiful name, it's a wonderful option for a little girl. Of Welsh origin, it means 'white.'
Holly
Because mistletoe didn't make the cut, we included the next best thing. Strongly associated with Christmas, the British name refers to the holly tree.
Ivy
While most plants tend to wither in winter months, the ivy plant is known for being evergreen. For a resilient little one, consider this Latin name that means 'vine' and invokes imagery of the beautiful plant.
January
Of all of the months-turned-to-baby-names, this might just be our favorite. Of course, we're referring to the typical cold month that starts our year. This is a perfect option for a NYE baby.
Juniper
As it turns out, winter baby names tend to go hand in hand with nature-inspired baby names. This tops our list of favorites and references the winter tree, which holds the meanings of 'young' and 'evergreen' in Latin.
Natasha
There simply couldn't be a better name choice for a little girl born on or around Christmas Day–this Russian name quite literally means 'born on Christmas Day.'
Noelle/Noella
This name of French origin is perfect for a little girl born in the winter months. With ties to one of the most celebrated winter holidays, the French name means 'Christmas.'
For Boys
Andri
While we love the strong, classic title Andrew, we might love this similar-sounding option just as much. The Old Norse name means 'snow shoe' and is perfect for an outdoor-loving family.
Boreas
Anyone who lives in a colder region knows the importance of bundling up in the winter months, especially when the 'north wind' comes through. Holding this special wind's meaning, this name has Greek origins.
Chan
This sharp title is of Chinese origin and holds the meaning of 'snow.'
Colden
As magical as the winter months are, they also can be very cold. This name encapsulates the chilly weather in a unique and charming way.
Cole
To help ensure your little one never receives coal in his stocking, consider this baby name.
Douglas
There are several plants that the winter months and its holidays are known for. The Douglas fir might just be the most well known, as many families decorate them as their Christmas tree each year.
Jack
Just like a newborn baby, Jack Frost is sure to make his presence known when he comes to town.
Nevis
Similarly, and also holding the meaning of 'snow,' is this Caribbean moniker.
Nicholas
Whether you think of the saint or the man in the red suit upon hearing this name, it doesn't get much more holiday-inspired than this.
Olwen
Like the name Owen, but want something a little different? Consider this Welsh name meaning 'white footprint.'
Rudolf
Of course, we're inspired by our favorite red-nosed reindeer here. What's even better is that the German name holds the strong meaning of 'famous wolf.'
Snow
We simply had to include this name that makes us picture a classic white holiday scene. Plus, fans of the hit series Game of Thrones will be reminded of the ever-noble Jon Snow.
Warrin
While you may be familiar with Warren, we have the Pitjantjatjara Aboriginal people of Central Australia to thank for this variation. For them, this name holds the meaning of 'the cold months.'
Whittaker
A strong name such as this is fitting enough for consideration, but its English meaning of 'from the white field" makes it even more perfect for a winter baby.
Yukio
Head to Japan to find the origins of this perfectly winter-centric baby name meaning 'snow.'
Gender-Neutral Winter Baby Names
Aspen
Colorado is known for being a winter travel destination, especially for the amazing skiing opportunities in the area. One of the most well-known spots? Aspen. If the snowcapped mountains aren't enough, we're also reminded of the trees that lose their leaves in the fall but remain standing tall and proud throughout the winter months.
Aster
This Greek name meaning 'star' simply feels fitting for our list of winter-baby names.
Blaze
While we probably don't want to get caught in a winter snowstorm–commonly known as a blaze–we do want to cuddle up by a warm fire all winter long. That's why this Latin name meaning 'fire' or 'flame' is uniquely fitting for our list.
Cypress
Known for their timeless beauty, the evergreen cypress trees are a wonderful place to draw gender-neutral baby name inspiration from.
Eirwen
A lovely name of Welsh origin, Eirwen holds the meaning of 'blessed snow.' While typically seen as a feminine title, we happen to think it would make a great option for a little boy as well.
Ember
Speaking of cozy fires, there can be no flame without first having a 'spark.' We love this British name that holds this meaning, as well as 'burning low.'
Gabriel/Gabrielle
This name has strong Biblical ties and is known for being the name of the angel in the Christian Christmas story. The Hebrew name fittingly means 'God is my strength.'
Kari
Babies born in the winter months likely won't be strangers to snow. That's why this Turkish name meaning 'covered with snow' got an inclusion on our list.
Lumi
And while we're on the subject, we love this Finnish name meaning 'snow.'
Neve
The snappy name hailing from Italy is known to mean 'snow.' If you have a winter baby on the way and ties to Italy, this may be the perfect option to consider.
North
Our friends in the north are no strangers to chilly winter weather. And whether you're inspired by winter or Kim Kardashian here, we approve.
Robin
When everything is covered with white snow, it's hard to miss a colorful robin that often sticks around even in the cold winter months.
Winter/Wynter
While it's clear where our inspiration is coming from with this one, we love the fact that it can be made even more unique by opting for a different spelling.
Wren
The winter months tend to be a lot quieter than that of spring and summer. If we do hear a bird or two during the chilly season, there's a good chance we're hearing the song of a small winter wren.
Yule
Known as a German winter festival taking place in late December, Yule is the name of the winter solstice.