A playhouse is much more than a house—it's an ice cream shop, a rocket ship, a farmer's market, or whatever your kids decide it might be that day. Outdoor playhouses are an imagination powerhouse, and one in your backyard can turn any day into an adventure.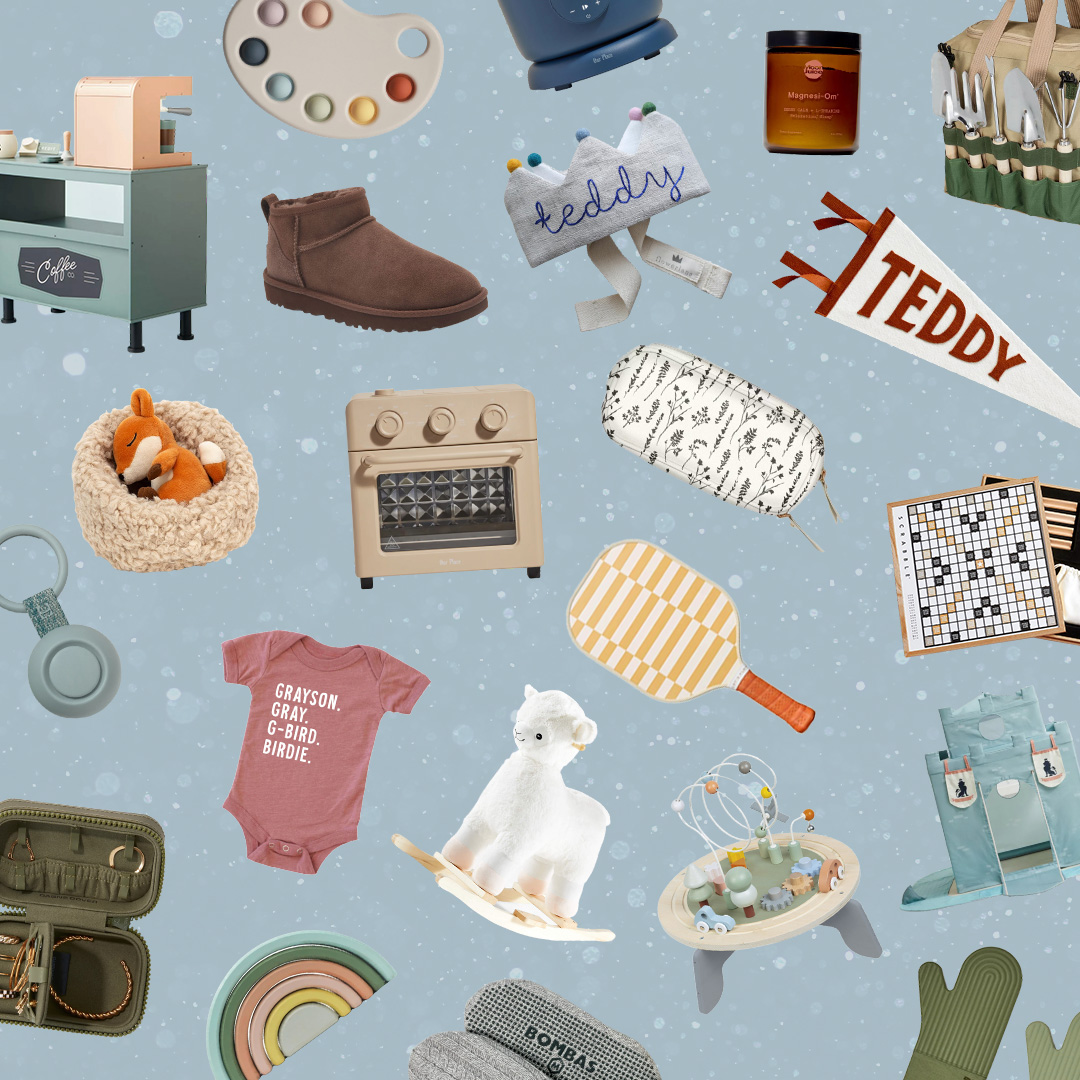 everything you need to ace holiday gifting this year 🎁
Luckily, you don't need to spend a fortune or have a professionally-made playhouse if you're willing to put a little creativity and elbow grease into a DIY project. Many parents buy a generic playhouse (shop our favorites linked below!) and customize them with paint and other easy improvements.
Want to go the DIY playhouse route but not sure where to start? Read on for 10 fun playhouse ideas—from a beach clubhouse and outdoor cafe to a garden hideaway and country house—to jumpstart your upgrade. Then, keep scrolling to shop some of our favorite playhouses and accessories like doormats, bunting, a mailbox, and more!
DIY Playhouse Ideas
You probably set up a lemonade stand in your front yard one summer when you were a kid, so why not give your LO's drink business a permanent spot outside your home with this cute playhouse idea? Then when your kiddo is done selling lemonade to friends and family for the day, their classic black and white playhouse can easily turn into anything else they can imagine.
We love this simplicity of this DIY playhouse because it only takes some paint to majorly plus-up its look. Choose one of the wooden playhouses linked below and then select paint in your child's favorite color for an instantly personalized project that's sure to be the talk of the neighborhood.
Even if you don't live by the ocean, bring beach vibes to your own backyard with this DIY clubhouse that features a store-bought playhouse situated atop a wrap-around porch. We love that the design offers two play areas—one above and another below—for hours of fun!
Similar to the lemonade stand above, this playhouse is designed to look like a full outdoor cafe and includes an exterior chalkboard to display the daily menu and bar seating for lots of excited customers.
The only thing better than a one-story play house is… a two-story playhouse! This mini mansion even includes a basketball hoop and slide and, as the owner said best, the design offered her kiddos "hours and hours of fun"!
Another beach-themed playhouse, this surf shack features custom DIY signage and painted cardboard surfboards on the exterior—how awesome is that?! Whether your little ones know how to catch a wave or not, they'll love playing in this house perfect for any surfer dudes or dudettes.
We're obsessed with the mid-century modern vibes of this DIY playhouse that has a unique A-frame design. The best part? The inside and outside can be completely customized to whatever colors or theme your family would love most!
The only thing more cool than building your LOs a playhouse? Building them a DIY garden hideaway in the backyard complete with a slide and canopied hangout. This whimsical little space is perfect for imaginative play, games, crafting, and more.
Do you have an animal-lover in your household? If so, this DIY playhouse might be right up their alley for pretend safari expeditions, exotic animal sightings, and important zoological research. So cute!
It might be a dream of yours to rent or own a second home somewhere in the dreamy countryside—but until then, why not make a mini one in the backyard for your kids to enjoy? We're obsessed with this summery country playhouse's coastal grandmother vibes.
Shop Playhouses & Accessories