If there's one thing I know about kids and babies, it's that they require lots of stuff. Yes, there are the diapers and the wipes and all the necessities, but I'm talking about the other stuff—the toys, the bouncers, the books—that will take over your living room faster than you can say, "Mommy needs a break."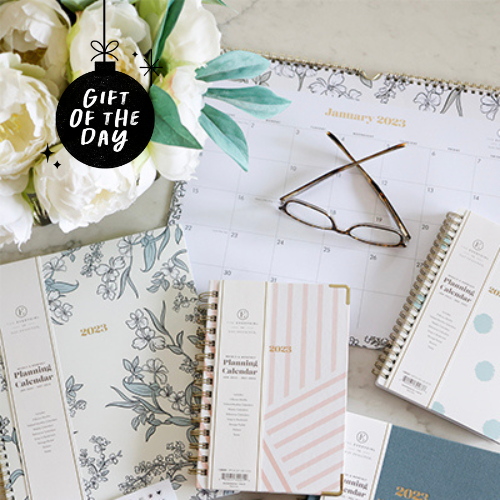 Help a mom stay organized and keep track of important doctor's appointments, playdates, and (hopefully) some scheduled 'me' time with this pretty wall calendar.
If your kids are anything like mine, their toy collection is participating in a never-ending season of Project Runway—one day they're in, and the next day, they're out. Before you know it, you've accumulated the equivalent of a daycare center's worth of toys and are fondly looking back on the days when you swore you'd never become one of those homes.
Here's the deal: a good toy doesn't need to be the hottest thing out there right now, and it doesn't need to be expensive. In fact, the American Academy of Pediatrics says that the best toys are simply ones that support warm, verbally-rich interactions and quality time for the parent or caregiver and the child. So, how do you pick a good toy? And minimize the amount in your home? Look for toys that will grow with your child, encourage exploration, and spark imagination.
A good toy doesn't need to be the hottest thing out there right now, and it doesn't need to be expensive.
When it comes to toys, it's been proven that the simpler, the better. Simple toys—as opposed to ones that light up and twirl and sing and dance—are considered passive toys. Passive toys force your child to be active, meaning your child is engaging, learning, using their imagination, exploring, creating, and innovating. Yes, even very young babies are capable of these things.
Let's look at blocks: the perfect, simple, grow-with-your-child toy. My 8-month-old is developing her fine motor skills by picking up blocks and setting them down over and over and over again. On the surface, it might seem like nothing, but on the inside, her little brain is firing new neurons and developing pathways to support her continued development. My almost 3-year-old interacts with blocks very differently. When he's not jumping off any and every elevated surface in our home, you can find him building skyscrapers, houses, garages for his cars, and almost anything else his imagination deems worthy.
On the opposite end of the spectrum, active toys—ones that sing and dance and light up—encourage your child to be passive: they're being entertained, but they're not actually learning. Assuming we're all into the idea of our kids learning, we've put together a roundup of some of our editors' favorite baby and toddler toys and products from Etsy—shop our 15 picks below!
Everyday Toys
Personalized Toys
Splurge Toys