When it comes to screen time, most parents feel strongly: either they're worried too much reliance on screens will make their kids irritable and distracted and lament a world in which everyone is huddled over a device for hours instead of connecting with the people and environment in front of them. Or, they taut the benefits of educational cartoons, point to technological literacy skills, use it as a tool for self-regulation, or position screen time as a reward once reading or chores are complete.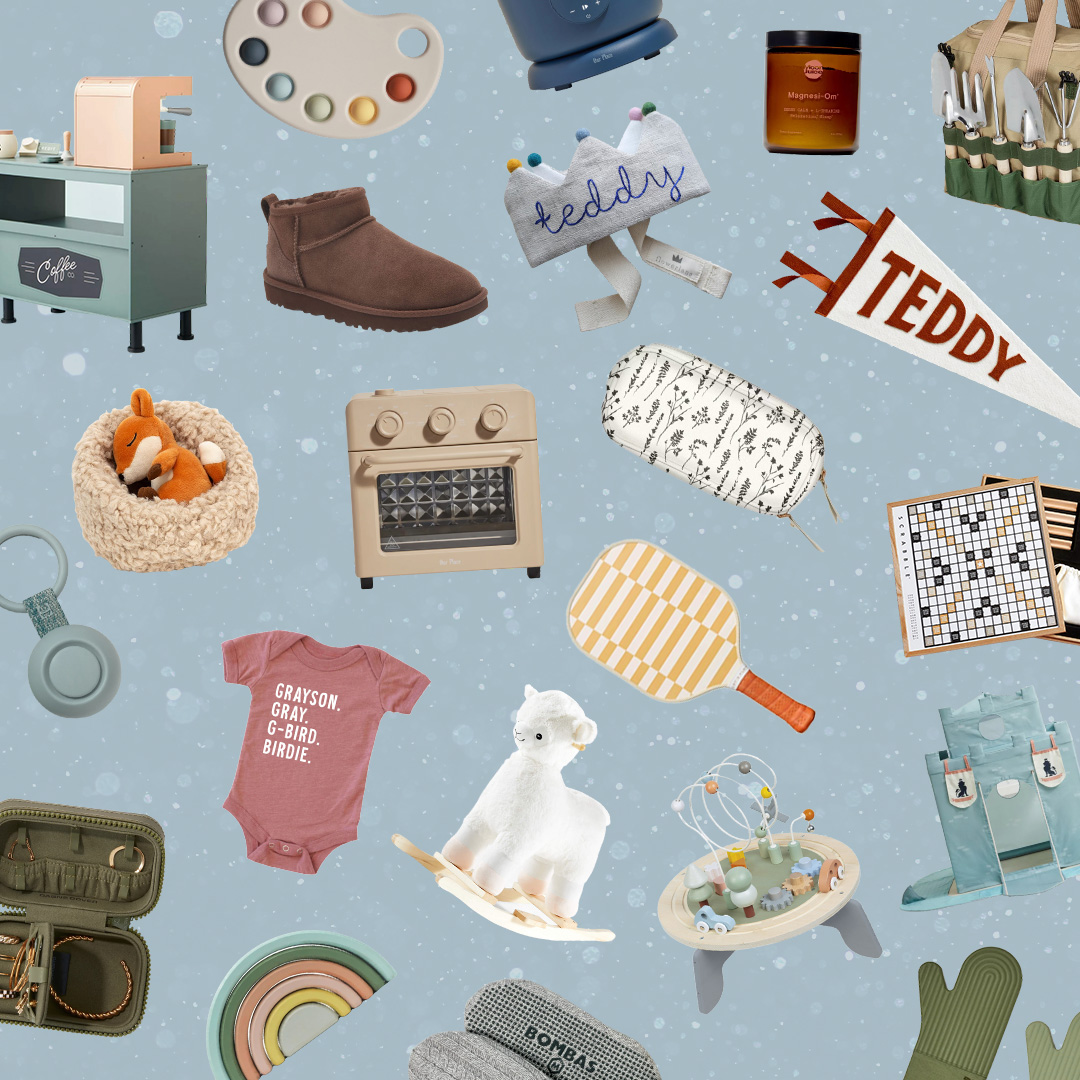 everything you need to ace holiday gifting this year 🎁
As for me, I fall somewhere in between. My two-year-old typically watches an episode of Daniel Tiger in the mornings while he eats breakfast, which gives my husband and I a short window to get ready for work, and in the evenings, we typically let our son chill out with a movie or show while we're prepping dinner or before we read books and go to bed. I'm not above using a toddler-friendly tablet on a long car ride to see family, and at the same time, I recognize when we need to shut off the television and go outside on a beautiful Saturday.
But if you look at the research, there's good reason to proceed with caution. Ninety-eight percent of households with children age 8 or under now have access to a mobile device, and endless research emphasizes how too much screen time can lead to interference with brain development, higher risk of depression, reduced sleep quality and quantity, mood issues, and addiction to immediate gratification over real-life connection. Not to mention the fact that companies like Apple, Google, and Facebook are going public with strong efforts to address the impact of technology and social media on kids, too.
So, what are parents to do? I talked to doctors, tech experts, and other families to figure out the overall pros and cons, as well as helpful tips and tricks for proactively managing screen time without totally staving off.
What are the current recommendations?
According to guidelines outlined by American Academy of Pediatrics, children under the age of 18 months should avoid screens altogether, and kids ages 2-5 should keep digital screen use limited to 1-2 hours a day.
But what, exactly, is screen time? Dr. Gina Posner, a pediatrician at MemorialCare Orange Coast Medical Center, says that, "Screen time includes any 'junk time' in front of a screen, such as video games, tablet games, and television. FaceTiming with grandparents is not considered screen time because it is more interactive. Also, homework on computers or tablets is not factored into screen time."
Will such rules eventually change? Probably, considering technology as a whole will continue to evolve, and researchers continue to study the link between screen time and impact on both children and adults. For instance, a December 2017 study in Child Development argues that the AAP existing guidelines aren't necessarily producing desired results, which is similar to another study done by the Oxford Internet Institute that noted screen time limits don't actually impact psychological well-being of kids.
What's the downside of too much screen time?
Dr. Posner says the main problem with screen time is the fact that it doesn't offer interaction, and as a result, she often sees delayed speech in kids who sit in front of the television all day, as well as higher levels of depression and feelings of isolation. It's also exceptionally easy to overdo it on screen time, adds Dr. Danelle Fisher, pediatrician at Providence Saint John's Health Center in Santa Monica. This is problematic since children need active and imaginary play on a daily basis, plus enough human interaction to recognize emotions in themselves and fellow peers. Additionally, research suggests screen time leads to poorer language skills and cognitive control, taps into addiction pathways, and for older kids, can promote depression and thoughts of suicide.
"Many parents have had conversations with their children regarding the risks of addiction to drugs, smoking, vaping, or alcohol but often don't address the importance of screen time limits," says Kristin MacLaughlin, vice president of consumer marketing at Zift and an expert highly focused on products and resources that support digital parenting. "Technology is an ever-present, and often useful, part of your child's life. Parents today need to know the warning signs of technology addiction, and tools and techniques to balance screen time and technology use as a family."
Luckily, my toddler hasn't ever really had a meltdown regarding screen time — even if he asks for a certain show or for the television to be turned on, we can usually get by with redirecting to another activity. Our household rules are primarily built upon personal preferences: we want our son to know what it's like to be bored, to practice creativity, to enjoy the outdoors, and to know that screens are fun tools, but also ones we should control.
But many parents do see a tangible correlation between screen habits and behavior, or they simply prefer a more stringent approach. Andrea T., a mom of two in Iowa, doesn't allow for technology at any meals, in car rides for kids under two years old, in public, or in the mornings. The only time she really backs down is when she's trying to get her 10-month-old to nap, in which case she'll let her four-year-old use their tablet or turn on the TV.
"We are pretty strict," says Rachel M., a Florida-based mom of four-year-old twins. "They use Kindles 3-4 times a week for 30 minutes max. As for TV, we'll do a movie once or twice a week, but they don't have set shows and the TV is never on as background noise. They used to grab our phones for YouTube videos, and we would allow it while getting ready or killing time, but we stopped — I noticed the addictive behavior, especially them watching videos of other kids playing with toys when they have their own things to play with. We want our kids to go outside and play and explore and do as much as possible, and if they have the choice to be on screens, sadly, they'll choose screens every time."
Elyssa A. felt similarly after noticing a big difference in her fifth-grader: too much screen time led to him being super irritable, overly emotional, sassy, and having a shorter attention span. She now regrets not setting tech limits when he was younger and sticks to 45 minutes a day as an earned privilege. As she puts it, "Life doesn't give you the same dopamine hits that playing a video game does, and I think it sets unrealistic expectations for kids when they get off the couch and get outside. We've talked about getting him a little gizmo gadget thing so he can make calls and send text messages now that he roams outside on his own, but he won't have a smartphone for a long time."
What are the benefits of screen time?
Of course, it's not all doom and gloom, either. Some researchers argue screen time can prove engaging for children, particularly if it is educational and done in moderation, and other findings note how children use devices is much more important than the amount of time spent on them. For example, it can promote self-control, teach boundaries, keep kids active (i.e., games that encourage dancing), build community, and support digital fluency.
The type of content seems to be key — from a firsthand perspective, I see a real difference between my son passively watching Cars 3 and singing about colors during an episode of Word Party on Netflix. With the former, he's entertained, but it's a one-way experience; with the latter, he's actively engaged with the material we can easily talk about and incorporate into real life. And other parents seem to feel the same way.
One mom told me that her daughter starting watching certain YouTube videos around eight months as a way to get through long road trips, and now at 20 months, her vocabulary is over 75 words already. Another mom felt the same way: "We like to watch classic Disney movies and educational TV shows as a family, and we make it a fun thing we do together. We talk to our daughter about what's happening on the show, interact with it, and sing, and I've found that this can build vocabulary, melody, and memory recall."
In other words, screen time is supervised, moderated, and yes, sometimes used as a tool to distract when the situation calls for it. As my coworker put it, "If I have to turn on Paw Patrol to get dinner on the table, I do what I have to do." A little screen time can work wonders to give parents a break, and while it's never intended to be a digital babysitter, the reality is that sometimes parenting is exhausting and you need just 15 minutes of quiet to hit the reset button.
That's where most parents seem to find themselves: setting boundaries to help manage trade-offs between screen time and other activities, evolving family rules as needed or based on what's age-appropriate, and, above all, just trying to find a path that works best for them and their kids. For example, Heidi McBain, a marriage and family therapist in Texas, has two kids ages 12 and 9. She says they get an hour of screen time after homework and chores done, and they have to set a timer, so once the timer goes off, they're done.
Here are some additional suggestions, in terms of moderation or decision-making, from real moms:
"My rule is no screens after 4 p.m. The awesome hidden genius: after using their brains all day to play, my kids forget about their screens. Also, all the neighbor kids who've been at camp or daycare during the day are home by this point, so my kids have new active entertainment versus passive screen time entertainment." —Heather B.
"One rule we have is no technology at restaurants, for parents or kids. I want to make sure we are present and talking to each other when out to eat. We do not have strict timing rules at home for screen time (TV, iPad, or iPod) but our girls know when we say get off, we mean it, and they've been great about listening and finding a more engaging activity. Sometimes I need to zone out on my phone for a bit, and I recognize that my kids need that mindless activity every now and then too. I just have to keep them, and myself, in check and not zone out for an entire night." —Jannae L.
"I have a four, six, and nine-year-old, and we stick to two hours total: a cartoon in the morning, 30-60 minutes of tablet or XBox (depending on rewards or discipline), and a cartoon at night. They must read for 15-20 minutes and play outside beforehand. No tech at dinner." —Mary M.
"We don't have rules yet since our daughter is still entertained by Tupperware and spoons. I dread the day when I give her a phone or an iPad to placate her. We had dinner with friends a couple of weeks ago who have a four-year-old—they broke out *gasp* crayons and a coloring book when the adults got too boring. It was awesome and reminded me that technology doesn't have to be the only answer." —Mary B.
What are some steps parents can take to proactively and positively manage screen time habits?
"Make children earn their screen time with good behavior, chores, and the like," says Dr. Fisher. "Meals should be screen-free. Parents also often ask me about screens on in the background, even with babies, and I always advise them to turn off the screens."
It is important to set clear limits and pay close attention to all the different ways screen time can add up — TV, computer, video games, social media, and tablet use all count. If your child starts to react with tantrums or poor behavior from not being able to access a screen or a device, she says it's time to cut back and reinforce the "under two hours a day" rule. Finally, do your best to remove devices from bedrooms, especially at night, says parenting coach Laine Lipsky.
Other practical tips to keep in mind, which are appropriate for all ages:
Make screen time something enjoyed in a shared family space, like the living room, and turn off the TV when it isn't being actively watched.

Try to understand how your child uses the Internet, and position it as a way to bond together through open lines of communication.

Unplug as a family during set times, like meals, or create tech-free areas of the home, like bedrooms, and bathrooms.

Use a family media contract to set family rules for screen time use (

here's

an example!).

Position screen time as a privilege that needs to be earned (i.e., read for 30 minutes in exchange for 30 minutes of using an app or watching a show).

Remind your kids (or yourself!) of other, non-digital activities that are just as fun as being on a device.
"As a parent, you will always be your child's first teacher," concludes MacLaughlin. "One of the best ways to help your child establish boundaries and learn healthy digital habits is by setting a good example. If you're concerned by the amount of time your kids spend online, consider also evaluating your own screen time habits. Increased awareness of everyone's screen time, including your own, will be beneficial for your family dynamics and helping to establish screen time limits for the entire family."
How are you managing screen time with your kids?