We love a good, gorgeous interior, but a space that's beautifully designed with the client's wellness as well as preferences in mind? We're just head over heels. Claire Staszak is doing just that – using her passion for holistic health and experience in yoga and meditation, she's designing spaces for clients that are driven first by their understanding of themselves, rather than just what they (or she) might like to see in the room. The results? Some damn lovely interiors – "sanctuary spaces," as she calls them.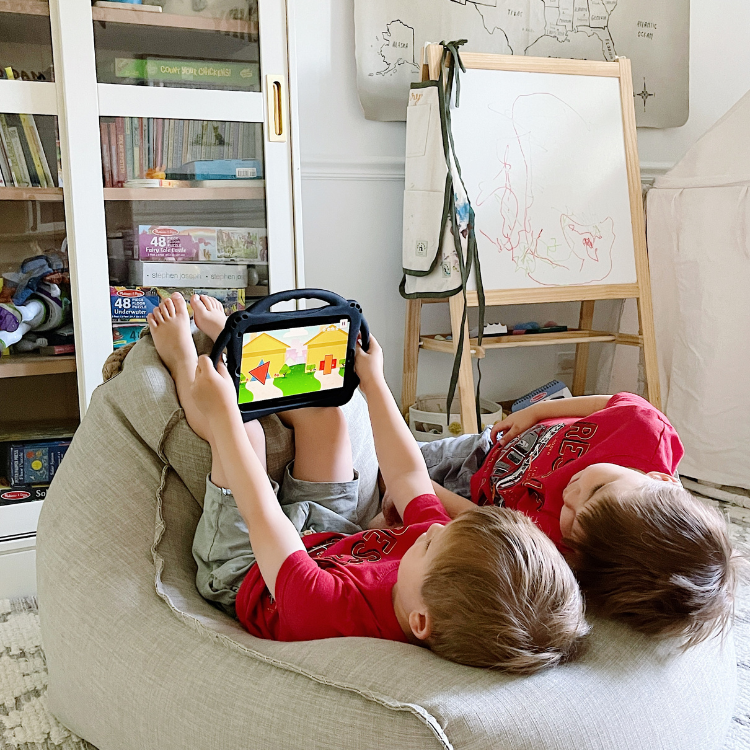 a pediatrician shares what she *really* thinks about LOs and screen time
Claire is giving us a tour of the most personal design she's worked on thus far – her own home – and telling us how she made a name for herself in design after going back to school, her best tips for picking furniture that's real-life-proof, and the details she added to her daughter Willa's nursery to make it extra special.
Name: Claire Staszak
Age: 33
Current Title/Company: Owner and Principal Designer, Centered by Design
Square Footage: 2400 sq. ft
Rent or Own: Own
City/State: Chicago, IL
Children: Willa Valentine, 9 months old
After starting your career in marketing, you went back to school for interior design. When did you discover your passion for interior design? 
While working in marketing, I became the default project manager of a renovation at the company. I quickly realized I had a natural talent for interior design and imagining what spaces could become. I never knew that other people's brains didn't visualize like mine could. I wanted formal training and felt going back to school part-time was the best way to immerse myself into the design world. I was determined to have a more creative career and felt I should give interior design a shot.

What advice do you have for women who are considering changing career paths, and what should they know before making their decision?
It's not easy to find a mentor or ask people you admire to coffee, but the people who are actually in the field are your best source for information. I emailed and spoke with lots of women when trying to determine the best path forward for myself. Short, professional, and to-the-point emails just might get you the answers you're looking for. I often blog about my career advice as I now get a lot of these types of emails from aspiring designers.
Short answer: RESEARCH — what do you ACTUALLY need to do to get where you want to go. Also, work and life experience count for a lot, so don't discount that.
Walk us through the process of developing your company, Centered by Design, and opening a design studio in Chicago.
My goal was always to start a business but knew it would take time to get to the place where I could open a design studio. I started with my blog and going back to school for design classes. I also took on decorating projects for friends and family and freelanced for other designers. I grew my portfolio with bigger and better projects more quickly than I could have imagined! My design studio was a serendipitous situation. I was subleasing the space and sharing with some photographers when an opportunity to take it over came up. I knew it was too good of a location and space to pass up, so I went for it!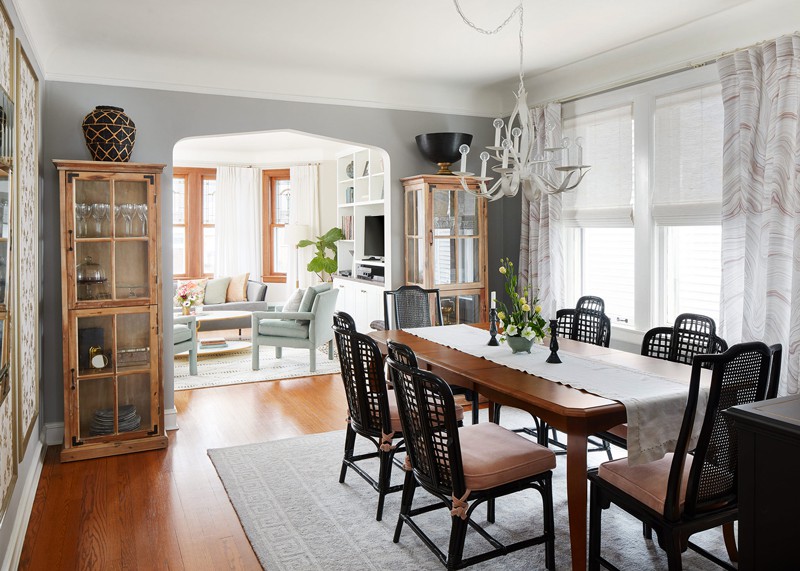 With your additional background as a certified yoga instructor, tell us about your holistic design process and why it's unique.
Having a background in yoga and meditation and overall enjoying a more holistic lifestyle approach is appealing to many clients. I try to make the interior design process less intimidating and more about figuring out your personal style and how you want to live in your home.
It took you six months to renovate your 1932 Tudor-style brick bungalow with your husband, Luke. Why did you originally choose this home, and how did you decide on a design plan?
We loved the original character of this home and knew if we put in some sweat equity it could really be a gem. I like to take design direction from the architecture of a space; you can play with the time period, or decorate in contrast to it. We've done both. The first floor has more art deco nods and classic color schemes like black and white. The second floor is more contemporary and inspired by Scandinavian style.
How did you combine your design style with Luke's in order to create a cohesive home that reflects the both of you? Were there any surprising compromises?
Decorating with an opinionated spouse is not easy! Haha, no, Luke has a very architectural eye and great ideas, we also generally like the same aesthetic so it was not that big of a challenge for us. Also, at some point he realized I do this for a living, so he let me make a lot of design choices and he had veto power if he really didn't like something.
How would you describe your design style? Where do you find inspiration?
I would describe my style as eclectic and easy. I love color and pattern, mixing antiques with new pieces, and overall I try to maintain an ease within the interiors — beautiful but not too stuffy or overdone. Inspiration comes from anywhere! But nothing inspires like travel or a good Instagram scroll.
What was your vision for your home before you began the design process, and how does it compare to your current home?
I think my vision for the house is very close to the final product. I would have loved to create an even bigger kitchen and bumped out an exterior wall, but that would have blown our renovation budget.

What challenges did you face renovating a vintage home?
Old plumbing was our biggest challenge and the biggest renovation cost!
Although you're known for your use of bright colors, you decided on a neutral color palette for your home – what influenced your choice?
I surprised myself by how neutral I wanted to go in our house. I think it might be because I look at color and pattern all day. Also, the house faces north and the biggest drawback is we don't have as much natural light as I'd like, so keeping the color palette light and neutral helps it feel bright and airy.
What's the trick to mixing patterns and colors in a space?
One trick that works well it to start with a pattern you love that has a few colors – for instance, a floral pillow – and then you pull your color story from that piece of fabric to keep colors cohesive but varied. You can play with mixing patterns in varying scale, which typically looks great if you go with colors that are similar in tone.
You designed a nursery in your attic for your baby girl, Willa! What were the first steps in this design process?
The nursery also started with a pattern – this bold floral wallpaper. Sometimes starting with your strongest element helps, because you know that will be the star and everything else becomes a supporting player.
Before
After
What do you believe are important considerations when designing a nursery?
Make sure you have enough room to move around! Don't crowd the room with unnecessary items. Make sure you have a quality rocker/glider and ample storage.
How did you make the nursery special for Willa? Were there any timeless furniture pieces you invested in?
I think meaningful artwork makes it special, along with a hand-me-down crib from family members, a beautiful, timeless Danish rocker, and a unique canopy over the crib.

Where are your favorite places to buy baby/nursery decor?
I love Matteo for bedding, MegMade for vintage furniture, and Pottery Barn Kids for great basics.
In addition to the nursery, how did you prepare the rest of your home for Willa's arrival?
I'm a big believer that you don't have to sacrifice style or put away all your "nice things" when you have kids. Performance fabric and furniture is a huge trend in the industry right now. People want to LIVE life and they need products that will work for a family.
The only major change in our house so far is that we changed my home office into a playroom and downstairs changing station. I do not like clutter, so having a separate room for toys and baby gear was essential. Also, don't get me wrong; she's already had a leaky poopy diaper on the sofa. Just learn how to clean your upholstery and buy performance fabrics and you're good!
Before
After
Tell us about the struggles and joys you've experienced with your transition to becoming a new mom.
Oh man, this is a big question. I've struggled with figuring out how to get pregnant, body image during and now after pregnancy, lots of aches and pains, breastfeeding, adjusting to new roles and communication struggles with my husband – plus probably the biggest struggle is how to be a working mom (who owns her business) and be a present mama.
The joy comes in waves and wells up deep inside and makes me cry at random times. Just looking at her face or kissing her cheeks or hearing her little baby talk makes my heart hurt in the best way. I also feel like you immediately become a part of the motherhood club and that opens your heart and ups your compassion for others. It's also remarkable what you can get done on such little sleep.
How do you and Luke divide parenting roles?
We've been lucky that Willa took both the bottle and the breast early on, so Luke has really been able to jump in and help me with feedings. Before having a baby, I did not realize how much time is actually spent just feeding them! Luke is Mr. Safety so he's great at making sure we have all right baby items, and he does research and helps me calm down when I'm freaking out about spit up or constipation or sleep regression. I have the more flexible schedule, so I'm home more right now, but we try and divide parenting and time with Willa as equally as we can. I've really worked on letting go so that Willa can be comforted and soothed by her dad and other caregivers. We are very new parents, so I'm sure there is a lot more to come.
How has your view of motherhood changed since becoming a mom, if at all?
The actual reality of motherhood has made me feel more powerful and more vulnerable. I'm in awe of what my body was made to do and that I did it, and that we all continue to soldier through when our bodies hurt and we are oh so tired. Also, for me there was this process of falling in love with Willa, which is still happening that's really filled me with wonder. Before having a baby I did not sit still long enough to daydream or feel emotions like wonder. This process has made me excited to see the world through a child's eyes.
When it comes to being a mom: what are you most insecure about and what are you most confident about?
I am the oldest of four, so I feel pretty confident about general baby/childcare. I took Willa on a solo-flying trip (grandparents were there) at seven weeks – it went great. I'm not an overly worried type, and I think that serves us all well.
As for insecurities, I worry that I will work too much or miss important moments, or have a child who feels like they aren't the most important part of my life because my business means so much to me as well.
If you could only pick one, what has been your favorite memory from motherhood so far?
The beginning is such a blurry haze and I'm still in it!
At the moment, my favorite moments are all of us in bed together early in the morning. Willa is usually nursing and the cat is snuggled up on Luke and I think, "Wow this is our family, and I'm so happy."
Claire Staszak is The Everymom…
Favorite home essential?
Signature candle scent — I am OBSESSED with this honey scented candle.
Best way to spend the weekend?
If it's rainy – family snuggle session in bed. If it's sunny – outside!
Easy yoga position to practice?
Child's pose is the BEST.
Decorating tip everyone should know?
Window treatments make your home look much more put together and high-end.
Favorite date night?
A concert or something I get to dress up for!