If you asked my toddler, she would definitely agree breakfast is the most important meal of the day. While she's a picky eater when it comes to lunch and dinner, my 20-month-old will happily scarf down a three-course meal for breakfast—or several rounds of Cheerios if given the chance. Because she is such a breakfast lover, I always try to have something healthy and hearty on hand so we can both start our day off right.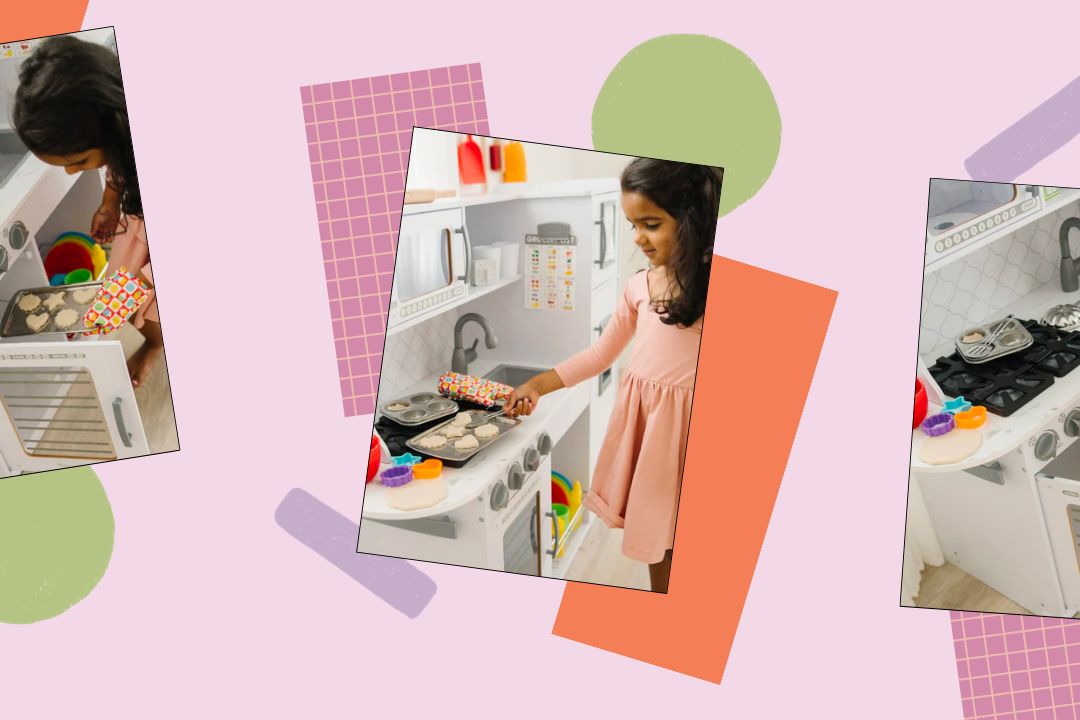 Sometimes this is easier said than done and mornings can often feel rushed (see above mentioned bottomless Cheerios breakfast). To help feel prepared, I often brainstorm and prep a week's worth of breakfasts over the weekend so they will be ready to go come Monday morning.
I can't say I'm always on top of this task, but when I am, the rest of the day feels more manageable. If you'd like to prep breakfast for yourself and your little ones, here are some simple and healthy ideas to try.
If at the end of the weekend you find yourself with an excess of vegetables you had forgotten about, a hearty frittata is the perfect thing to make. While you can theme your frittatas (like a Greek or Mexican-inspired flavor profile), you can also toss in whatever you have in your kitchen and it will (usually) still turn it out great.
Oatmeal is a pretty quick breakfast, but even the act of turning on the stove in the morning is just too much to deal with (especially with little ones running around). Instead of a hot oatmeal breakfast, go for a chilled overnight oats mix instead. Use mason jars to portion out the oats. If you want to prep for later in the week, on Sunday you can fill the mason jars with the dry ingredients of your choice (oats, dried berries, seeds, etc.) and then add your milk of choice the night before you plan to serve/eat it.
Similar to the above, chia pudding bowls are easy to prep and give you a wide range of flavors to choose from. Plus, they are very toddler-friendly. Like overnight oats, you can do most of the prep work several days in advance; then the night before you plan to serve the pudding, add the milk and let it sit in the fridge overnight. Wake up to a delicious and filling pudding.
This one is a personal favorite of mine, and though I tend to make a batch big enough to last a full week, it never lasts that long (we all want seconds!). An oatmeal bake is the perfect way to use up fruit that is starting to get a little past its prime, or simply dig into your frozen fruit stash instead. I use the basic recipe below but switch up the fruit options depending on what I have available.
We love whipping up waffles and pancakes on the weekend, but that deliciousness should definitely extend beyond Sunday morning. If you're already making waffles or pancakes, simply double (or even triple) your quantity and freeze the leftovers in freezer bags, ready to defrost at any point in the week. Try this recipe for a unique (and healthy) spin!
Burritos for breakfast always seem like such a decadent choice, but when made with loads of vegetables, these can be quite healthy. Plus, they are filling and warming for cold mornings throughout the year.
I know there are plenty of us who have said more than once, "I'm just not a breakfast person." This doesn't change that fact that breakfast is uniquely important, and there are countless benefits to having something in your stomach before we down three iced coffees. It's because of this that I love energy balls that are easy to make and grab on the go, hearty enough, and don't taste anything like your typical breakfast food.
If you ask me, there is nothing better than a savory and sweet combination. These blueberry breakfast sausages marry the two flavors in the most unique, delicious way. This recipe includes simple ingredients and is gluten-free, dairy-free, low-carb, paleo, and Whole30 (the whole package!). Whip them up on Sunday and reheat them throughout the week.
Good news! French toast doesn't have to be reserved for just the weekends. This casserole recipe ensures you can have your favorite breakfast meal any day of the week. We can't think of a better way to start a weekday!
Who said quesadillas have to be reserved for your favorite Mexican restaurant? Ensure everyday is as great as taco Tuesday with these ham and egg breakfast quesadillas. Put them together and cook them on the weekend and freeze them to have throughout the week. These are great for the whole family because they can be completely customized by adding everyone's favorite ingredients.
Every now and then we need a hearty breakfast. If you've got a busy day ahead, start it with a breakfast full of protein, veggies, and tons of flavor. These breakfast skillets are great to whip up and save for those bigs days. Put those meal prep containers you bought on Black Friday to good use!
For those of us going the low-carb, high-protein route these days, eggs have become our best friends. That also means that we'll quickly grow tired of scrambled eggs every morning. These egg muffins are a great way to mix things up without compromising on protein. Plus, they can be customized with all of your favorite additions.
There's something about pizza that's almost always better when reheated. We happen to believe the same is true about breakfast pizza. This is the perfect recipe to make on a Sunday and keep on hand to eat throughout the week.
For those of who are always envious of our little one's Hot Pockets, fear not. We can make the at-home version with these delicious ham and cheese puffs! These are great to keep on hand in the freezer for when you want an easy, delicious meal.
Who said cookies aren't for breakfast? (OK, maybe we did once or twice). But these aren't just any cookies. They're healthy, hearty, and so easy to make. Have a 'baking' day with your little ones on Sunday and make these so you can have them throughout the week.
Muffins are always a great option to grab on the go, and the best part is that they don't always have to be full of sugar. These healthy spinach muffins are sweetened with bananas and honey. Even the pickiest of eaters will get their veggies in with this recipe!
A healthy and hearty breakfast is always a great way to start the day. We can't think of a better way to get that than with homemade granola. Use this recipe to make some delicious peanut butter granola and put it over yogurt or a smoothie bowl, or eat it on its own in the morning throughout the week.
Stuffed bell peppers might just be one of my favorite go-to dinners for a weeknight. This recipe takes the tasty dinner dish and makes it into the perfect breakfast you can make ahead of time and reheat when you want to eat.
Start your day off right with a healthy and delicious breakfast. If your household goes nuts when you make tasty zucchini bread, make their entire week by whipping up some of these zucchini bread breakfast cookies.
Picky eaters will love this option! This delicious recipe includes pizza dough filled with eggs, bacon, and cheese—all the best parts of breakfast pizza in a fun, new way. Have your little ones help customize this recipe so everyone can enjoy it throughout the week.