One of the most rewarding parts of parenthood is getting to live a second life through the eyes of your child – whether it's having them watch your favorite movie, seeing someone show them kindness, or going on a vacation, every new thing for them feels brand new for you, too. That's never truer than around the holidays when magic abounds, and this time around, you get to create the magic for your children.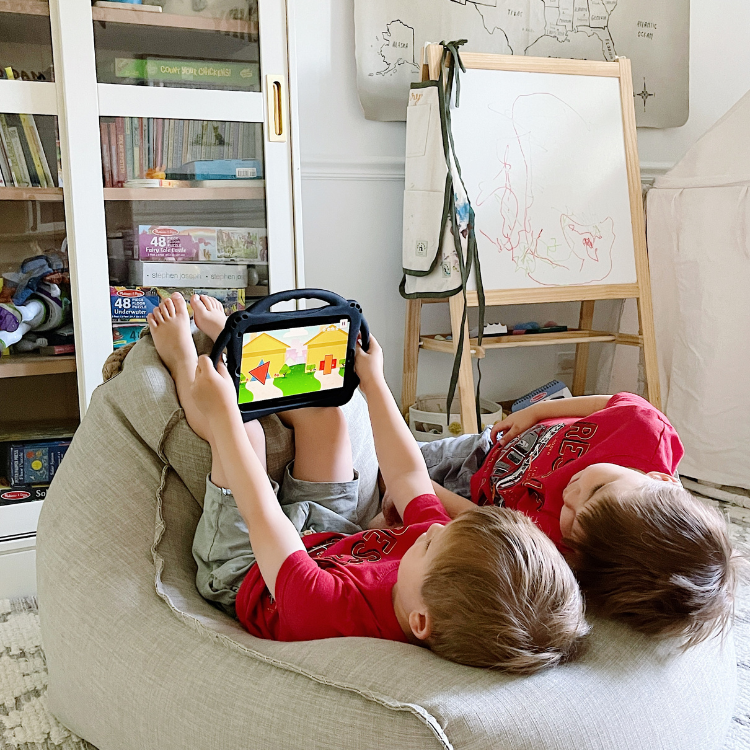 a pediatrician shares what she *really* thinks about LOs and screen time
Starting the season off by decking the halls as a whole family is Natalie Thomas' favorite way to usher in the Christmas season and start the magic off strong. We sat down with Natalie, blogger at one of our favorite sites, Nat's Next Adventure, and talked about what the holidays mean to her family, how her grandmother's special traditions are making an impact on her kids now, and how she achieved the perfect combination of child-like whimsy and sleek winter white in her gorgeous holiday decor.
Name: Natalie Thomas
Title: Writer and Blogger, Nat's Next Adventure
Location: NJ
Sq. Ft: 3,412
Kids: Lily, 5, and Oliver, 1
When do you start decorating for the holidays?
The weekend after Thanksgiving!
Tell us about your holiday decorating process.
Decorating for the holidays is one of my favorite times of the year. We make a whole weekend out of it that starts with getting our tree at a local farm (although it's not always as picturesque in person as it is in my head), we then come home, put on a holiday playlist, break out all of the decorations, and get to work. I love that my daughter is as into it as I am and has been since she was 2 years old. My husband, not so much, but he's generally a good sport and goes along with it!
I never love my home more than when it's decorated in December. That weekend really kicks off the season for us, and from there, we do all the things – baking, crafting, matching PJ's, Santa, ice skating, The Polar Express, holiday shows, and lights tours…We tend to go a bit nuts, fairly early on that post-Christmas, we're ready to pack it all in and part with it until next year.
With how expensive decor can get this time of year, how do you budget for your holiday decor?
I am a big believer in after-Christmas deals. December 26 (and sometimes before), I'm online, snapping up those sales. And, it's not restricted to just home decor, I'll buy kids clothes then, too, for the following season. I always get the cutest stuff for a fraction of the price.
We're really loving your bright, winter white decorations! Where do you shop for holiday decor?
Thank you! I like to curate my collection from lots of different places so it's personal and doesn't look like one, big-box showroom. I also like to do a little high/low and mix pieces from McGee & Co., Nordstrom, Food52, and Anthropologie with finds from Target, Crate & Barrel, CB2, and West Elm. I also love incorporating vintage pieces from my grandmothers, mother, and mother-in-law so it's not all new and there's some nostalgia there.
Do you have any holiday traditions that are special to you and your family?
We bake and decorate the same iced sugar cookies every year that we've been making since I was a child. They're nothing fancy –it's store-bought Pillsbury dough that we roll into balls to assemble wreaths, candy canes, snowman, Santas, as depicted on the tattered magazine cut out my mom still has from the '80s.
We also get dressed up and do the children's Christmas Eve service at church followed by our big dinner and one present, which was always PJs. Then, Christmas Day is all about comfies, carols, and lots of calories, preferably in the form of Monkey Cake, which was my grandmother's recipe and has been passed down.
What was your childhood home decorated like at the holidays, compared to your own as an adult? Did you take any influence from your childhood when putting your own together?
My mom is a retired preschool teacher, so there were lots of cutesy items growing up – kitschy throw pillows, big stuffed Santas and snowmen, basically a kid's dream. My style is a little more sophisticated, much to my children's dismay, I'm sure. But I definitely inherited my mother's love for the little details and her enthusiasm and passion for holidays as a whole.
We Thomas women get into it. I may not be wearing a wooden tree necklace or Christmas vest but you better believe there'll be a festive holiday activity or treat every few days and those stockings will be fully stuffed with themed items.
How has decorating for the holidays evolved over the years for you? Did introducing Lilly and Oliver change your style at all?
My roommates and I got a tree in NYC every year and threw epic trimming parties and once my husband, Zach, and I moved into together, we did, too, but that was about the extent of it. It wasn't until my daughter came along five years ago, that I really got into it. I keep the main living spaces fairly classic, but Lilly decks out her room with all of her singing stuffed animals, figurines, snow globes, and colored lights.
How do you keep your decor festive but also kid-friendly? Do you have any tips for moms with little ones who are prone to putting everything in their mouths (ornaments included)?
I was really nervous about the tree this year with Oliver. I have bad memories from when I was a babysitter and the little boy I was watching pulled the entire tree down at a holiday party they were hosting – on my watch! There were broken ornaments, wine glasses, and water everywhere. Such a mess, and so embarrassing! But, thankfully, so far, so good (knock on wood). We put only soft, non-breakable decorations on the bottom of the tree where he can reach and every time he goes over there, we repeat, "Just look, don't touch!"
He doesn't listen about anything else, but with the tree, he has! Most of our decorations are at a level where he cannot reach, including that darn little elf, who is often not on a shelf but a light fixture, wreath, or high up hook. I bought three white, wooden trees for the foyer floor this year and the first day they were out, he tripped, fell and cut his cheek, so those went back to the store!
Have you slowly been collecting your holiday decor over the years, or did you purchase it all at once?
Definitely over the years. Every year I add a few more pieces. I love slowly adding to and growing my collection. I find it's much more memorable, personal, and affordable that way. It's more fun, too. If I covered every inch now, my shopping would be done. This way, I give myself an excuse every year!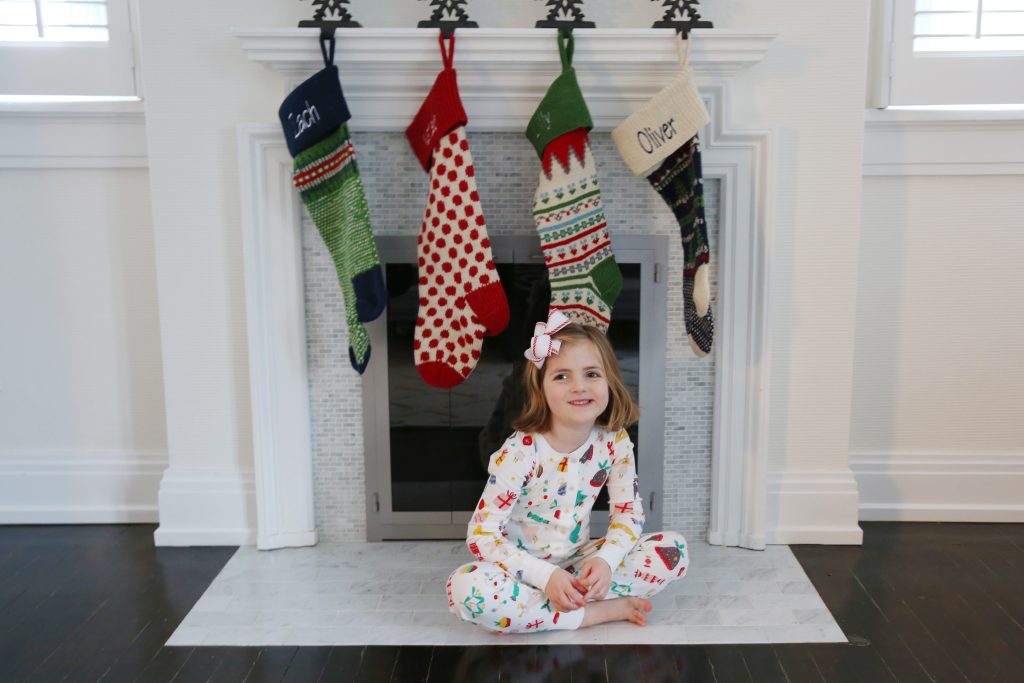 Do you have a favorite ornament on your wonderfully colorful tree?
All the sentimental ones. My grandmother, Nonnie, used to gift us money every year. The way she'd present it was to have ornaments made for each one of the family members with the year and our names painted on them and the money would be tied to those, accordion-style, with a red or green pipe cleaner. They'd all be on a tiny faux fir we called The Money Tree. I have a dozen of them.
My mom also had ornaments made for us every time we moved into a new home with the address painted on them so now we reminisce about each Manhattan apartment, our California place, and now our New Jersey home on the tree each year. Those, and my children's first Christmas ornaments with their baby photos in them that I finally just filled this year – better late than never!
What's your favorite piece of holiday decor that you own?
I love the winter white pom-pom wreath with flecks of gold from Anthropologie that I eyed all season, couldn't pull the trigger on, and then finally scooped up at the after-Christmas sale for half the price. It's unique, really reflects my style, sets the tone for the rest of the room, and was a steal!
Overall, what's your favorite thing about celebrating in your home?
That it's ours. At the risk of getting sappy, while I'm a huge fan of home decor, developing my own personal style, holiday shopping, and scoring a deal, none of it matters without the people that make it home. Before last year and owning a house, we traveled every year. It's really special to finally put down some roots, stay home, and start our own traditions.
What does your Christmas morning with the kids look like?
Chaotic. Lots of energy, usually some early starts – although last year we were all up waiting on Lilly – trying to get her to pace herself, not open all the presents all at once and on her own…it's a lot. But I love nothing more than that first glance at the gifts under the tree, the wonder in her eyes, and the confirmed belief that magic does, in fact, exist.
Do you have any kid- or family-made decorations that must go up every year?
We're just starting to get there. Five is such a fun age. There are some art projects and letters she's created that are priceless and I'm making sure to frame for future years.
How do you get the whole family involved in sprucing up your home for the holidays? Do you have any decorating traditions?
It's a family affair with everything around here. And there's most definitely a soundtrack. We set most things to music. We often break for dance parties in-between decorating. It might take us longer, but it's more fun that way.
My daughter's all-time favorite song is Mariah Carey's "All I Want for Christmas," along with the rest of the world. It's her holiday version of Taylor Swift's "Shake It Off". So we hear that on repeat. Did I mention there's also wine for my husband and me? And a fire. Always a fire, whether it's 50 or 15 degrees.
What's the best part about being a parent during the holidays?
To get to relive it all again. To be the one responsible for conjuring all that enchantment. To pass on traditions and to, ultimately, show them that it's about so much more than Santa, lists, and gifts, to give back and to spend such memorable time with family and friends, which is, of course, the true spirit of the season.
Natalie Thomas is the Everymom…
Hot chocolate or hot cider? Ooh, tough. I love both but I always err on the side of chocolate anything.
Favorite Christmas song? "Happy Xmas (War is Over)" by John Lennon
Favorite Christmas movie? Home Alone, for me as a kid, but my daughter loves Frosty the Snowman and has for years, so now we're all obsessed.
Favorite Starbucks holiday drink? Chai latte with almond milk in a Christmas cup, of course.
The best gift you've ever given? Since the kids have come along, we've stopped doing adult presents and made it all about them, which is really nice and takes so much stress and pressure off. But I used to love, as a twenty-something, with my own paycheck and disposable income, treating my parents to trips and experiences after all they did for us for so many years. That, and the Doc McStuffins Care Cart I gave my daughter last year because her reaction was pretty epic.
The great debate: when do you start listening to Christmas music? The sooner the better, but I usually make myself wait until Thanksgiving weekend.
Oddest thing you've seen on your kid's Christmas list? I honestly can't remember, because mom brain, but I just asked my daughter and she said "a pants puller-downer," which, for the record, she has not asked for, but she never misses the opportunity to shine.