Spooky season is here, and we can't think of a better way to ring in Halloween than cozying up to watch our favorite festive movies over the next few months. From cute films for toddlers and little ones, to classics and newer releases for older kids, tweens, and teens, we've rounded up the very best flicks you can view as a family during a night in.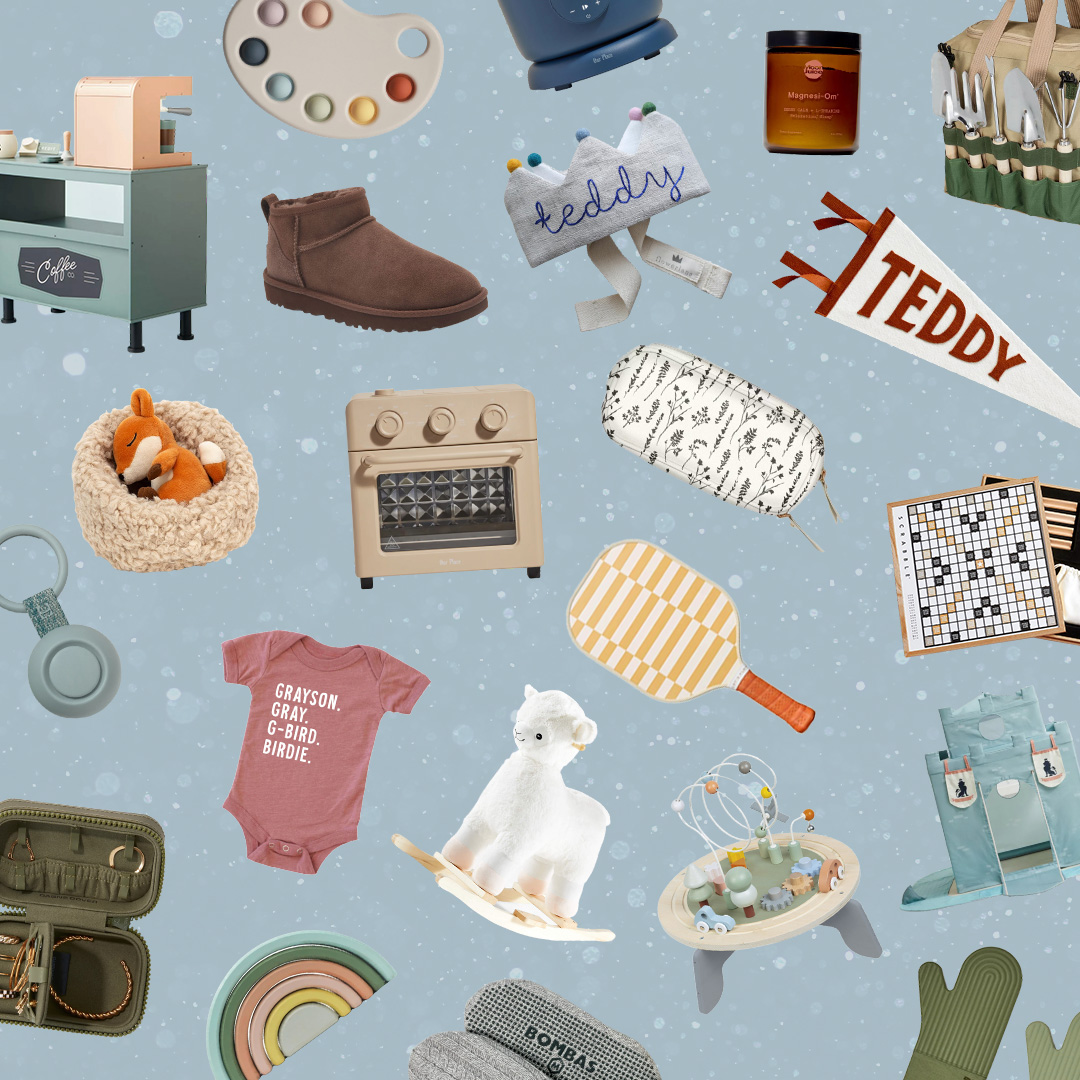 everything you need to ace holiday gifting this year 🎁
So grab your blankets and your bag of candy corn, because this is the movie marathon you've been waiting to watch all season. Scroll down for our 31 best kids Halloween movie recs!
A note for parents: A PG rating in an older movie may look more like a PG-13 rating by today's standards when it comes to violence, language, thematic elements, and nudity (the PG-13 rating was introduced in 1984). If you're concerned, we suggest watching it without your kids first.
Halloween Movies for Toddlers and Little Kids
1. It's the Great Pumpkin, Charlie Brown

Rated: G
Where to Watch: AppleTV
If you're looking for a movie that will melt your heart and then put it back together again, this one is for you. The Charlie Brown movies are known for their wholesome messages that resonate to people of all ages (and this one is no different). Join the Peanuts gang to celebrate Halloween and wait for the Great Pumpkin this fall—it's one that will leave you reaching for the tissues and feeling the comfort of yet another genuine moment in Peanuts history.
2. Super Monsters Save Halloween
Rating: TV-Y
Where to Watch: Netflix
Adapted from the popular Netflix show for preschoolers, the Super Monsters are making their movie debut and are on a mission to excite their neighbors about the delights of Halloween! They're also determined to assure their friend, who is hesitant about the 'scary' holiday, that it can be a spirited occasion for fun. Who are the Super Monsters, exactly? They're the preschool-aged offspring of the iconic spooky 'monsters' we've all become familiar with, like vampires, witches, zombies, and the like, and they're learning how to use their powers for good.
3. Coco
Rating: PG
Where to Watch: Disney+
The Día de los Muertos (Day of the Dead) occasion of this film will certainly work for a Halloween movie night, made especially festive for little ones because this is a sing-along! Join Miguel as he navigates the afterlife, meets his ancestors, and learns precious stories of his legacy that resonate with his dream of becoming a musician. It does a wonderful job of touching on the power of family, traditions, and childhood ambition.
4. The Nightmare Before Christmas

Rating: PG
Where to Watch: Disney+
A classic Tim Burton film, this flick follows Pumpkin King Jack Skellington who's bored of the same old scare routine in Halloween Town when he stumbles upon the magic of Christmas Town. Spooky songs and now-famous characters (i.e. Sally, voiced by the incomparable Catherine O'Hara, Zero the dog, and Oogie Boogie—who might be a little bit scary for your littlest ones) round out this magical film. If you're a big fan, also check-out season one of the Disney+'s original series Prop Culture for some behind-the-scenes fun.
5. Corpse Bride
Rating: PG
Where to Watch: AppleTV
Because most Tim Burton creations make for ambient Halloween flicks, here's another spooky-cute score. This is the whimsical story of a young man named Victor, and his happenstance encounter with the Corpse Bride Emily, who he mistakenly proposes to while rehearsing his vows in a forest. Their union sparks his journey to the Land of the Dead, where he faces the duality of the pleasant surprises there versus his attachments to the Land of the Living, which includes his original fiancée.
6. Double Double Toil and Trouble

Rating: G
Where to Watch: AppleTV
Mary-Kate and Ashley Olsen were the twins to be and we'll watch every single one of their movies if we want to—especially this Halloween special. The twins play a pair of sisters who set out to rescue the one aunt who can help their family from debt—but are met with the discovery that she needs rescuing herself (since she's stuck inside a magic mirror, of course). The plot is magical, the teamwork between siblings is enduring, and the feeling of happiness you'll receive from this movie is worth every second.
7. Hotel Transylvania
Rating: PG
Where to Watch: Hulu
This adorable movie follows Count Dracula (voiced by Adam Sandler), the owner of the Hotel Transylvania, where the world's monsters come to relax and get away from humans. When he invites a group of friends to the hotel to celebrate his daughter Mavis's 118th birthday (yep, you read that right), a human boy named Jonathan unexpectedly shows up and causes chaos. Can Drac prevent Mavis from falling for Jonathan? And what happens when the hotel guests figure out there's a human among them?! Your kiddos are sure to love this cute flick. For more, watch the sequels: Hotel Transylvania 2, Hotel Transylvania 3: Summer Vacation, and Hotel Transylvania: Transformania.
8. Coraline
Rating: PG
Where to Watch: Hulu
The eerie-but-lovable Coraline is a mysteriously weaving tale perfect to watch with a Halloween backdrop. Being a strong female lead and young girl, Coraline is a clever way to inspire a brave, adventurous spirit in little ones. After encountering a secret door, she confronts the alternate 'perfect' version of her reality and has to overcome unexpected obstacles that test her courage and resilience.
Halloween Movies for Big Kids
9. Halloweentown

Rating: PG
Where to Watch: Disney+
Wanting magic powers is pretty much a rite of passage in every childhood—and the reason why this movie continues to be so timeless. Prepare for a night with Marnie as she follows her grandma (played by Debbie Reynolds) to explore a world of warlock and witches. As fun as it is family-oriented, Halloweentown brings together everything we love about this holiday in a way that only a '90s movie could. For more, watch the sequels: Halloweentown II: Kalabar's Revenge, Halloweentown High, and Return to Halloweentown.
10. The Haunted Mansion

Rating: PG
Where to Watch: Disney+
Based on the classic Walt Disney World attraction, this movie stars Eddie Murphy as a relator who, along with his family, becomes trapped in a haunted mansion. To break the home's curse and be set free, the family must join forces with a supernatural psychic named Madame Leota. Though the film has some scenes that may be scary for little kids, this is a fun Halloween flick for older kids, especially if they know the Disney ride. Plus, look out for the remake that was just released this summer starring Rosario Dawson, Owen Wilson, and Jamie Lee Curtis!
11. Casper

Rating: PG
Where to Watch: AppleTV
Our favorite friendly ghost is back on our radar this fall and the child within us couldn't be more excited. Kat (Christina Ricci, whom you'll see a lot on this list) and her father move into a mansion to find Casper and his three not-so-friendly ghost uncles. The dynamic of humans and ghosts is far from the usual, but you don't have to ask us twice to revisit this movie. We're all eyes and ears as Kat and Casper embark on a journey that proves to us that it's sometimes the most unexpected friendships that create the best memories. For more Casper, we also love 1998's Casper Meets Wendy starring Hilary Duff!
12. Hocus Pocus
Rating: PG
Where to Watch: Disney+
We all probably stayed up way past our bedtimes to watch Hocus Pocus to our heart's content (and our parent's annoyance) as kids. In case you're rusty, it's classic cinematic tale of the Sanderson sisters, three witches who have been resurrected on Halloween night 300 years following their deaths. They have been brought back to life by the new boy in town, Max, his younger sister, Dani, and his classmate, Allison. Now, the crew must stop the witch-sisters from undertaking their quest to become immortal by sucking the life force out of little kids. Scariness coupled with silliness makes this an overall kid-friendly winner.
13. Hocus Pocus 2
Rated: PG
Where to Watch: Disney+
Fast forward 29 years, and the Sanderson sisters—AKA Bette Midler, Sarah Jessica Parker, and Kathy Najimy—are back and looking for revenge. It's up to three high school students to stop them from wreaking havoc on Salem before All Hallow's Eve. To see how the sequel stacks up to the original, read our Hocus Pocus 2 review!
14. Harry Potter and the Sorcerer's Stone
Rating: PG
Where to Watch: Max
The magic, spells, and enchantment of the Harry Potter stories, coupled with scenes filled with fall vibes, make this a perfect movie for Halloween night. Everyone will be entranced by Harry's and his friends' first year at Hogwarts, and all of the strange creatures, bewitching moments, and magical accomplishments that define it.
15. Twitches
Rating: TV-PG
Where to Watch: Disney+
Spread the Tia and Tamera Disney cheer this Halloween by hopping into the world of two teenage witches who have been reacquainted on their 21st birthday after being separated at birth. As they wield their unique magical powers to save their loved ones, you can't help but fall under the spell of their fun-loving charm, too. You can even make it a double feature and follow up with the DCOM sequel, Twitches Too!
16. Zombies
Rating: TV-G
Where to Watch: Disney+
The government has put a stop to zombies' hunger for brains, opening up a whole world of zombie students who are able to attend school. Humans and zombies must learn to coexist with each other at Seabrook High, which isn't the easiest feat when they come from such different backgrounds. However, cheerleader Addison and zombie Zed show us that open-heartedness and determination can bring even the most different of us together. While this isn't a Halloween-specific film, the central focus of zombies makes it pretty suiting for the occasion!
17. E.T. the Extra-Terrestrial
Rating: PG
Where to Watch: AppleTV
Any story capturing the unlikely friendship with an extra-terrestrial makes the cut as a Halloween movie. And this mesmerizing and heartwarming depiction of a little boy's bond with E.T. is just that. We can't help but ride the emotional highs and lows with Elliott and his siblings as they go above and beyond to make E.T. feel loved. Plus, some of the most memorable movie moments transpire on Halloween night, including the Elliot's and E.T.'s iconic bike ride across the moon!
18. The Addams Family (2019)
Rating: PG
Where to Watch: Prime Video
The first animated movie featuring everyone's favorite spooky family came out in 2019. Kids will love watching the hijinks of the Addams kids, Wednesday and Pugsley, as they settle into a new neighborhood in the suburbs. And parents, look out for Snoop Dogg as the voice of Cousin It!
19. ParaNorman
Rating: PG
Where to Watch: Hulu
Though Norman is bullied for his supposed ability to converse with ghosts, that doesn't stop him from joining forces with his friends and family to interrupt the threats of zombies and an ancient curse plaguing his town. By accepting his ability to engage with the supernatural and boldly protect those he cares about, it's a paranormal-happy combo great for older kids on Halloween.
20. Nightbooks
Rating: TV-PG
Where to Watch: Netflix
Alex loves scary stories, but when he finds himself held captive by a witch, his passion turns into a requirement for release as her prisoner. He has to weave a new scary story every night to save his life, and becomes more emboldened to find a way out upon befriending another captive named Yasmin. Facing haunting challenges and enchanting creatures along their escape, this movie captures the scary essence of Halloween, while still being appropriate for older kiddos.
Halloween Movies for Tweens and Teens
21. The Addams Family (1991)
Rating: PG-13
Where to Watch: Paramount+
This 1991 dark comedy follows couple Gomez and Morticia Addams (Raul Julia and Anjelica Huston, respectively) and their two children, Wednesday (Christina Ricci) and Pugsley (Jimmy Workman). When the macabre, aristocratic family reconnects with a long-lost relative (or so they thought) named Fester Addams (Christoper Lloyd), they form a bond—but it turns out that Fester is really the adopted son of a loan shark and is trying to swindle the family out of their vast fortune. Though there have been many Addams Family movies and TV shows over the years, this one remains a favorite, especially for '90s kids.
22. Beetlejuice
Rating: PG
Where to Watch: AppleTV
In this popular Tim Burton film, a recently-deceased couple (played by Geena Davis and Alec Baldwin) become ghosts in their home and realize their greatest threat is the human family who now lives there. Of course, the only way to take back their home is to ask a witty ghost named Beetlejuice (Michael Keaton) to scare the humans away once and for all. With the entertaining twist of the living haunting the dead, this movie is one that will have you laughing at the silly moments and forgetting all the scary ones. And get ready, because the sequel, Beetlejuice 2, featuring Michael Keaton, Winona Ryder, Catherine O'Hara, Jenna Ortega, Monica Bellucci, and Willem Dafoe is set to be released in 2024!
23. Ghostbusters

Rating: PG
Where to Watch: AppleTV
When you're looking for some comedic relief during the month of Halloween, who are you gonna call? GHOSTBUSTERS! Our list wouldn't be the same without the mention of this enjoyable take on a team of parapsychologists (played by Bill Murray, Dan Aykroyd, and Harold Ramis) who start up a ghost-hunting business in the middle of New York City. For more, watch the sequel, Ghostbusters II, and the 2016 reboot, Ghostbusters: Answer the Call, featuring an all-female cast.
24. Ghostbusters Afterlife
Rating: PG-13
Where to Watch: Hulu
Kids of the '80s will likely love this nostalgic next chapter in the Ghostbusters' story, featuring fan-favorite Paul Rudd and Finn Wolfhard of Stranger Things fame. With plenty of throwback nods to the original Ghostbusters, this is one parents and their kids will enjoy watching together.
25. Edward Scissorhands

Rating: PG-13
Where to Watch: Max
If you're a Tim Burton fan, you've probably seen this '90s movie time and time again—but there's just something about Edward's sweet romance with Kim that just keeps us coming back. Edward, an "artificial humanoid," was created by an elderly inventor who died before Edward (played by Johnny Depp) was completed, leaving him with sharp scissor blades for hands. When a friendly Avon saleswoman stops by Edward's house one day, she takes him home and introduces him to her family and teenage daughter, Kim (played by Winona Ryder), whom he soon becomes enamored with.
26. Practical Magic

Rating: PG-13
Where to Watch: Hulu
Sisters (and witches) with magical powers—played by two of our favorites, Nicole Kidman and Sandra Bullock—can't fall in love without cursing the men they're dating. If you love the 1990s and the idea of a spooky rom-com, this one is for you!
27. Scary Stories to Tell in the Dark
Rating: PG-13
Where to Watch: Hulu
It's Halloween night and three teenage girls stumble upon a diary of scary tales in the neighborhood's haunted house. Written by a tragic young girl named Sarah who used to live there once-upon-a-time, the diary's stories end up coming to life in unsettling ways. As the girls experience their fears become realities, it's a suspenseful and chilling quest to discover what happened to Sarah and put an end to the stories' wicked spirits.
28. Poltergeist
Rating: PG
Where to Watch: AppleTV

With Steven Spielberg as one of this film's writers, you know it's bound to be thrilling. Supernatural occurrences begin to disrupt the Freeling family in their suburban California home, spawned by one of the daughters who has a strange interaction with their television. This is only the beginning of their foray into having to contend with this life force-manipulating realm…
29. Fun Size
Rating: PG-13
Where to Watch: Hulu
The last thing Wren wants to do is babysit her brother on Halloween after having planned on heading to a party with her friends. When he disappears while trick-or-treating, it's a whole world of relatable teen drama and shenanigans as Wren and her friends attempt to get him back before her mother discovers what happened.
30. The Sixth Sense
Rating: PG-13
Where to Watch: AppleTV
M. Night Shyamalan's riveting film of a boy who says he can communicate with dead people and ghosts is fitting on the night of the year when the reality of that ability seems more likely than on any other! Made famous in part by the line "I see dead people," and in other by the fact that the story and acting are incredibly believable yet supernatural, this is a Halloween night movie that won't disappoint.
31. Happy Death Day
Rating: PG-13
Where to Watch: AppleTV
Rather than Groundhog Day, it's a Halloween spin for spook and suspense! Tree, a college student, has to continually relive her death until she can figure out who her killer was and stop him from murdering her. Alongside its sinister scariness are bouts of humor and victories for Tree's personal growth.