When the holidays roll around, it's easy to get wrapped up in the hustle and bustle of baking too many Christmas cookies, spending too many hours making sure gifts are perfectly wrapped, and making sure your kids' holiday outfits will fit in just right with the rest of the cousins.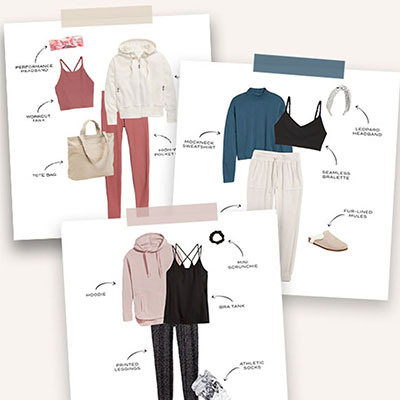 Shop 6 of Our Favorite Loungewear Outfits From Old Navy
Need to spruce up your at-home wardrobe? We've put together six cute, comfy, and budget-friendly loungewear looks from Old Navy.
This way to shop! —>
As a mom during the holiday season, you probably don't have time to spend hours planning and perfecting your holiday looks. Rather than throwing on your go-to red sweater at the last second, turn to these tried-and-true holiday outfit formulas that are easy, chic, and will let you eat all the pecan pie you want without unbuttoning your pants.
1. Spanx leggings + wrap sweater + velvet headband + black booties
leggings / cardigan / headband / boots
2. Plaid pants + white sweater + loafers
3. Festive sweater + black jeans + suede booties + white coat
sweater / coat / booties / jeans
4. Sweater dress + slouchy boots + cheetah headband + round crossbody
sweater dress / booties / headband / crossbody
5. Wrap dress + suede heels + clutch