When mom Nina Johnson, her husband, and son Rocky moved into their newly renovated Chicago apartment, she sold all her old living room furniture to make room for pieces that worked better in the new space. Now pregnant with baby #2, Nina is finding inspiration from her favorite designers and complementing character details from the 100-year-old building, making room for her growing family.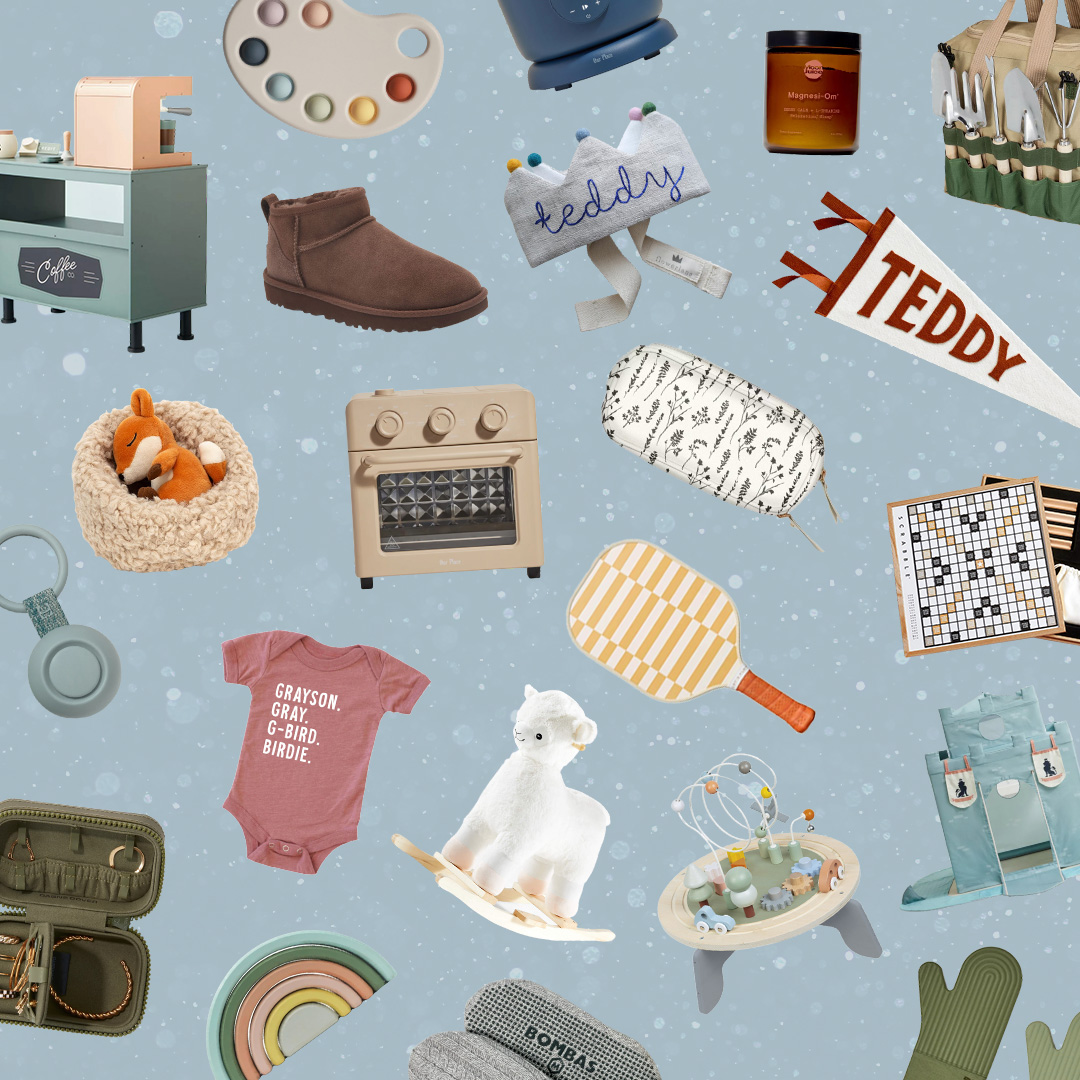 everything you need to ace holiday gifting this year 🎁
Her warm and inviting home decor brings together vintage finds and modern pieces (she admits she has a chair obsession). Read on for her tips on making a rental space your own, choosing kid-friendly decor, and adapting to pandemic living. Plus, read what she's most looking forward to when she brings her second baby home.
Name: Nina Johnson
Age: 31
Location: Chicago
Home's Square Footage: 1800
Years Lived In: 1.5
Rent or Own: Rent
Children: Rocky, 2, and baby #2 due soon!
Before we take a tour of your home, could you share a little bit more about your family?
I'm a full-time mother with a degree in visual design. My husband and I have been together for eight years, married for four. We have a 2.5-year-old son, Rocky, and are due with baby #2 in December! I've always been interested in interior design and even wrote a seventh-grade paper on becoming an interior designer!
Amber Lewis is my design hero. We are currently renting, so we are a little limited in that respect, but we did repaint every room and swapped out some things like bathroom mirrors and closet systems. Our building is 100+ years old but was renovated right before we moved in. So while a lot is new, it still has charm and history which I love (you'll see all the wood trim). I try to mix in vintage with new. Fun fact: my dad built a lot of our furniture!
How would you describe your overall interior design style?
I gravitate toward a warm, minimal aesthetic with lots of wood and neutral tones.
Do you think your style changed at all when you became a parent?
I've always been drawn to minimalism, but I do think my style and taste have evolved over the years as I've refined my eye. This is the third apartment my husband and I have lived in, and like with anything, interior design takes practice. I think we're getting better at it with each home. The challenge with kids is where do you put all of their stuff?! We have a few baskets of toys we keep tucked away in our main living spaces, as well as a small cabinet by our front door. We love reading, so Rocky also has his own section in our bookcase.
Get the Look
How does your daily life inspire your current home design and decor choices?
We play in our main living spaces all day, so I've made sure our family room (with the bookcase) is set up for lots of floor play. This allows us to build big train tracks, spread out with magnetic tiles, or set up the Pikler triangle with no problem. When Rocky is napping or in bed for the night, I like his things to be tucked away, so I've had to be strategic about how many toys are available at once.
What have you splurged on? What can you/have you done on a budget?
Chairs. I have a chair obsession and just want all of the beautiful chairs (clearly). So, that's been our biggest splurge. On the flip side, I love the hunt for a good vintage piece. I recently had a blast poking through a few antique malls in southern Michigan. Dressers, coffee tables, anything wood really, are great pieces to find vintage—they're often less expensive and beautifully made.
Get the Look
Your home has so much great character. How do you mix old and new? Do you have any "finds" or favorite elements of your house?
Well firstly, it is really fun to be living in a historic building! We are the first family to live in this apartment post-renovation and feel so lucky to have found it. I love that our landlady kept all of the original wood trim. It was actually not something I was into at first (I even asked if we could paint it white!), but it has 100 percent grown on me. I now realize how warm and inviting it makes our home feel. Secondly, I think vintage pieces like dressers, cabinets, and chairs (basically anything that isn't upholstered) are the perfect way to add some character to a home. A few of our dressers, cabinets, and coffee table are all vintage finds.
What decor advice would you give to fellow renters?
Paint is definitely the easiest way to make a rental feel more "you." I love white walls (clearly), so we checked with our landlady, and after she OK-ed it, we painted the whole place white (it was all beige before).
In terms of decor and furnishing, I think it helps to live in a space for a little while to see how it speaks to you and what your goals are for each room. Do you want the living room to be more focused on entertainment or conversation? What flow works best from room-to-room? Would the space work better with a sofa and two chairs or two sofas facing each other?
I think it helps to live in a space for a little while to see how it speaks to you and what your goals are for each room. Do you want the living room to be more focused on entertainment or conversation? What flow works best from room-to-room?
What worked in your last rental might not work in the next, so I think it's good to be flexible. I sold all of our living room furniture and a sofa bed from our last rental to redecorate for this one because our space and needs changed. Facebook Marketplace and Craigslist are your friends.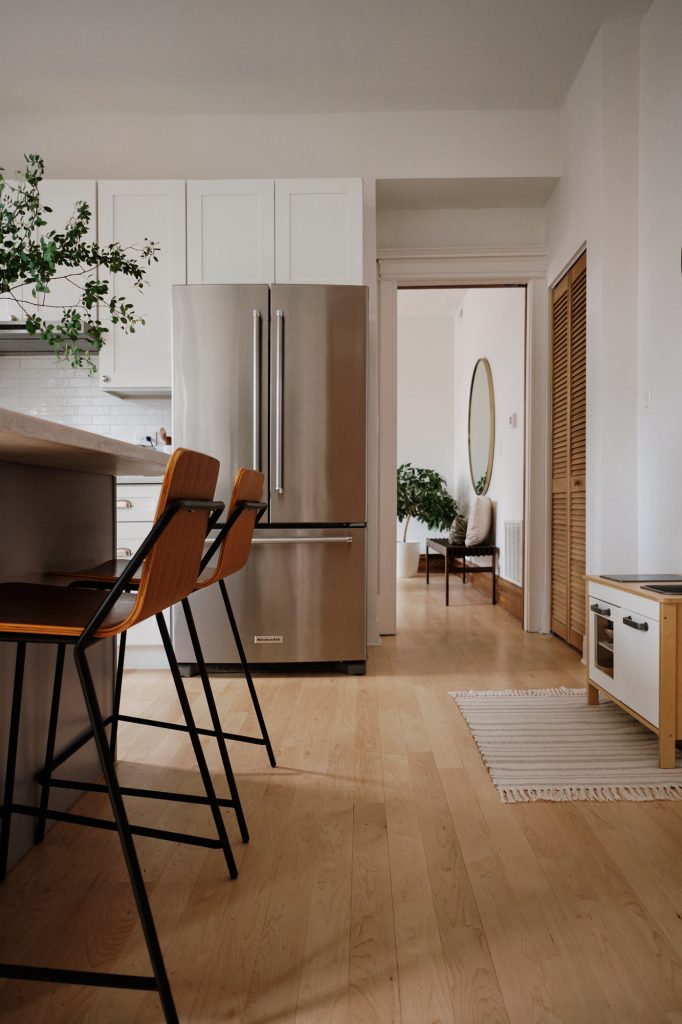 Get the Look
Do you have any hacks for keeping your house put together?
It's important to have a home for everything. It makes tidying up so much easier. We have a few pretty baskets and bins for toys that we keep throughout the house for this purpose. I also try to rotate toys so about half are in storage and half are available for play. But we definitely have problem areas that always accumulate stuff (like the pantry countertop and the dining room built-in). I feel like I tidy up all day every day (Rocky helps too!), but about once a week, I zoom through the house to get it really spic and span. Aaaand an hour later, it's already piling up again—ha!
Do you have a favorite room? Why do you love it?
Whenever I have free time, I find myself in our bedroom. Maybe because it's one of the only rooms that we don't play in during the day. Or maybe because our bed is just so comfortable.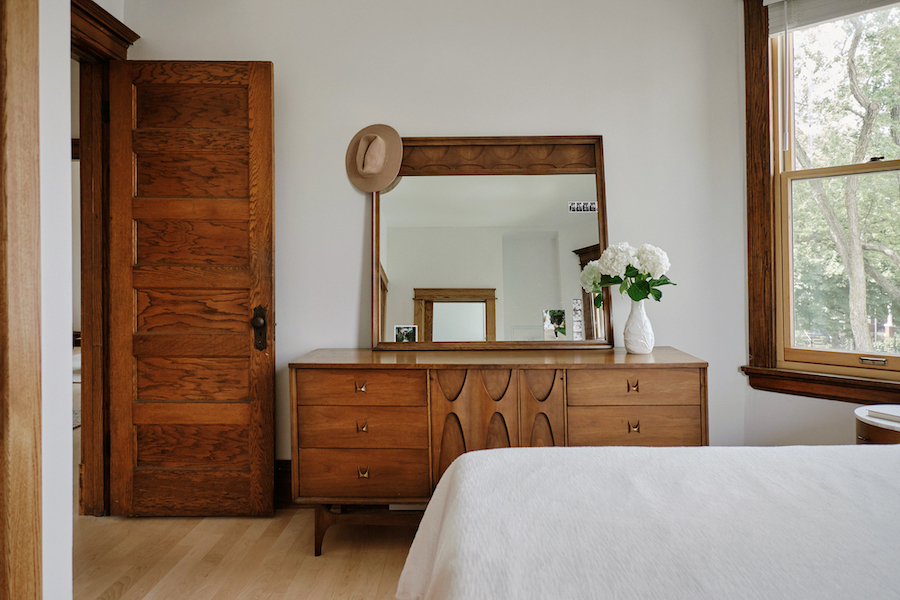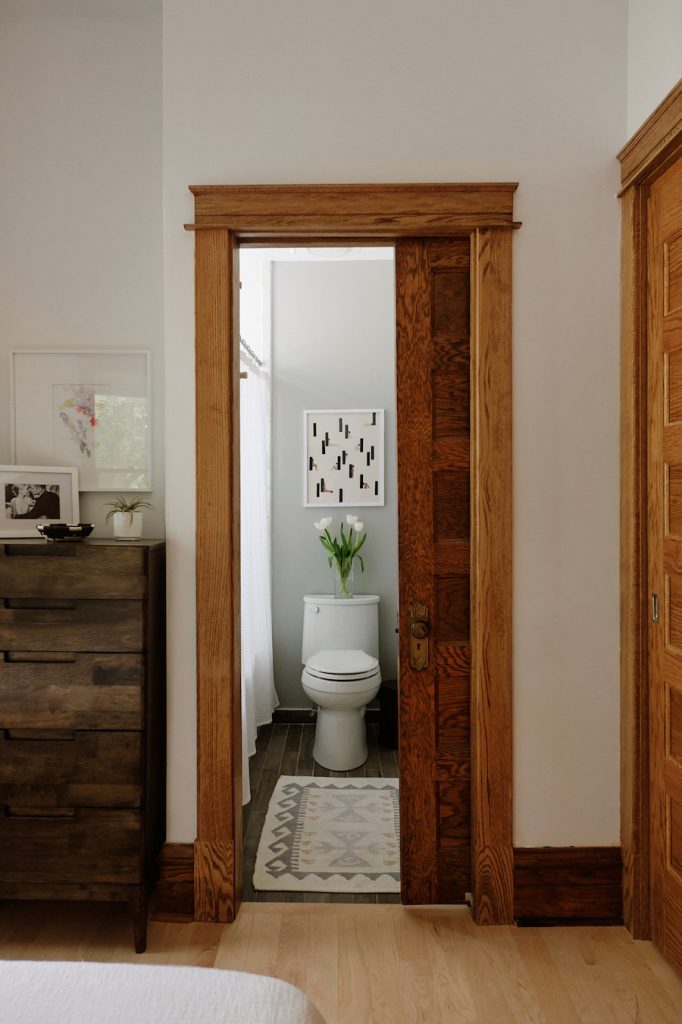 Get the Look
How has pandemic living changed your design choices?
I've been more focused on organizing since the pandemic hit. I'm secretly a total disaster at keeping closets and drawers tidy, and it drives me nuts! So, I've been slowly working through those spaces trying to get things in order before the new baby arrives.
How do you find and incorporate kid-sized pieces that fit your aesthetic?
We are incredibly lucky that my dad is a woodworker (woodvibes.co) and an enthusiastic one at that! He has lovingly built so many wonderful pieces for Rocky, like his bassinet, cube table and chair, small stools, a little bench, a Pikler triangle, and more. Next on the docket is a big boy bed!
Let's talk kid's bedrooms and nurseries. Anything you've learned when it comes to designing the perfect space?
Honestly, they just need the essentials. A bed, a dresser, a reading chair. Make it comfortable for you too. I haven't dedicated as much time to designing Rocky's room as I would like. We've been living here a year and a half and just finally hung his bookshelves on the wall! It's a small room, so we're really only in there for naptime and bedtime. I've prioritized our main spaces since that's where we spend most of our days.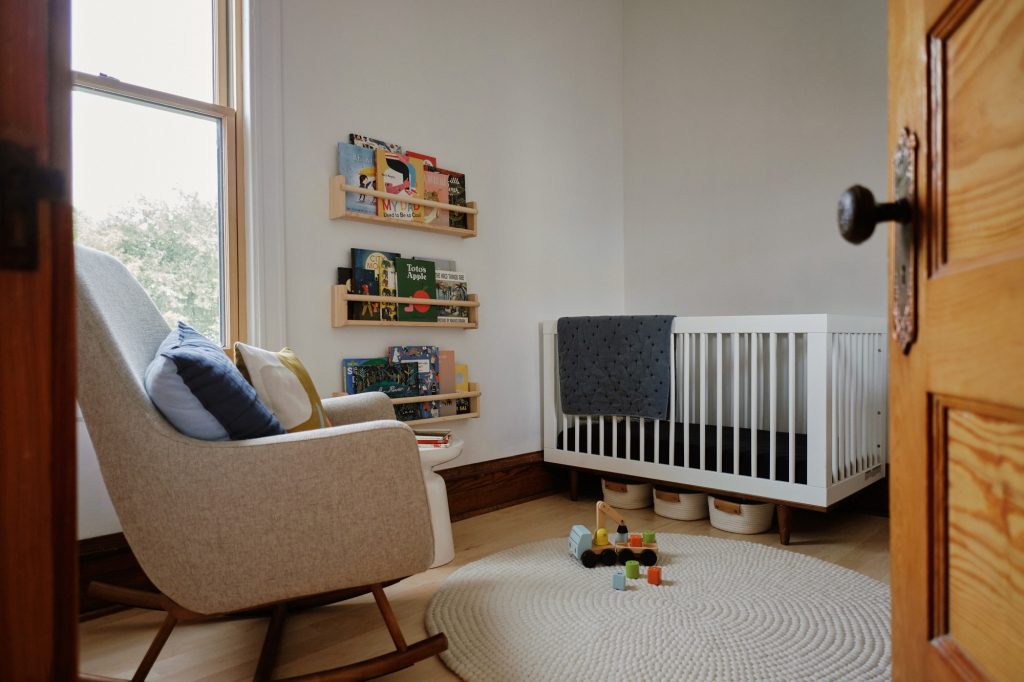 Get the Look
What are you most looking forward to when bringing home your new baby?
We just cannot wait to snuggle him all winter long and see Rocky become a big brother. I'm so excited he's coming at Christmastime. It's going to be magical.
Nina Johnson Is The Everymom…
My ideal Sunday is … A great cup of coffee, sunshine, time in nature, laughing with my boys, some sort of delicious takeout, and a movie with my husband.
Go-to coffee order? Nectar of the Gods from our local coffee shop Sip of Hope—yum!
Favorite TV show right now? Seinfeld forever
The last book I read was … Dear Girls by Ali Wong
Top of your holiday wish list? A healthy baby
First trip you'll take after the pandemic? California to visit friends and family! Miss them so much.
Best mom hack? Make everything a game!
Most embarrassing mom moment? Forgetting other moms' and/or kids' names! Eesh.