In Keisha Reaves's counseling office, she noticed something that we as mothers know all too well to be true – being a mother is really damn hard. It's the sleep deprivation and the loneliness and the more-than-baby-blues, and perhaps a traumatic birthing experience thrown in there, too. The transition to motherhood can be all kinds of overwhelming, and often the care for new moms isn't enough to make them feel supported. Once Keisha herself became a mother, she knew something needed to change.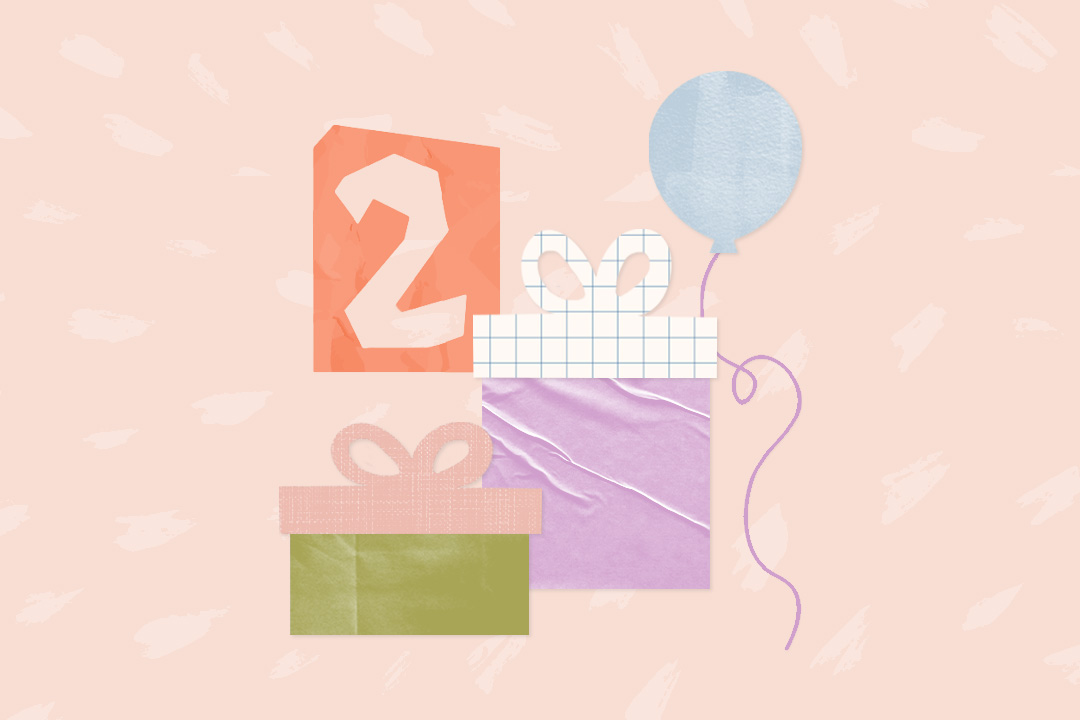 a LO in your life will love these! 🎁
She leaned hard into educating herself so she could provide the best care for the moms coming into her practice, called The Workout Couch. She also created an afterbirth survival kit, called the Push Thru Box, which provides new moms with practical and self-care products to help them ease into motherhood with the help they need. We talked to her about all things mental health and mom life, how she balances her career and her family life, and what every mom needs to know about therapy and self-care.
Name: Keisha Reaves
Title/Company: Workout Couch & Owner, Push Thru Box
Age: 34
Current Location: Atlanta, GA
Education: Masters in Counseling and Psychology
Children: Ezra, 1
What was your first job and how did you land it?
CVS! I worked in the photo department developing pictures for customers. I had a friend who worked there previously who was leaving, so he referred me. I only worked the summer and then left once my junior year of high school began. I loved working there, and developing photos was actually fun. It was so interesting to see what pictures people took. This was before camera phones.
You're a licensed professional counselor specializing in maternal health. How did you choose this career?
Even before becoming a mother, I noticed that I was seeing women with similar issues. Either they were struggling with symptoms of postpartum depression and hadn't put a name to it or they were struggling with transitioning to motherhood. I also had some moms who had experienced miscarriages as well as infertility issues.
My practice at the time was dedicated to seeing women, and when I noticed this overall maternal health issue, I decided to further my education in those specific areas in order to better serve my clients. As I dove deeper and deeper into each certification, I became even more passionate about serving women because I know – even more so now after becoming a mother – that we deal with so much. We carry a lot of grief, stress, and trauma with us every day without having the space or the guidance to properly deal with it.
What should all mothers or soon-to-be mothers know about mental health?
I think all moms need to know how they cope with everyday stress, life's obstacles, and if they feel their coping skills are effective. And, even if they feel like they have a good handle on things, it wouldn't be a bad idea to check in with a therapist, just to see. People often look at therapy as an option when things aren't going right, but it's good to see someone if everything is going well, also.
Soon-to-be-mothers or veteran moms can check in with a therapist like they check in with their OB-GYN or general practitioner every year just to make sure everything is running properly. Someone said to me once, in reference to therapy, once you lose the weight you don't just stop eating healthy and exercising. In order to maintain, you stay in the gym. The same goes for your mental health.
I know – even more so now after becoming a mother – that we deal with so much. We carry a lot of grief, stress, and trauma with us every day without having the space or the guidance to properly deal with it.
What are the benefits of therapy for mothers, kids, families (or anyone really)?
The first thing that always sticks out to me when thinking of the benefits of therapy is having an unbiased person that is paid to sit down and listen to your problems. It gets rid of the guilt of burdening friends and family members with what you're going through. You're telling someone that's passionate about what they do and who is trained to help people on their journeys.
The second thing is that it creates an additional support in your life. There are several people in the world that may not have parents or siblings or close family or friends nearby. Having a therapist creates that support for yourself, and they're someone that's genuinely invested in your wellbeing.
The final thing is that it's a space designed for you to grow. Some may not see it at first because a lot of people think that therapy is like taking a magic pill where all of your problems will suddenly get better. It's not like that. It's hard at first. You're unraveling a lot of things you may have repressed for years. You're dealing with a lot of issues you may have swept under the rug. But the wonderful part is that you're in a safe, private space to talk about it, and after releasing it, you begin to see the light at the end of the tunnel.
You're passionate about the mental health struggles of moms of color, as one yourself. What advice do you have for women of color when it comes to their own mental health and parenthood?
In the African American culture, especially Black women of the South, we are taught that we are the anchors of our families and we have to keep moving on. It's almost as if there is no space or time allowed to experience anxiety or depression after having a baby. It's like you're weak if you can't handle it all. So, we have the burden of old traditions weighing on our backs, and I'm passionate about creating a support for moms of color. I love telling them that their experiences are shared by many. It's not weak to have a difficult time transitioning to motherhood. You're incredibly strong to be able to voice that. Seeking out help is not only helping yourself but also your family.
Another piece to this puzzle is our medical system. A lot of moms of color may not receive adequate medical care based solely on the fact that they are brown humans. There's been a significant rise in deaths of Black mothers during childbirth. Several medical practitioners do not take a genuine interest in their patient's medical needs. Serena Williams herself stated that she struggled to tell her medical team that something wasn't right and she needed a particular medical procedure to be done. They didn't take her seriously, and she could have died if she hadn't advocated for herself. This happens to many across our country, and you can only imagine how this affects the mothers that don't have the socioeconomic status as Serena Williams.
It's not weak to have a difficult time transitioning to motherhood. You're incredibly strong to be able to voice that. Seeking out help is not only helping yourself but also your family.
I would advise moms of color to seek therapy and create a network of support. Research your medical practitioner and make sure that they're someone who listens. Get a doula so that you can have that additional support leading up to your birth and afterward. Build a team that's there for you and that's truly interested in the wellbeing of you and your baby.
As part of your mental health clinic, you started Push Thru Box, an afterbirth survival kit. How did you come up with the idea?
After I gave birth to Ezra, I struggled. I thought that I would bond with my baby immediately, and I didn't. For a few days after I got home, I felt like I was babysitting. Breastfeeding was not as glamorous as it was made out to be. My vagina felt like a horse kicked it. And the worst part was that I never slept. Sleep deprivation was the worst. I felt like I had all of these experiences that no one ever told me about. I had no idea what a sitz bath was or that your nipples bleed or that you can become so sleep deprived you can begin to hallucinate.
On top of that, I had all of this pressure that I placed on myself to get a handle on things, and I doubted myself as a mother a lot. When I made it through that fog of being a first-time mom, I wanted to create something for new mothers that not only provided them with items to help them heal, adjust, and also encourage them to push through. Someone could've said the simplest words of, "You're doing a good job," and that would've made a world of a difference for me at the time.
There were also so many products out there that I had no idea existed such as reusable, cooling gel pads for your boobs or the Fridababy MomWasher that gently rinses off your lady parts after a vaginal birth. I felt like I needed to give back to other mothers and help them save time googling things as I had. My Push Thru boxes come with six items curated for each type of mother's birth (c-section or vaginal) and feeding choice (breastfeeding or formula). Also, each box is accompanied with a list of mental health tips to help new moms deal with stress, mom guilt, sleep deprivation, anxiety, and all of the other emotions that that are side effects of new motherhood.
What's the transition from therapist to business owner been like? Any skill crossover between the two fields?
As a therapist, you're a very compassionate, person-centered clinician that wants to save the world basically. When you're a business owner, there are more hard lines in regards to pricing and how to work with collaborators. But I do think there's crossover with providing great customer service; I love to hear from my moms about the needs that they have and truly implementing their feedback to better serve them.
I genuinely want to make Push Thru something very useful to them and not just another box on the shelf. Everyone's motherhood journey is different, but the commonality of it all is the adjustment period. By trade, I'm trained to be a listener, and that helps me create better products for my customers.
What symptoms should recent mothers be looking out for in themselves when it comes to postpartum depression and anxiety?
Baby blues is a common experience for mothers to go through. Our hormones are at an all-time high when we're pregnant, and after we give birth, they crash. So, within the first two weeks of giving birth, it's normal to experience waves in emotions. If those symptoms last longer than two weeks, mothers should contact their medical provider. If they feel unmotivated, not like themselves, or experience crying spells, these could be signs that something is wrong.
For new moms, feelings of anxiety are normal because you're adjusting and you're wanting to make sure you're doing everything right. But when the anxiety is causing you to feel overwhelmed to the point of not being able to get anything done, like get out of bed, or if you're starting to form compulsive behaviors or thoughts, it's time to see someone. I was certified in postpartum depression by Postpartum Support International, and they provide incredible support for moms, such as a warm line to call, resources, and information if a mother is concerned about her symptoms.
How had you coped with your own new motherhood and life transitions?
It's taken a full year to feel like I've fully transitioned and feel well-adjusted. I was at home with Ezra for eight months and worked part-time. It was around the seventh month of being home that I felt the itch to be out there in the workforce full-time again. I felt like I was missing out on something or like the world was passing me by. Once I got him enrolled in daycare and I went back to work, I had this incredible amount of mom guilt. I was doing multiple late nights either at work, hosting events, or working on Push Thru.
I remember there was a day when my son had gotten sick and I had a full day of back-to-back meetings scheduled. My husband works in the medical field and it's quite difficult for him to take off, so he called my mother-in-law to come over to take Ezra to the doctor and stay home with him. I sat in my home office and cried because I felt bad about not being able to be there for him. And at that moment, I made the decision to cancel my meetings and take my kid to the doctor and stay home with him, and I don't regret that.
I realize that there are some things that I will miss as a working mom, but I'll try my darndest not to miss many moments. I love being there for him. I love caring for him. I've scaled my late nights down to only two a week, and I still try to get home in time to put him to bed. And for those other days, I just put the work off until after he goes down to bed. I feel more balanced now, and I feel like I didn't lose myself in motherhood. I feel like I just gained another badge for my sash.
Take us through your typical day.
I miss sleeping in. I really, really do. I typically wake up at 4:45 am and get dressed to head into the city to meet with my trainer. I finish training around 7:00 am, and I shower and get dressed for the day. I drive to Starbucks to get coffee and an egg-white feta wrap.
I arrive at the office around 8:30 and I have 30 minutes to myself to prepare for clients. I'll usually see about three patients in the morning before taking a break to grab lunch and catch up on billing. To give my brain a break, I'll watch a YouTube show like Jaime and Nikki (they're a beautiful Australian couple with two cute little girls).
Then around 1:00 pm, I'm back with clients until 4:00 pm. I head home to the suburbs, which takes me an hour and a half in Atlanta traffic (our traffic here is horrendous). I pick up my kiddo and we arrive home just in time to make dinner. I've recently gotten into HelloFresh, which has really saved me a lot of money on cooking and keeps us from getting bored. Ezra and I sing songs and play in his playroom until about 7:00 pm when we do bath time. We read a book, and I put him to bed. On good days I can get extra work done like send emails, work on marketing to help build my businesses, plan out future boxes, and what not. But on some days, I shower and I fall asleep to House Hunters International.
When it comes to motherhood, what are you insecure about? Confident in?
I'm often worried about spending enough time with Ezra. It's hard for me to take a vacation or a girl's trip without him because I worry I'm "doing too much," or if he will forget me. I know that these are irrational thoughts, and it's completely okay for any mother to take a trip away from her kid from time to time. I'm turning 35 in April and I was invited by a friend to go to Italy. It took me literally two weeks to make a decision because I felt so much guilt about going. I took the plunge and bought my ticket. I'll let you know how I'm doing 24 hours before I board the flight.
I'm super confident that I'm the type of parent that creates a space for my son to grow and explore. I love the fact that I allow Ezra to learn through various activities like painting, music, swimming, play, puppet shows, dance parties, crafts, or whatever. I'm definitely going to be a parent that nurtures his passion and supports whatever he wants to do. My ultimate goal in life to help him find happiness in whatever that is.
How has your view of motherhood changed since becoming a mom?
It's not easy. And I never thought that it was easy to begin with but I didn't think it would be this hard. As much as you try, you have no control over anything. You're in your head a lot. You learn to work through the feeling of being tired. Sometimes the idea of just being at home with your family in pajamas watching Coco and eating takeout sounds so much more fun than getting dressed up in heels for a night on the town.
You have absolutely no control over anything, as much as you try to be in control.
How do you and your husband handle childcare and splitting parenthood duties?
You know, it was quite the adjustment in the beginning. I definitely encourage couples to go to counseling together just to check in before having their baby. Sometimes you can think you're on the same page, and then when your bundle of joy arrives you realize that your ideas of how this was going to work are a little different. But I know that just as much as I had to adjust to motherhood, my husband also had to adjust to fatherhood.
We're in a great place, and I can honestly say we're 50/50 parents. He takes care of the morning routine, and I take care of the evening routine. If Ezra wakes up in the middle of the night we take turns putting him back to sleep. He drops Ezra off at daycare in the mornings and I do pickups in the evenings. I work late two nights a week, and my husband does dinner, cleans the house, does bath time, and puts Ezra to bed. We have a pretty good routine, and we communicate well with what needs to be done. It's really awesome, and I'm so grateful for him.
How does Ezra inspire you?
He inspires me to be the most present and mindful mother that I can be. I try to be very intentional with Ezra and not distracted when I'm with him. If he's watching his cartoons, I try to sit with him and sing along as well. By learning to be more present with him, it's crossed over to everyone that I encounter, it seems. When I'm with friends or even my husband, I'm not on my phone. They have my full attention, and I'm with them in this moment to absorb this social exchange with one another. It's very rewarding.
What has been your favorite motherhood memory so far?
I really enjoyed when Ezra was a tiny baby. There were several nights when my husband was away for work and it was just Ezra and I. I found a lot of comfort in his need for me. I loved breastfeeding, the bonding aspect of it. I loved taking naps together, and I found comfort in taking care of him.
There's this song by Lauryn Hill called To Zion and she talks about thanking her son for choosing her. I feel the exact same way about Ezra. I feel grateful that he chose me because he has the most chill, calm disposition. As I was running around like a mad woman trying to figure this motherhood thing out, he just sat there patiently waiting and watching me get it together. I love him for that, and I'm very blessed to have him.
Keisha Reaves is the Everymom…
Most recent book you read? An American Marriage.
I wish I knew how to… Play the electric guitar really well.
Best way to end a long day? Binge watching Fixer Upper.
Favorite self-care practice? Getting a massage.
Kids show you wish you never had to watch again? Caillou (he's such a brat).
Most embarrassing motherhood moment? Leaking breast milk through my bra and shirt AND jacket at the grocery store. I was literally only there for 30 minutes.