Scientists refer to the first 1,000 days of a child's life as a "critical period." These 1,000 days correspond roughly to the time from conception to age 2; some research suggests that the critical period extends to age 3. Either way, they call this time "critical" because it's when the vast majority of brain development happens. And one major factor for optimal brain development is proper nutrition.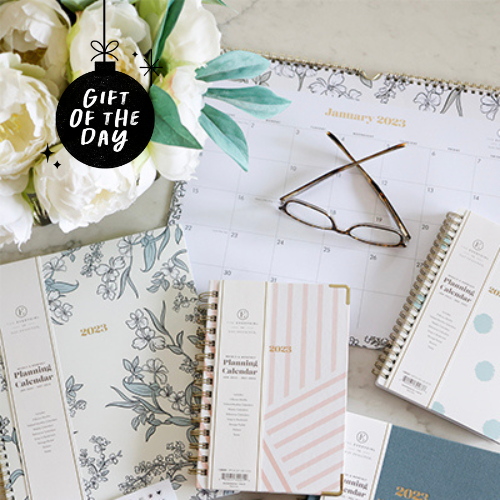 Help a mom stay organized and keep track of important doctor's appointments, playdates, and (hopefully) some scheduled 'me' time with this pretty wall calendar.
We don't know about you, but here at The Everymom, most of us feel like we blinked an eye and our newborns were suddenly walking, talking toddlers and kids. And while we may have broken some rules when it comes to screen time recommendations—especially this year—one thing we feel good about is starting them off with is good nutrition practices … and not because we spend hours upon hours meal planning, grocery shopping, or making homemade baby food. 
The secret? Little Spoon. Little Spoon provides easy solutions to help parents keep their kids healthy from those very first bites through their toddler and pre-school years with three product lines: Babyblends, Boosters (clean vitamins and natural remedies), and new Plates: toddler and kid's meals.
The secret? Little Spoon. Little Spoon provides easy solutions to help parents keep their kids healthy from those very first bites through their toddler and pre-school years.
As we all know, having a baby flips your world upside down in some of the best ways, but also some of the not-so-best ways. You now barely having time to shower, let alone plan, shop for, and prepare healthy, nutrient-dense meals that our kids will actually eat. Knowing that good nutrition habits start early and can carry into adulthood, of course, we want our kids to eat the healthiest options—but we all know that's easier said than done.
Simply put, Little Spoon is the easiest way to keep your kids healthy with fresh, organic baby food, toddler/kid meals, and vitamins and natural remedies delivered right to your door. There are so many things to love about Little Spoon, but one of the best is that everything is made with real, high-quality ingredients—free of preservatives, GMOs, additives, added sugar and fillers. 
Below, three editors get candid about how Little Spoon makes their lives easier and changed mealtimes for the better. 
1. It's So Easy
Ally: Little Spoon delivers everything right to our home through my subscription, so it's one less thing to worry about. I know I always have good fresh food on hand to feed my toddler. Grabbing a Babyblend as a snack or a Plate as an easy meal for my toddler is as simple as grabbing a carb-filled snack from the pantry but without the mom guilt. The packaging is easy to open and easy to serve.  
Also, for those who get a little squeamish when it comes to subscriptions, you can pause, skip, cancel, or modify at any time. There's truly nothing to lose by trying it. 
Alaina: I cannot say this enough: Little Spoon has saved us actual hours each day in terms of food prep for our boys. Planning, shopping, prepping, cooking, preparing, and feeding—so much time was spent figuring out what our toddler would eat. And it would cut into the middle of our workday for lunch, and take away from playtime together after work because we'd be too busy getting dinner together. The Little Spoon toddler meals cook in under 90 seconds in our microwave and he gets a healthy, well-balanced, delicious meal that is properly portioned. It's the best hack out there for parents and worth every penny.
In under 90 seconds, he gets a healthy, well-balanced, delicious meal that is properly portioned. It's the best hack out there for parents.
Jaclyn: As moms, we carry a mental load around with us everywhere, and Little Spoon reduces mine. Meal planning is a lot of work, which is probably why I tend to rotate through my family's tried-and-true favorites a little too often—with my kids getting sick of them. With Little Spoon, I don't even have to think about it because I know each meal is going to be healthy and delicious.
Signing up is also incredibly simple, with curated recommendations based on your kiddo's age and nutritional needs. It's almost like having your own personal nutritionist: each recipe is built in collaboration with pediatricians and experts and is specifically designed to support your little one's nutritional and developmental needs as they age. 
2. Clean, Healthy Nutrition
Ally: The bottom line is that it is real food I know I can feel good about serving my kids. With organic, high-quality ingredients, I know my son is getting great nutrition. I never worry about what's in his foods and if he is getting too much of something and not enough of the other. 
I also used Little Spoon's line of clean vitamins and natural medicines, Boosters, when he had issues with constipation, and it was incredibly helpful. Knowing they're formulated by experts and being able to see an exact list of ingredients is a big relief. I know exactly what he's actually putting in his body. Having clean vitamins and natural remedies on hand to mix into his bottle or purees made life so much easier.
Jaclyn: Like Ally, I like to buy organic and fresh whenever possible, but when it comes to baby purees, it's not very easy. I love that the Babyblends are made fresh weekly, without heavy processing, and are cold-pressed so they stay good for 14 days, which is plenty of time to eat them.
The hidden nutrition in each kid's meal is great for us. As anyone with a toddler knows, they have opinions—and lots of them, especially when it comes to what they eat. My kids are now gobbling up things they used to refuse, like quinoa, because it's hidden within the meal.
Alaina: Oh my gosh, Jaclyn, yes! The Babyblends smell amazing because they are so fresh. All of the purees we had bought before did not have to be refrigerated which makes you scratch your head … I've even tasted all of my son's Babyblends, which I never did with previous purees. And I can confirm: they are delicious!
3. So Many Flavors
Ally: It's so easy to get stuck in a rut when I have to come up with a meal. I love that I am introducing my son to so many complex flavors starting with Babyblends. We started a subscription to Little Spoon when Zach (now 20 months) was 6 months old. We will 100 percent be using Little Spoon with baby #2 (due this fall).
Jaclyn: These are not your average baby purees. Pitaya Pineapple Spinach Banana Coconut Oil? Not a combination I've seen in other baby foods. I love how easy it was to get my baby (now 1-year-old) comfortable with so many different flavors and nutrients early on. 
The same goes for their kid's meals, Plates. They truly are a step above other kid foods; these aren't your run-of-the-mill bland meals. I've tried a few of the organic/healthy options out there for toddlers, and I wouldn't want to eat them myself. With options like Turkey Taco Bowl with Veggie Black Bean Rice and Three-Cheese Tortellini with Kale Pesto, I don't even mind eating scraps from my kids' plates anymore. Plus, Little Spoon also offers a line of nutritious, veggie-packed sauces to make mealtime even more fun with flavors including hidden veggie ketchup, creamy dill ranch made with greek yogurt, and honey mustard sweetened with apple butter—just to name a few!
4. No Waste
Ally: With the pre-portioned sizes, I found myself wasting a lot less food and not accidentally letting it go bad in the fridge.
Jaclyn: The fact that all of the packaging, including the box the meals are shipped in, is 100 percent reusable or recyclable is one more reason I feel good about Little Spoon. The company even has a Plates send back program, a reuse initiative for the meals' packaging, that is set to launch as soon as it's safe to do so. An added bonus to the eco-friendly packaging are the fun animals and shapes on the toddler Plates—it gets my toddler excited about eating it. 
5. Meal Variety
Jaclyn: I love that there are always 25-30 Babyblends available, with a seasonal rotating menu, so that you can start with the simple ones when they first start eating and move on to the complex options as they get older. I'm also guilty of serving my kids the same 3-4 easy, healthy, quick meals on rotation because I know they'll eat them. Little Spoon is definitely a welcome addition for my kids as much as me.
Alaina: Totally agree! We started Charlie on the single ingredient options since we were worried about food allergies, but once he was cleared, it was exciting to dive into all of the options and see what he liked. And with Henry, we had definitely fallen into a meal rut once he hit the 2-year mark. We would rely on the same 3-4 meals we knew he'd eat over and over and over again. And the ingredient that is glaringly absent from those meals we were making him? Vegetables. We tried, but he'd refuse.
Thank goodness for the Little Spoon kid's and toddler meal options, creatively incorporating healthy ingredients into tasty recipes. The Mac and Three Cheese Plate, for example, has veggies hidden in every bite with butternut squash and carrots right in the cheese sauce. There are also 21 Plates to choose from, ensuring Henry never gets bored with what he's eating. With Little Spoon's baby recipes, we're similarly able to offer our 11-month-old healthy ingredients we never would have found a way to give him—like Chia seeds, red bell pepper, hemp, and broccoli.
6. It's Versatile
Jaclyn: My toddler is obsessed with smoothies, and the Babyblends are my answer to that. I put them in a cup with a straw and voila, I have no mess to clean up, and he's a happy camper. When my daughter started solids, I also would cut the toddler and kid's meals into smaller bites for her. 
Alaina: I couldn't agree more. When our 2-year-old sees us feeding Charlie, he immediately says "I want dat!" And we're slowly starting to offer our 11-month-old the softer food items from Henry's meals. It's all a win-win.
This post was in partnership with Little Spoon but all of the opinions within are those of The Everymom editorial board.