Technically speaking, there's no official school of motherhood nor is there one definitive guide or sourcebook, despite what others claim. (Wouldn't it be nice if one existed?)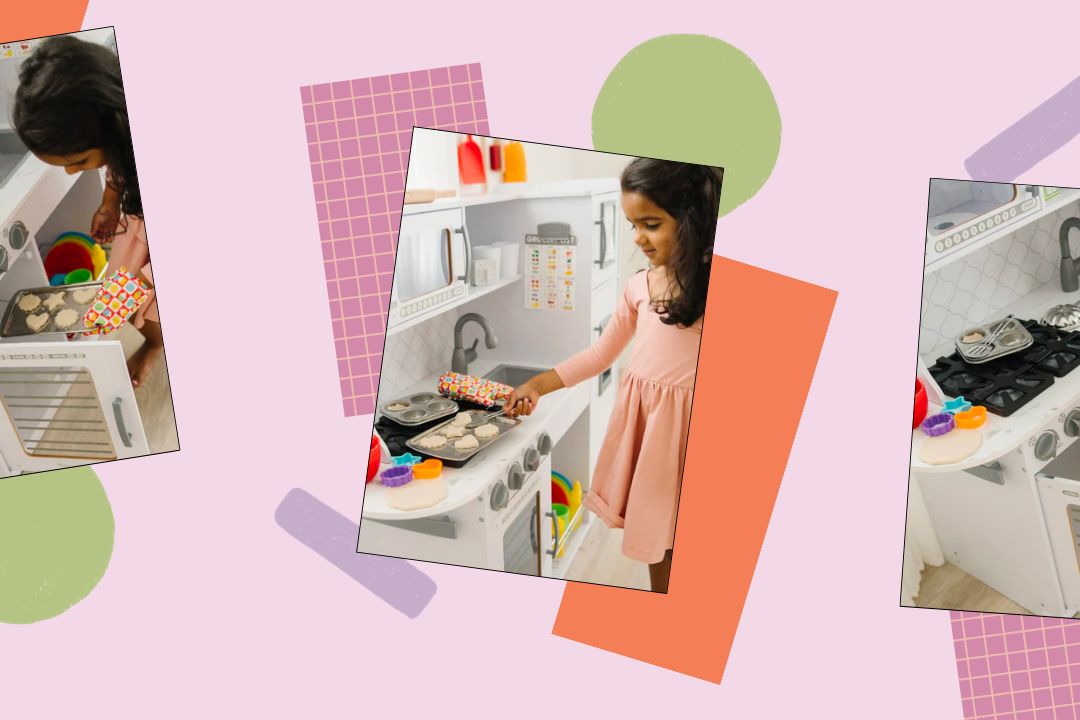 Instead, in 2019, we have a proliferation of parenting wisdom to consume — articles, apps, classes, influencers, pediatricians, Facebook groups, podcasts, and books. Not to mention, relatives or friends are in our ear telling us how to raise our littles. TBH, it's a tad overwhelming.
At 29, I picked up my first pregnancy book, The Impatient Woman's Guide to Getting Pregnant, which was my gateway to all books related to pregnancy and parenting. When I was expecting, I read anything I could get my hands on, including the classic What to Expect When You're Expecting and Expecting Better, the latter of which I recommend to all mamas-to-be. After giving birth to my son, my desire to learn all things child development ballooned.
The problem? In the early, sleep-deprived years of my son's life, my capacity for reading was stilted. I turned to podcasts, which I listened to while doing chores and during my commute to work. The more knowledge I acquired, the more confident and calm I became as a new mama. 
After two and a half years of motherhood, I know I cannot possibly consult every resource that exists nor can I study up for every challenge I'll face. However, I can consult a handful of quality resources to make informed parenting choices. I prefer evidence-based, expert-sourced parenting books and podcasts. I also find value in stories that reveal the emotional landscape of motherhood.
Today, I consume a healthy amount of parenting podcasts and books, but I never stopped learning about other topics that interest me – current events, culture, social justice, and storytelling. Doing so makes me a more well-rounded, informed person, and consequently, a better mama. Through my words and actions, I'm teaching my son that the pursuit of knowledge is one of the building blocks to a fulfilling life. 
Here's a look at the top books and podcasts that influence my parenting.
Podcasts
Fresh out of maternity leave and exhausted from my new reality, I needed a lift. A coworker suggested I check out Hilary Frank's The Longest Shortest Time. The first episode I listened to was "The Weird History of Judgy Parenting." What I instantly loved was the storytelling format — it's like This American Life for parents. Not only has this podcast taught me about breastfeeding, infertility, and how to talk to my white son about racism, it's also made me laugh, cry, and feel less lonely.
Episodes to check out: "It's A Real Mother" parts 1-4
In this four-part series, The Longest Shortest Time team investigates the charged topic of workplace discrimination against moms.
After becoming a parent, my conviction to learn about racism and how I can work towards a more equitable future for all children grew stronger. I want to help my white son understand the enormous privilege he has and doing that starts with recognizing and checking mine. Enter: Code Switch. Hosted by a team of NPR journalists of color, this podcast covers race, ethnicity, and culture, often in light of current events. 
Episode to check out: "Dora's lasting magic"
A great listen for parents to little fans of "Dora the Explorer," this episode explores the show's influence in diversifying kids' programming.
I found this podcast at a time when getting out the door with my toddler on time rivaled attempting an American Ninja Warrior obstacle course. After a few minutes listening to host Janet Lansbury coach a frazzled parent like me, I felt relieved and inspired to take a new approach with my son. Lansbury, a Resources for Infant Educarers associate and practitioner of "respectful parenting," helped me readjust my mindset and cultivate more parenting zen when faced with a meltdown.
Episode to check out: "Dear Parent, You Are Not Failing"
This podcast and NPR show hosted by Krista Tipett has been a favorite of mine since before I became a mom. I adore the wide range of influential guests — from the late Mary Oliver to Desmond Tutu — and the deep conversations Tippett facilitates with them on morality, ethics, and spirituality.
Episode to check out: "Ta-Nehisi Coates: Imagining a New America"
Alexandra Sacks is a reproductive psychiatrist on a mission to help normalize matrescence, the period in a woman's life when she transitions to motherhood. In these recorded therapy sessions, you can listen as Sacks consults moms toward deeper self-compassion on their matrescence journeys. What I love most about this series is Sacks' soothing attitude and learning that I'm not alone in my motherhood struggles. 
Episode to check out: "When Being A Mom Isn't Enough"
This is a great listen for anyone who's struggled with setting aside personal goals after becoming a mom.
This storytelling podcast vocalizes the heartrending essays of the wildly popular New York Times column by the same name. Hosted by Meghna Chakrabarti, Modern Love features varied actors/actresses reading a different essay every week. Episodes cover the many ways we express love to each other, from romantic to familial and more. 
Episode to check out: "When Mothers Bully Back" read by Ellie Kemper
I was in tears listening to this mom so hilariously describe the fierce love she has for her child.
Books
By Marc Weissbluth
This book was the ultimate life-saver for my husband and me when we were new parents. We were clueless when it came to newborn sleep, and Weissbluth's helpful breakdown of age-appropriate sleep habits guided us so that our son was well-rested throughout my three-month maternity leave.
By Austin Channing
Channing's debut memoir sheds light on the layers of racism — including microaggressions and systemic — she faced growing up black in the U.S. I finished her book hungry for more by this author and inspired to continue learning about racial justice.
By Jamie Glowacki
This no-nonsense, light-hearted guide helped my family through the wild west of potty-training. I love that the author's potty-training philosophy avoids the use of bribes. Glowacki also added a short one-pager in the book compiling her tips — a helpful tool to consult when you're trying to remember how to handle a potty fiasco without losing your cool.
By Roxane Gay
I adore Gay for her quick wit and extensive imagination. Bad Feminist features engaging essays interweaving pop culture, feminism, politics, identity, and more. Her honesty and authenticity challenged me and made me chuckle.
By Joanna Fabeer and Julie King
I've always believed in teaching my son empathy, and this book helped both me and my husband with turns of phrase to better acknowledge our son's feelings. I can already tell his emotional intelligence has grown and so has my fun-factor as a parent. The authors encouraged me to be more creative in my parenting; I discovered incorporating make-believe is a surefire tool to inspire cooperation.
By Paul Kalanithi
A good friend recommended this memoir to me multiple times. When I finally picked it up, I was floored by the author's storytelling and sobbed my way through it. Why is it so good? With exquisite prose, Kalanithi shares how he, as a resident brain surgeon, discovered he had advanced brain cancer and what happened afterward. Kalanithi passed away, but his words — about what it means to live a life that matters — live on.
What are you reading and listening to these days?