Being a working mom is not a simple task. With all of the schedules and moving parts that need to be managed, there's rarely any time left over for self-care. Not only does Lisa Rickert run two companies, UNFOLDED, which brought chalk paint to the United States, and AVE Home, a furniture company, but she finds a way to make it work and does it with grace and impeccable style. Lisa has found that flexibility is vital for managing her businesses and family. With the support of her husband, parents, and in-laws, Lisa finds a way to be an involved mother and strong CEO. But like all of us, balancing work, life, and home is always a work in progress.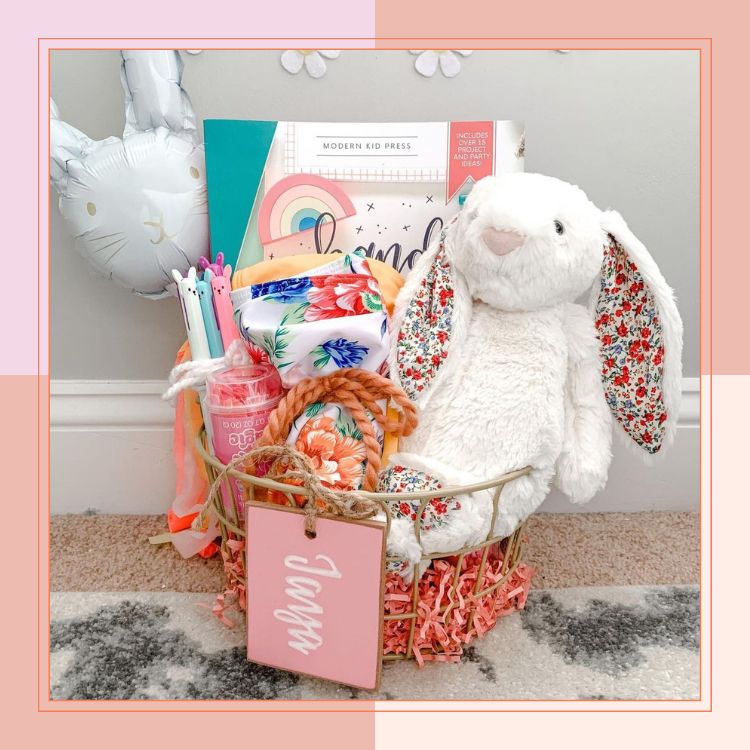 everything you need to get ready for the Easter Bunny's visit on April 9th! 🐰
Read on for Lisa's honest advice on motherhood, business and the one parenting goal that she is always striving for (and it's one that maybe all parents have).
Name: Lisa Rickert
Age: 35
Current Title/Company: CEO and Cofounder of UNFOLDED, Cofounder and Creative Director of Ave Home
Location: New Orleans, LA
Education: BA in Finance and an MBA from Loyola University New Orleans
Children: Katelyn, 12 & Christian, 6
What was your first job and how did you land it?
My first job was at my parent's boutique hair salon in the French Quarter of New Orleans.  It was not very hard to land I must admit, but I sure killed it even as a teenager. I didn't like asking my parents for money because I witnessed the hard work that it took to run a small business and the ups and downs that often come along with it. I guess I thought if I earned it, it would be different than just putting my hand out. I was the only one of my friends that had a weekend job, especially one at 13 years old.
As the CEO and co-founder of UNFOLDED, a family-owned paint distribution company that manages Annie Sloan products, your help distribute Chalk Paint around the world. Tell us what inspired you to invest in this business. What process did you go through to make it a reality?
It was really a bit of serendipity that led me to Annie Sloan. My husband Scott and I were in the midst of building a new home in New Orleans after Hurricane Katrina, and I wasn't looking to start a business.  I was searching for design inspiration and came across one of Annie's books, Creating the French Look.  It spoke of how you could easily paint furniture to give it a beautiful European hand-painted finish with her chalk paint product.  I was so inspired to try it that I purchased 6 liters and had it shipped to me in New Orleans. I was in awe of the gorgeous finishes and how easy it was to use.  I had to have more.
I took a chance and contacted Annie Sloan to ask why she was not widely available in the US.  It became clear she needed a distributor to pull the pieces together and launch her brand here.  With my business background and my husband's distribution experience, we knew we were just the right people to make it happen. The rest is history.
The growth of UNFOLDED has been amazing – from 3 customers to over 750 shops across four countries! What has helped you grow the business? What tips would you give to an entrepreneur trying to build their own company?
First and foremost, UNFOLDED's success can be attributed to the exceptional products it is built around. I truly believe that Chalk Paint, which was created by Annie Sloan almost 30 years ago, is the best decorative paint in the world. Its ease of use, versatility, superior coverage, and other unique properties are unrivaled by any other decorative furniture paint on the market, making it the perfect product for DIY projects and custom finishes in your home.
Second, we support a "buy local" philosophy and believe it to be one of the competitive advantages of the brand. We primarily sell our products through a network of independent shops, called Stockists, who provide the customer service, product expertise, inspiration, and experience that consumers want. Stockists develop unique relationships with their customers, creating a community that extends far beyond a mutual love of paint.
Third, UNFOLDED's long-term success has been largely due to our ability to remain flexible and adaptable to the needs of an ever-changing consumer. Because many people begin their shopping inquiries online, we have built a marketing strategy that incorporates e-commerce with "buy local" incentives while continuing to support our core distribution network of Stockists through a location-based online revenue sharing program.
I was so inspired to try it that I purchased 6 liters of Annie Sloan's chalk paint and had it shipped to me in New Orleans. I was in awe of the gorgeous finishes and how easy it was to use.  I had to have more.

In the midst of running UNFOLDED, you founded AVE Home. What inspired you to start this company?
I've always had a love for furniture and design. When I was a little girl, I actually wanted to be an interior designer, but life and my education took me in a different direction. In hindsight, I am very grateful because the path I took gave me a solid foundation in business and led me back to a creative industry.  AVE Home was simply the next step in executing my creative passions.
Living in New Orleans, I have always been surrounded by beautiful French antiques and I often found myself spending too much money purchasing old, damaged pieces and making them beautiful with Annie Sloan products. I was constantly searching for antique reproductions and was disappointed with what was available on the market.  I set out to create beautiful reproductions that honored the size, scale, and design of the original period pieces. This was the beginning and AVE blossomed from there. We now offer both finished and unfinished pieces that range from 18th Century inspired reproductions to original contemporary pieces.    
You're a mom and have started two successful businesses within a few years of each other! What obstacles did you face growing these businesses? Were differences did building each business present?
The way we started both companies and the obstacles we faced could not have been more different.  When my husband and I started UNFOLDED, we began with a very conservative initial production run and only a handful of customers.  We put every penny back into growing our inventory. It was almost a year before I drew a salary. With AVE Home, I could not invest the same amount of time into the company, so I had to hire a team from the get-go.  I also invested more capital in inventory and showroom space in order to allow a faster market entry. In hindsight, I would encourage every entrepreneur to start small and keep your investment minimal. It is much more rewarding that way!
I would encourage every entrepreneur to start small and keep your investment minimal. It is much more rewarding that way!

Along with being a business owner, you're also a mother of two kids. What's the key to growing in your career while raising children?
I've had to accept that most days I don't work a traditional 9-5.  I try to create flexibility to be present for the kids and be involved in their school, which means I also work late at night or on weekends as needed to make sure everything gets done.  It's an added bonus that my husband shares that work/life balance with me, so we often tradeoff to cover the children. He is super hands-on and shares school pick-up and extracurricular duties with me.  The struggle is really finding time for date nights!
Tell us about the transition to becoming a working mom and how it has changed as your children have grown?
It has gotten easier in the sense that the children are more independent, but it is also busier because they are more involved with friends and extracurricular activities.  I used to leave work after 5 pm each day and it made evenings super hectic and stressful. When our son started grade-school almost 3 years ago, I started picking both kids up from school most days.  Even if I continue to work on my computer as soon as I get home, it makes a huge difference to get homework started and dinner served before we are running out of the door for evening activities. I encourage all working mothers to use flex-time if your employers allow.  
Walk us through a typical workday.
My husband or I drop the kids at school at 8 am and head into the office.  As much as I try to stay on top of emails, I consistently have new emails and flagged messages that I need to address. At this point in my career, I am acting CEO for two companies so I spend most of my day supporting my teams, developing strategies, and making sure everyone is on track to execute their tasks.  I have an open door policy, so I have employees in my office throughout the day. Sometimes there's even be a line outside of my door. I have to block time on the calendar for uninterrupted meetings. After a full day, I head home to the family and continue any computer work or phone calls as needed.
What's your childcare situation and how do you and your husband divide parenting roles?
We are lucky to live in the same city as both our parents and they provide tremendous support when my husband and I are both unavailable.  Otherwise, my husband and I share everything 50/50. My husband Scott is definitely the athlete in the family, so he does more with our son in sports training. I seem to still have the role of bedtime and important talks, especially with our tween daughter.  
 I try to create flexibility to be present for the kids and be involved in their school, which means I also work late at night or on weekends as needed to make sure everything gets done.
Are there skills you've learned in your career that have helped you as a mother?
I believe it is important to set high expectations for people so they have something challenging to work towards.  I think the same applies to children. I try to always teach my children to do their best, even if is something they don't want to do, like chores or homework.  Also, while at work you have to maintain diplomacy and professionalism when dealing with people, even in difficult situations. I try to bring that home and keep my cool when the kids are bickering or aren't listening.  However, I must admit I am not very good at it. I ask my children all the time, "how can I get you to listen without raising my voice or punishing you?" I have yet to get an answer out of them, but I strive to be the mother that does not have to scream!

What is one thing you wish people knew about being a working mom?
It is the best of both worlds.  I was a stay-at-home mom for about a year.  I resigned from my position in supply chain management when our daughter was about 8 months.  She did not sleep and I was convinced that she needed me at home. I worked hard to get her on a better sleep schedule and she did well.  When she was 2 she asked me to go to school (yes, can you believe that!) and I went back to work. I felt like during that year, I lost a bit of myself.  I lost that external stimuli and competitiveness that I enjoyed in my work. Even before I worked for myself, I still gave 150% to my employers. I learned that flexibility is key, but I was meant to work and feel like I was contributing financially to our family. I could not be happier as a working mom today.  
I was meant to work and feel like I was contributing financially to our family. I could not be happier as a working mom today.
How do you juggle your home and work responsibilities? Any tips to avoid burnout and stay present at both work and home?
To be honest, I am still trying to figure that out! It's definitely difficult to maintain work/life balance when you own your own company. Over the years I've learned how important self-care is, so I try to eat well and carve out time for exercise and general wellness. I also prioritize time with my family and make sure to take a vacation every once in awhile.
What's the greatest lesson your children have taught you? How does it shape you as a person and a mom?
My children have really given me purpose. They keep me grounded and stop me from worrying about the small stuff. I've learned that at the end of the day, family is always what is most important.
Lisa Rickert is The Everymom…
Best family activity?
A good beach trip
Last book you read?
Born Anxious, a score in an airport bookstore
Best way to end a bad day?
A hot bath and lavender essential oil
The home essential you can't live without?
Adjustable Tempur-Pedic Bed
Favorite part of being a mom?
When I get a random hug and know they love me as much as I love them!