You've probably heard the saying that pets aren't just animals; they are part of the family. It's true, once you get a pet you gain a best friend and a valued family member. The connection we form between our pets is powerful and the love we have for them is unwavering. This is why losing a pet is so heartbreaking; it's like we are losing an integral part of our family. 
Last September, my family and I lost our 10-year-old dog; a Cavapoo named Hilton. Hilton helped our family through so many difficult times; he always knew how to cheer us up no matter what. Although losing our beloved Hilton has not been easy for my family, we've had to learn how to cope together through the loss. 
Even when it seems like everything in your whole family is different without your pet, it's important to come together and support each other through whatever emotions everyone may be experiencing. Read on for some helpful ways to cope with the loss as a pet as a family. 
Have a ceremony or service to honor your pet
Having a ceremony or service to honor your beloved pet can help your family, especially if you have little ones, to have some closure while remembering all the good memories of your pet. It gives everyone a chance to say goodbye. At the ceremony, it would be a good idea for everyone to go around and share their favorite memories and moments with their pet. The little ones can also say a few words about how they are feeling and how much their pet meant to them. If giving a speech or saying things out loud is too hard, you can also just write out a goodbye letter to your pet and keep it somewhere special. 
Just make sure to leave room for all of your family to express how they are feeling. It is important to know that they have everyone's support and they are not going through this grieving process all by themselves. 
Read a book about pet loss together
Sometimes it's hard to know what to say to little ones when you lose a furry member of your family. Reading these short stories together can help your family feel less alone as you move through the grief of losing a beloved pet. They're also the perfect gift for a friend or family member who recently lost a pet.
HANS WILHELM
This story follows a little boy and the death of his beloved dog, with the special reminder to tell those we love how much they mean to us.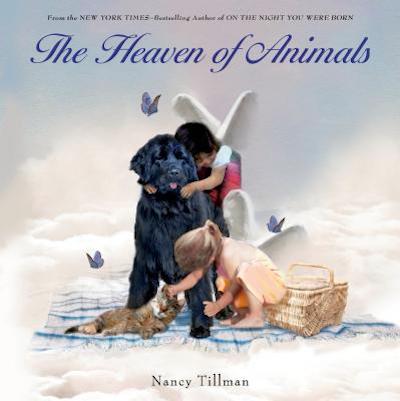 NANCY TILLMAN
Tillman books have a tear-jerker reputation, and this one is no exception, as the author takes readers on a journey to imagine heaven for animals.
Create a memory book together
Having a physical memory book of your pet is a good way for everyone to look back and remember all the good times in your pet's life. Many of us only have photos on our phones or computers, but having a physical copy is much more meaningful. Going through the book together could be a way for the whole family to bond and reminisce about good times with your pet. Even putting the book together with your little ones could be a good form of closure for all of you. 
Volunteer at a local animal organization as a family
Doing things together as a family is a healthy way to cope and spend time together. Sometimes volunteering can give everyone a sense of purpose. In honor of your pet, you could spend some time volunteering at a local animal organization. Or if in-person volunteering isn't an option right now—whether due to COVID or the age of your kids—there are so many ways you could get involved even if it's in a small way like donating animal food, blankets, or a monetary donation in your pet's name. Your family can feel good about making a difference in other animals' lives while at the same time honoring your own pet. Plus being around other animals may help your little one does not feel as sad about not having their pet at home anymore. 
Create a memorial of your pet
Whether it be a stone, a paw print, a customized picture, or another memento, having a memorial in your house or in the backyard could be a good reminder of the impact that your pet had on your family. My family took my dog's collar and paw print and made a special keepsake we have on display. Although life does move on, the memories and legacy of your pet will never be forgotten.
Etsy | Stoermer Shop
A backyard memento like this sweet and simple garden stone can help your family remember your beloved pet.
Etsy | The Papered Pine
Remember your pet with a custom painted ornament to either hang on your tree or put on display.
Etsy | KB Digitals
Customize a piece of pet art to display and remember. Easy to customize, choose the font, background color, and submit a photo.
Maintain your normal routine with your family/other pets
It can be hard to continue going about your life when it seems like everything has changed without your pet. However, it is important to still stick your routine, especially with children. Routines can help kids feel calm, especially when there are big changes around them. It can help them in their grieving process and make them feel a sense of assurance that everything will be okay. If you do have other pets, it's also important to keep their same routine. Chances are they probably will be depressed about losing your other pet too, so it is a good idea to give them some extra love and attention as well.