This morning, I got an excited text from a friend that read: "Ahhhhhhh! I got the job of my dreams! But… now how do I quit my current job?"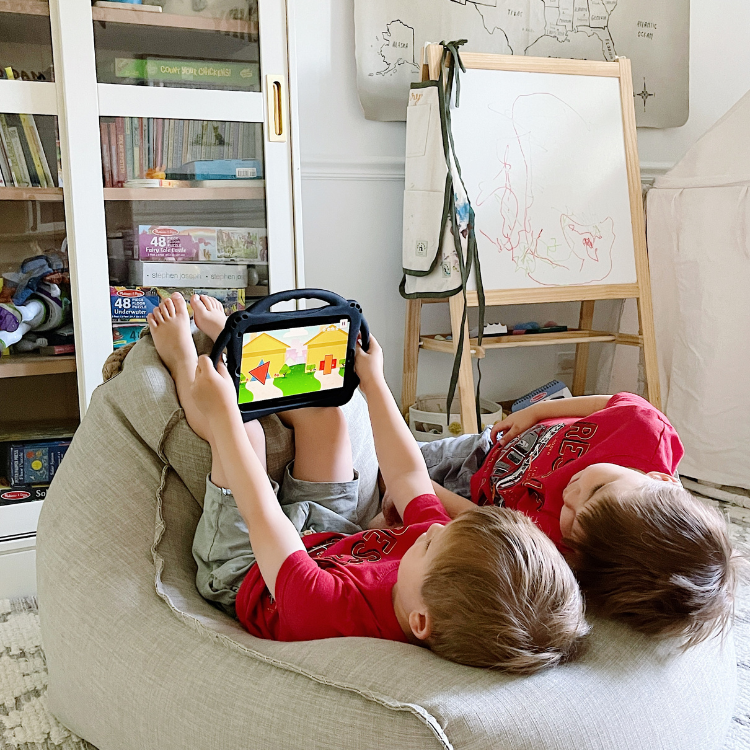 a pediatrician shares what she *really* thinks about LOs and screen time
This year has been full of professional uncertainty, with many mothers forced to reconsider their careers and their work/life balance with limited childcare and virtual schooling. Many are unemployed or underemployed, through no choice of their own. Some parents are choosing to leave their jobs in order to be at home with their children. And many are thinking about making professional pivots as we reevaluate what we want from our careers. When we say there's been a transition in 2020, we're not exaggerating.
When I got a job offer from a dream company, I was thrilled to make the move, but I wanted to leave my former company on the best terms possible. After all, there were no hard feelings; just a change of personal passion. So when I got that text from my friend, I began thinking about what tips I could offer other moms who were leaving jobs of their own.
Of course, the pandemic adds an extra set of challenges … So, it's extra important to be thorough and conscientious when leaving a job, to ensure that no one is left scrambling.
Of course, the pandemic adds an extra set of challenges. Exit interviews and tough conversations probably can't be had in person. Equipment must be returned to empty offices. And loose ends may slip through the cracks even more in the transition. So, it's extra important to be thorough and conscientious when leaving a job, to ensure that no one is left scrambling. By being organized and thoughtful, you'll be able to leave on a positive note.
Whether you're considering leaving your job to stay home or in order to move onto a new job, we put together five steps for creating a graceful exit that won't burn any bridges.
1. Be direct and polite when giving your notice
The worst thing you could do to an employer is to leave them hanging. Be sure to negotiate ample notice with your new company (a minimum of two weeks), and let your employer know as soon as possible. I really discourage having this conversation over email. Video conferencing is great, but a phone call works too. Even if you didn't have the greatest relationship with your employer, try to be as professional and courteous as possible. It'll set a much better tone for the conversation!
When having the actual conversation, be sure to thank your employer for your experience at the company. Outline the terms of your departure and reassure them that you'll help train your replacement (if you're able) and prepare the company for a seamless transition. If you choose to offer a reason for your departure, do so kindly. Be brief yet cordial and answer any questions that come up. Most employers are understanding, but if you encounter hostility or resistance, be polite and firm. Of course, if they counteroffer and you choose to listen, do so! But take the time to really consider the terms, if you decide to stay after all. Remember: this decision is yours and yours alone, and no one should pressure you into it.
And afterward, follow up with a resignation letter reiterating everything you talked about, so there's a paper trail for the discussion.
2. Prepare your team for success
When leaving a job, it's important to fulfill the expectations while you are still employed at that company. This means continuing to be prompt and productive. Follow up on any projects that need to be completed, and if anything is incomplete by the time you leave, be sure to let your manager know. 
If you have the bandwidth, it's always nice to go above and beyond in providing passwords, an outline of your duties, process documentation, and access to whatever tools your replacement may need. Know that leaving a job during a pandemic will likely put extra stress on your team, as many positions may not be automatically backfilled, so doing whatever you can (within the means of your own mental health and work/life balance) to help will go a long way.
3. Schedule a call with HR
If you're receiving benefits from the company, have a talk with HR to confirm when coverage ends and whether you need an extension through COBRA. Make sure you have all the details needed to transfer 401Ks, life insurance, leftover vacation time, or any other logistics. It's crucial during the pandemic to make sure your finances and medical situation are covered. You may want to review your employee handbook as well.
If your HR department asks to conduct an exit interview, prepare what you want to say and what constructive suggestions you can offer. As always, keep your communication firm and professional.
4. Return your equipment
Assess your collection of office supplies that belong to your company: laptop, printers, key cards, handbooks, and company credit cards. Ask your manager how these supplies should be returned and to whom; chances are, not many people are in a physical office, so be sure to confirm these details. The company should always be responsible for any shipping fees that go along with returning equipment, so make sure you have access to a company UPS or FedEx account.
5. Connect with your coworkers
Human connection is important yet in low supply these days in isolation and with working remotely. When you leave, take time to send a goodbye email to the team or reach out to team members who have positively impacted your time at the company. If you choose to, include personal information for them to contact you afterward or connect on LinkedIn. Keep the conversation positive! You never know when you may encounter your coworkers professionally or personally in the future.
Did you leave a job during the pandemic? How was your experience? We'd love to hear any tips you want to share.