I know back-to-school is all about our kids, but it also rocks our worlds as parents. More specifically, it's the time of year when a mother's schedule blows up because we have to not only manage our own day, but also the school responsibilities, activities, projects, homework, and back-to-school meetings for our children. It's no wonder mamas burn out easily—we get overloaded the day our children go back to school. Of course, there are some families with partners who take a more proactive approach to the back-to-school season, but more often than not, it's the mom who carries the very heavy mental load.  
I can recall a conversation I had with my husband last year when he peppered me with a litany of questions about the date and time of various school events, such as our parent-teacher conference and the school fundraiser. Even though I knew the answers off the top of my head, I did inform him that he, too, was on school emails and could search for that info on his own. But, I digress. With a little planning and some lowering of expectations, this school year could feel more joyful than stressful. Read on for five tips to manage the back-to-school information overload and stay organized. 
With school back in session, your home printer is in higher demand. There seems to always be something to print, whether it be the school academic calendar or homework assignments for your elementary-age child. Avoid doing what has happened to me more times than I care to admit and sign up for HP Instant Ink so you can have ink cartridges automatically1 delivered to your door right when you most need them. Don't scramble like I did when I went to my office printer to print something that was time-sensitive because I had a frazzled week and forgot I didn't order replacement ink cartridges. Never run2 out of ink again and remove one item off your to-do list with the ease of having HP Instant Ink do all the printer planning for you.
Why We Recommend HP Instant Ink
Here's why the editors at The Everymom rely on HP Instant Ink to have a successful back-to-school season:

With the HP Instant Ink subscription service, you can

save up to 50%1 on ink

based on the subscription cost you choose.
HP has

different subscription options

tailored to meet your unique printer needs so you only receive the amount of ink that best suits your printer activity, unlike a monthly subscription service that is more generic.
You

no longer have to find storage space

for stockpiling cartridges because they

recycle3 the ink cartridges,

and you only receive what is needed based on your usage.
They offer

free shipping.
You can

change or cancel4 your subscription

at any time!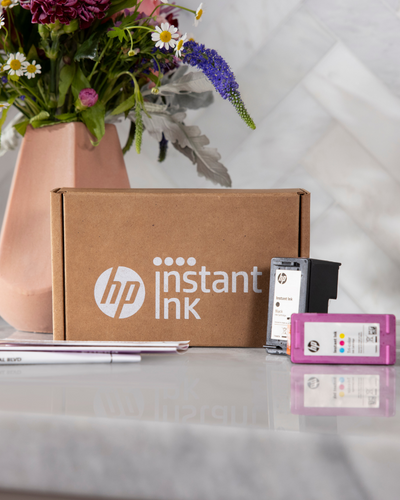 HP
Moms deserve to have one less worry, and, with this subscription service, you no longer need to scramble when you don't have enough ink to print out your child's homework. With free shipping and tailored based on your printer usage, you can feel more organized all year.
Sign up now and get $10 credit5 for a HP Instant Ink subscription!

HP Special Offer
Sign up now and get $10 credit5 for a HP Instant Ink subscription!
Here's How It Works
Select a printing plan: They have five options that include ink or toner, hassle-free delivery, and prepaid recycling. Each plan is based on pages you print, not on the number of cartridges you use.
Your Ink or Toner is shipped to you at no cost.
Enjoy the flexibility of your subscription plan: If you don't use all of your pages, they automatically roll over6 to the next month.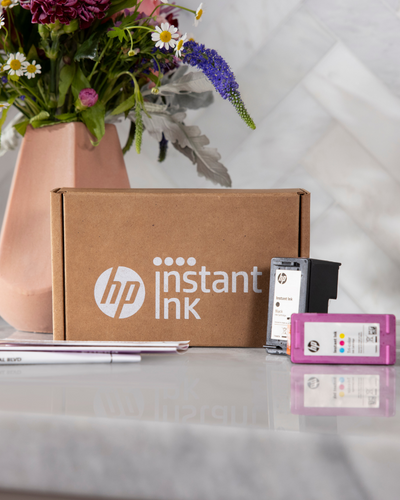 HP
Moms deserve to have one less worry, and, with this subscription service, you no longer need to scramble when you don't have enough ink to print out your child's homework. With free shipping and tailored based on your printer usage, you can feel more organized all year.
Sign up now and get $10 credit5 for a HP Instant Ink subscription!
2. Don't Overcommit Yourself or Your Child to School Activities
I know there is bountiful excitement that comes with the back-to-school season. It gives us the urge to sign up for all the school events and activities and also put our kids into after-school commitments galore. I can already feel myself almost volunteering to be a room parent as the school emails come into my inbox. Somehow, we get amnesia every year, and we forget how taxing it can be to overcommit ourselves and our children during the school year. This year can be different if you prioritize your commitments and your child's activities. Sometimes fewer activities can equate to more quality family time, so pace yourself to achieve some version of work-life balance.
3. Share the Mental Load with Your Partner
This suggestion is layered and nuanced but important to acknowledge. Many times, mothers take on too much because, not only do we place these responsibilities on ourselves for various reasons, but we also tend to not ask for help when needed. Unfortunately, it's only when we reach our breaking point that we seek assistance from our partners, our family, and friends. For those fortunate to have a partner willing to help, speak with them about back-to-school obligations and split your to-do list in half. You might discover that it frees up your mental space and becomes more efficient. Of course, we understand that not everyone has involved partners and to those moms, we value all you do.
4. Get a Family Calendar
Seeing all the monthly, daily, and weekly activities for the entire family in one central location helps visualize all the back-to-school information. This is especially true if you have children who can now read as they too can help their parents stay organized. Plus, there is something so satisfying about crossing something off of a large calendar. You can almost feel a mental pound lifted off of you. Below are two of our favorite oversized family calendar options.
Etsy | Circle & Square Decor
Plan your meals and activities with this large calendar displayed in a communal area. Make sure to position it so the kids can have fun checking items off and, when age-appropriate, writing to-dos on the calendar.
Etsy | Yippee Daisy
Personalize this acrylic calendar with your family's name, and start planning out your month as a unit. You can easily update the ever-evolving back-to-school activities and meals to prevent your brain from going into overload. This way, everyone will be able to see how they can help!
5. Create Email Folders and Subfolders for Each Child
And so begins the email notifications on our phones from now until the summer of next year. If your inbox is anything like mine, school emails will either be buried in the abyss of my inbox or go into spam. What I have found most effective is creating folders and subfolders in my inbox for both of my children. I can put both read and unread messages automatically into these organizational folders or manually insert them when time allows. Then, I can refer to them when time frees up. It's almost like your inbox can serve as your own customizable digital filing system. You can keep what is most important and delete the rest.
This post was in partnership with HP but all of the opinions within are those of The Everymom editorial board. We only recommend products we genuinely love.
Disclaimers
1. Savings Claim (Ink): Based on monthly subscription cost of HP Instant Ink 700-page plan without purchase of additional sets of pages compared to cost per page to print ISO/IEC 24711 pages on most in-class, traditional A4 color inkjet cartridge printers and MFPs priced <$385 AUD, <$420 CAD, <$333 NZD, and <$350 USD using original standard-capacity cartridges. Average CPP per country used to determine percent savings versus CPP for HP Instant Ink. Sale prices not considered for this study. HP Ink Advantage printers and printers which only use XL cartridges excluded due to non-standard hardware & supplies model. Keypoint Intelligence September 2021 study commissioned by HP, based on publicly available information as of August 18, 2021. Printers selected by market share in IDC Quarterly Hardcopy Peripherals Tracker – Final Historical 2021Q2. For details: www.keypointintelligence.com/HPInstantInk.
2. Never Run Out: Based on plan usage, Internet connection to eligible HP printer, valid payment method, email address, and delivery service in your geographic area.
3. Recycling: Program availability varies. Original HP cartridge return and recycling is currently available in more than 60 countries, territories and regions in Asia, Africa, Europe, and North and South America through the HP Planet Partners program. For details, see hp.com/recycle.
4. Change, pause or cancel anytime with no additional fee: Change or cancel your plan at any time online. If you decide to cancel your HP Instant Ink plan you can go back to using HP original Standard or XL cartridges. Plan upgrades are effective immediately and the charges will be applied retrospectively or in the next billing cycle, depending on user choice. Plan downgrades and cancellations are effective after the last day of the current billing period. Cancellation of your paper plan will only impact your paper subscription; however, cancellation of your ink plan will automatically cancel your paper subscription as well.  For full details go to hpinstantink.com/terms.
5. $10 credit: After using the $10 credit, a monthly fee will automatically be charged unless cancelled. Your subscription starts when you install the new Instant Ink cartridges.
6. Rollover plan pages: Rollover allows unused pages in a month to be placed in a rollover account and then applied to pages in excess of your monthly allowance. The rollover account balance is limited to a maximum of two times your monthly service plan pages on Toner plans and three times your monthly service plan pages on Ink plans (Toner example: you can roll over up to 100 pages if you are on the 50 page plan. Ink example: you can roll over up to 300 pages if you are enrolled in a 100 page plan).