Managing money is difficult, even in the best conditions. Throw in a global pandemic, a recession, and the general unknown about the future, managing your money can feel downright impossible.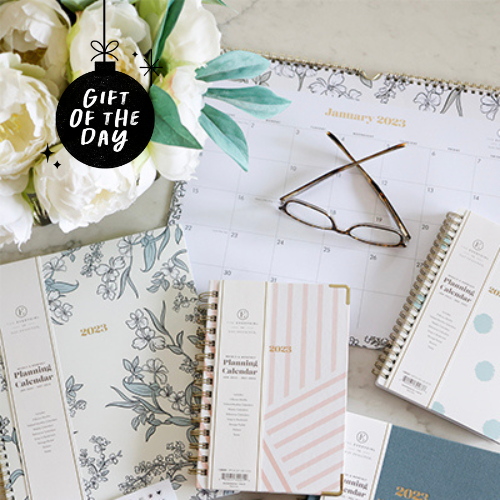 Help a mom stay organized and keep track of important doctor's appointments, playdates, and (hopefully) some scheduled 'me' time with this pretty wall calendar.
To help, here's what you need to know and what you need to do to steer yourself successfully through this difficult time. 
Know your relief options
The first thing that's important to do is to understand what help exists. You might not need it now, but having all options in front of you can help you make the best decisions. If nothing else, knowing what relief options are out there will give you peace of mind. 
In the last month, there have been some major changes made to help people who are financially impacted by COVID-19 (so pretty much all of us). 
Unemployment
Thanks to the CARES Act, unemployment benefits have been expanded significantly. If you lose your job, are temporarily laid off, had your hours reduced, or have to stay home to care for a family member (including a child who is out of school!), you can qualify for unemployment. 
Head to CareerOneStop.com to look up the unemployment office and guidelines for your state. 
Expanded family and medical leave
If your child is out of school or daycare and it makes it impossible for you to do your job, the Families First Coronavirus Response Act has help for you. It expands family and medical leave to cover this very unique situation we're facing where schools and daycares are closed. It provides that you'll be paid two-thirds of your regular pay for 12 weeks. 
You can read the full details published by the Department of Labor. 
Forbearance options
With so many people losing their income, creditors are making an effort to pause loan payments for people that are struggling. If you have a mortgage that was purchased by Fannie Mae or Freddie Mac or insured by HUD, USDA, or VA, you are eligible for a 180-day forbearance.  
Even if your home loan doesn't fall into one of these categories, you may still have forbearance options. For example, most large banks in the state of California have pledged to offer forbearance to struggling borrowers. 
Credit protection
If you work with a lender to pause debt payments, lenders cannot report you as past due to credit reporting agencies. This is a big deal because you'll need a good credit report to help qualify for loans (if you need them) or refinance debt to take advantage of lower rates. 
So if you need to work out a payment arrangement with a lender right now, the CARES act spells out that this arrangement cannot negatively affect your credit history. 
Shore up the short term
Now that you know what options are available to you, it's time to shore up your finances for the short term. 
Create an emergency budget
You may already have a budget, but right now things are so unpredictable that past plans are quickly going out the window. You may have lost part (or all) of your income. You may be experiencing higher food or medical costs. Or maybe nothing has changed, but you're worried about the future and how long a recession may last. 
It's time to create an emergency budget. An emergency budget helps you cut unnecessary expenses and deposit more into an emergency fund or stretch your budget further. 
This emergency budget from Mint provides an excellent walkthrough of how to create an emergency budget. 
Call your creditors
If you think you may not be able to make some of your monthly debt payments, whether that's a student loan, mortgage, or credit card, call your lenders. Aside from lenders that are required to offer forbearance, many lenders have agreed to help out borrowers on a case by case basis. 
For example, Ally Bank is allowing auto and mortgage borrowers to defer their payments for up to 120 days, and Bank of America is offering deferral options for credit card and loan customers. 
Boost your emergency fund
While we are in a full-on global crisis, your emergency fund is there to help you. If you don't have an emergency fund, start one. If you don't need your emergency fund yet, work to increase it. Everyone should be setting any extra money that they can aside.
If you're still working, funnel any extra money that you can into a savings account. Even small amounts of money can make a difference. And if you haven't filed your taxes yet but you think you're due a refund, file before the July 15th deadline and put that money into your emergency fund.
Decide if it makes sense to refinance
The one benefit of this financial downturn is that the already low-interest rates are now even lower. If you still have an income, see if it makes sense to refinance some of your debt. Refinancing high-interest student loans or refinancing to a lower mortgage interest rate can shave money off your monthly debt repayment. 
Just be sure that when you're refinancing, you're not giving up lender protections that you may need (for example, federal student loan protections). 
Take a long term view
As scary as the economy might seem right now, remember that it has weathered many storms. We've had a lot of recessions and even a great depression, and we still have made it to the other side. Taking a long term view could help you make smart decisions.
Keep investing if you can
If your job is stable, financial experts recommend continuing to invest for retirement if you can. Investments may be going through a very volatile period, but remember that they are for your golden years—your investments have time to ride out the ups and downs. 
However, if you are in a position where you can't keep contributing to retirement because your income has been reduced, don't get discouraged about hitting pause. Deal with the issues in front of you and when you can, get back to it.
Protect your credit score
Remember the tip about calling your creditors and asking for a deferment if you can't make your payments? This is important because we don't know how long this recession will last. There may be a point where you need to borrow more money or refinance your debt. Getting approved will depend on a good credit score. Protect your credit score by making the payments that you need to when they're due. 
The bottom line is managing money when things are unknown can be extremely challenging. Stay informed, give yourself some grace, and know that eventually, someday, this will be a distant memory.