I used to think the only way to show up for the important people in my life was to be there in person as much as possible—otherwise I wasn't doing enough. I drove myself toward empty trying to be there for everyone's events and activities all the time. Then COVID happened and none of us could be there in person for anything.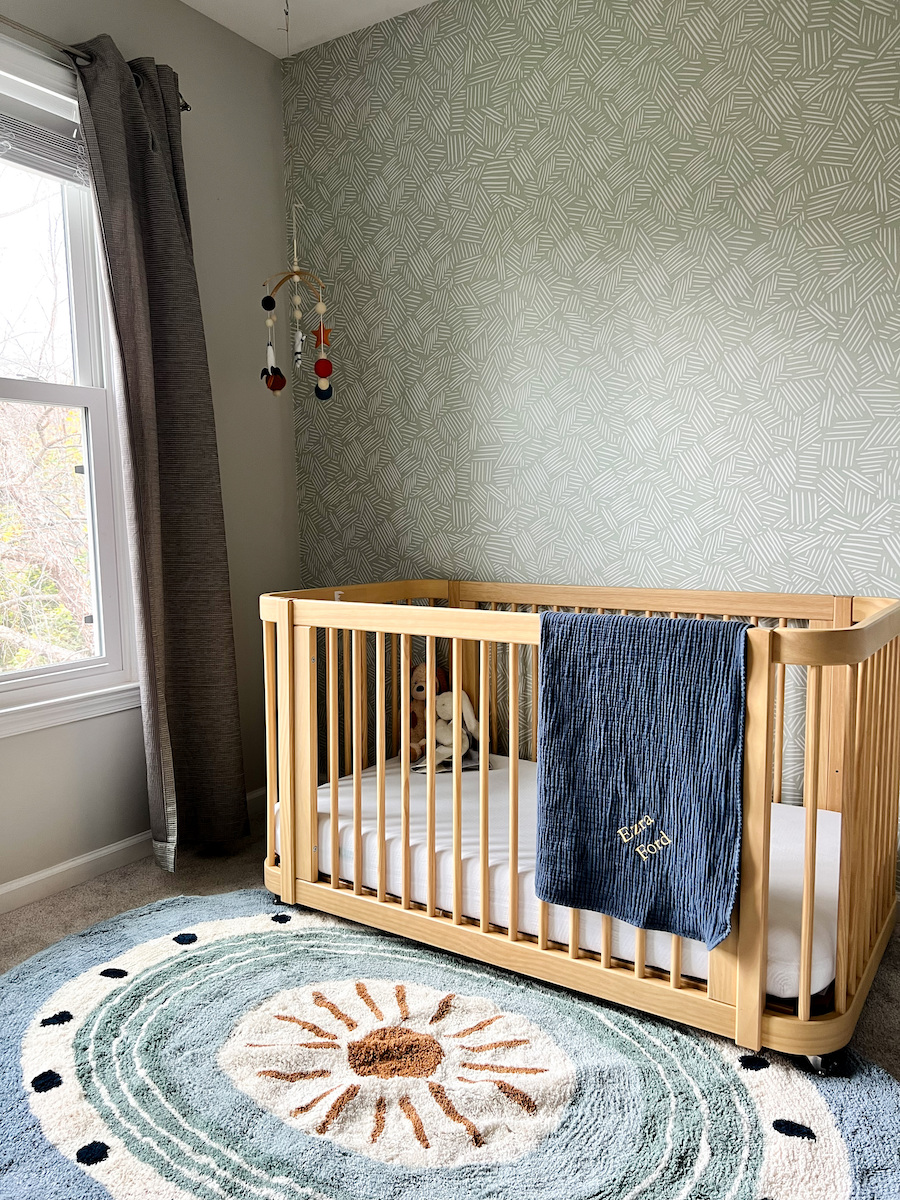 editor-favorite crib brand Nestig just released gorgeous new wallpapers that will easily transform any space 😍
Like so many others, I had to switch up my philosophy on connecting to my closest friends and family. And that experience also made me realize that you don't have to run yourself ragged physically attending everything. There are plenty of other ways to "show up" if in-person attendance isn't possible. I'm glad I came to this realization when I did, because since COVID, I've added another kid to our family and started a management-level job. I really don't have a lot of extra time, but maintaining relationships is still important to me, so I've started reaching out in other ways. Here are a few methods I've used to help me stay connected to "my people."
1. Give small "just because" gifts or drop off surprise items at someone's door.
Sometimes I come across the perfect little trinket that instantly makes me think of someone specific. Instead of buying it and waiting until the next holiday to exchange gifts, I've made it more of a point to incorporate "just thinking of you" items into my friendships, whether I ship something in the mail or drop it at their doorstep.
2. Send food (or a food gift card) during someone's busy season.
When I had my second baby last year, the most welcome action was people dropping off or sending food. It lifted such a weight off our shoulders at night, when everyone was finally in bed and we were starving, to know that we already had something prepared. When thinking of a way to reach out to someone with a new baby or going through a different type of busy season, I always go back to how much I appreciated this show of support and try to pay it forward.
3. Reach out by sending fun mail.
I can't be there for every birthday, shower, or graduation. But I can still let people know I'm thinking of them during their big moments. I've learned to keep a drawer stocked with stationery, envelopes, and stamps so that I am always prepared to slip something into the mailbox.
4. Don't overlook FaceTime or Zoom hangouts.
I would never want to FaceTime or Zoom as much as I had to during peak isolation months. However, all those virtual hangouts proved that they can be good stand-ins periodically for when an in-person meetup just won't work out. I have a group of local friends that I usually hang out with, but with everyone's kids and jobs, it can be hard to see each other as much as we'd like to. A virtual Apples to Apples game night after everyone had tucked their kids into bed on the weekend provided so many laughs, and I always hung up feeling so rejuvenated.
5. Send "thinking of you" texts or emails.
The easiest, quickest way to reach out is to send a quick "Hope you're having a great day!" text. It takes less than 30 seconds, but it probably always brings a smile to that person's face when they get your message (I know it always brightens my day)!
6. Pass on articles and memes that make you think of someone.
Another 30-second way to show someone they're on your mind is to pass along a funny Instagram post, TikTok, or article that made you think of them. I love when a friend sends me something they know I'll get a kick out of. It shows me that the people in my life know the silly, random little things about me.
7. Use little pockets of time to make phone calls.
I've admittedly never been great about phone calls, and if I'm not spending time with someone in person, I'm much more of a texter. However, there's something irreplaceable about hearing someone's voice instead of just reading messages back and forth. I've been a lot better about this since COVID, but as a busy working mom, I still don't feel like I have a ton of time to chat on the phone. I've learned to use the little pockets of downtime, like waiting in the school pickup line or unloading groceries, to catch a quick chat.
8. Read the same book or watch the same movie from afar.
If you can't sit in someone's living room, sharing appetizers and wine and discussing a book, you can at least try to replicate that feeling. Read the same book (or watch the same movie or series) as a friend, and you'll have something super-specific to discuss during your next phone call or FaceTime.
Nothing fully replaces quality time together, but having a busy season of life doesn't mean you have to forgo the relationships you've built just because you can't always be there. There are plenty of ways to let people know you're thinking of them and keep up with what's going on in their lives, even if it has to be from a distance.
9. Turn everyday activities into social opportunities.
Additionally, you may still have time to see your friends or family in person, just not as much as you used to. There are still plenty of ways to spend a little time together doing things you'd probably both be doing anyway.
Take the same workout class. If you're going to spend some time that day exercising anyway, try to schedule a class for when a friend can come along as well.
Do something together with your kids. I can't get away for a long girls' dinner on the weekend as often as I used to. But I'm often doing something out and about with my kids that others can join in on. It's usually fun to have a little extra company at the zoo, trampoline park, etc.
Meet for a coffee break. Breaking for a meal might take too much time, but syncing up at the coffee shop to grab a latte and chat can take as little as 10-15 minutes!
Run an errand together. The weekend usually means there's a long list of random items to grab at Target or the grocery store. Chances are, your friends have plenty of items to grab too- so you might as well push your shopping carts around together.
---
With little kids at home, I'm in a phase of my life that's really short on extra time. I'm sure plenty of people can relate. But I don't want to lose sight of myself and my other relationships outside of my household while I'm in this stage of my life. There are so many people who were there for me before I had kids and during my parenthood journey, and I want to make sure they know how important they are to me.
I know that one day my kids will be grown, I'll be done working, and hopefully then I'll have plenty of time for all those long trips on my list. But until then, I have to be a little more creative with how I connect with my loved ones.