My usual weekday morning involves getting myself and my preschool daughter ready for the day, dropping her off at school, and heading into my office for my full-time job in project management.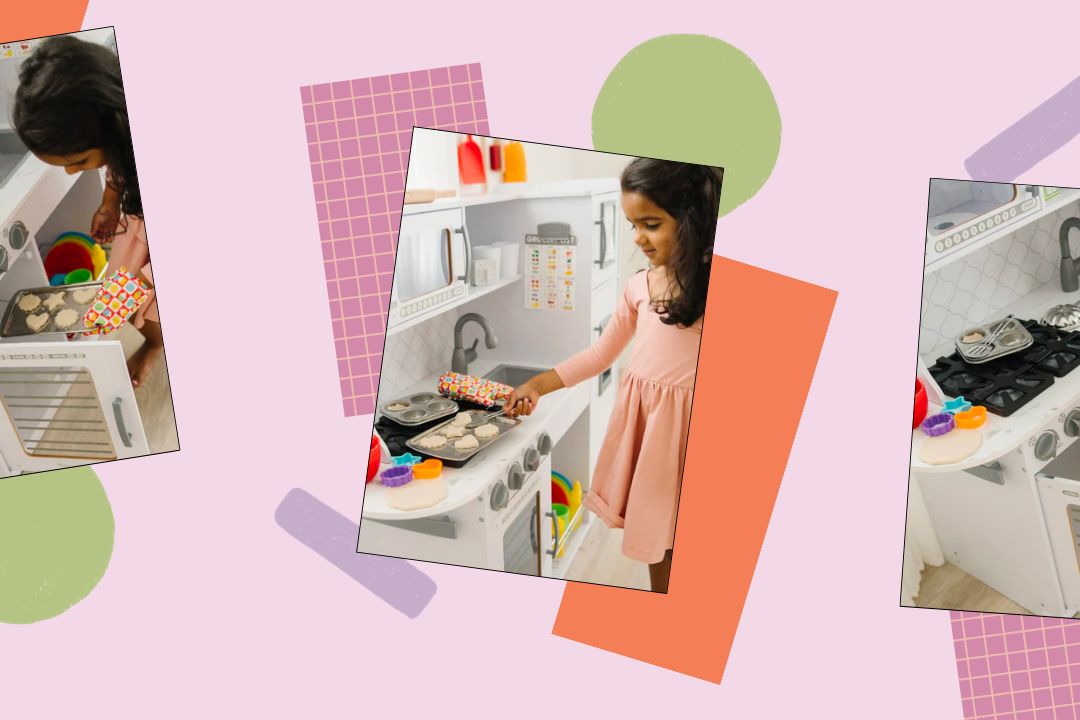 But like many of you in the same situation, this week that routine was completely upended. 
At my house, we're now facing a long period of telecommuting and homeschooling. I've tackled neither of these things full-time before, and now I am facing both of them at once. 
As a routine-oriented person, I spent my past Sunday figuring out an optimal schedule for how to work virtually while keeping my 5-year-old entertained. 
This is how I am tackling all of these new scenarios. 
Setting Up to Be a Virtual Worker
Set up a dedicated space
I usually work from home just once a week, and usually not at all, so my workstation outside of the office isn't much of anything. I usually just plop down somewhere with my laptop. Facing a long period of virtual work, I knew I'd need a better setup. 
I carved out a spot on my kitchen island (my husband already claimed the office) and wired my laptop into a second monitor so that I would have my usual double screen. I also gathered all of my usual supplies—pens, paper, phone, charger, water bottle— and set them up on my desk. Duplicating my usual office set up as much as possible is already really helping my productivity.
Keep a schedule
Now that no one is commuting, it's tempting to sleep in as much as possible. But I've found that I feel better if I still get up at a reasonable time, get dressed (though I'm allowing myself to ditch the dress pants for now), prepare breakfast, and head to my workstation at my usual time. 
When working from home, it's also tempting to try to fit in as much housework or side projects as possible. As an easily distracted person, I know that's a problem for me. It works best for me to stick to a routine but allow for some flexibility. 
I start my workday at my usual time, but after an hour or two, I allow myself a little break to do something around the house. I'm keeping my usual lunchtime and signing off for the day at my typical hour.
Setting Up to Be a Homeschooler
Set up a dedicated space
Instead of letting my daughter roam around the house, I set up a play spot in our family room, nearby where I have my office set up so I can monitor her while I work. I have some activities set up on the coffee table and it's near the TV for when there are screen-time breaks.
Keep the activities mixed up
The day before our new routines began, I scoured the basement playroom for some toys and games that she hasn't played with in a while. I plan on introducing one or two new items per day to keep her occupied. Some of the items I have in my arsenal are matching games, legos, puzzles, play dough, paint kits, and coloring books.
Be strategic for when you use screen time
One of the hardest parts of tackling this is that while I'm in charge of a child, I'm also still managing all of my usual work tasks while she's here. One of my main work tasks is running conference calls about the projects I'm managing. That is one of my tasks that I really can't be interrupted for. 
So, I'm saving screen time for the moments where I really need her to be distracted. I'm deploying the other activities for times when it's OK if I'm distracted a bit—TV or iPad time isn't time for that. That's the key item for when I need 30-40 minutes of strict work time. 
Overall, with both of these new roles, I'm giving myself grace
I don't have any education or background in teaching or early childhood development. I know how to be a mom but being (temporarily) in charge of her education is completely uncharted territory for me. I'm giving myself grace with this. 
Though I don't just want to keep her in front of the TV for four weeks straight, I think it's OK if I haven't gone into full teacher mode. I don't really know how to do that, and I'm also trying to manage this around a full-time, reasonably demanding career. Though I wish she was immersed in her usual preschool curriculum, I'm allowing myself flexibility with mixing educational and non-educational activities during the day. 
When I need the peace and quiet, I've allowed her a Netflix binge. But I've tried to mix in practicing letters, reading books, and doing puzzles. We're all doing the best we can in a crazy time.
I'm also trying to find the fun in staying home
When the workday is over, we don't have our usual schedule of going to the gym, having playdates, or running errands. We are spending a completely unprecedented amount of time at home. I know this is hard for me—I'm not much of a homebody—but I'm trying to make it as fun as possible for the time being. 
Some evening activities we have planned for while we're at home:
Cooking a fun themed dinner (prepping some barbecue while Alexa plays blues music, or enjoying Italian with a candlelit dinner)

Ordering delivery from our favorite restaurants to show them our financial support

Sending snail mail

Heading out on a walk or a bike ride

FaceTiming grandparents and our other family and friends

Having a game night or a movie night

Reading chapter books out loud

Spending time on the driveway with chalk or bubbles
How have you prepared for staying home the next few weeks? Tell us in the comments!