Conversations around the American education system can be, in a word, contentious. Everyone, from parents to teachers to students, has an opinion on how we should be educating and training the next generation – which is why it was so refreshing to talk with Jasmin Russell who, as a mother, math specialist, and doctoral candidate, is all three.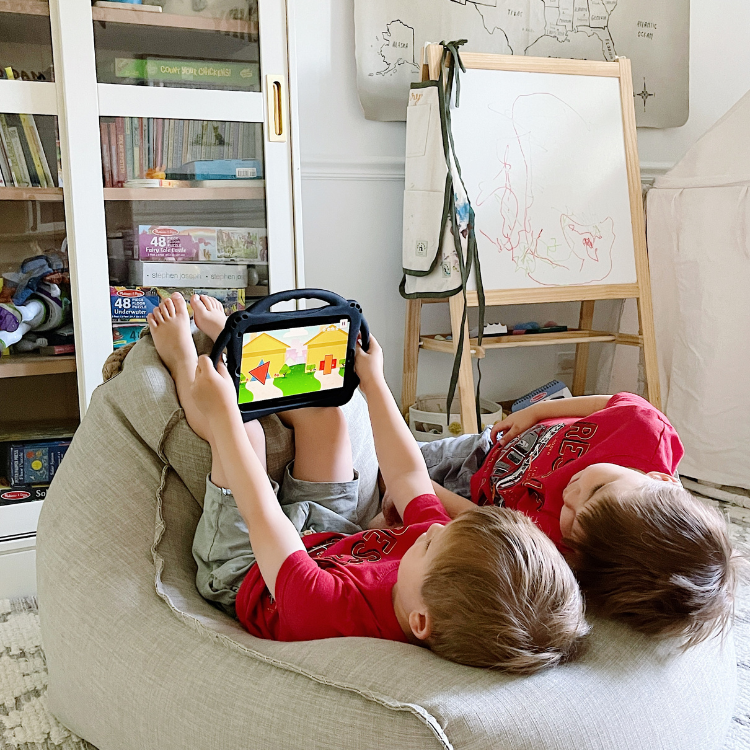 a pediatrician shares what she *really* thinks about LOs and screen time
Jasmin fiercely loves her students and education as a whole, seeing clearly her role in the classroom to go far beyond educator. We were truly inspired by her passion for molding well-rounded, deeply loved, confident, and smart people of tomorrow, both in the classroom and in her own home.
Read on for her philosophy of how parents can best support their child's learning, what her dreams for her son's education are, and how she's moving past the #momfails (because she's got 'em, just like the rest of us). 
Name: Jasmin Russell
Age: 29
Current Title/Company: Math Specialist, Fort Bend Independent School District Location: Katy, TX
Education: Bachelor's degree in Bilingual Education from Texas A&M University, Master's in Mathematics Curriculum and Instruction from Concordia University, and currently pursuing a doctorate in Educational Leadership from the University of Houston
Children: Cason, 1.5
Where and how did you start your career and how has it changed along the way?
I started my career as a dual language Pre-K teacher in a low-income school in the Houston Independent School District (ISD). I graduated college in December and was desperate to find a job that started in January. I took over for a retiring teacher so wrangling 4-year-olds was a whirlwind! I honestly don't remember much about that semester other than the sweet faces of those babies.
However – that quickly taught me that I was meant to teach older kids, so I switched to teaching fourth-grade math and science in Katy ISD. I grew up in Katy and loved getting to teach in the district that I grew up in. While teaching fourth grade, I got my master's degree. I taught fourth grade for three years and then went to another Katy school to teach fifth-grade math. That's where I really got a taste for math curriculum and was offered opportunities to write curriculum for the ESL program, train teachers over the summer, and mentor first-year teachers.
These tastes of leadership led me to get my principal's certification, although I swore I only ever wanted to work in the classroom. My experiences led me to instances where adults were my roadblocks to giving my students the best education possible. I experienced that enough times that I decided to advance my career so I could remedy those issues. This will be my first year in a position as a specialist where I work with teachers instead of being in a classroom and I can't wait to start!
These experiences also led me to want to pursue a doctorate so that I can eventually one day work in a central office, and I'll be certified to be a superintendent when I'm done. My goal was to have all of these certifications done by the time I was 30 so then I could start having kids and dedicate myself to my family and my career – instead, my son will be 2 when I graduate. You know what they say about best-laid plans!
What motivated you to get into education?
You know those people who have only ever had one passion, one dream? That was me. After I realized I was never going to be a swimsuit model, I focused my energy on being a teacher. As the oldest of three with two younger brothers, teaching always came naturally. By "teaching," I mean being bossy!
I love working with kids and seeing them grow. In high school, I worked at a daycare and then later spent time as a nanny. I tutored kids over the summer during college and I never got tired of seeing the light bulb go off as they mastered a challenging concept. How lucky am I to say that I have a career that has the potential to change lives like that?
What's the best part about what you do? What's the hardest?
The best part about what I do is the kids I work with, hands down. That's also the hardest part though, to be honest. I have worked in only low-income schools and the baggage that kids bring into the classroom is astounding. As a teacher, I'm also a parent, counselor, mentor, and friend. Kids are not one-dimensional. They are each so different and my job is to enrich the whole child, not just to teach them math. The best part of my day is when a kid finally reaches their goal and sees their full potential. The hardest part of my day is when I battle against something they experienced that's outside of my control, and I fight to help them see that they deserve the best and are worth more than they know.
What lessons have you learned about parenting through teaching?
All those professional development sessions I've attended centered on classroom management…those are gold! I've learned that I'll need to pick my battles. It drives me absolutely INSANE when Cason pushes all the buttons on our stereo system, muting the TV when I'm trying to watch some trashy reality show. But I use a positive redirection with a smile because I instead choose to pick the battle of "please don't climb on the coffee table!!" instead.
I've also learned that words matter and for each negative a kid hears, they need to hear five positives to undo that one negative. Likely the most important thing I've learned is that when I'm upset, as a teacher and a parent, I shouldn't speak. Instead, I need to take a second and revisit the issue when I have calmed down. Speaking out of anger escalates situations when the real goal is to neutralize. 
Kids are not one-dimensional. They are each so different and my job is to enrich the whole child, not just to teach them math.
What do you see as the best parts of our education system in America? What are the parts you wish you could change?
Oof. That's a huge question that I could talk about for hours. I don't even know where to start. There are so many great things about our education system. We have great resources available to us, dedicated leaders and passionate teachers entering the workforce. It's a great time to be a student with all the technology at our fingertips that leads to opportunities we wouldn't otherwise have.
However, there are many things I wish I could change – teacher pay, learning gaps, opportunity gaps, and the pressure of federal expectations and standardized assessments. Kids are growing up too fast these days, and school isn't making that any easier with the pressure we're putting on them to learn at a pace that is so much more rigorous than what we experienced. However, that being said, as long as educators (and lawmakers) remember our "why" – THE KIDS – then we're on the right track to giving kids the education they deserve.
How do you hope your child will experience school in today's society?
I hope Cason will be seen as a whole child and not just a test score. In Texas, the STAAR test reigns supreme and because it's how our schools are ranked, it's a necessary evil. However, I hope Cason's schooling involves so much more than that.  I want him to experience caring teachers who stay in his heart for years to come so he knows what it feels like to be motivated by someone who cares.
I also want him to experience teachers who he doesn't necessarily get along with so he learns that he has to be respectful when interacting with people who he disagrees with. I hope he has a group of friends that are solid but is also exposed to kids from diverse backgrounds with varying life experiences. I hope he avoids the trap of social media and cyber-bullying and that he stands up for those who need support. I want him to experience caring teachers who stay in his heart for years to come so he knows what it feels like to be motivated by someone who cares.
As you can see, I have a lot of hopes for his socio-emotional well being in school because if that aspect of his life is not taken care of, the academics won't matter. In terms of academics, I hope he learns to appreciate a productive struggle so that he can learn critical thinking skills and be able to work through something difficult rather than giving up because life (or calculus) is hard. Whew, that was a lot. Can you tell I have a passion for kids being well-rounded individuals?
I want him to experience caring teachers who stay in his heart for years to come so he knows what it feels like to be motivated by someone who cares.
What can parents do to ensure their child succeeds in the school system?
TRUST. THE. TEACHER. Unless they're terrible, then trust your gut. Parents need to ask how they can support the kids' education at home. Quality education happens when there is a partnership between the student, their parents, and the school. That means the kids have to take responsibility for their own education.
Parents need to stop rescuing their kids at every turn. They forget to do their homework? Let them get a zero. They forget to bring a permission slip? Sorry man, you don't get to jump in the bounce house. Teachers are there to help kids grow, not create diabolical plans to stop kids from having fun.
Parents, join the teacher's team to help create a responsible, intelligent, and contributing member to society! Sure, practice your multiplication facts at home and read for 30 minutes. That definitely helps. But the most important thing is that you need to support the teacher. If you don't, your kid can tell, and it's only going to harm their academic progress.
What do you wish parents knew about their children and the way they learn?
Every kid is different so please don't compare your child with your niece or your neighbor. There are countless learning styles, and teachers are responsible for teaching in a manner that addresses all of them. In addition, kids all learn at different paces – in an average fifth-grade classroom, you can have kids ranging from a kindergarten reading level to a seventh-grade reading level (speaking from personal experience here). Kids have always learned in various styles and education today is more flexible in addressing those than it was when we were in school.
Teaching practices have changed in the past several years, and it might be scary to you as a parent, but trust me, there is research on research on research. And no, articles on Facebook are not giving you all the information, so please don't talk to me about this "new math." It's better, just trust me. So while parents are uncomfortable with some changes in education today, they need to trust that teachers are the experts in this field. You wouldn't question a nuclear physicist, so please don't question a teacher unless you truly just want to learn more.
You are also working on getting your doctorate while working full-time. How do you keep your work life and home life organized?
I wish I knew the answer. I'm a very structured and schedule oriented person, so I have my routine and I stick to it. I set up my coffee to auto-brew every night before I go to bed. I do laundry every Saturday and grocery shopping every Wednesday now that ordering groceries is free online Tuesday-Friday. I am attached to my planner and have running to-do lists in my planner, on my phone, and on a notepad that I keep in my purse. My husband is a rockstar and takes Cason to the park or the store once a week so I can get a few hours of work in by myself without having to handle a tantrum or take a break for extra snuggles.
I learned that I signed up for three years of chaos while working my way through this doctorate. I now take everything one week at a time and had to learn how to prioritize. I can't do it all and that's okay. What I do get done isn't always going to be fabulous and that's also okay.
An assistant principal of mine told me a long time ago to make a cross on a piece of paper so that I created quadrants. At the top of the vertical line, she had me write "importance" and on the side of the horizontal line she had me write "timeliness." The to-do items that ended up in the quadrant that was both important and due soon were the things I needed to do first. The next section to get worked on were the not-so-important things that were due soon. Then I worked on the other two sections. This helped me learn how to prioritize my to-do list so I was being more efficient with my time. At the end of the day, I want to be present when I'm at home so being organized with my work and school life is crucial.
Tell us about transitioning to being a working mom. What surprised you? How do you make it work?
I had Cason in April and I had 31 days of vacation saved, so I returned to work after six beautiful weeks off with him. The timing was perfect because I only had to go back to work for the last two weeks of school. As I drove to school that first morning back, I got farther and farther away from my sweet baby who was at home with my mother-in-law.
I waited for the tears to come, I expected to be a bawling mess! But I didn't cry, not one solitary tear. I walked into school excited to have adult conversations with my friends and peers. I was ready to get back to my routine of teaching and working with my students who I hadn't seen in six weeks. I felt so alive and excited to be back at work that I don't think I checked in with my mother-in-law until around lunchtime. And you know what? That's okay!!!
I am a better mom because I work. When I get home, I am truly excited to see Cason and enjoy every second I spend with him. I get stir crazy when I go to toddler time at the library and I can only handle the splash pad so many days in a row over summer break. I love my son, but I also love my career and I was most surprised to not feel guilty about working.
More than anything else, Cason needs happy parents to love and support him. I am happiest when I'm working during the day and spending my evenings with my family. My marriage is best when we're both excited to see Cason after work rather than me shoving a baby in my husband's face saying "TAG you're it!" We are very fortunate to have family close by and my mother-in-law does the bulk of our childcare. My family pitches in once or twice a week when they can. 
When I get home, I distract him with toys so I can make a quick and easy dinner. Our newest goal is family dinners at the table instead of on the couch, it's a work in progress. After dinner, we play play play, and then everyone is in bed and asleep by 9:30 pm. Everyone says that the days are long but the years are short…I'm finding that to be so true.
How has motherhood impacted your professional life and career? What is your best advice for women managing career and motherhood?
Motherhood has forced me to relax, which, trust me, is saying a lot for me. Motherhood teaches you that even though you started getting ready an hour and a half earlier than usual, the baby is fed and happy, the dogs are taken care of, and you're ready to walk out the door looking glammed up, something will inevitably happen. You'll get spit up on, you'll forget the diaper bag, or the baby will have a meltdown because they want milk and you forgot to pick up more at the store the day before.
Plan with the best of intentions, by all means, but I had to learn that my Type-A planning wouldn't be able to save me from the unpredictability a baby brings. As scary as that sounds, I'm a more relaxed person than I was before. My husband is likely very grateful for that as I'm naturally SUPER tightly wound! This has leaked into my professional life as well.
My best advice for women managing both careers and kiddos is that you can only control so much. I have to admit that I lost a lot of myself when I went back to work for a full school year after having Cason. I was in a negative working environment, and I was bringing that home with me every day. I let myself fall so far into that hole that I wasn't enjoying the time I had with my family at home.
The best advice I can give to working moms is what Ryan told me one day when I was at home complaining about work. He said, "Jasmin, go to work and do the best you can every day for your kids. Then come home with a clean conscience knowing you worked your hardest for them and leave everything else at the door when you walk out of school."
Powerful, isn't it? It sounds so simple, but it's hard for me to be okay with the fact that I'm not kicking ass in every aspect of my life. But at the end of the day, I have a career I love and a family I couldn't have imagined. Why be negative when I can just be grateful? Only focus on what you can control, ladies, and leave the rest at the door. Your kids need you. 
Plan with the best of intentions, by all means, but I had to learn that my Type-A planning wouldn't be able to save me from the unpredictability a baby brings.
How do you make time for self-care in between all that you have going on? What do you do to unwind after a long day or week?
Self-care? What's that? Just kidding! I've been trying to focus more on this lately and the way self-care looks for me is just saying no. I'm by nature a people pleaser and that has made our past few years very busy between going out with friends, family obligations, and everything in between. Self-care for me means saying NO, I don't want to take my one-year-old to dinner, that sounds stressful and I know he won't enjoy it. NO, I don't want to come over for dinner after a full day of work, a staff meeting after school, and an hour in traffic on the way home.
Saying no to people is not a common occurrence for me but it has allowed me to have more quality time at home with my family instead of always having us on the go running from one place to another, and that time has been my saving grace. Cason is so active that it's nearly impossible to work on other things (dishes, work, dissertation, etc.) while he's around. A blessing in disguise, that forces me to be present with him and live in the moment. My kid is slowly but surely making me relax and be less of a control freak. A hard task, but he's determined.
Ryan and I usually spend Friday night watching a movie and playing with Cason at home or relaxing at a friend's house that's also kid-friendly. When you have a kid, you realize how helpful it is to have friends with kids, too, so you don't have to cart everything around.
I unwind by shutting my "work mode" off and letting someone else make decisions for me. I know everyone jokes about women saying "I don't care" and not meaning it but I really do. I don't care what we have for dinner, where we go or what we do. Just tell me what you've got planned for us and let me relax without being in charge.
How has your view of motherhood changed since becoming a mom?  
I don't know that my view of motherhood has really changed much. Having always worked with kids, I'm not surprised by how hard it is or how much work it is. Cason is an amazing kid. We've never had a problem with his behavior, health, or getting him to sleep through the night. Even with all our good fortune, it's still so incredibly hard to switch to living your life for a tiny human you love more than you can explain.
What I can say has changed is how many kids I want. We weren't expecting to get pregnant so quickly (rookie mistake) so looking back, Ryan and I probably could have waited another two or three years to have kids. That being said, I wouldn't trade Cason for anything! But my advice to others would be to live your lives and don't be in a rush to have kids because you see cute pictures on Facebook of maternity or newborn sessions. Those are highlights – having kids is HARD. WORK. I used to want three or four kids so we would have a big family, but at this point in time, Ryan and I are totally content having an only child and being a cozy family of three.
When it comes to being a mom: what are you most insecure about and what are you most confident about?
Whew, what a question. I'm confident that Cason will know he's loved. Ryan and I both have big families and that kid will never lack love and attention. I'm also confident that I married a man who will be a great role model for Cason and show him how to be a loving husband and father. I'm also confident that Ryan and I will set a positive example of what a partnership looks like.
Right now, I'm insecure about Cason being an only child. We can all think of an only child we know who is entitled and kind of obnoxious. I don't want Cason to be that kid but I'm also not comfortable having another baby just to avoid the potential only-child syndrome. I would say my insecurity, overall, is that I want him to be a good person. I hope that I'm making the right decisions as his mother to guide him so that he grows up to be an amazing, strong man.
What has been your favorite memory of motherhood so far?
I think I honestly have to say that I don't have a favorite. I was scrolling through pictures of Cason on my phone trying to think of a favorite memory and I don't have one. What I'll remember most is the feeling I have at the end of the day when I go to bed. What I'll remember most is the feeling I get when I lay my son down in his crib at night and I tell him, "I love you more than yesterday but less than tomorrow."
For those who know me, this is not like me at all. I'm not the emotional and gushing type of person. But my favorite memory when I look back in 20 years is going to be the feeling I had after spending a day with Cason where I know he experienced love and fun.
What do you most want to be remembered for?
I want to be remembered for my passion for kids. My life is centered, as both a mother and a teacher, around growing kids. I want to be remembered as the mom who was present and supportive, the teacher who cared and pushed her students and eventually, the leader who had a vision and improved a school.
Tell us about your morning routine.
It's a blur, but I'll give it a shot! My alarm goes off at 5:00 am and I get up around 5:30 after I force Ryan into some morning snuggles. Then I make myself look presentable, Ryan feeds our two dogs and makes our coffee (I set it up to brew the night before). We wake up Cason together most days around 6:30 am. We get him dressed and then we're out the door. I drop him off at my mother-in-law's house between 6:45 – 7:00 am and then I get to work around 7:30 am. It sounds so easy when I explain it but it sure does feel WAY more hectic than that!
Jasmin Russell is The Everymom…
Favorite family tradition? Family hug with the three of us every morning!
Your dream vacation?  Ryan + me + beach – cell phones.
Last home item you splurged on?  Wood tile floors… a LIFESAVER with dog hair and baby spills.
Guilty pleasure?  Cheap frozen pizzas and The Kardashians. I'm a real winner, huh?
Most embarrassing mom moment? When Cason had a diaper blowout at a neighborhood splash pad. Swim diapers are not meant to contain that level of destruction. 
Proudest career achievement? Being selected Teacher of the Year in 2017.
Best mom advice you've been given? Ignore all the advice you get – every kid is different so do what feels right for you.