Every mom knows there's no such thing as an investment piece of children's clothing. Not only do our little ones leap from size to size in the blink of an eye, but every one of them is also a tiny, albeit adorable, tornado. To whit, buy a toddler a beautiful dress today, and tomorrow stand by as it gets dragged through the mud — quite literally.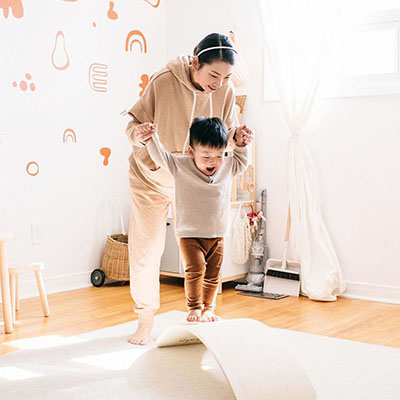 If your kid is turning 2, get ready for hilarious conversations, much more involved play, and lots of sweet, sloppy kid hugs and kisses. As for what you'll need? Leave that to us.
So when you want a child's outfit that feels too special to pull off a Target rack, where can you turn without breaking the bank? Read on for eight indie boutiques that boast a closetful of well-made and one-of-a-kind pieces. From frocks to pajamas, to sweaters to bonnets, and everything in between, these adorable finds promise to wow your wallet (in a good way).
Price range: $12 – $55
Simple, classic, and sumptuously soft, every item from Kate Quinn is at once luxe and timeless. Shop here for nightgowns, onesies, dresses, booties, bonnets, and the like, all sustainably crafted from eco-friendly fabrics like silky bamboo and organic cotton. Sure, one peek at the shop shows a range of steeper price points (up to $55), but stay tuned to the brand's social media channels for super frequent sales that mark clothing down by as much as 60 percent. Honestly, if you pay full price for a Kate Quinn piece, you aren't doing it right. 
Price range: $29 – $48
When you want play basics that are as gentle on the planet as they are on your bank account, turn to Art + Eden. Here, you'll find leggings, tunics, sweatshirts, and more that are sustainably made with organic cotton and low-impact dyes and shipped in recycled packaging. Appealing to both girls and boys alike, much of Art + Eden's offerings give off a minimalist vibe with enough color and pattern play to appease any emerging fashion-lover.  
Price range: $15 – $25
With humble beginnings at a kitchen table in Brooklyn, this children's clothing boutique now outfits hip kids in neighborhoods across the country. Mom-owned and kid-approved, June & January brings forth a collection of energetic, bright, and play-ready clothes for both girls and boys. It's both cost-effective and stylish, angling to become your destination for simple and soft basics in every color of the rainbow. 
Price range: $10 – $45
Previously Pink Elephant Organics, this online shop has recently expanded to dress the whole family. As the name implies, each item is sustainably made from buttery-soft organic cotton. In addition to selling classic basics, the company also releases limited-run, seasonal collections featuring whimsical patterns such as Peter Rabbit, winter wonderland, and more. Shop here for matching holiday pajamas, luxuriously soft newborn items, and play-ready dresses (with pockets!). We find that some items run small, so it's best to size up. 
Price range: $15 – $40
Let's be honest, there are times when a mom just wants to push aside practicality in favor of all things frivolous and fun. Major bonus points to a shop that invites us to do so in a responsible, budget-friendly fashion. Enter Moderne Child, an online shop that's brimming with party dresses, all priced at $40 and under. Point your browser in this direction when your shopping list calls for dreamy tulle, copious sequins, and a playful placement of feathers. 
Price range: $60 – $200
The clothing from Texas-based Little Goodall is the stuff of daydreams. Here, you'll find intricately hand-sewn bonnets in the shape of fanciful unicorns and lions, capes fashioned into butterfly wings, and dresses and rompers featuring soft linens and timeless florals. To discover that the woman at the company's helm is a mom, artist, and designer is no surprise — each item is a little piece of art in itself, crafted with a child's imagination in mind. What's even more magical about the shop is that everything you see is lovingly handmade in the company's Texas studio. 
Price range: $20 – $25
This mom-owned boutique brims with dresses, rompers, and tops for girls with a penchant for all things ruffles and lace. Each piece is made-to-order, so keep in mind that there is a built-in production time of three to four weeks when ordering. Surprisingly well-made for such budget-friendly items, these clothes don't cost a pretty penny for looking — well — pretty. 
Price range: $19.99 – $44.99
Mavis and Olive is a brand exclusively for girls, but you won't find any stiff and stuffy outfits here. Instead, expect a selection of bespoke dresses, skirts, and bell-bottoms that will have your little one prepped for play and adventure. As the mom behind the brand says, "If you can't climb a tree, jump on a trampoline, or kick a ball in it, it's out." All items are hand-sewn in California and require two weeks to make.