When my daughter was almost 2 years old, my husband and I decided we were moving our family from Chicago to Michigan. We were excited about the new adventure, but were also sad to leave our friends, family, and first home. We knew we'd see Chicago again, but saying goodbye to our beloved nanny—the first caregiver for our first baby—sent unexpected tears streaming down my cheeks. From the initial interview with our nanny, Kristen, we felt like our relationship just clicked. She'd been an important part of our brand new family and we didn't know when we would see her again.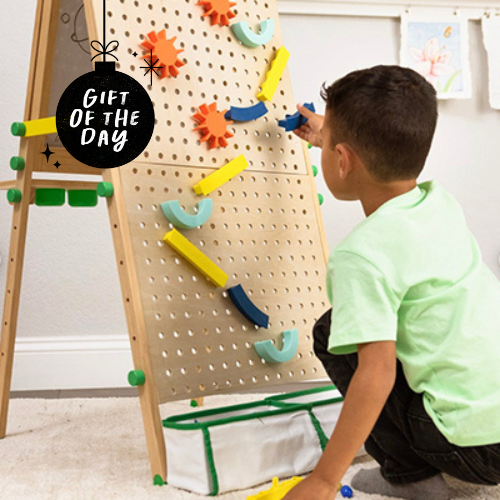 Art, fine motor skills, and fun all mixed into one great gift! Kids will learn engineering with the marble run but also get creative with the art easel mode.
Nannies can certainly feel like more than employees, since we entrust our most precious gifts to their care. Finding the perfect fit for your family takes a lot of time and effort, so once you find someone you trust, you want to keep your relationship strong. Like most good relationships, respect, honest communication, and shared expectations can help cultivate a positive dynamic.
We asked some career nannies their thoughts and looked for insights across caregiver resource hubs to pull together some things your nanny may want you to know—but doesn't always tell you.
Clear expectations help me do my job better
A written nanny agreement is essential for setting expectations and starting your relationship off right. If you don't know where to begin, free templates are available online to get you started. Beyond setting payment terms and a weekly schedule, you may want to  consider also including:
Housework requirements (tidy home at the end of each day, toys picked up, etc.)
Activity requests and limits (development activities, screen time, outdoor activities)
Feeding/diaper logs
Time tracking/expenses
Nanny cam disclosures
Sharing pictures with parents or on social media
Invite open communication so your nanny can give feedback, and make sure you're revisiting expectations as your child grows and as you recognize a need for changes.
Make it clear which parent is my "boss"
While many working parents are fully co-parenting and sharing responsibilities, your nanny needs to know who their primary point of contact is. "Parents can give different directions without realizing it, which can create unnecessary conflict," said Florence Ann Romano from Windy City Nanny.
Establishing a plan for communication with your nanny early on can help avoid confusion.
A clean house matters to me too
Nannies understand the reality of kids, and they too have witnessed a clean room become a disaster zone in less than five minutes (thank you, LEGOs). Your home is their workplace, so a quick tidying up before your nanny arrives can make a huge difference and helps set expectations for how you want the house to look when you come home.
Respect my boundaries
Nannies are let into the most intimate parts of our lives, so it can be tempting to let the lines of employer/employee and friend/confidant blur. Texting is such a quick and easy way to communicate, but imagine if your own boss was texting you all weekend. It might feel like you're on the clock all the time.
Think about setting texting and communication limits for days off to help keep yourself in check. If your nanny wants to reach out to you, great, but leave it up to them. Also, make sure that they know if you text them after hours, it doesn't require an immediate response.
I want to be part of the parenting team
Empower your nanny to make suggestions and plan their days with your child while you are at work. Exploring developmental playtime activities, local classes, meal planning, and snacks are all tasks your nanny can lead. Feel free to set parameters or offer guidance like "this is what I might do," but it helps to put your trust in them and then be available if they have questions.
When it comes to routines and discipline, Nanny Mag also recommends both parents and nannies maintain a united front to set the example, which helps foster a positive relationship between the nanny and his or her charges.
Communicate to me often
Communication is so important in any work environment. If you don't have time to communicate with your nanny each day, find a way to share thoughts at least once a week. Leave a journal for them to make notes, have a Friday afternoon touch-base, or ask for an email recap.
Julie, a nanny we spoke to in Chicago, has quarterly sit-down meetings with her family to talk about what they need from each other. They revisit their shared expectations and address any changes that have come up.
I appreciate it when you're direct
Julie also said most nannies prefer direct feedback from their families, so the nanny and family can work toward the same goal—versus hearing later on that something has been a problem.
Sometimes it's difficult to feel like you're giving good feedback without sounding confrontational, but you have to trust your gut when something doesn't feel right and find a way to address it.
CEO and author Kristen Hadeed shares an effective feedback tool in her leadership book, Permission to Screw Up. She calls it the "FBI method"—feeling + behavior + impact. You start with telling someone how you are feeling, then describe the person's behavior, and how their behavior affected you.
For example, saying something like, "When I checked the nanny cam today, I saw you left the baby sleeping in the swing for their nap," can sound confrontational. But starting with how the behavior made you feel could be more effective, "I was feeling anxious when I saw the baby sleeping in his swing today because we've really been working on getting him acclimated to his crib, and now I'm worried we might be up with him all night." Following up with how the nanny can help you reach a goal for your child— like sleeping in their crib—can also help create a shared purpose. Starting the conversation off with "I" statements versus "You" statements helps too.
A little praise goes a long way
When someone feels appreciated, they often do more than expected. Rather than a generic, "Thank you" or "You're amazing," more specific feedback that begins with how you are feeling can mean so much more, like, "I felt so relieved to see you had folded the laundry I left in the dryer, because it meant I had more time to play with the kids after work."
Remember: I love your kids too
Caregiving is a calling, which is probably why so many career nannies have backgrounds in early childhood education or were babysitters in the past. When you find the right nanny fit for your family, it is so comforting to know they truly care about your kids too.
This article was originally published in 2019 and has been updated for timeliness.