Finding someone to care for your baby can be a huge undertaking. Searching for, interviewing, and hiring a great nanny can take a lot of organization, time, and work—and many times, a stroke of luck. Though it's an overwhelming and emotional process, taking the time to find the right person is certainly worth it.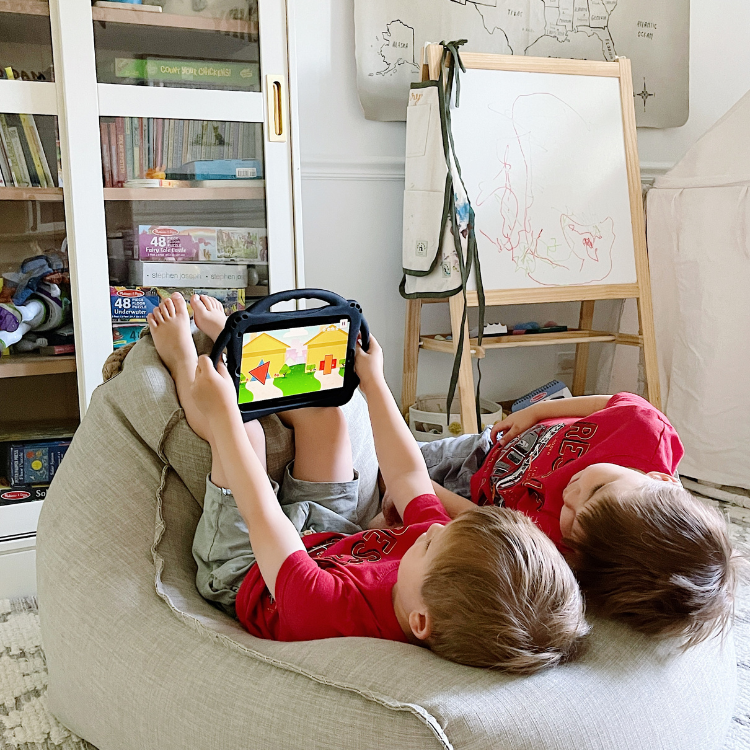 a pediatrician shares what she *really* thinks about LOs and screen time
Many, many parents hire nannies and babysitters who turn out to be an incredible influence on their children's lives and a true extension of their family. Knowing beforehand that your nanny and your family align on important fronts regarding the care of your kids can be a big step in helping this process along.
Of course, you'd love a nanny who is loving, firm, and able. But, how can you tell all of that after a couple of meetings and a few questions? Well, to give you a hand, we've gathered up some of the most important questions you can ask your potential nanny.
We created a handy printable guide to help direct your conversation. In addition to asking for references from previous employers and suggesting a trial run to start, these questions can help you gain some insight and get a good feel for your potential nanny or babysitter's demeanor and philosophies.
"What is your favorite memory with your last family/child?"
Not only is this question the perfect way to start, it gets the interview off on the right foot. The nanny you are interviewing will have a chance to talk about a family that undoubtedly meant a lot to them, and when you see how they light up, you'll be able to see the way they'll talk about your child in the future.
"If there was one skill/lesson you could teach our child, what would it be?"
This will give you a look at what is important to your nanny—whether it's a foreign language, an activity, or a personality characteristic is less important than what it means to them. Something important to them will likely become something important to your child, and that can be a wonderful thing.
"What is your favorite activity/place to go with the children you care for?"
Another good clue into what your nanny or babysitter prefers in terms of daily activities. Maybe they like hanging out in the yard, or maybe they go grocery shopping to learn new vocabulary, or maybe she/he enjoys meeting friends for playdates. In any regard, you'll get a view into what life with your nanny will be like for your kid.
"What do you think a baby my child's age needs most?"
Based on their answer, you'll get to see if your parenting philosophy aligns with their philosophy on childcare.
"How would you discipline a child my baby's age?"
Different families have very different ideas when it comes to age-appropriate discipline. This is one aspect where it's really important to be on the same page.
"Have you ever worked with a family that uses a parenting style you don't agree with? How did you or would you deal with it?"
Some nannies may be strict on certain things they do or do not agree with—just like some parents. If there are any non-negotiables on either side, it's best to be aware now.
"How would you make homework, mealtime, or bath time exciting or easier for a child who doesn't like it?"
This will give you good insight on your nanny's approach to the resistance or struggles that come up with your particular child. And, if they have good advice, you'll be grateful for the new approaches to try!
"What does being a nanny mean to you?"
Asking what it means for them to be a nanny and what they see their role as can be truly heartwarming and just what you need to hear as you grapple with the emotions of going back to work.
"Are you comfortable working while I am (or the other parent is) around?"
Many parents nowadays work from home, so it's important to discuss the guidelines that would accompany these situations. Do you want your nanny just in the background? Or do you want them to take charge? Be clear from the start.
"What long-term and short-term plans do you have?"
You might be looking for a short-term nanny, or you might want one who will stay with your family as your children grow. Of course, things can also come up, but this question will give you a grasp on what your nanny is planning, too.
"How do you really feel about doing [potential amount of] housework?"
If you want your nanny to cook or do laundry or light housework, make sure you ask what they're comfortable with and the times you'd want it taken care of (like during your baby's nap).
COVID-19 Questions to Ask a Potential Nanny or Babysitter
While we're still in the pandemic, you'll probably want to ask potential caregivers questions surrounding COVID-19. Are they vaccinated or do they plan to get vaccinated? Additionally, you'll want to align on COVID-safe activities for the kids, mask-wearing guidelines, and contingency plans if either your family or your caregiver become sick.
What Else Should I Know or Do?
It's also important to give your potential nanny or sitter an idea of who you are as a family and what they can expect from being a part of your household. For instance, if you maintain a strict diet (Kosher, Halal, vegan, etc.), follow certain religious or cultural practices, have a child or family member with special or medical needs, or have personal issues that might impact your children or family life, your nanny should know.
They might not be familiar or experienced with your specific practices, but all you need to ensure is that they are willing to learn about your family and will respect your wishes. After all, a family/nanny relationship is one that typically requires a lot of learning and growth on both sides.