When you live with kids, especially babies and toddlers, basically everything is a hazard. That's why we secure dressers to walls, put up baby gates, and add toddler-proof latches on cabinets, right? But even the most baby-proofed home is susceptible to holiday safety hazards. The most wonderful time of the year is filled with decor and items that don't usually grace our homes for most of the year, so it's important to take inventory of what could lead to potential danger.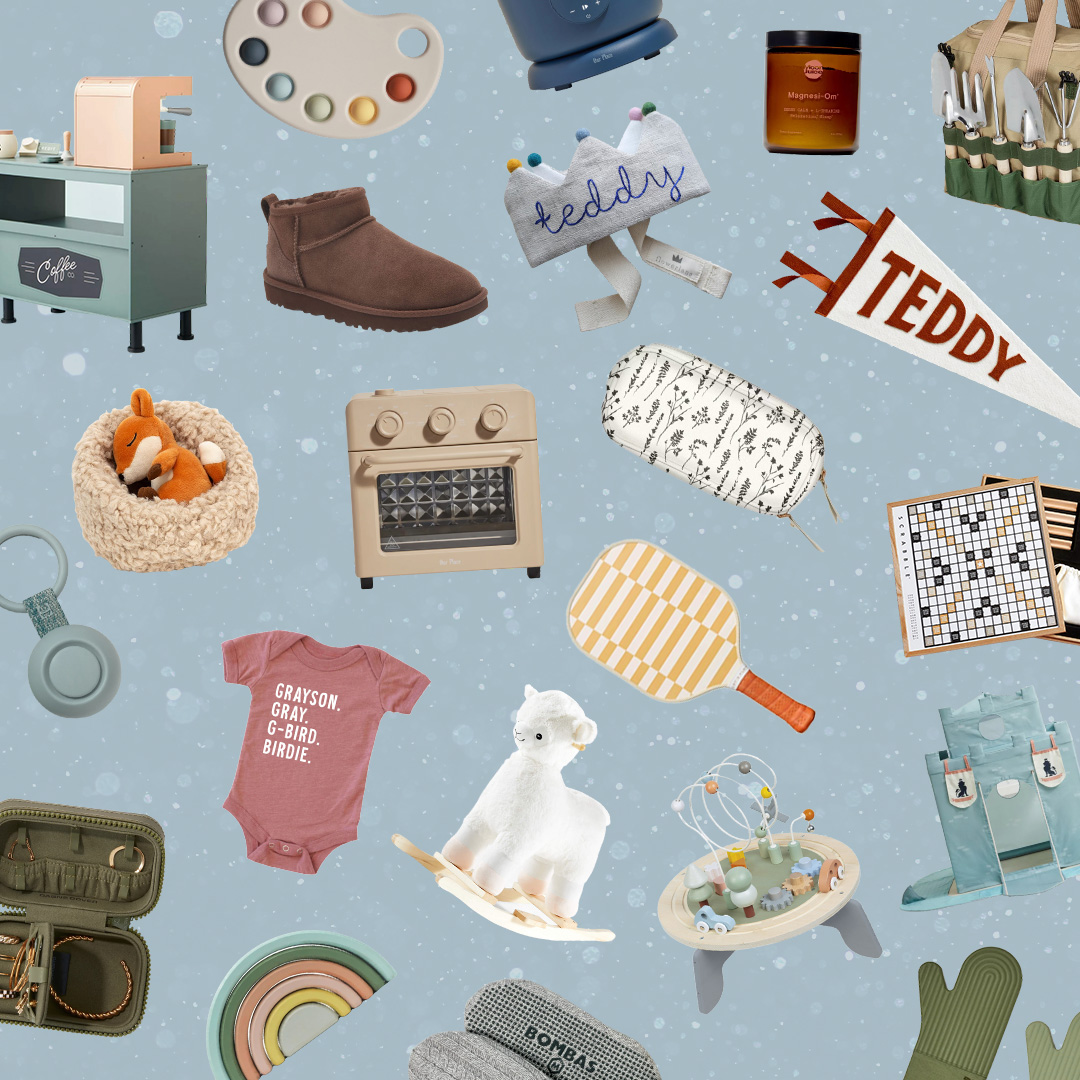 everything you need to ace holiday gifting this year 🎁
Below, we've started a list of common holiday safety hazards to avoid this year. Read on, and let us know on Instagram what you'd add to the list. Let's keep ourselves and our kids safe this holiday season.
1. Stockings on the Mantle
If you hang your stockings from the mantle with heavy or pointy stocking holders (à la Christmas trees, stars, snowflakes, etc.), you may want to find a different way to secure them this year. Little ones can get seriously injured by pulling on a stocking and getting hit in the head or eye with the stocking holder that comes crashing down too.
If you absolutely love your stocking holder decor, try this mom hack: put cup hooks directly beneath the stocking holders to hang the stockings from—it will still look like your stockings are hanging from the holders… just safely! Or try these lightweight mantle hooks from Target.
Target
Put inexpensive cup hooks directly beneath the stocking holders on your fireplace mantel to hang the stockings from—it will still look like your stockings are hanging from the holders… just safely!
Target
These lightweight mantle clips won't hurt little ones if they manage to pull a stocking down.
available in multiple finishes
2. Ornaments on the Tree
Don't worry, we're not going to tell you not to put ornaments on your tree. Just remember that small ornaments are choking hazards and glass or breakable ones are hazards for cuts. You can find plenty of beautiful, non-breakable ornaments for the parts of the tree where little hands can (and will) reach.
3. Tall or Heavy Decor
If kids are physically capable of touching something and knocking it over, they will. It's science. OK, it's not technically science, but it's true. Kids gravitate toward novelty, so if that super heavy Santa statue or reindeer statue can fall on them, think twice about setting it up this year. The same goes for any new furniture or accent pieces you may be bringing out for the holidays—bookcases, dressers, cabinets, armoires—it should all be secured to the wall, even if it's not in your child's room.
4. Battery-Operated Decor and Toys
I love the battery-operated mini LED string lights as much as the next girl, so I have to make sure my kids can't reach these or any other battery-powered decorations or toys. And that includes making sure they can't climb on another piece of furniture or use their footstool to them either. The button-shaped batteries are particularly risky because of their round shape (choking hazard), but any battery can cause burns in the esophagus within two hours after they're swallowed. Tape battery compartments closed that may pop open if they're dropped, and store your batteries in a safe place away from kids.
5. Decor with Faux Berries or Other Small Elements
Is your garland or wreath adorned with little, round faux berries or other small balls? Things like these can be choking hazards as a few of them tend to fall off here and there when you're getting out or packing up your decor. Consider opting for simpler decorative elements this year or watch for any little pieces that may pop off and roll away for small hands to find later.
6. Candles and Cozy Fires
Another thing I love around the holidays: winter-scented candles and a fire in our fireplace. Keep any and all fire sources far from kids and also from your tree and other decor like garland and wreaths. December and January are the peak months for home fires, so be sure to have your fireplace inspected before first use and make sure all of your smoke alarms are functioning.
7. Holiday Cooking
The kitchen is a busy place during the holidays. It is also the room where home fires are most likely to start. Be sure to keep a close eye on anything cooking, and set timers to keep from getting wrapped up in the moment and forgetting about something in the oven or on the stove. For the little ones, make sure all pot handles are turned inward on the stove so they can't be pulled down, consider kid-proofing your stove knobs, and clear all kids from the kitchen before opening ovens or transporting hot dishes from one surface to another.
8. New Toys and Clothes
We're all for new toys at the holidays, we just want to make sure those beautifully wrapped gifts are as safe on the inside as they look on the outside. Clothing, like shoes, often comes with silica gel packets (you know, those salt packet looking things), which should not be eaten and are choking hazards. Try to remove these before you wrap your gifts and keep an eye out as gifts are being opened by friends and family. Check new toys for loose parts, small pieces, and batteries to ensure none are within reach of little ones.
9. Plastic Packaging and Bags
As you and your kids enjoy opening presents (or as you're getting presents delivered to be wrapped), be sure to dispose of any plastic packaging or bags immediately so that your kids don't find them later. The holidays can get chaotic, especially while opening gifts and tossing wrapping paper and bows aside, so try to keep as close an eye as possible while your kids and others open their gifts.