While trying to design a room of your house, it's easy to spiral into an identity crisis. Am I more traditional or modern? Is my style more Boho or Scandinavian? How much color is too much color?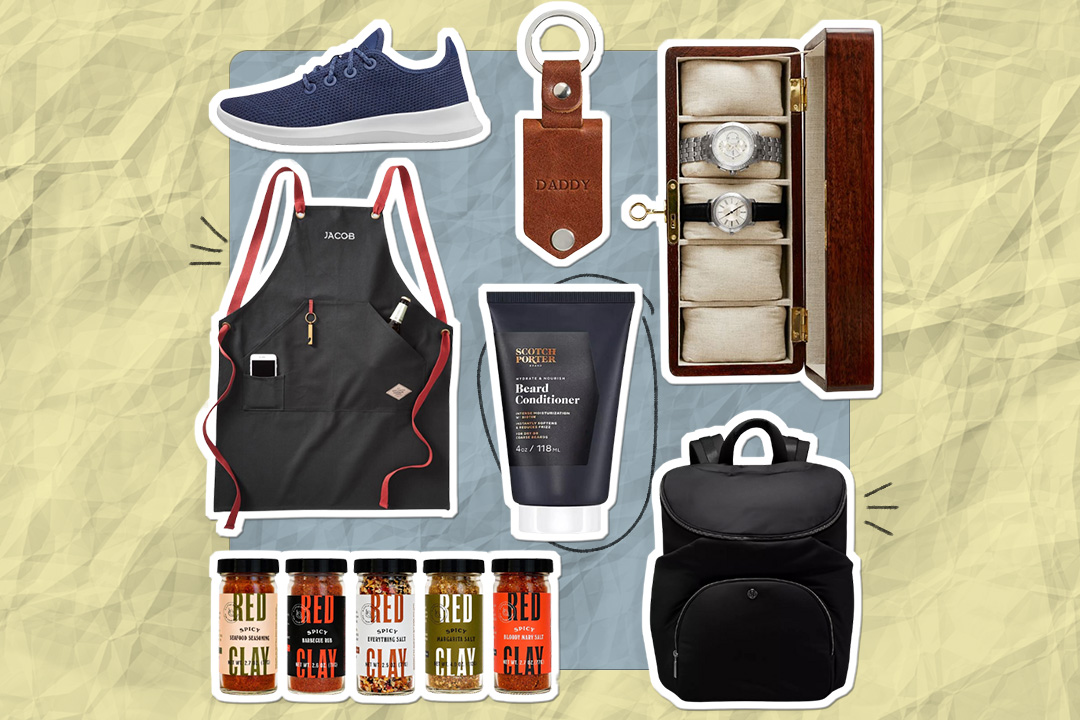 june 18 is coming up fast — have you started shopping yet? 😎
In a world filled with beautiful Pinterest images and dozens of saved Instagram pictures to use as design inspiration, it can be hard to narrow down what you actually want a room to look like versus what you just like looking at on the internet — scrolling through your feed and tapping "like" on a pretty picture and actually spending time in it every day are two very different things.
Whether you're an all-white-everything kind of girl or prefer your rooms to have bold pops of color, we've found a living room you can draw inspiration from. Your living room is about to become your favorite room in your house.
If you love natural light and all things neutral…
It's no secret that we love calling a bright, white space home — and this room proves that you can do so without it feeling sterile or boring. This room allows natural light to seep in to compliment the mostly-white furniture but still feels liveable with a patterned rug and color dispersed throughout with throw pillows and blankets. Add a couple of houseplants, and your dreams of a white, relaxing living room will come to life.
YOU'LL NEED
If you like to have fun with your accessories…
This room captures a fun, eclectic vibe with as few pieces as possible (which is perfect for a rental when you can't paint your walls!). Pair a statement light fixture with a vintage rug, then add as much greenery as you can without going overboard.
YOU'LL NEED
If you want to feel feminine and modern…
If you want to capture the "bright and airy" vibe but white walls aren't your thing, opt for this crisp, cool grey. We love how monochrome the room feels and how the chandelier ties it all together.
YOU'LL NEED
If you love to think out-of-the-box…
If deep-toned walls scare you, this is proof that they shouldn't. We love the incorporation of warm, tan furniture to make this living room feel earthy, while the white rug contrasts the walls to bring it all together. Incorporate a wooden coffee table and woven elements to make the dark walls feel more approachable, and you've got an Insta-worthy living room that you'll love living in.
YOU'LL NEED
If you're drawn to texture…
If you're drawn to Boho patterns and textures, pair white walls and curtains with a colorful rug and pillows of various textures (the more different from one another, the better). Pick up vintage, wooden side tables at a thrift store or vintage shop (these can be mixed and matched!) for an offbeat vibe.
YOU'LL NEED
If you feel your best in an earthy space…
To give your living room an earthy, relaxing feel, pick up a couch in a muted shade of green. We love this room's combinations of patterns — the rug, pouf, and wall art all have contrasting patterns that nix a traditional feel for one that's relaxed and playful.
YOU'LL NEED
If you love a gallery wall but struggle to commit…
While we love a good gallery wall, we're dying to try this room's take on it. Layer art and photos in frames on a shelf to serve as the focal point of the room, and choose a jewel tone as an accent wall. The best part? You can swap art and photos whenever your heart desires. Complete the room with a rug and throw pillows with geometric patterns in neutral tones.
YOU'LL NEED
If you're drawn to vintage pieces…
We love this room's eclectic, effortless, vintage vibe. To get the look on your own, take a trip to a local vintage shop or boutique, and keep an eye out for bold furniture that ties together through a rug that incorporates the same color scheme.
YOU'LL NEED
If you're a little traditional and a little modern…
This room takes a twist on traditionalist decor with a sapphire-colored couch to contrast against the bright, white walls. The natural artwork combined with the house plants makes it the perfect place to wind down.
YOU'LL NEED
If you're attracted to all-things artsy…
We're obsessed with the art-deco feel of this room, courtesy of the geometric patterns mixed with a pop of orange. Keep the majority of your room black and white, then add in a bright colored rug and coordinating pillows. Finish it off with a gallery wall filled with your favorite artwork.
YOU'LL NEED
If you need your space to be as cozy as it is chic…
For the neutral lovers — this room keeps a clean, bright feel while remaining inviting with warm, beige tones. Mix tans, grays, and shades of white to put together a living room that you'll love to sip your morning coffee in. Find a leather ottoman to tie the room together with a piece that's both trendy and functional.
YOU'LL NEED
This article originally appeared on The Everygirl on June 25, 2019.