If there is one store in this world that I believe is highly underrated, it's Old Navy. I have always loved it and shopped there, but it's sometimes overlooked as a place to find clothing that is both affordable and cute. And yes, it IS cute. If you don't believe me, just keep reading.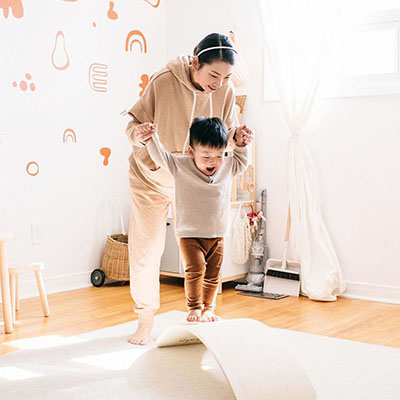 Shop Our Most-Used Items From Amazon for Toddlers!
If your kid is turning 2, get ready for hilarious conversations, much more involved play, and lots of sweet, sloppy kid hugs and kisses. As for what you'll need? Leave that to us.
This way to shop —>
I've been a huge fan for many years, but Old Navy has really stepped up its game over the past few months. Every time I go to the website, I am blown away by how much stuff I want to immediately put in my cart—especially when it comes to loungewear and activewear, which (let's be real) is all we're wearing these days.
Their clothing is perfect for busy moms who just need something easy and affordable to wear, but also don't mind looking cute while doing it. The best part? Almost everything is always on sale. To demonstrate just how cute the current selection is, I combed Old Navy's website for the best and comfiest outfits to wear right now.
Check out these six super cute and mom-approved loungewear looks:
1. The chic matching workout set
2. The perfect WFH look
3. The go-to at-home workout gear

4. The comfy mom uniform
5. The classic cozy loungewear look
6. The "I might venture outside the house" outfit