When you're stuck in a small apartment alone with a toddler who has a lot of opinions (translation: no other parent telling said toddler to put on the pants), the internet can be a truly life-giving wealth of information and camaraderie. And it's people like Maggie Winterfeldt Clark, blogger and former home editor for POPSUGAR, who make us exhale a sigh of relief that yes, someone else totally gets it.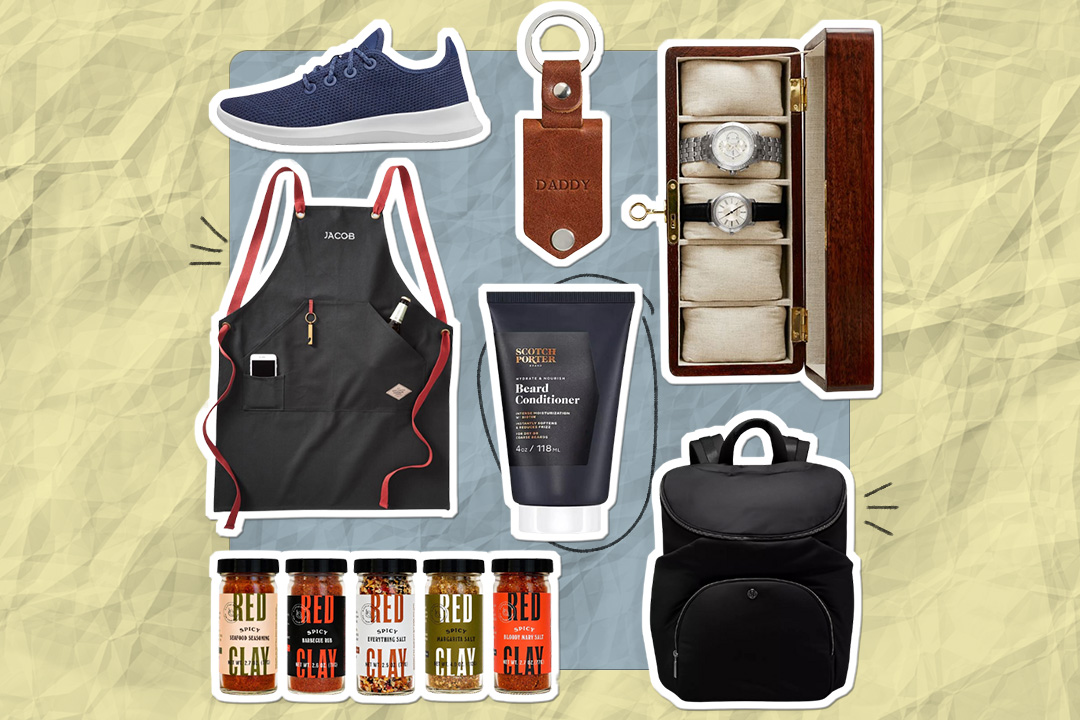 june 18 is coming up fast — have you started shopping yet? 😎
With two kids – a toddler and a four-month-old – and a San Francisco-sized apartment, space is of the essence. Maggie is sharing with us her safari-themed nursery-playroom that makes the most of an old dining room for both her sons. Read on for how she converts her mom moments into super relatable content, how she and her husband, Chris, are working together to raise their kids, and how living in San Francisco is the best place for her to raise her boys.
Name: Maggie Winterfeldt Clark
Age: 33
Current Title/Company: Blogger and former home editor, PopSugar
Location:  San Francisco, CA
Education: B.S., Vanderbilt, and M.M.C., University of South Carolina
Children: Dashiell (Dash), 3, and Beau, 4 months
You are the former Home Editor of POPSUGAR — how did you land such an impressive job?
Working at POPSUGAR was something I dreamed of doing since I moved to San Francisco. The Home Editor position was actually the third position I applied for a POPSUGAR! The first position, I was a little underqualified for, the second a little overqualified, and then (like Goldilocks) the third editor opening was just right – a perfect fit. I also made an effort to get to know people at the company so when the right position finally did open I had strong references lined up and a clear understanding of the company and its values.
What piece are you most proud of contributing to, at any point in your writing career?
One of my most memorable stories was for the SF Chronicle. It was a feature on a woman who trained regular women (teachers, SAHM's, college students, etc.) to be showgirls, culminating with them performing in San Francisco's Carnival Parade – I got to know the women and even stepped in for a few of the dance classes. It was very fun, and the women's' transformations (both physically and spiritually) were incredible.
What advice do you have for women looking to pursue writing full-time?
Write as much as you can! Many full-time jobs these days are in online media, where there are high output expectations; meaning, you need to be able to write fast and well. The more hours you spend interviewing people, thinking critically, and writing stories, the better you will get at it. Plus, freelancing or starting a blog to build your repertoire can often lead you to a full-time job.
How are you managing being a working mom? What tips do you have for other working mamas?
Trust your gut and don't feel guilty or ashamed of the work decision you make. When I returned to work after having my first child, I liked being back in the office, it helped me feel like myself and gave me a creative outlet – but I thought the "right" thing to do was to stay at home with my son. I actually felt guilty for not feeling guilty!
When my second child was born, I knew that going into the office was too much at that moment in time, which is why I just switched to freelancing on a less demanding schedule. Surprisingly, I had guilt about this too!
Being a working mom is a hard balance to strike. I'm figuring it out day by day, and I'm giving myself permission to experiment with different work options and let my work evolve as my kids do. As long as they are happy and I'm doing what I know is right in my gut, I rarely go astray.
We love that you combined your nursery and your playroom! What led you to that decision?
Living in a city apartment, space is at a premium. We don't have any extra rooms, but we had big bedrooms for the boys, so it made sense to use the space for both sleeping and playing. Plus, Beau's nursery has parlor doors that open one wall of his room directly into Dash's room. We love that we can open these doors to create one big play space for the two of them during the day and then close the doors at night so they each have their own private sleeping space.
What design elements were most important to you when designing this nursery?
Since this space had to serve my newborn as well as my toddler, it was important to me that there were features for both of them. My older son loves the kids-sized craft table and reading nook. My baby has his beautiful crib and plenty of floor space for playmats, bouncers, etc.
What led you to hire a designer as opposed to designing yourself? Describe the process of working with a designer.
I write about beautiful design for a living, and I had a clear idea of the overall aesthetic I wanted for the nursery – but I still needed the expertise only a pro designer can offer when it came to the floorplan and refining the look. And, with a full-time job, toddler, and new baby on the way, I simply didn't have the energy or time to do the legwork. It was such a relief to have a designer source all the furniture and decor pieces and really pull the room together for me.
What was your original vision for the nursery? Did any key elements change along the way?
My original vision was inspired by the jungle wallpaper. I knew I wanted a sophisticated, old-fashioned safari vibe. Jess really stayed true to my vision. She didn't change any of my key elements, but expanded upon them; for example, putting a tent over the reading nook made it cozy and magical in a way I never imagined.
This jungle wallpaper is gorgeous. How does that bold choice fit with how you decorate your whole home?
My home's design could best be classified as eclectic. I love to balance the beautiful bones of my old Victorian with bold choices, such as hanging jungle wallpaper in the nursery, laying down a hot pink Persian rug in the living room, and painting black and white rugby stripes on the kitchen floor. It's a fun mix of sophisticated and playful. My hope is that when you enter my home, more than just enjoying the design, it serves to make you feel welcome and at ease.
Any tips on designing a nursery that's both functional and aesthetically pleasing?
Think outside the box when shopping for nursery furniture essentials. There are plenty of ways to make adult furniture pieces work in a nursery, so don't limit yourself children's stores when decorating. One of the things I love most about Beau's nursery is that nearly all the major furniture pieces can work elsewhere in our home when Beau outgrows them, like the glossy white and brass campaign dresser or the elegant bookshelf holding crafts and toys.
Jessica, you're the interior designer who worked with Maggie through Decorist. Can you tell us what elements were most important when designing this nursery?
Jessica: My goal was to create a new spin on the classic jungle-themed nursery by creating a more mature look that would accommodate the needs of a newborn as well as play area for both baby Beau and his toddler-aged brother.We transformed Maggie's dining room into a chic multi-purpose nursery and play area for baby Beau's and his toddler-aged brother. The nursery opened up to the rest of the house, so it needed to be a child-friendly space that fit in with the rest of Maggie's decor.
San Francisco is famous for its smaller-scaled single family homes, so designers and clients are always looking for a way to maximize space (without compromising style!). Needless to say, multi-functional spaces are always the best way to make use of small space living.
Any tips on designing a nursery that's both functional and aesthetically pleasing?
Jessica: With a nursery, it's always function first, style second. If you determine what is needed in your space from the onset, you can then design around that functionality.
For example, Maggie wanted to have a reading spot with shelving to store all the baby books.
Of course, a classic bookshelf would have worked, but instead, we thought about an innovative way to combine storage and style. Our solution was hanging a safari-style tent from the ceiling and mounting acrylic bookshelves to the wall. Not only does this provide storage but it creates a really sweet reading nook with high style!
What's the one thing you couldn't live without in the nursery?
The changing pad is awesome. I love that since it's just a topper (instead of an actual changing table). We can pick it up and move it to whatever room we're in. When Beau was a newborn he slept in our bedroom, so we moved the changing pad in there. Now that he's older and sleeping in his crib, we've moved it back into his room.
What's your family's favorite way to use the play space?
I love to cuddle up with both boys (and sometimes my husband too!) in the reading nook. The fuzzy bean bags are super cozy and perfect for sitting in while reading a story.
You've been in San Francisco for six years now; what are some of your favorite things about raising your kiddos there? Any favorite local spots to bring Beau and Dash?
Favorite Spots: Just going to the park is pretty spectacular in San Francisco! Pushing the stroller uphill is a great workout, and once we get to the park we have gorgeous views of the Bay as we play!
Favorite Things: I love the social awareness and open-mindedness my kids have as a result of growing up in San Francisco. And I love that they're growing up in a place where they interact with people of every race, creed, religion, and sexuality on a daily basis.
Living in a city has its challenges, but there's nothing better than checking out an exhibit in a fine arts museum or a performance by the dazzling San Francisco Ballet, then jumping in an Uber and being back home five minutes later. Living in such close proximity makes the arts much more accessible.
How do you and your husband, Chris, divide parenting roles?
My husband is very hands-on with the kids, but his job keeps him out of the house more than mine. Since I'm with the kids more during the week, he'll help out by cooking dinner (he's a great cook!), or doing bedtime when he gets home. And he takes the lead on the weekends, doing swim or music class, which gives him more QT with the boys and me a little break. We're also very good at communicating about what work obligations or late nights we have coming up so that we can plan ahead.
Your family has a dog, a cavapoo, who you say was your first baby. How has that changed since kids came along?
Izzie predates both kids. She was our first baby. Her role in our house has definitely changed since having kids, and I would be lying if I said she got as much attention as she used to from me. Luckily, Izzie can go into the office with my husband and she gets LOTS of attention there!
How do you and Chris find time for just the two of you? What are your go-to date nights?
We have a date night every Thursday. Many weeks we're exhausted and feel like skipping it, but we make ourselves go out just the two of us anyways.
We've found that making time to connect out of house one-on-one is essential to keeping our relationship strong.
Sometimes we'll go to a fancy restaurant, but most of the time we do something more low key like a wine bar or the movies – something that's surprisingly hard to do once you have kids!
When it comes to motherhood — what are you most confident about, and what's something you're insecure about?
I'm confident in the amount of love I have for my kids, but insecure that I'm not present enough; between my job, iPhone, trying to catch up on housework, and the need to sit down and take a breather every once in a while, I worry I don't spend enough time pausing for a lengthy truck play session or round of tag.
Maggie Winterfeldt is the Everymom…
You can't leave the house without? A couple of coats! The San Francisco weather can change block by block, so layers are essential.
Best way to end the day? Glass of wine with my hubby.
Favorite family tradition? We bake a lot! We're a family with a sweet tooth. We love to make a and decorate sweet treats, especially when they're themed for a special occasion like sugar cookies for Christmas or cupcakes for a birthday.
Another thing we do a lot is travel to Charleston, South Carolina. We lived there before moving to San Francisco and it's still very close to our hearts, so we try to get back as much as we can. Charleston's sunny weather and relaxed pace is a great counterpoint to our busy lives in San Francisco.
Proudest career accomplishment? It was a thrill to see my byline in the San Francisco Chronicle for the first time, and I've had many thrilling moments at POPSUGAR, like flying to Waco, Texas, to interview Chip and Joanna Gaines. I'm always working towards my next big career goal, so I hope my proudest accomplishment is yet to come!
Your camera roll is full of… My kids! Too many pictures of them to count.