I was one of the many mothers moved to tears watching our first female Vice President address the nation as I snuggled on the couch with my own two daughters. It was a huge moment for our country, but making an impact doesn't always need to be done on a grand scale; a realization that helped propel mom Amy Renner-Hudson to run for Mayor of her small town in Ohio.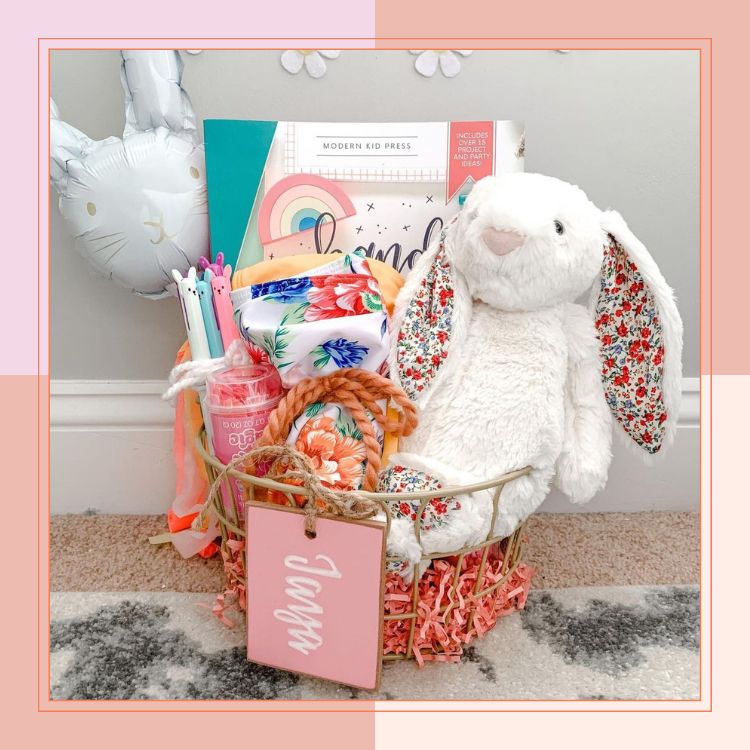 everything you need to get ready for the Easter Bunny's visit on April 9th! 🐰
Sometimes you read about someone and think, I'd like to be friends with them. Or even better, I'm really inspired by them. That's how I felt learning more about Amy. Her motivation for public service came from a desire we can all relate to: making the world a better place for her kids. She knew she could help people locally with professional experience and skills that aligned with the challenges and opportunities her town was facing. Read on to learn more about Amy's path to politics, how she manages her day-to-day (especially right now), and her surprising—and relatable—election night celebration.  
Name: Amy Renner-Hudson
Age: 33
Current Location: Chauncey, Ohio
Education: BBA (Bachelor of Business Administration) from Ohio University and MBA from Bowling Green State University
Kids: Astrid, 4, and Aksel, 1
Last year, you ran and won your local mayoral race. What inspired your passion for politics?
When I was first appointed to the Council due to a vacant seat three years ago, my motivation was entirely my daughter. She was just a baby at the time, and any parent knows you would do anything to give your child the best life they can possibly have. For me, that meant instead of complaining about the political landscape around me that I needed to get involved to understand it and change it to make it better for my kids to live in.
Instead of complaining about the political landscape around me that I needed to get involved to understand it and change it to make it better for my kids to live in.
Most of my career has been spent in public service, and I live in an area with a high poverty rate, so I became very familiar and sympathetic to the struggles that people are dealing with. Being in a position where I was reacting to those struggles was hard because it seemed like more could be done to be proactive which is where my mayoral aspirations came in. I believe it's our responsibility as humans to lift each other up in times of need, especially our most vulnerable populations, but I realized that that doesn't need to be done on a grand scale, so I focused my impact locally. It seemed like the perfect storm because I have the experience and skills that aligned well with the challenges and opportunities my community was facing.
How did your partner and family react when you told them you wanted to run? Did your kids understand it was happening?
None of this would have been possible without my husband's love and support because I really doubted whether I was making the right choice running for Mayor. He is my #1 fan. I think my family just thought "here she goes again" because I have a habit of reaching for things that seem unattainable and downright crazy, but they are very proud of me. My kids have no clue that I'm a Mayor or what that even means. In a way, it's nice because I can take the Mayor hat off and just be "Mom," but I also can't wait until they are old enough to understand and be proud of me.
What was it like campaigning, working full-time, and being a mom to your two kids?
Stressful! I won't sugar coat it because I want to wear it like a badge of honor that it was and continues to be very hard to find the right balance. My kids always come first, so I tried to just let the rest fall into place, but it can be difficult feeling like things might be slipping through the cracks.
I also stayed committed to never casting a negative light on the incumbent Mayor, so I think it made campaigning easier since I was still a Council Member. It's idealistic and likely not possible for higher public offices, but I really wanted to focus on me and what I could bring to the table and my vision for the future.
Tell us about your election day! How did it feel when you won?
I was very sick with pneumonia on Election Day, so I was sleeping when the results came in, and my husband ran into the room and woke me up shouting "You won! You're a Mayor! You did it!" I was so shocked. I truly did not believe I was going to win, so the results hit me like a brick wall.
To know that the majority of voters had faith in me to represent them was a huge honor. Looking back, we laugh about it since we had originally planned on a grand evening where we could celebrate a victory with friends and family, but in reality, it was a day filled with sleeping and Netflix. I feel I'm due another victory in my future, so I can have a proper celebration.
What does your typical day look like now? How has the pandemic affected your daily life?
I wake up early to start remote work for my full-time job while my kids are still sleeping. Then, we get the kids up, dressed, and fed, and I take my daughter to preschool. My son is with me during the day due to the pandemic, so I work and watch him simultaneously since my husband has to be physically present at his job.
I'll carve out time before lunch to get some fresh air with him whether that be throwing rocks in the nearby riverbank, a walk on the bike trail, or fun at a playground. Then, we have lunch and he takes a nap while I wrap up my workday and transition to mayoral work.
I hope my kids learn that when we lift each other up and live in love and positivity that we can improve the quality of life for everyone.
My husband and daughter get home, then I will cook dinner. Then, it's bath time, and I'll play one-on-one with my daughter until we wind down for reading books and bedtime. On 1-2 evenings a week, I'll be in a virtual council meeting, committee meeting, or board meeting. The pandemic has affected our day-to-day tremendously, but I'm lucky to have a job that can be done remotely. And I'm enjoying the extra time with my son. There have been many virtual meetings where he is sleeping in my arms or where my video and mic are off and I'm running around in the background making lunch. It's not perfect, but we just take each day at a time.
What do you hope your kids learn from seeing their mom as a community leader?
I hope my kids learn the value of building and maintaining a strong community. I hope they learn that any contribution big or small is valued and needed. And, most importantly, I hope they learn that when we lift each other up and live in love and positivity that we can improve the quality of life for everyone.
What was your biggest surprise when entering politics?
I'm the Mayor of a small village, so I was not expecting there to be much politics at my level, but it's been shocking to me how wrong I was. We are on the cusp of a huge economic opportunity, so I have a lot of behind-the-scenes politicking I need to do to advocate and try to position us in a way that is favorable for everyone. It's one of those things that people from the outside looking in don't perceive as happening, but it actually encompasses much of my mayoral time. I've gotten to talk to other Mayors, Senators, organizational leaders, and the Governor about our Village, so there are a lot of eyes on us right now, and the pressure is high to get it right.
What initiative are you most proud of so far?
This is tough for me because I've spent this year planting many metaphorical seeds, and since government is slow-moving, they haven't come to fruition yet. But I'm excited for 2021 because I think people will start to see all of my hard work. One of my platforms while campaigning was that I was going to work on getting the Village reinstated into the National Flood Insurance Program. It doesn't sound very cool from an outsider's perspective, but for the people that live here, it is a big deal. Not being in the program prevents us from any disaster relief or prevention funding and since we have prevalent floods here, it means my constituents have to pay high home insurance rates and banks are cautious to do any lending. We've made some headway this year on reinstatement, and we have a path laid out so it's now about staying on the course.
I did uncover $70,000 that was owed to us from a tax allocation which was exciting because I was able to leverage that money as a match for a street improvement grant. I also lead negotiation on a deal to acquire a highly visible, abandoned nuisance property at the heart of our Village that was recently awarded a grant to remediate and demolish. 2021 is going to be a great year!
If you had five minutes with the newly elected president, what would you say?
I would tell him to defy party lines and really listen to the challenges people are facing: cost of living is exceeding earned income, parents are struggling to pay for childcare and work full-time jobs, medical and prescription bills are bankrupting families, the education system needs more support, and that we need to take action now to save our environment. We are only as strong as our weakest link, and right now people need a leader who is going to advocate for them and their future.
What would you tell other women and moms who are thinking about running for office?
Be fearless and just do it. We need more women and moms in leadership roles advocating for women's rights and our children's future. And no office is too small: township trustee, council member, commissioner … they are just as impactful and can be a stepping stone to a higher office. Give a voice to the people who aren't able to be the change they want to see. Lastly, support other female leaders. I try to empower the incredible women around me, and I really appreciate it when others do the same for me because being in a field composed mostly of men can be lonely.
Mayor Amy Renner-Hudson Is The Everymom …
Go-to coffee order? I'm not a big coffee drinker, so I'll typically order a chai tea latte with skim.
Last book you read? A Gathering of Shadows by V.E. Schwab
Most recent mom "win"? My daughter recently saw a piece of trash on the ground and proclaimed "trash hurts the planet!" with a look of frustration. It was such a small, simple thing, but it made me proud that all of my ramblings about protecting the Earth were counting for something. (Side note: we safely got rid of the trash!)
Best career advice you've ever received? Lead by example.
Favorite memory of motherhood so far? When my son was born and I had both kids in my lap for the first time, all was right in the world. I felt at complete peace and totally invincible at what might come our way.
Favorite activity to do as a family? Hiking a new trail. We are fortunate to live in an incredibly beautiful part of the country in the Appalachian foothills, so there's a never-ending selection of trails for us to explore.
Go-to family recipe? Our family loves Cincinnati chili spaghetti! We don't have any restaurants locally that sell it, so we make it at home.