Kate Torgersen – and many other new moms who travel for work while breastfeeding –  found herself sitting in her hotel room, staring at the two gallons of breastmilk she has pumped while away and needed to somehow get home.  She had been through the frustrating questions at airport security before, knew the time crunch she'll be under trying to keep it cold, and came to the realization that nursing moms shouldn't have to put up with this anymore.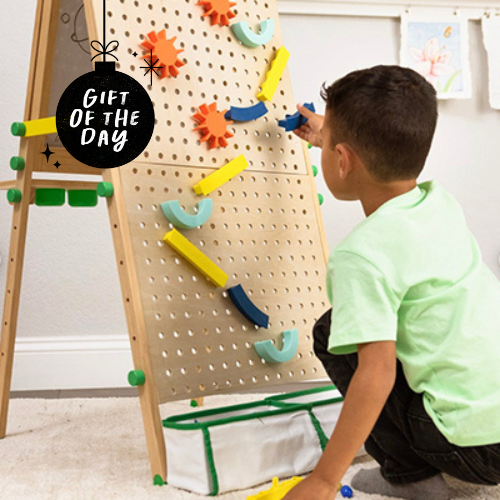 Art, fine motor skills, and fun all mixed into one great gift! Kids will learn engineering with the marble run but also get creative with the art easel mode.
Her solution? Milk Stork – a company that offers breast milk shipping to get your milk home to your baby, no matter where you are. Her simple service means no more spilled or spoiled milk, extra luggage, or weaning your baby before you feel ready.
We sat down with Kate to talk all things Milk Stork, outdoor adventuring (she used to be a firefighter and an archeologist. No, we're not kidding), and what her kids have taught her about loving herself and taking in the beauty of life.
Name: Kate Torgersen
Age: 45
Current Company/Title: Founder and CEO, Milk Stork
Education: Bachelor's from University of California, Berkeley; MFA from San Francisco Art Institute
Location: Lafayette, CA
Children: Jackson, 7, and Finn and Zoe, 4-year-old twins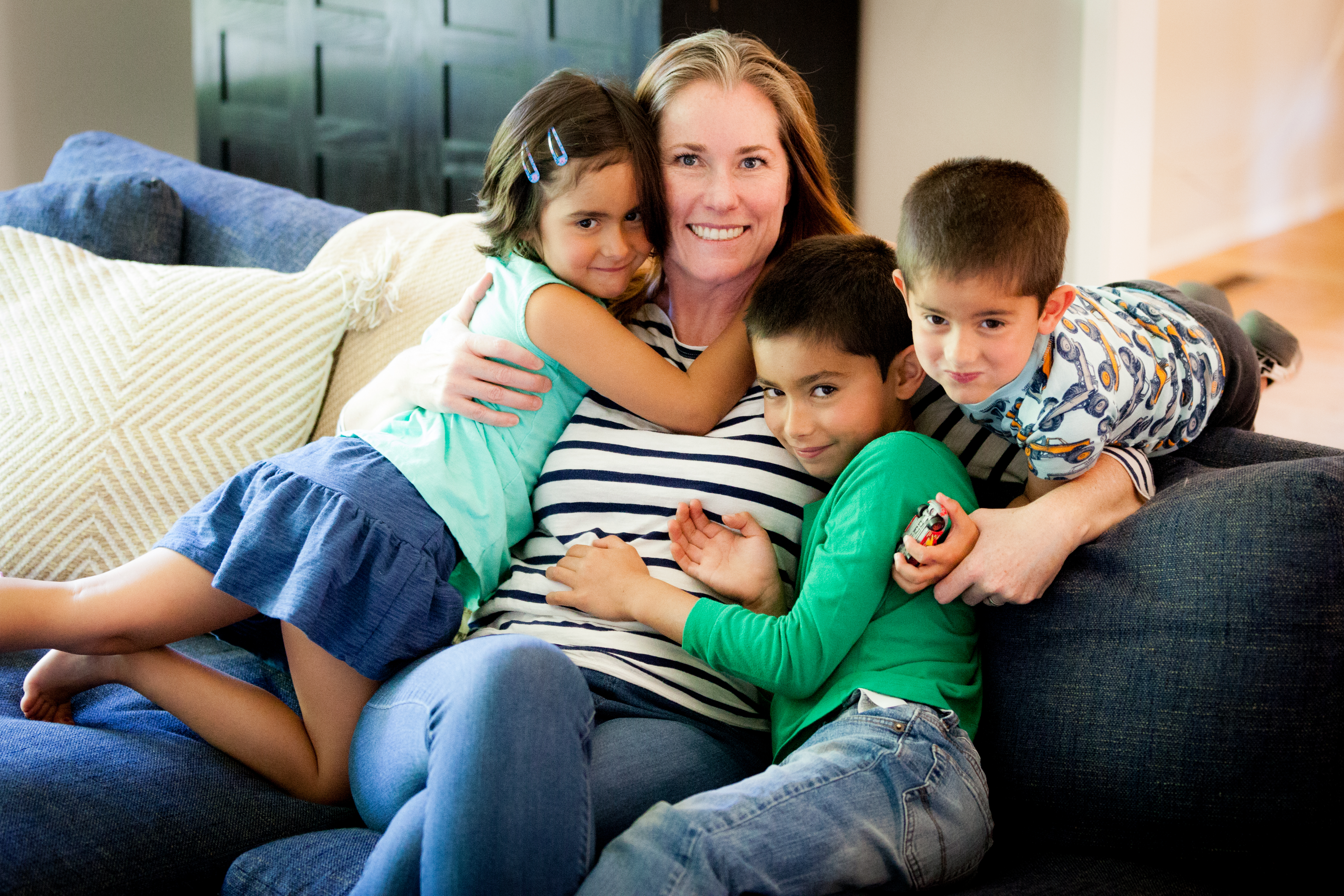 What was your first job and how did you land it?
My first, first job? I was a paper girl. I can't remember how I got the job, but I still remember the houses that wanted their paper "porched" which meant that I had to get off my bike with (two) ginormous bags of papers and walk up to the door to put a paper on their mat. I also remember that this was particularly difficult on Sundays when the papers were twice as heavy.
You previously worked at Clif Bar & Company as the senior executive communications manager — what was your experience there like?
I feel so lucky to have worked at Clif Bar – and to have spent 18 years there. As a company with five bottom lines – sustain its business, brands, people, community and the planet — I was given opportunities to not just grow my career, but also to nourish my purpose and my soul.
My time at Clif Bar – and my time with Gary Erickson and Kit Crawford the owners, specifically – inspired me to pursue my idea for Milk Stork. Gary taught me that if you have a great idea, you've got to chase it down relentlessly and embrace the adventure that it offers. Kit taught me that entrepreneurship is a "learning endeavor," not a "knowing endeavor."  
Success comes through asking questions, staying open-minded, and maintaining your moral compass even as you navigate uncharted territory.

What was your experience in the corporate world like during this time in your life? Can you tell us about what positive/negative influences you experienced?
As a working mom of three kids under the age of three, I was one of the lucky few to receive incredible support from my company, Clif Bar. For me, the family-friendly benefits at Clif Bar, such as a great maternity leave package, onsite childcare, and a fully outfitted lactation room, were a lifeline in the transition back from maternity leave. I really can't imagine what the experience would have been like to work for a company that didn't provide this type of support.
For me, the barriers that I experienced were not in the corporate world, but in the outside world. The reactions I would get from passersby for breastfeeding in public, or having to pump in a bathroom because there was no other place available to me, or having to ask the hotel restaurant to freeze my milk because I couldn't get a freezer in my hotel room, or enduring the airport security process with breast milk. There's a lot a societal friction for breastfeeding moms.
Where did the idea for Milk Stork come from? What pushed you to make the leap to entrepreneurship?
I started Milk Stork because I experienced the many pain-points involved with breastfeeding and business travel.
In 2013, with the birth of my twins, I became a working mom to three kids under the age of three. At the time, I was working as an executive communications manager — a job I loved at a company I adored, Clif Bar. However, with the twins, the transition back to work was tough physically, emotionally, and logistically.
I was committed to breastfeeding my twins, Finn and Zoë, for at least 12 months (as I had done for my first child, Jackson). However, the three of us had fought through many breastfeeding issues such as latching problems, a tongue tie, and weight gain issues, not to mention the challenges of tandem nursing and all of the relentless pumping I was doing to maintain their half-gallon-per-day demand.
So, when the twins were about eight months old and I was faced with a four-day business trip, I was stumped – I couldn't figure out how I was going to make breastfeeding and business traveling work. To take the trip, I would have to pump two "extra" gallons of breast milk to cover my absence (on top of the gallons they were already consuming). And, once I was on the trip, I was going to have to manage the two gallons of breast milk I would generate in a tiny hotel mini-fridge.
I ended up doing what most breastfeeding, traveling moms did at the time: to create two "extra" gallons of milk, I added incremental pumping sessions to my already busy schedule in the days leading up to the trip. I went from pumping every four hours to pumping every couple hours. Then, while I was gone, I continued to pump relentlessly around the clock to maintain my milk supply (to maintain my ability to lactate). Somehow, I managed to cram two gallons of breast milk into my tiny hotel mini-fridge.


On the last day of my trip, I packed a soft cooler with the milk along with four gallon-sized Ziplocs filled with ice (it was too much milk to cool with a couple of gel packs). I lugged my sloshing, dripping 25+ lb. carry-on of milk (along with my purse, breast pump bag, and suitcase) to the security line and then endured an embarrassing inspection process which required opening all of the milk containers–not to mention the process of explaining (i.e. justifying) to several security agents why I had "so much breast milk."

Once through security, I ran to the nearest bathroom to drain the excess water out of the ice bags and rushed to the nearest bar to replenish the bags with fresh ice.
I barely made my flight.
Once I was on the plane, I obsessively checked on my milk and the Ziplocs out of fear that my milk wasn't cold enough and that the bags might leak.

For me, that business trip was the straw that broke the camel's back. I came home angry —  angry that breastfeeding was so marginalized and angry that I had to overcome so many unnecessary, arbitrary, and frustrating barriers to get my milk home, on top of all the pumping that I had just done! I was determined to create a solution to this very specific and very annoying experience that so many women face.
Milk Stork is an amazing solution to a problem of working and traveling moms that are breastfeeding.
What skills from motherhood have helped you at Milk Stork? Vice versa?
I never expected motherhood to be my gateway to entrepreneurship, but now, looking back on the last seven years, it totally makes sense to me. With motherhood, I have found my deepest reserves of strength, grit, and physical and emotional endurance. And, of course, there's no training manual either — so I've had to learn on the fly, relying on my own smarts and intuition, as well as the wisdom of those who have tackled "momming" before me.
These skills and qualities that I have developed as a mom have served me well as an entrepreneur.  Both are relentless. With both, I have had to rise above the doubters and the critics, to keep my momentum and confidence. And, with both, the stakes are high and the nights are long, but the experiences are transcendent.
Take us through a typical workday. How do you balance being a mom with work?
Since it is summer right now, my day starts at 7:30 a.m. – the kids are our alarm clock. My husband and I tackle the morning chores together – breakfast for the kids and the cat, putting a load of laundry in and taking one out to fold (there is ALWAYS a load of laundry). Then I shower and get ready while the kids eat breakfast. When I am done, it's brushing teeth and hair for the kids, putting their sunscreen on, and then we are out the door and on our way to camp which starts at 9. Once school starts, the whole schedule moves up by an hour.
Then, work begins. Every morning I write down the three big things that I need to achieve that day. This list typically includes at least one high-level strategic goal and then one or two big but tactical things that are usually time sensitive. With the goals done, I tackle my inbox, so the first couple hours of my day tend to be more reactive work. Then, I shift gears and switch to proactive work, which usually includes my list. I am also careful to schedule calls and meetings to certain days so that I have uninterrupted time. For me, it is important that I "block" my time like this – otherwise, I find that the day flies by and I haven't really made any progress on anything.
I also schedule two or three hour-long workout sessions each week. For me, working out or going for a run is really the only "alone time" I have, and it is essential for managing stress.
At 5:30 p.m., it's time to pick up the kids and get dinner going. Then homework, baths, and bedtime. And, of course, the inevitable loading and unloading of laundry. Every day seems to start and end with laundry.
What's next for you and Milk Stork?
My mission is to help working moms maintain their commitment to breastfeeding. To do this, I am not only determined to make sure that every breastfeeding woman who travels for work has access to Milk Stork through her company – in the U.S. and beyond, but I also want to make sure that breastfeeding is normalized in our communities, and protected in the workplace.
How do your kids inspire you, either in your work for Milk Stork or otherwise?
Wow, I love this question! One of the things that I love most about being a mom is what my children have taught me. Each of them has inspired me in their own unique way and they continue to teach me new things every day.
Jackson, my seven-year-old, has taught me to maintain a sense of wonder. Jackson is endlessly curious about the world – for him, it's like a giant puzzle that needs to be solved. He wants to know how things work and why things are the way they are. He is fueled by curiosity. He isn't afraid to ask big, tough questions, and he will not accept pat or mediocre answers. Jackson not only challenges me to explore the things I don't know or don't understand but also to question the explanations that are offered.
If you were to meet my four-year-old son, Finn, you would immediately see the mischievous twinkle in his eyes. For him the world is a giant playground – every obstacle is something to be scaled, ridden over, run across, or slid down. He has taught me that there are no limitations, only opportunities and adventures.
And finally, Zoe, my four-year-old daughter, has given me words to live by. One day she came running into the kitchen wielding a plastic sword while wearing her Wonder Woman crown and her Steph Curry jersey. She announced to me: "Mama! I am fast, smart, strong and brave!" It was one of those breathtaking parental moments when you think: "Where did this amazing kid come from!?" Her words were so simple and exact but also powerful. And, her confidence in them was cellular.
What we thought might be a one-time declaration became her daily assertion, something she tells us (and anyone else who will listen) every day. She's not shy about it. She's not apologetic about it. She knows that her words are her truth. Zoë's words have helped me to rise to meet many great days and many tough days. "Fast. Smart. Strong. Brave." As a mom and as an entrepreneur, I can't think of better words to live by.
What tips do you have for women looking to pursue their own entrepreneurial careers?
I have three tips for aspiring female entrepreneurs, especially those who are moms:
Figure out what excites you the most about your idea and focus on that first. The reality is that you are going to have to invest a lot (if not most) of your free time in starting your business. To keep the momentum going, you need to focus on the stuff that you really like so that you look forward to investing your limited precious free time into your idea. You will still need to do the stuff you don't like — it is inevitable — but you don't want your dream to feel like a chore out of the gates.
Get from the ideation-phase into the making-phase as quickly as possible – you have to get your idea out of your head and into the world. Too many fantastic business ideas never see the light of day because they got trapped in someone's head. Once your idea is real, you'll be accountable to it and it will start taking on a life of its own. Creating a business is a lot like having a kid – you bring it to life but eventually, you find that it brings you to life.
Don't wait for the timing to be perfect, because it never will be. Do it now. If not you, who? And, if not now, when?
Travel and exploration are clearly important to your family — you worked as an archeologist in the Sierra Mountains! How do you continue to pursue that passion?
I love a good adventure! For me, adventures are all about learning and problem-solving in a new, unfamiliar environment. In the past, this might have meant exploring a new country or skiing new terrain, but today I have found the same joy and excitement in building Milk Stork from the ground up.
That said, my wanderlust is alive and well – and I crave time outside. This past year my son started Cub Scouts and I *love* all of the outdoor adventures we get to do together – it is possible that I love it even more than he does!
Have you started traveling with the kids? What have those experiences been like?
With three kids seven years old and under, we take a lot more road trips than we take plane trips. We have so much stuff (bikes, food, bags, etc.) that we rely on having the minivan in tow. We spend a lot of time in Tahoe – it is so family-friendly and a great place for the kids to run free and just be outside, whether they are playing in the lake in the summer or skiing in the winter.
Just recently we've started to take some bigger trips that involve getting on a plane. We've been pleasantly surprised! The kids are excited by the adventure of going to new places (and getting on a plane), and they are finally at an age where they can carry their own stuff!
You also worked as a firefighter (so amazing, and thank you for serving your community!) for wildlands. Why is protecting the environment important to you?
First and foremost, and perhaps most obviously, because our existence depends on it. But that's the logical answer. On an emotional level, I am pained by the magnitude of suffering that environmental degradation inflicts – on people, communities, animals, and ecosystems.  
What advice do you have for moms looking to teach their kiddos about the importance of protecting the environment?
One thing that we try to do with the kids is to follow the supply chain all the way back on products. For instance, Jackson came home from camp the other day with the revelation that rubber comes from trees. So, we identified tires as a product made from rubber and then tried to retrace the steps in a tires supply chain. Then, we talked about what happens to tires when we are done with them – what happens to them? Where do they go? We've also recently done the same thing with paper towels, cars, and hamburgers.
Since Jackson, in particular, is really interested in how things work, this is a fun exercise for him – like solving a mystery. Through this process, I think he's come to appreciate that every product in our house, or on a shelf, or on TV, is the end result of a resource and energy-intensive process that impacts the planet. He now appreciates that products don't magically appear when we need them, nor do they magically disappear when we are done with them.  
What's the best piece of advice about being a mom you've ever received?
Okay, first the best practical advice: My best friend, Anne, insisted that I take the nasal aspirator from the hospital after the birth of my first child, Jackson. Jackson was born in November right before flu season. He entered child care in February. Needless to say that hospital-grade boogie sucker was worth its weight in gold and saved us during our first flu season and beyond.
And then the best existential advice: After the birth of the twins, I got some sage advice from another mom in one of my twin groups. She told me "Hey! You know what? They're going to be okay". I can't remember what crisis-of-the-day had me in its grip — food, breastfeeding, sleep — but that mom gave me the hard reset that I needed and gave me permission to exhale.
With our first, Jackson, we aspired to do everything just right, and, of course, it was much easier with just one. But, with the twins (and a total of three kids under the age of three and two working parents), we were in a parenting tailspin. All of our parenting "beliefs" were tested and it was impossible to get everything right, and that felt a lot like failure. Compromises were made and corners were cut. But our kisses, hugs, laughter, playtime, and "I love yous" were abundant.
Her words reminded me, that parenting is not a zero-sum game, (many) mistakes will be made, but there is a margin of error – and it is all going to be okay. Doing your best and expressing your love for your kids… that is the basis for good parenting. Everything else is bells and whistles. Today, when things get crazy, I reset myself to aim for love, not perfection.
When it comes to motherhood, what are you most confident in? What are you still insecure about?
My kids know that I love them. Every day I look into their eyes and tell them how much I love them and I hug them. I make sure that they know that I am proud of them, and I am specific about it. I may fail on every other front, but I know that they know they are loved deeply.
I am not insecure about it, perhaps just a little bit apologetic… I really do not like cooking. We don't have very many family traditions around preparing meals or spending time in the kitchen. I worry that when my kids grow up their cooking repertoire will be limited to quesadillas, mac n' cheese, and scrambled eggs.
If you had to pick a favorite memory from motherhood, what would it be?
One of my favorite memories (other than their births!) was the day after the twins were born. I was still in the hospital and the twins were asleep in the bassinets next to me and my oldest, Jackson, was visiting the hospital for the first time to see them. I had had a c-section so I couldn't hug him, but he was quietly holding my hand.
It had been a long journey for my husband and me to get to that moment. All of our children had been conceived through IVF which was an emotional rollercoaster.  
Though I was completely exhausted, I felt this amazing sensation of bliss and gratitude. We were so lucky to have these three amazing kids in our life. My heart was full and I felt so much peace to be in that room with my family.
Kate Torgersen is the Everymom…
Favorite toddler snack? If you ask me, it's bananas. If you ask them, it's Pirate's Booty.
Next vacation destination? Hawaii! I can't wait to take the kids snorkeling.
Go-to pick-me-up? A long run.
My camera roll is full of… Pics of my kids, of course!
Most embarrassing mom moment? When Finn was being potty trained, we had a lot of close calls and near misses. If we knew we weren't going to make it to a potty, we would sometimes let him use a "tree potty" (meaning peeing on a tree). This worked great on the weekends in our rural, suburban neighborhood – lots of trees, not a lot of potties. But, it didn't work so well Monday through Friday at preschool. One day when I was picking up the twins, their teacher pulled me aside and told me that Finn had pulled down his pants and peed on the wooden play structure. When she said "Finn! What are you doing?!" He announced to her that he was using the "tree potty." Whoops!