When asked what he would like for Christmas, my husband's go-to response is "nothing." I would even go as far as to say he actually does not like receiving gifts. He's not a fan of clutter or having excessive "things." In his mind, the perfect holiday is one that includes the family together around a cozy meal–probably why Thanksgiving is his favorite occasion. And while I usually love his distaste for holiday commercialism, I do also love him and enjoy buying a couple of practical and thoughtful—yet still minimalist—gifts for him as a means of celebrating the season.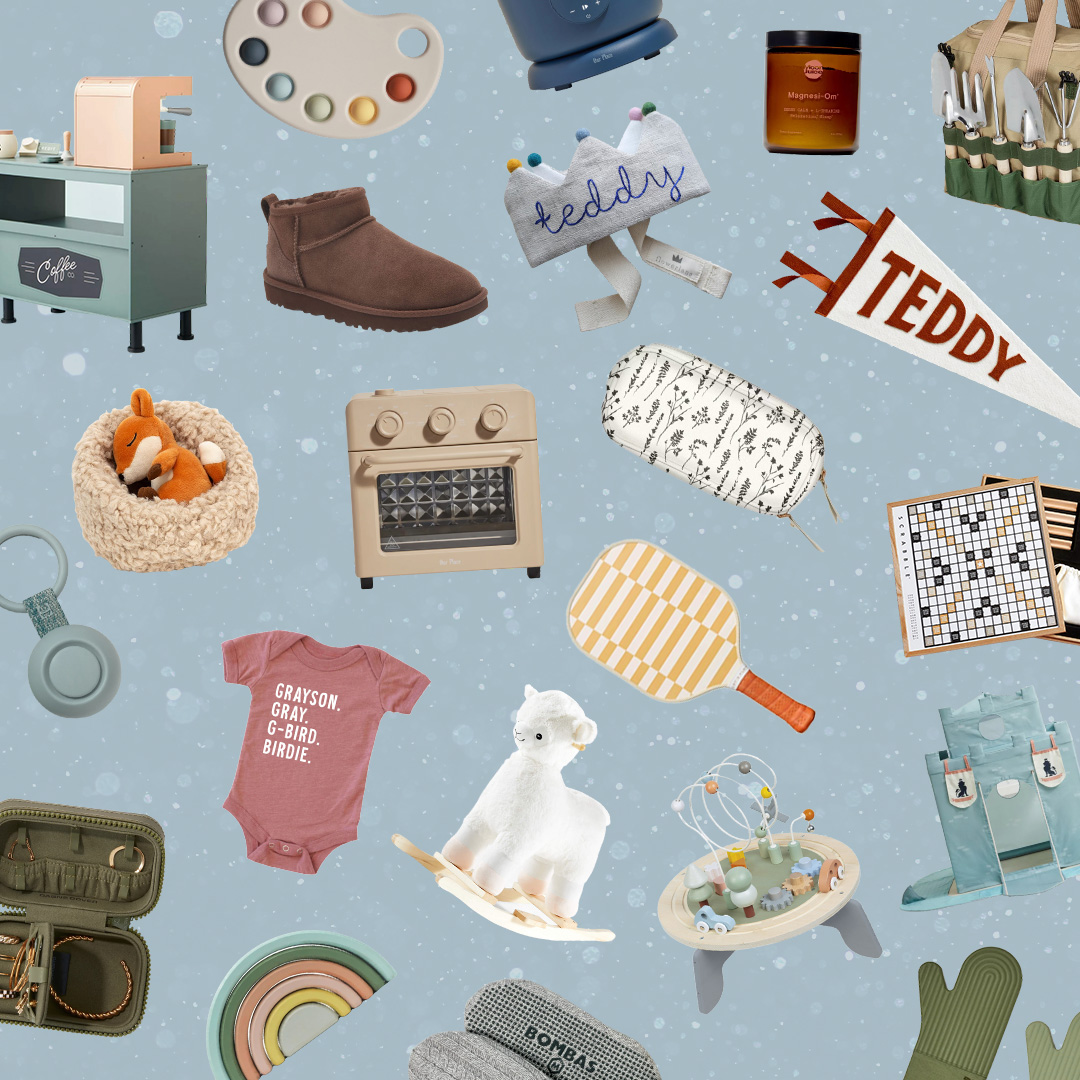 everything you need to ace holiday gifting this year 🎁
Despite the fact that my husband would probably rather receive a lump of coal than another shirt he won't wear or an appliance that will sit in the cupboard unused, I do—once in a while—strike gift-giving gold and buy him a gift he truly adores. It helps that we've been together for over 10 years—I know him well—but I also like to think that my thoughtfulness when it comes to gift-giving has also come into play. While it doesn't happen often, when I do land on the perfect gift, it feels like nirvana. Truly, I feel unstoppable.
If this gift-giving scenario is striking a chord with you as you frantically search the internet looking for gifts the men in your life will actually enjoy, here are a few minimalist gifts for him—from someone whose husband loved them on receipt and continuously after.
1. Ember Coffee Mug
The first time I tried an Ember coffee mug, I instantly fell in love. I adored how it kept my cup of joe at optimal drinking temperature for an extended period of time, forever solving the cold coffee conundrum that parenthood had thrust upon me. After my first hot cup of coffee in over a year, I knew immediately that this mug would also make the absolute perfect gift for my husband (and, honestly, everyone I know). Upon receipt, I knew my husband had some reservations. He'd heard me rave about my mug, but I knew deep down he was holding onto some skepticism. All it took was one mugful, though, and he was hooked. As a dad to one young child at the time, it had been a while since he'd had a hot cup of coffee himself. Stylish, easy to clean, practical—we're Ember fans for life.
2. Aer Duffel Pack Bag
I recently gifted this bag to my husband and it is now one of his favorite possessions. He commutes to the office every day and enjoys working out in his office's fitness center during his lunch break. Prior to owning this duffel, he was lugging numerous bags to work every day. This bag has streamlined his daily haul, accommodating his laptop, work essentials, and gym gear all at once. Aside from keeping work essentials neatly separated from gym gear (who wants the bottom of their gym sneakers rubbing up on their laptop?) the backpack's design is also slim. Truly, you'd never know just how many items it's holding inside its streamlined design.
3. UNTUCKit Wrinkle-Resistant Shirts
My husband isn't exactly a fashion fanatic. To him, clothing is an essential part of life and not necessarily something to indulge in. So, when I buy him clothes, I try to buy him things he really needs versus items he'll view as "not necessary." We recently discovered UNTUCKit shirts and they have brought both positivity to my husband's outlook on clothing and professionalism to his wardrobe. They're designed to look good untucked (win), dryer-friendly (double win), and wrinkle-resistant (it couldn't possibly get any better). He absolutely loves these shirts and wears them to the office every day. I will definitely be picking up a shirt or two for my husband this Christmas.
4. Weber Gourmet BBQ System Pizza Stone with Carry Rack
During the COVID years, my husband and I (along with the rest of the world), were looking for ways to elevate our everyday lives at home. While everyone else was making sourdough, my husband became invested in making pizza. While I purchased this pizza stone with our (ie: his) grill in mind, my husband has used it in our oven countless times. And although pizza isn't my favorite food (you'd never know my grandparents were Italian), I sincerely look forward to when my husband bakes up a pizza pie on this stone. The crust comes out unbelievably crisp on the outside and chewy on the inside, which really elevates the entire dish. The accompanying carrying rack is especially useful should you or your gift recipient plan on using the stone on the grill—making transport from outdoors to table a cinch.
5. Yeti Can Insulator
Not all great gifts have to be groundbreaking. If you have a beverage fan in your life, then something as simple as this Yeti Can Insulator can be a homerun. My husband absolutely adores his, to the point that he used it every single day this summer. It's easier to slip onto your beverage than a traditional koozie (not to mention it looks way less tacky) and can keep your drink cold for hours.
6. Fair Harbor The One Short
Despite the fact that we live in cold Central New York, it's not uncommon for my husband to reach for shorts year-round. Because we have two young kids, we keep our home's heat dialed in, making it somewhat toasty indoors, even in the dead of winter. For Father's Day this year, I gifted my husband two pairs of these shorts and I can honestly say I've never seen him so excited about an article of clothing before. The shorts are extremely lightweight, making them exceptionally comfortable. And yet, despite their comfy status, they boast a put-together aesthetic. My husband wears them so much I've debated donating all of the other shorts sitting unused in his closet.
7. Meidase S950 Cellular Trail Camera
I won't lie to you: I was pretty proud of this gift idea. Living in a more remote area, my husband and I are constantly finding different animal tracks in the snow during the wintertime. More than once, I heard him speculate as to what species of animals were leaving the tracks. I decided to help him answer that question by gifting him this trail cam. This device rings in at a reasonable price point and comes with a number of fun, useful features—from cellular transfer to no-glow night vision. It's a perfect gift for those who have little need for material possessions and love the great outdoors.
8. Bird Buddy Smart Bird Feeder
This might be specific to my husband, but he actually loves bird watching. While I haven't actually gifted this item to my husband yet (and I'm hopeful he doesn't read this article), I currently have this smart bird feeder on my to-buy list for this coming Christmas. Similar to the trail cam I gave him a couple of years ago, I know he'll love watching the birds that come to the feeder (a pastime I've seen him enjoy many times before) and will also be really entertained by the images it captures.
9. AOBEN Garage Hooks
I actually can't take the credit for this one—my mother bought these garage hooks for my husband last Christmas and it's the small, random gift that has kept on giving. My husband was so thrilled to hang them in our garage, using them to organize his many tools and cords. One year later and the hooks are holding strong (literally). If you're looking for a men's stocking stuffer, I can't recommend these hooks enough.
10. Kiel James Patrick McCallister Apparel
One of my husband's favorite Christmas movies is "Home Alone." When I saw that Kiel James Patrick offered a replica Kevin McCallister knit hat, I knew I had to grab one. In truth, it was so great I ended up gifting it to him early and buying matching pieces for everyone in our family. The sweater and socks boasting the same design also managed to make their way under the tree.
11. Platterful Charcuterie Kit
My husband and I recently received a Platterful charcuterie kit and it ended up being a fun and enjoyable gift for him and I both. We're far from the fanciest people you've ever met, but we can surely appreciate a solid snack assortment, arranged in an artful way. Following the kit's instructions, we really enjoyed assembling the board together and it even led to an impromptu lunch date in. We enjoyed grazing the board while our kids were napping, trying different jam-cheese-cracker combos and pretending we were dining out and not, in fact, sitting at our kitchen counter with two baby monitors in reach. With both one-time and subscription purchase options, these kits are truly the perfect gift for the snacking fanatics in your life.
12. Cedar Shoe Trees
My husband really is a minimalist, especially when it comes to clothing and shoes. Compared to my probably 50 pairs of shoes (I'd like to say that's an exaggeration but can't), he has approximately five or six total. Because he likes to maintain a minimal wardrobe, he's adamant about maintaining the longevity of his pieces. Last Christmas, I gifted him these cedar shoe trees and he has used them every day to help protect his leather work shoes from moisture and odor. If you're truly stumped on what to give the minimalist male in your life, this is a practical gift that they'll never see coming but will surely use more than any other item they receive this holiday season.