Picture this—you crawl into bed after a long day, and your little one has been asleep for a few hours. You're suddenly woken up by screaming and crying from the next room over. You're frustrated because you know they've woken up with another leaking diaper. You walk into the nursery, pick your little one up, and just as you thought, their sleeper is soaked, and they are not happy about it.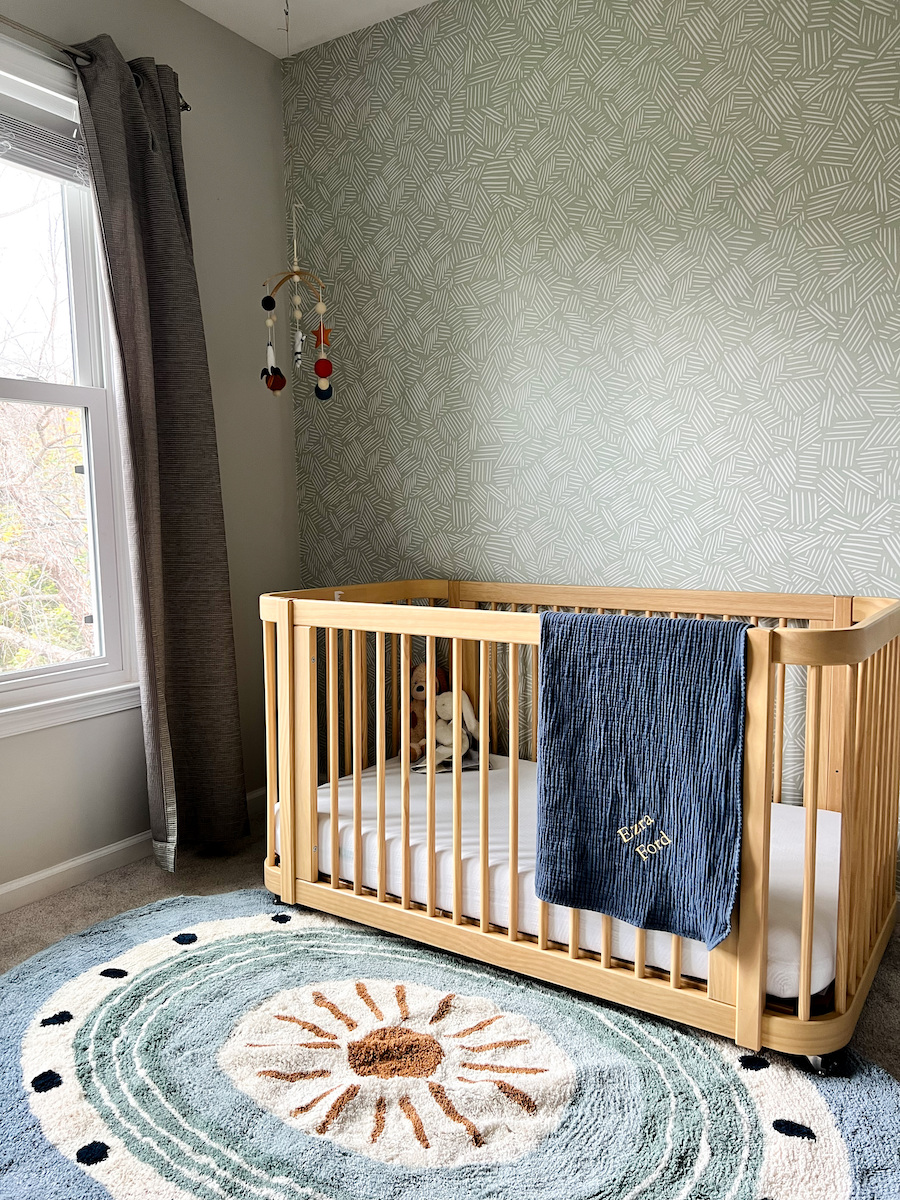 editor-favorite crib brand Nestig just released gorgeous new wallpapers that will easily transform any space 😍
For the last 2-3 months, this was my life. When our son was around 14 months old, he started waking up frequently throughout the night with soaked sleepers from a leaky diaper. Being frustrated wasn't going to get us anywhere. We needed a solution fast because no one can be their best selves when they're sleep-deprived. We tried giving him less milk, limiting his liquids earlier in the evening, and giving him oatmeal instead of milk. We tried bigger diapers, nighttime diapers, popular name brand diapers, and store brand diapers.
None of this helped—until we found Rascal + Friends premium diapers. Rascal + Friends is a diaper company from New Zealand that just recently arrived in the U.S. and is now available exclusively at Walmart. And let me tell you, I'm glad they're here because they work. From the first night we tried these on our son, our leaky diaper days became a thing of the past. 
From the first night we tried these on our son, our leaky diaper days became a thing of the past.
Keeping our son's skin dry was important to us, as it would be to any parent, but one reason it was so crucial is because of his eczema. Any parent who has a child with eczema knows that a warm, wet environment can cause an eczema breakout (or diaper rash!). That's what's truly so great about Rascal + Friends diapers—they are so absorbent. Now our son stays dry all night, even having milk before bed, which means an eczema breakout and wet clothes are no longer a problem. For parents who are constantly dealing with eczema breakouts or diaper rashes (isn't that all of us?), these diapers are a must. 
We were thrilled that we found such an affordable solution to our leak problems because we were running out of options. Other comparable diapers that we tried were costing us way more for fewer diapers and we were still dealing with overnight leaks or eczema breakouts. When it comes to helping our little ones, parents will pay almost anything, but finding a solution that is also easy on our wallet is definitely an added bonus.
If the end to leaky diapers isn't enough, here are a few other reasons why every parent needs to try Rascal + Friends diapers:
1. Highback waistband
Blowouts are inevitable, and unfortunately, they happen at the most inconvenient times. Before we know it, the mess has leaked through the diaper, onto our kids' pants, and sometimes even up their back. In the past, my son has had quite a few blowouts that have leaked through the back and the sides of other diapers. Not only are these situations so messy, but it's also tough to get those stains out of his clothes.
The highback waistband on Rascal + Friends diapers has been a lifesaver for those blowout moments. The waistband is high and sits close to the body which helps contain those leaky blowouts. Recently, our son woke up in the morning with a poopy diaper, and I was (pleasantly) shocked to see that it hadn't leaked out overnight.
2. Comfortable fit
I can tell my son is uncomfortable in other diapers because he's always pulling and tugging on the diaper and wanting it off as soon as I put it on. Once he starts tugging and pulling at it, he loosens the tabs and pulls the diaper all out of shape. Since switching to Rascal + Friends, I haven't had that problem. I can tell Rascal + Friends diapers fit him just right—and that's important for comfort and preventing leaks.
3. Made with clean ingredients
Since our son has eczema, it's important to me to use high quality and clean ingredients in his products. Having any kind of fragrances, perfumes, lotions, or latex ingredients in any soaps, wipes, creams, detergents, or other products can irritate my son's skin and inflame his eczema.
Thankfully, these diapers are free of all those things. Trying new products can be nerve-wracking when dealing with a kid with sensitive skin because you are always nervous that their skin will break out. I've been using these diapers for almost a month now, and he hasn't had any breakouts from the materials. Using a diaper that is made with only clean ingredients and water-based inks makes me feel like I'm making a great choice for my son and his sensitive skin.
4. Cruelty-free and vegan
Recently, I've made the switch to many cruelty-free household products, from makeup and body wash to laundry detergents and all-purpose cleaners. Choosing products that don't test on or harm animals during production is important to me and something I keep in the front of my mind when trying something new.
Now, I can add Rascal + Friends diapers to that list because they are also cruelty-free. Choosing cruelty-free brands is a personal choice, and this time, it was an easy one because they are so affordable—something you can't always say about cruelty-free products in general.
5. Affordability
From wipes, lotions, soaps, and more, the toiletries we need to buy just for our kids can really add up. When I was trying anything and everything to stop my son's overnight leaks, we were shoveling out a lot of money on buying all kinds of diapers. Some packs can cost as much as $47 for 132 diapers!
For all the premium design features and the high-quality ingredients included in Rascal + Friends diapers, I am so pleased with how affordable they are. To be able to buy quality diapers for my son for as low as $7.97 is amazing and really makes a difference in our budget. To also find a solution to overnight wakings due to a leaky diaper makes me so grateful that I found Rascal + Friends.
As a mom, choosing the right diaper for your child can seem overwhelming because there are so many things to consider. I've finally found the one that checks all my boxes for cost, absorbency, design, and clean ingredients. Of course, sleeping through the night again is an added bonus!
This post was in partnership with Rascal + Friends but all of the opinions within are those of The Everymom editorial board.