For so many people, 2020 was an incredibly tough year financially. I feel fortunate that while this year was challenging, my family is incredibly lucky: we have our health, and we had an emergency savings account we could lean on. I'm a CPA and a Certified Financial Educator, so my husband and I have always prided ourselves on being very proactive with saving and planning for the future. Even so, last year caught us off guard, and my goals for this year reflect that.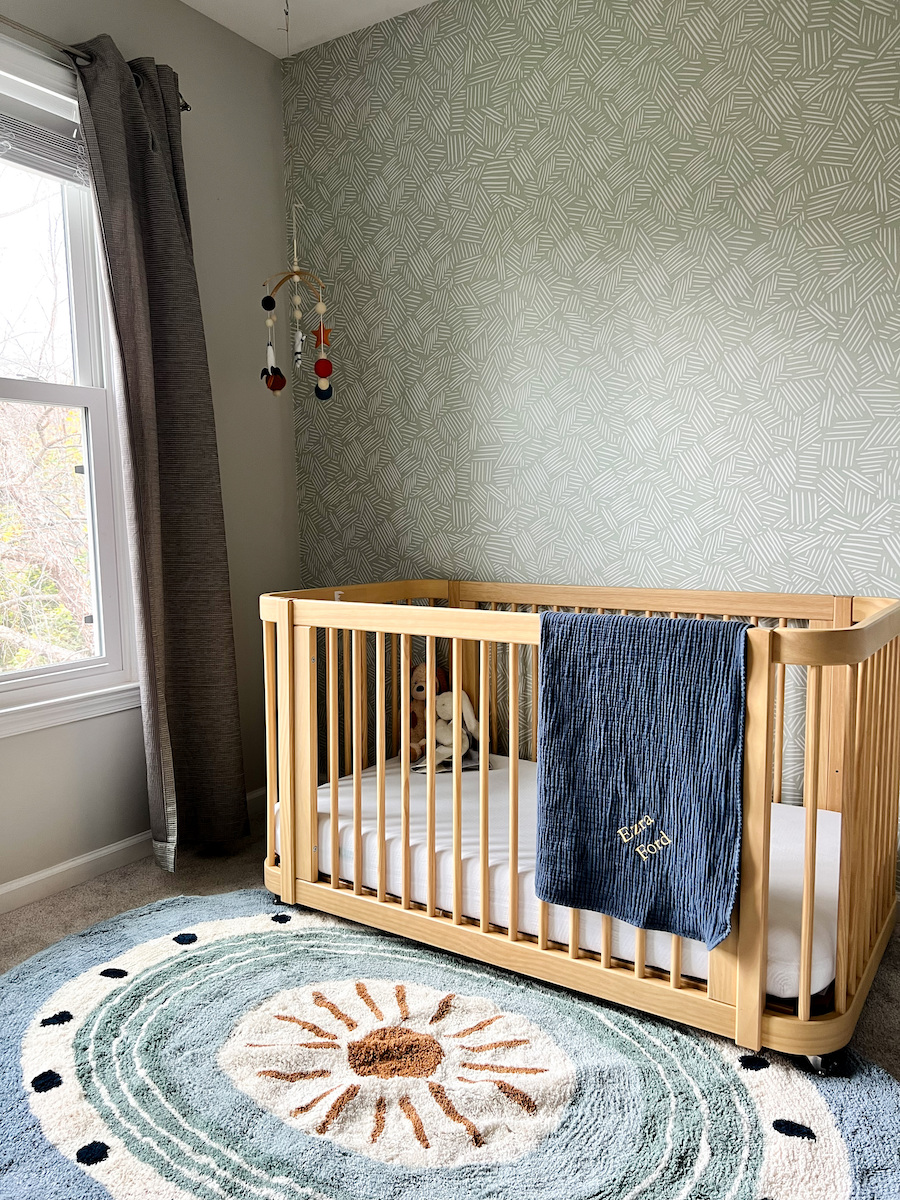 editor-favorite crib brand Nestig just released gorgeous new wallpapers that will easily transform any space 😍
Like most people, a global pandemic seriously altered our plans. At the end of 2019, my husband took a leave of absence from work to spend time with family and we moved from London to Hawaii with our toddler. We broke ground on extensive home renovations, and I leaned into being the sole earner for what I expected would be a short period of time. 
A few months later, the pandemic hit, and my husband's leave of absence was made permanent. We tapped into more of our savings than we expected to finish our renovations and keep afloat as my workload slowed. Life—and money—didn't go as planned. 
We didn't automatically find ourselves in a different situation when January 1, 2021 came around. We're still struggling with minimal childcare, and my husband and I decided to start a new business together after he was laid off. But we're setting some gentle financial goals as we work towards a better 2021. 
Review Spending Monthly
This is ideally something we all should always do. But ever since we moved in fall 2019, it's something that we let slip. We always had excuses: an overwhelming credit card bill from moving, ridiculous expenses from home renovations, eating out excessively while going two months without a kitchen. 
It felt like there was no point to track our money or even try to set a budget when we were in such an irregular situation. But if we had been reviewing our spending regularly, we probably could've caught some things (like that sneaky unused at-home workout subscription service we forgot to cancel).
This year, we're going to get back in the habit of reviewing our spending at the end of every month. We'll go through all of our expenses together (without judgment!) and see what, if anything, we'd like to change for the next month. 
Re-Build our Emergency Fund
As difficult as 2020 was financially, it was also difficult in so many other ways. Like so many people, we were without childcare, and parenting during a pandemic was exhausting. I kept the current work that I had, but I really didn't prioritize earning and saving money; at points, we were really just focusing on keeping our head above water (and that included a LOT of takeout). 
Now that we have childcare in place and we've started a small business that is growing, we are both focused on earning and saving. We're starting with a small, automatic deposit that we make into a savings account after each payday. We plan to check in on this amount quarterly and see if we can increase it. 
I'm truly excited about re-building this account (and I hope that enthusiasm will continue) because after seeing how important it was for us this year, I want to make sure we always have a solid safety net for ourselves. 
Re-Assess Insurance Needs
Now that we have a small business—and had to sign up for a small business health plan—we learned how important it is to really review your insurance needs regularly. When we signed up for our new health plan in December, we dove into the numbers: how much do we spend, what coverage do we need, and what plan helps us get the most for the least amount of money. By taking just a couple of hours, we ended up saving a lot of money each month.
Our goal for this year is to re-assess our other insurance needs by the end of January 2021. We plan to get quotes from new home, business, and auto insurers and see if there are opportunities to save. 
Cut Out Credit Cards (for a while)
There's nothing wrong with using credit cards, but we've realized that we've leaned a little too heavily on them for the past six months. It's easier to spend money that doesn't come out of your bank account right away. Since we don't need to rack up travel points right now, it feels like a good time to put our credit cards away and just spend cash. Our goal right now is to go credit cardless for three months and re-assess after that. 
Give Regularly
I surprised myself this year by donating more, even when things were tight, and I'm so happy that I did. Supporting people and organizations that do work that I care about became so obviously important to me this year. While I did a lot of one-off donations in 2020, I've picked a local charity to make monthly contributions to. They won't be big, but I'm really excited to prioritize donating and making a small impact every month.
Meet with a Financial Planner
Prior to this year, my husband and I took the DIY approach to our investments and overall financial plan. And while I think we've done a pretty good job and we feel really comfortable with what we currently have invested for retirement, we also see the benefits of getting a second opinion.
Our plan this year is to find a Certified Financial Planner (CFP) that can help us work through our new goals and help us set up a financial plan that makes us feel secure that we can handle future road bumps. One regret from this past year is that I wish we had a financial planner who could've helped us work through some of the difficult decisions we made in March and April. I don't know if we would've made different decisions, but I probably would've gotten more sleep and felt less panicked having a professional advisor in our corner. 
If hiring a financial planner isn't financially feasible right now but you still would like some guidance, check out XY Planning. Some of their advisors are offering pro-bono financial planning services to people who have been adversely affected by COVID-19.
Manage Stress Better
This one isn't necessarily a financial goal, but it's related. Money is a major source of anxiety for me, even in the best of times. So let's just say 2020 really exacerbated my money stress. At points, I found it hard to make good decisions, had trouble sleeping, and was generally a pretty terrible person to be around. 
Last month, I started trying to find different stress relief techniques that would help me, and I've landed on two that I'm going to carry on with through 2021: meditation and less caffeine. This won't help my bank account (or maybe it will since I won't be tempted to stop for coffee… ), but my hope is that I can have a healthier attitude towards money and manage the related stress better.