"Postpartum" and "fashion" are words you don't typically see in conjunction. After all, when you've just recently brought life into the world, are more sleep-deprived than you ever thought possible, and are expending all your energy on keeping said life alive and thriving, clothing and accessories are probably the furthest thing from your mind. But—and hear me out here—they shouldn't be.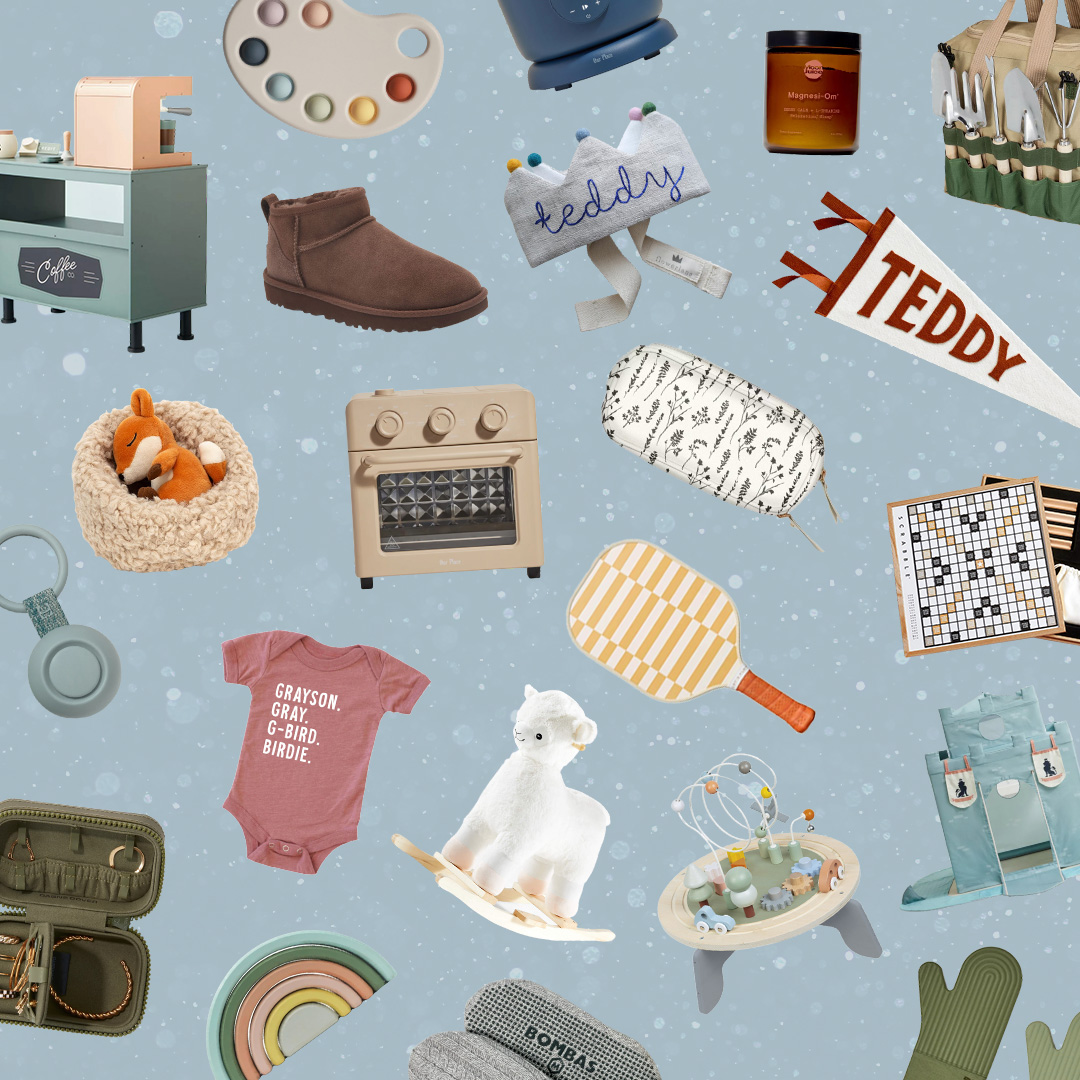 everything you need to ace holiday gifting this year 🎁
I recently gave birth to my second child. While having a baby and enduring the fourth trimester is never an easy task, I'm finding this second time around to be much more manageable and enjoyable. I learned a lot after my first child was born, and on that list of essential lessons was this: Preparing your wardrobe for post-baby can have a large, positive impact on your life.
I learned that readying my closet for after my baby was born could both make my life easier (let's just say that dressing for breastfeeding is way more difficult than I ever expected) and also help me feel more confident following the huge physical event that is childbirth (sometimes I still can't believe what the human body is capable of). To be honest, convenience and confidence have always been priorities for me, but they jumped to the top of the list once I became a mom.
Whether you're preparing for the birth of your first child or your fourth, these are the clothing pieces and accessories that I consider to be essential postpartum.
Jeans That Boost Your Confidence
After the baby is born, it's tempting to avoid putting jeans on. But wearing only sweatpants and leggings can do a number on your self-esteem and mood (those post-baby hormones are an especially wild ride). More than likely, your pre-pregnancy jeans won't fit right away—that's OK! Treat yourself to some new jeans that make you feel great. While everyone's postpartum experience is different, my body changed drastically over the six months following my firstborn's birth, shuffling through four different pant sizes. I recommend sticking to affordable options until you have a better idea what size you'll be sitting in more permanently. High-waisted jeans can provide extra comfort while your abdominal muscles adjust and regain strength.
Pants With Some Give
Don't get me wrong—leggings are still a beautiful thing once in a while, especially now that shopping options have expanded and you can nab them in a variety of colors and fabrics. I personally loved leggings with ample compression during the first few weeks of both of my babies' lives. Beyond leggings, look for pants that offer some elastic in the waist. These will be key as your body changes, keeping you comfortable during those endless feeding and burping sessions and allowing you to add some diversity to your outfits.
Elevated Loungewear
As any new parent can tell you, taking care of a baby is exhausting. Sometimes you just need some extra comfort in your life. Having some quality loungewear pieces can help you feel more put-together on those groggy days that follow sleepless nights.
Practical Undergarments
Regardless of how you delivered, your body has just been through a lot. Don't fret over trying to squeeze yourself into your sexiest lingerie. Instead, prioritize practicality. If you plan on breastfeeding, be sure to grab plenty of nursing bras. Shaping undergarments can also help you feel neatly compressed at a time when your insides may be feeling like Jell-O.
Nursing-Friendly Tops & Dresses
When my first child was born, my wardrobe was wildly unprepared for breastfeeding. If you're planning to breastfeed, do yourself a favor and pick up some basic nursing tops that you can incorporate into a number of outfits. Cardigans and button-ups are also your friends and can be worn well past the end of your breastfeeding journey.
Shoes That Are Easy to Slip On
I personally love a good lace-up boot, but experience has taught me that the fourth trimester is so not the time for laces. Getting out of the house with a baby is akin to an Olympic sport. When you're working with limited time (babies eat often) and hefting around your baby (who's quite possibly strapped into their heavy carseat) as well as their diaper bag, you want to get out of the door as quickly as possible. Flats such as clogs and loafers have served me well in the early baby days. Slip-on boots also make for a practical option.
Crossbody Bags
While you can always throw your car keys, wallet, and cell phone into the abyss that is your diaper bag, I've found it's ultimately easier to carry a second bag for my own items, separate from the baby's. Currently navigating the fourth trimester, I find myself reaching for crossbody bags most often. Unlike shoulder bags and totes (which have a nasty habit of slipping off while lugging my baby in her carseat), crossbodies stay neatly in place. I especially love those that boast a top-handle in addition to a shoulder strap. When you're carrying the mail, groceries, a baby, and more, having multiple strap options can be a lifesaver as you grab for whatever's easiest at the moment.